{"id":8367702835360,"title":"Wooden Memory Match Stick Chess","handle":"wooden-memory-match-stick-chess","description":"\u003cdiv class=\"detailmodule_text\"\u003e\n\u003ch3 style=\"text-align: center;\" data-mce-style=\"text-align: center;\"\u003e\u003cstrong\u003e\u003cspan style=\"color: #ff2a00;\" data-mce-style=\"color: #ff2a00;\"\u003e🤩Wooden Memory Match Stick Chess🤩\u003c\/span\u003e\u003c\/strong\u003e\u003c\/h3\u003e\n\u003ch3 style=\"text-align: center;\" data-mce-style=\"text-align: center;\"\u003e\u003cspan style=\"color: #2b00ff;\" data-mce-style=\"color: #2b00ff;\"\u003e\u003cstrong\u003e👶85% of a child's brain develops by the age of three, which is why your child should immediately become part of the Montessori Generation Memory to reach its full potential😍\u003c\/strong\u003e\u003c\/span\u003e\u003c\/h3\u003e\n\u003cp\u003e\u003cspan style=\"color: #2b00ff;\" data-mce-style=\"color: #2b00ff;\"\u003e\u003cstrong\u003e\u003cimg src=\"https:\/\/img.myshopline.com\/image\/store\/2000315506\/1677736519107\/4bf4720a6cc86d95a181a8a059b816b3.gif?w=400\u0026amp;h=421\u0026amp;_f=1\" style=\"display: block; margin-left: auto; margin-right: auto;\"\u003e\u003c\/strong\u003e\u003c\/span\u003e\u003c\/p\u003e\n\u003cp\u003e\u003cstrong\u003e\u003cspan style=\"color: #ff2a00;\" data-mce-style=\"color: #ff2a00;\"\u003eCATIONAL TOYS FOR KIDS:\u003c\/span\u003e\u003c\/strong\u003e\u003cbr\u003e\u003c\/p\u003e\n\u003cul\u003e\n\u003cli\u003e\u003cspan style=\"color: #000000;\" data-mce-style=\"color: #000000;\"\u003e✅The sticks board game Memory Chess can help To improve baby's three-dimensional imagination, color cognitive ability and stimulate the baby's curiosity,.\u003c\/span\u003e\u003c\/li\u003e\n\u003cli\u003e\u003cspan style=\"color: #000000;\" data-mce-style=\"color: #000000;\"\u003e✅Train fine movements and develop hand-eye coordination skills,improve thinking ability.\u003c\/span\u003e\u003c\/li\u003e\n\u003cli\u003e😍Made of safe wooden material and non-toxic water paint, allow you to use with reassurance. With painted smooth surface layer, it does not hurt kids' hands easily.No cracking will not deform.\u003c\/li\u003e\n\u003c\/ul\u003e\n\u003cp\u003e\u003cimg height=\"719\" width=\"482\" class=\"detail-desc-decorate-image\" src=\"https:\/\/ae01.alicdn.com\/kf\/HTB1vHtiKQvoK1RjSZFwq6AiCFXao.jpg\" style=\"display: block; margin-left: auto; margin-right: auto;\" data-mce-src=\"https:\/\/ae01.alicdn.com\/kf\/HTB1vHtiKQvoK1RjSZFwq6AiCFXao.jpg\"\u003e\u003c\/p\u003e\n\u003c\/div\u003e\n\u003cdiv class=\"detailmodule_text\"\u003e\u003cstrong\u003e\u003cspan style=\"color: #ff2a00;\" data-mce-style=\"color: #ff2a00;\"\u003eHOW TO PLAY: \u003c\/span\u003e\u003c\/strong\u003e\u003c\/div\u003e\n\u003cdiv class=\"detailmodule_text\"\u003e\n\u003cul\u003e\n\u003cli\u003e\u003cstrong\u003e1. Put all the chessmen to the checkerboard ;\u003c\/strong\u003e\u003c\/li\u003e\n\u003cli\u003e\u003cstrong\u003e2. Shake the dice;\u003c\/strong\u003e\u003c\/li\u003e\n\u003cli\u003e\u003cstrong\u003e3. Take a chessman from the checkerboard. If the chessman is with the same color on the top of the dice then keep the chessman and who get more chessmen at last who wins the game.\u003c\/strong\u003e\u003c\/li\u003e\n\u003c\/ul\u003e\n\u003cp\u003e\u003cimg src=\"https:\/\/img.myshopline.com\/image\/store\/2000315506\/1677736519107\/7e3782391bf092f42cb2327d11255bf4.jpg?w=480\u0026amp;h=480\" style=\"display: block; margin-left: auto; margin-right: auto;\"\u003e\u003c\/p\u003e\n\u003c\/div\u003e\n\u003cdiv class=\"detailmodule_image\"\u003e\u003cimg src=\"https:\/\/ae01.alicdn.com\/kf\/HTB1Z.tXa4_rK1RkHFqDq6yJAFXaL.jpg\" class=\"detail-desc-decorate-image\" width=\"481\" height=\"468\" style=\"display: block; margin-left: auto; margin-right: auto;\" data-mce-src=\"https:\/\/ae01.alicdn.com\/kf\/HTB1Z.tXa4_rK1RkHFqDq6yJAFXaL.jpg\"\u003e\u003c\/div\u003e\n\u003cdiv class=\"detailmodule_image\"\u003e\u003cimg src=\"https:\/\/ae01.alicdn.com\/kf\/HTB1LDc.aODxK1Rjy1zcq6yGeXXaP.jpg\" class=\"detail-desc-decorate-image\" width=\"480\" height=\"312\" style=\"display: block; margin-left: auto; margin-right: auto;\" data-mce-src=\"https:\/\/ae01.alicdn.com\/kf\/HTB1LDc.aODxK1Rjy1zcq6yGeXXaP.jpg\"\u003e\u003c\/div\u003e\n\u003ch4 class=\"detailmodule_image\"\u003eThis is the best choice for kids gathering\u003cbr\u003eChildren can also play with parents.\u003cbr\u003esize:\u003cbr\u003e175mm * 175mm * 23mm\u003c\/h4\u003e\n\u003cdiv class=\"detailmodule_image\"\u003e\u003cimg src=\"https:\/\/ae01.alicdn.com\/kf\/HTB1BAlfa6DuK1Rjy1zjq6zraFXaN.jpg\" class=\"detail-desc-decorate-image\" width=\"482\" height=\"440\" style=\"display: block; margin-left: auto; margin-right: auto;\" data-mce-src=\"https:\/\/ae01.alicdn.com\/kf\/HTB1BAlfa6DuK1Rjy1zjq6zraFXaN.jpg\"\u003e\u003c\/div\u003e\n\u003cdiv class=\"detailmodule_image\"\u003e\u003cimg src=\"https:\/\/ae01.alicdn.com\/kf\/HTB1MyVXa6zuK1RjSspeq6ziHVXaD.jpg\" class=\"detail-desc-decorate-image\" width=\"480\" height=\"480\" style=\"display: block; margin-left: auto; margin-right: auto;\" data-mce-src=\"https:\/\/ae01.alicdn.com\/kf\/HTB1MyVXa6zuK1RjSspeq6ziHVXaD.jpg\"\u003e\u003c\/div\u003e\n\u003cdiv class=\"detailmodule_image\"\u003e\u003cimg src=\"https:\/\/ae01.alicdn.com\/kf\/HTB1WceqaPLuK1Rjy0Fhq6xpdFXa9.jpg\" class=\"detail-desc-decorate-image\" width=\"480\" height=\"330\" style=\"display: block; margin-left: auto; margin-right: auto;\" data-mce-src=\"https:\/\/ae01.alicdn.com\/kf\/HTB1WceqaPLuK1Rjy0Fhq6xpdFXa9.jpg\"\u003e\u003c\/div\u003e\n\u003cdiv class=\"detailmodule_image\"\u003e\u003cimg src=\"https:\/\/ae01.alicdn.com\/kf\/HTB138tea.LrK1Rjy0Fjq6zYXFXa5.jpg\" class=\"detail-desc-decorate-image\" width=\"481\" height=\"273\" style=\"display: block; margin-left: auto; margin-right: auto;\" data-mce-src=\"https:\/\/ae01.alicdn.com\/kf\/HTB138tea.LrK1Rjy0Fjq6zYXFXa5.jpg\"\u003e\u003c\/div\u003e\n\u003cdiv class=\"detailmodule_image\"\u003e\u003cimg src=\"https:\/\/ae01.alicdn.com\/kf\/HTB1lZBda0fvK1RjSszhq6AcGFXax.jpg\" class=\"detail-desc-decorate-image\" width=\"479\" height=\"257\" style=\"display: block; margin-left: auto; margin-right: auto;\" data-mce-src=\"https:\/\/ae01.alicdn.com\/kf\/HTB1lZBda0fvK1RjSszhq6AcGFXax.jpg\"\u003e\u003c\/div\u003e\n\u003cdiv class=\"detailmodule_image\"\u003e\u003cimg src=\"https:\/\/ae01.alicdn.com\/kf\/HTB1N3..aOzxK1RjSspjq6AS.pXa2.jpg\" class=\"detail-desc-decorate-image\" width=\"481\" height=\"481\" style=\"display: block; margin-left: auto; margin-right: auto;\" data-mce-src=\"https:\/\/ae01.alicdn.com\/kf\/HTB1N3..aOzxK1RjSspjq6AS.pXa2.jpg\"\u003e\u003c\/div\u003e\n\u003cdiv class=\"detailmodule_image\"\u003e\n\u003cspan style=\"color: #ff8000;\" data-mce-style=\"color: #ff8000;\"\u003e \u003cstrong\u003eThe package includes:\u003c\/strong\u003e\u003c\/span\u003e\u003cbr\u003e\n\u003cul\u003e\n\u003cli\u003eWooden Memory Match Chess * 1\u003c\/li\u003e\n\u003c\/ul\u003e\n\u003c\/div\u003e\n\u003cp\u003e\u003cspan style=\"color: #ff8000;\"\u003e\u003cstrong\u003eOUR GUARANTEE:\u003c\/strong\u003e\u003c\/span\u003e\u003cbr\u003e\u003c\/p\u003e\n\u003cul\u003e\n\u003cli\u003eWe believe we have some of the most innovative products in the world, and we want to make sure we back that up with a risk-free 30-day guarantee.\u003c\/li\u003e\n\u003cli\u003eIf for any reason you do not have a positive experience, we will make every effort to ensure that you are satisfied with your purchase.\u003c\/li\u003e\n\u003cli\u003eWe want you to rest assured that there is absolutely zero risk in buying and trying out products. If you don't like it and don't feel bad, we'll do it right.\u003c\/li\u003e\n\u003cli\u003eWe email support. If you need help, please contact us.\u003c\/li\u003e\n\u003c\/ul\u003e\n\u003cp\u003e\u003cimg alt=\"\" src=\"https:\/\/cdn.shopify.com\/s\/files\/1\/0573\/3371\/1041\/files\/1437bab4636827a10ec6b3eedcf3af89_30d3d02d-43ad-4fa4-a63e-3535bf46ea02_480x480.webp?v=1679580368\" style=\"display: block; margin-left: auto; margin-right: auto;\"\u003e\u003c\/p\u003e","published_at":"2023-04-03T22:20:53-10:00","created_at":"2023-04-03T22:21:02-10:00","vendor":"flownwing","type":"","tags":[],"price":2400,"price_min":2400,"price_max":2400,"available":true,"price_varies":false,"compare_at_price":3499,"compare_at_price_min":3499,"compare_at_price_max":3499,"compare_at_price_varies":false,"variants":[{"id":43815961657504,"title":"Default Title","option1":"Default Title","option2":null,"option3":null,"sku":"TY9195-E001","requires_shipping":true,"taxable":false,"featured_image":null,"available":true,"name":"Wooden Memory Match Stick Chess","public_title":null,"options":["Default Title"],"price":2400,"weight":0,"compare_at_price":3499,"inventory_management":null,"barcode":"","requires_selling_plan":false,"selling_plan_allocations":[],"quantity_rule":{"min":1,"max":null,"increment":1}}],"images":["\/\/www.flownwing.com\/cdn\/shop\/products\/Kids-party-game-Wooden-Memory-Match-Stick-Chess-Game-Fun-Block-Board-Game-Educational-Color-Cognitive_6.jpg?v=1680596462","\/\/www.flownwing.com\/cdn\/shop\/products\/Kids-party-game-Wooden-Memory-Match-Stick-Chess-Game-Fun-Block-Board-Game-Educational-Color-Cognitive_2.jpg?v=1680596462","\/\/www.flownwing.com\/cdn\/shop\/products\/Kids-party-game-Wooden-Memory-Match-Stick-Chess-Game-Fun-Block-Board-Game-Educational-Color-Cognitive_1.jpg?v=1680596462","\/\/www.flownwing.com\/cdn\/shop\/products\/Kids-party-game-Wooden-Memory-Match-Stick-Chess-Game-Fun-Block-Board-Game-Educational-Color-Cognitive_3.jpg?v=1680596462","\/\/www.flownwing.com\/cdn\/shop\/products\/Kids-party-game-Wooden-Memory-Match-Stick-Chess-Game-Fun-Block-Board-Game-Educational-Color-Cognitive_4.jpg?v=1680596462","\/\/www.flownwing.com\/cdn\/shop\/products\/5359ace605616acb75ca916e667a3c0.png?v=1680596462","\/\/www.flownwing.com\/cdn\/shop\/products\/Kids-party-game-Wooden-Memory-Match-Stick-Chess-Game-Fun-Block-Board-Game-Educational-Color-Cognitive_5.jpg?v=1680596462","\/\/www.flownwing.com\/cdn\/shop\/products\/d2e6aed393cb5a9a020f98c1339c376.jpg?v=1680596462"],"featured_image":"\/\/www.flownwing.com\/cdn\/shop\/products\/Kids-party-game-Wooden-Memory-Match-Stick-Chess-Game-Fun-Block-Board-Game-Educational-Color-Cognitive_6.jpg?v=1680596462","options":["Title"],"media":[{"alt":null,"id":27049984852128,"position":1,"preview_image":{"aspect_ratio":1.0,"height":800,"width":800,"src":"\/\/www.flownwing.com\/cdn\/shop\/products\/Kids-party-game-Wooden-Memory-Match-Stick-Chess-Game-Fun-Block-Board-Game-Educational-Color-Cognitive_6.jpg?v=1680596462"},"aspect_ratio":1.0,"height":800,"media_type":"image","src":"\/\/www.flownwing.com\/cdn\/shop\/products\/Kids-party-game-Wooden-Memory-Match-Stick-Chess-Game-Fun-Block-Board-Game-Educational-Color-Cognitive_6.jpg?v=1680596462","width":800},{"alt":null,"id":27049984884896,"position":2,"preview_image":{"aspect_ratio":1.0,"height":800,"width":800,"src":"\/\/www.flownwing.com\/cdn\/shop\/products\/Kids-party-game-Wooden-Memory-Match-Stick-Chess-Game-Fun-Block-Board-Game-Educational-Color-Cognitive_2.jpg?v=1680596462"},"aspect_ratio":1.0,"height":800,"media_type":"image","src":"\/\/www.flownwing.com\/cdn\/shop\/products\/Kids-party-game-Wooden-Memory-Match-Stick-Chess-Game-Fun-Block-Board-Game-Educational-Color-Cognitive_2.jpg?v=1680596462","width":800},{"alt":null,"id":27049984917664,"position":3,"preview_image":{"aspect_ratio":1.0,"height":800,"width":800,"src":"\/\/www.flownwing.com\/cdn\/shop\/products\/Kids-party-game-Wooden-Memory-Match-Stick-Chess-Game-Fun-Block-Board-Game-Educational-Color-Cognitive_1.jpg?v=1680596462"},"aspect_ratio":1.0,"height":800,"media_type":"image","src":"\/\/www.flownwing.com\/cdn\/shop\/products\/Kids-party-game-Wooden-Memory-Match-Stick-Chess-Game-Fun-Block-Board-Game-Educational-Color-Cognitive_1.jpg?v=1680596462","width":800},{"alt":null,"id":27049984950432,"position":4,"preview_image":{"aspect_ratio":1.0,"height":800,"width":800,"src":"\/\/www.flownwing.com\/cdn\/shop\/products\/Kids-party-game-Wooden-Memory-Match-Stick-Chess-Game-Fun-Block-Board-Game-Educational-Color-Cognitive_3.jpg?v=1680596462"},"aspect_ratio":1.0,"height":800,"media_type":"image","src":"\/\/www.flownwing.com\/cdn\/shop\/products\/Kids-party-game-Wooden-Memory-Match-Stick-Chess-Game-Fun-Block-Board-Game-Educational-Color-Cognitive_3.jpg?v=1680596462","width":800},{"alt":null,"id":27049984983200,"position":5,"preview_image":{"aspect_ratio":1.0,"height":800,"width":800,"src":"\/\/www.flownwing.com\/cdn\/shop\/products\/Kids-party-game-Wooden-Memory-Match-Stick-Chess-Game-Fun-Block-Board-Game-Educational-Color-Cognitive_4.jpg?v=1680596462"},"aspect_ratio":1.0,"height":800,"media_type":"image","src":"\/\/www.flownwing.com\/cdn\/shop\/products\/Kids-party-game-Wooden-Memory-Match-Stick-Chess-Game-Fun-Block-Board-Game-Educational-Color-Cognitive_4.jpg?v=1680596462","width":800},{"alt":null,"id":27049985015968,"position":6,"preview_image":{"aspect_ratio":1.0,"height":541,"width":541,"src":"\/\/www.flownwing.com\/cdn\/shop\/products\/5359ace605616acb75ca916e667a3c0.png?v=1680596462"},"aspect_ratio":1.0,"height":541,"media_type":"image","src":"\/\/www.flownwing.com\/cdn\/shop\/products\/5359ace605616acb75ca916e667a3c0.png?v=1680596462","width":541},{"alt":null,"id":27049985048736,"position":7,"preview_image":{"aspect_ratio":1.0,"height":800,"width":800,"src":"\/\/www.flownwing.com\/cdn\/shop\/products\/Kids-party-game-Wooden-Memory-Match-Stick-Chess-Game-Fun-Block-Board-Game-Educational-Color-Cognitive_5.jpg?v=1680596462"},"aspect_ratio":1.0,"height":800,"media_type":"image","src":"\/\/www.flownwing.com\/cdn\/shop\/products\/Kids-party-game-Wooden-Memory-Match-Stick-Chess-Game-Fun-Block-Board-Game-Educational-Color-Cognitive_5.jpg?v=1680596462","width":800},{"alt":null,"id":27049985081504,"position":8,"preview_image":{"aspect_ratio":1.0,"height":731,"width":731,"src":"\/\/www.flownwing.com\/cdn\/shop\/products\/d2e6aed393cb5a9a020f98c1339c376.jpg?v=1680596462"},"aspect_ratio":1.0,"height":731,"media_type":"image","src":"\/\/www.flownwing.com\/cdn\/shop\/products\/d2e6aed393cb5a9a020f98c1339c376.jpg?v=1680596462","width":731}],"requires_selling_plan":false,"selling_plan_groups":[],"content":"\u003cdiv class=\"detailmodule_text\"\u003e\n\u003ch3 style=\"text-align: center;\" data-mce-style=\"text-align: center;\"\u003e\u003cstrong\u003e\u003cspan style=\"color: #ff2a00;\" data-mce-style=\"color: #ff2a00;\"\u003e🤩Wooden Memory Match Stick Chess🤩\u003c\/span\u003e\u003c\/strong\u003e\u003c\/h3\u003e\n\u003ch3 style=\"text-align: center;\" data-mce-style=\"text-align: center;\"\u003e\u003cspan style=\"color: #2b00ff;\" data-mce-style=\"color: #2b00ff;\"\u003e\u003cstrong\u003e👶85% of a child's brain develops by the age of three, which is why your child should immediately become part of the Montessori Generation Memory to reach its full potential😍\u003c\/strong\u003e\u003c\/span\u003e\u003c\/h3\u003e\n\u003cp\u003e\u003cspan style=\"color: #2b00ff;\" data-mce-style=\"color: #2b00ff;\"\u003e\u003cstrong\u003e\u003cimg src=\"https:\/\/img.myshopline.com\/image\/store\/2000315506\/1677736519107\/4bf4720a6cc86d95a181a8a059b816b3.gif?w=400\u0026amp;h=421\u0026amp;_f=1\" style=\"display: block; margin-left: auto; margin-right: auto;\"\u003e\u003c\/strong\u003e\u003c\/span\u003e\u003c\/p\u003e\n\u003cp\u003e\u003cstrong\u003e\u003cspan style=\"color: #ff2a00;\" data-mce-style=\"color: #ff2a00;\"\u003eCATIONAL TOYS FOR KIDS:\u003c\/span\u003e\u003c\/strong\u003e\u003cbr\u003e\u003c\/p\u003e\n\u003cul\u003e\n\u003cli\u003e\u003cspan style=\"color: #000000;\" data-mce-style=\"color: #000000;\"\u003e✅The sticks board game Memory Chess can help To improve baby's three-dimensional imagination, color cognitive ability and stimulate the baby's curiosity,.\u003c\/span\u003e\u003c\/li\u003e\n\u003cli\u003e\u003cspan style=\"color: #000000;\" data-mce-style=\"color: #000000;\"\u003e✅Train fine movements and develop hand-eye coordination skills,improve thinking ability.\u003c\/span\u003e\u003c\/li\u003e\n\u003cli\u003e😍Made of safe wooden material and non-toxic water paint, allow you to use with reassurance. With painted smooth surface layer, it does not hurt kids' hands easily.No cracking will not deform.\u003c\/li\u003e\n\u003c\/ul\u003e\n\u003cp\u003e\u003cimg height=\"719\" width=\"482\" class=\"detail-desc-decorate-image\" src=\"https:\/\/ae01.alicdn.com\/kf\/HTB1vHtiKQvoK1RjSZFwq6AiCFXao.jpg\" style=\"display: block; margin-left: auto; margin-right: auto;\" data-mce-src=\"https:\/\/ae01.alicdn.com\/kf\/HTB1vHtiKQvoK1RjSZFwq6AiCFXao.jpg\"\u003e\u003c\/p\u003e\n\u003c\/div\u003e\n\u003cdiv class=\"detailmodule_text\"\u003e\u003cstrong\u003e\u003cspan style=\"color: #ff2a00;\" data-mce-style=\"color: #ff2a00;\"\u003eHOW TO PLAY: \u003c\/span\u003e\u003c\/strong\u003e\u003c\/div\u003e\n\u003cdiv class=\"detailmodule_text\"\u003e\n\u003cul\u003e\n\u003cli\u003e\u003cstrong\u003e1. Put all the chessmen to the checkerboard ;\u003c\/strong\u003e\u003c\/li\u003e\n\u003cli\u003e\u003cstrong\u003e2. Shake the dice;\u003c\/strong\u003e\u003c\/li\u003e\n\u003cli\u003e\u003cstrong\u003e3. Take a chessman from the checkerboard. If the chessman is with the same color on the top of the dice then keep the chessman and who get more chessmen at last who wins the game.\u003c\/strong\u003e\u003c\/li\u003e\n\u003c\/ul\u003e\n\u003cp\u003e\u003cimg src=\"https:\/\/img.myshopline.com\/image\/store\/2000315506\/1677736519107\/7e3782391bf092f42cb2327d11255bf4.jpg?w=480\u0026amp;h=480\" style=\"display: block; margin-left: auto; margin-right: auto;\"\u003e\u003c\/p\u003e\n\u003c\/div\u003e\n\u003cdiv class=\"detailmodule_image\"\u003e\u003cimg src=\"https:\/\/ae01.alicdn.com\/kf\/HTB1Z.tXa4_rK1RkHFqDq6yJAFXaL.jpg\" class=\"detail-desc-decorate-image\" width=\"481\" height=\"468\" style=\"display: block; margin-left: auto; margin-right: auto;\" data-mce-src=\"https:\/\/ae01.alicdn.com\/kf\/HTB1Z.tXa4_rK1RkHFqDq6yJAFXaL.jpg\"\u003e\u003c\/div\u003e\n\u003cdiv class=\"detailmodule_image\"\u003e\u003cimg src=\"https:\/\/ae01.alicdn.com\/kf\/HTB1LDc.aODxK1Rjy1zcq6yGeXXaP.jpg\" class=\"detail-desc-decorate-image\" width=\"480\" height=\"312\" style=\"display: block; margin-left: auto; margin-right: auto;\" data-mce-src=\"https:\/\/ae01.alicdn.com\/kf\/HTB1LDc.aODxK1Rjy1zcq6yGeXXaP.jpg\"\u003e\u003c\/div\u003e\n\u003ch4 class=\"detailmodule_image\"\u003eThis is the best choice for kids gathering\u003cbr\u003eChildren can also play with parents.\u003cbr\u003esize:\u003cbr\u003e175mm * 175mm * 23mm\u003c\/h4\u003e\n\u003cdiv class=\"detailmodule_image\"\u003e\u003cimg src=\"https:\/\/ae01.alicdn.com\/kf\/HTB1BAlfa6DuK1Rjy1zjq6zraFXaN.jpg\" class=\"detail-desc-decorate-image\" width=\"482\" height=\"440\" style=\"display: block; margin-left: auto; margin-right: auto;\" data-mce-src=\"https:\/\/ae01.alicdn.com\/kf\/HTB1BAlfa6DuK1Rjy1zjq6zraFXaN.jpg\"\u003e\u003c\/div\u003e\n\u003cdiv class=\"detailmodule_image\"\u003e\u003cimg src=\"https:\/\/ae01.alicdn.com\/kf\/HTB1MyVXa6zuK1RjSspeq6ziHVXaD.jpg\" class=\"detail-desc-decorate-image\" width=\"480\" height=\"480\" style=\"display: block; margin-left: auto; margin-right: auto;\" data-mce-src=\"https:\/\/ae01.alicdn.com\/kf\/HTB1MyVXa6zuK1RjSspeq6ziHVXaD.jpg\"\u003e\u003c\/div\u003e\n\u003cdiv class=\"detailmodule_image\"\u003e\u003cimg src=\"https:\/\/ae01.alicdn.com\/kf\/HTB1WceqaPLuK1Rjy0Fhq6xpdFXa9.jpg\" class=\"detail-desc-decorate-image\" width=\"480\" height=\"330\" style=\"display: block; margin-left: auto; margin-right: auto;\" data-mce-src=\"https:\/\/ae01.alicdn.com\/kf\/HTB1WceqaPLuK1Rjy0Fhq6xpdFXa9.jpg\"\u003e\u003c\/div\u003e\n\u003cdiv class=\"detailmodule_image\"\u003e\u003cimg src=\"https:\/\/ae01.alicdn.com\/kf\/HTB138tea.LrK1Rjy0Fjq6zYXFXa5.jpg\" class=\"detail-desc-decorate-image\" width=\"481\" height=\"273\" style=\"display: block; margin-left: auto; margin-right: auto;\" data-mce-src=\"https:\/\/ae01.alicdn.com\/kf\/HTB138tea.LrK1Rjy0Fjq6zYXFXa5.jpg\"\u003e\u003c\/div\u003e\n\u003cdiv class=\"detailmodule_image\"\u003e\u003cimg src=\"https:\/\/ae01.alicdn.com\/kf\/HTB1lZBda0fvK1RjSszhq6AcGFXax.jpg\" class=\"detail-desc-decorate-image\" width=\"479\" height=\"257\" style=\"display: block; margin-left: auto; margin-right: auto;\" data-mce-src=\"https:\/\/ae01.alicdn.com\/kf\/HTB1lZBda0fvK1RjSszhq6AcGFXax.jpg\"\u003e\u003c\/div\u003e\n\u003cdiv class=\"detailmodule_image\"\u003e\u003cimg src=\"https:\/\/ae01.alicdn.com\/kf\/HTB1N3..aOzxK1RjSspjq6AS.pXa2.jpg\" class=\"detail-desc-decorate-image\" width=\"481\" height=\"481\" style=\"display: block; margin-left: auto; margin-right: auto;\" data-mce-src=\"https:\/\/ae01.alicdn.com\/kf\/HTB1N3..aOzxK1RjSspjq6AS.pXa2.jpg\"\u003e\u003c\/div\u003e\n\u003cdiv class=\"detailmodule_image\"\u003e\n\u003cspan style=\"color: #ff8000;\" data-mce-style=\"color: #ff8000;\"\u003e \u003cstrong\u003eThe package includes:\u003c\/strong\u003e\u003c\/span\u003e\u003cbr\u003e\n\u003cul\u003e\n\u003cli\u003eWooden Memory Match Chess * 1\u003c\/li\u003e\n\u003c\/ul\u003e\n\u003c\/div\u003e\n\u003cp\u003e\u003cspan style=\"color: #ff8000;\"\u003e\u003cstrong\u003eOUR GUARANTEE:\u003c\/strong\u003e\u003c\/span\u003e\u003cbr\u003e\u003c\/p\u003e\n\u003cul\u003e\n\u003cli\u003eWe believe we have some of the most innovative products in the world, and we want to make sure we back that up with a risk-free 30-day guarantee.\u003c\/li\u003e\n\u003cli\u003eIf for any reason you do not have a positive experience, we will make every effort to ensure that you are satisfied with your purchase.\u003c\/li\u003e\n\u003cli\u003eWe want you to rest assured that there is absolutely zero risk in buying and trying out products. If you don't like it and don't feel bad, we'll do it right.\u003c\/li\u003e\n\u003cli\u003eWe email support. If you need help, please contact us.\u003c\/li\u003e\n\u003c\/ul\u003e\n\u003cp\u003e\u003cimg alt=\"\" src=\"https:\/\/cdn.shopify.com\/s\/files\/1\/0573\/3371\/1041\/files\/1437bab4636827a10ec6b3eedcf3af89_30d3d02d-43ad-4fa4-a63e-3535bf46ea02_480x480.webp?v=1679580368\" style=\"display: block; margin-left: auto; margin-right: auto;\"\u003e\u003c\/p\u003e"}
Wooden Memory Match Stick Chess
Adding product to your cart
🤩Wooden Memory Match Stick Chess🤩
👶85% of a child's brain develops by the age of three, which is why your child should immediately become part of the Montessori Generation Memory to reach its full potential😍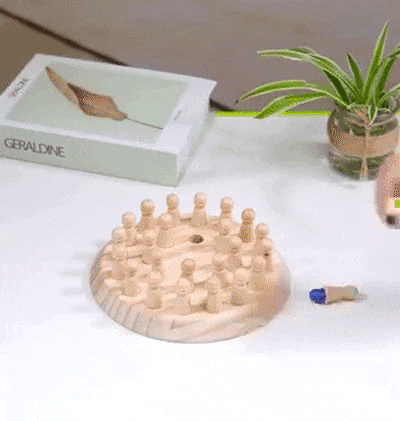 CATIONAL TOYS FOR KIDS:

✅The sticks board game Memory Chess can help To improve baby's three-dimensional imagination, color cognitive ability and stimulate the baby's curiosity,.

✅Train fine movements and develop hand-eye coordination skills,improve thinking ability.

😍Made of safe wooden material and non-toxic water paint, allow you to use with reassurance. With painted smooth surface layer, it does not hurt kids' hands easily.No cracking will not deform.
1. Put all the chessmen to the checkerboard ;
2. Shake the dice;
3. Take a chessman from the checkerboard. If the chessman is with the same color on the top of the dice then keep the chessman and who get more chessmen at last who wins the game.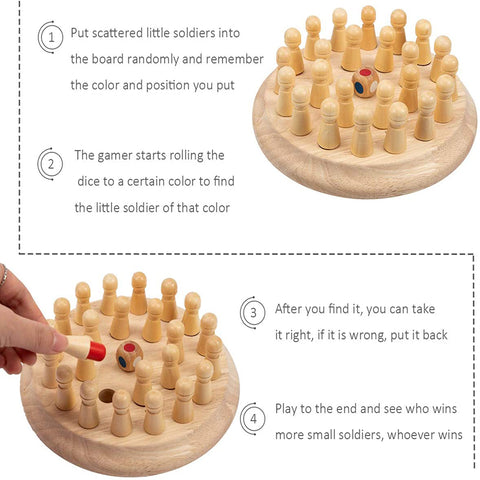 This is the best choice for kids gathering
Children can also play with parents.
size:
175mm * 175mm * 23mm
The package includes:
Wooden Memory Match Chess * 1
OUR GUARANTEE:

We believe we have some of the most innovative products in the world, and we want to make sure we back that up with a risk-free 30-day guarantee.
If for any reason you do not have a positive experience, we will make every effort to ensure that you are satisfied with your purchase.
We want you to rest assured that there is absolutely zero risk in buying and trying out products. If you don't like it and don't feel bad, we'll do it right.
We email support. If you need help, please contact us.