{"id":6852762304672,"title":"Toddler Busy Board Montessori Toys","handle":"toddler-busy-board-montessori-toys","description":"\u003cstrong\u003e\u003cspan style=\"color: #e48080;\"\u003e\u003cem\u003eIf you have a naughty and active baby, this busy cube can make the baby concentrate on playing and free the parents' hands.\u003c\/em\u003e\u003c\/span\u003e\u003c\/strong\u003e\u003cbr data-mce-fragment=\"1\"\u003e\n\u003cdiv\u003e\u003cimg style=\"display: block; margin-left: auto; margin-right: auto;\" srcset=\"https:\/\/cdn.shoplazza.com\/fb3431437d3f81eb3b70971410b7f191_720.jpg 48w, https:\/\/cdn.shoplazza.com\/fb3431437d3f81eb3b70971410b7f191_720.jpg 180w, https:\/\/cdn.shoplazza.com\/fb3431437d3f81eb3b70971410b7f191_720.jpg 360w, https:\/\/cdn.shoplazza.com\/fb3431437d3f81eb3b70971410b7f191_720.jpg 540w, https:\/\/cdn.shoplazza.com\/fb3431437d3f81eb3b70971410b7f191_720.jpg 720w, https:\/\/cdn.shoplazza.com\/fb3431437d3f81eb3b70971410b7f191_720.jpg 900w, https:\/\/cdn.shoplazza.com\/fb3431437d3f81eb3b70971410b7f191_720.jpg 1024w, https:\/\/cdn.shoplazza.com\/fb3431437d3f81eb3b70971410b7f191_720.jpg 1280w, https:\/\/cdn.shoplazza.com\/fb3431437d3f81eb3b70971410b7f191_720.jpg 1366w, https:\/\/cdn.shoplazza.com\/fb3431437d3f81eb3b70971410b7f191_720.jpg 1440w, https:\/\/cdn.shoplazza.com\/fb3431437d3f81eb3b70971410b7f191_720.jpg 1536w, https:\/\/cdn.shoplazza.com\/fb3431437d3f81eb3b70971410b7f191_720.jpg 1600w, https:\/\/cdn.shoplazza.com\/fb3431437d3f81eb3b70971410b7f191_720.jpg 1920w, https:\/\/cdn.shoplazza.com\/fb3431437d3f81eb3b70971410b7f191_720.jpg 2056w, https:\/\/cdn.shoplazza.com\/fb3431437d3f81eb3b70971410b7f191_720.jpg 2560w, https:\/\/cdn.shoplazza.com\/fb3431437d3f81eb3b70971410b7f191_720.jpg 2732w, https:\/\/cdn.shoplazza.com\/fb3431437d3f81eb3b70971410b7f191_720.jpg 2880w, https:\/\/cdn.shoplazza.com\/fb3431437d3f81eb3b70971410b7f191_720.jpg 3072w, https:\/\/cdn.shoplazza.com\/fb3431437d3f81eb3b70971410b7f191_720.jpg 3200w, https:\/\/cdn.shoplazza.com\/fb3431437d3f81eb3b70971410b7f191_720.jpg 3840w\" sizes=\"599px\" data-srcset=\"https:\/\/cdn.shoplazza.com\/fb3431437d3f81eb3b70971410b7f191_720.jpg 48w, https:\/\/cdn.shoplazza.com\/fb3431437d3f81eb3b70971410b7f191_720.jpg 180w, https:\/\/cdn.shoplazza.com\/fb3431437d3f81eb3b70971410b7f191_720.jpg 360w, https:\/\/cdn.shoplazza.com\/fb3431437d3f81eb3b70971410b7f191_720.jpg 540w, https:\/\/cdn.shoplazza.com\/fb3431437d3f81eb3b70971410b7f191_720.jpg 720w, https:\/\/cdn.shoplazza.com\/fb3431437d3f81eb3b70971410b7f191_720.jpg 900w, https:\/\/cdn.shoplazza.com\/fb3431437d3f81eb3b70971410b7f191_720.jpg 1024w, https:\/\/cdn.shoplazza.com\/fb3431437d3f81eb3b70971410b7f191_720.jpg 1280w, https:\/\/cdn.shoplazza.com\/fb3431437d3f81eb3b70971410b7f191_720.jpg 1366w, https:\/\/cdn.shoplazza.com\/fb3431437d3f81eb3b70971410b7f191_720.jpg 1440w, https:\/\/cdn.shoplazza.com\/fb3431437d3f81eb3b70971410b7f191_720.jpg 1536w, https:\/\/cdn.shoplazza.com\/fb3431437d3f81eb3b70971410b7f191_720.jpg 1600w, https:\/\/cdn.shoplazza.com\/fb3431437d3f81eb3b70971410b7f191_720.jpg 1920w, https:\/\/cdn.shoplazza.com\/fb3431437d3f81eb3b70971410b7f191_720.jpg 2056w, https:\/\/cdn.shoplazza.com\/fb3431437d3f81eb3b70971410b7f191_720.jpg 2560w, https:\/\/cdn.shoplazza.com\/fb3431437d3f81eb3b70971410b7f191_720.jpg 2732w, https:\/\/cdn.shoplazza.com\/fb3431437d3f81eb3b70971410b7f191_720.jpg 2880w, https:\/\/cdn.shoplazza.com\/fb3431437d3f81eb3b70971410b7f191_720.jpg 3072w, https:\/\/cdn.shoplazza.com\/fb3431437d3f81eb3b70971410b7f191_720.jpg 3200w, https:\/\/cdn.shoplazza.com\/fb3431437d3f81eb3b70971410b7f191_720.jpg 3840w\" width=\"379\" height=\"379\" alt=\"\" data-sizes=\"auto\" class=\"sep-lazyload lazyautosizes lazyloaded\" data-mce-fragment=\"1\"\u003e\u003c\/div\u003e\n\u003cspan style=\"color: #ff2a00;\"\u003e\u003cspan style=\"color: #ff2a00;\"\u003e\u003c\/span\u003e\u003c\/span\u003e\n\u003cp\u003e\u003cspan style=\"color: #ff2a00;\"\u003e\u003cstrong\u003eFEATURES\u003c\/strong\u003e\u003c\/span\u003e\u003c\/p\u003e\n\u003cul\u003e\n\u003cli\u003e\n\u003cp\u003e\u003cstrong data-mce-fragment=\"1\"\u003e\u003cspan data-mce-fragment=\"1\"\u003eExplore the World - \u003c\/span\u003e\u003c\/strong\u003e\u003cspan data-mce-fragment=\"1\"\u003eWith the curiosity of the baby gradually increases, this busy activity cube solves this problem well and enables the baby to satisfy the curiosity under safe conditions. Learn while playing and improve their learning skills.\u003c\/span\u003e\u003c\/p\u003e\n\u003c\/li\u003e\n\u003cli\u003e\n\u003cp\u003e\u003cstrong\u003eMontessori Educational Toys - \u003c\/strong\u003eThrough this activity cube, your baby can improve and cultivate hand-eye coordination, imagination, and creativity while playing. Develop fine motor skills and logical thinking skills. It can keep children busy for a long time and give parents free time.\u003c\/p\u003e\n\u003c\/li\u003e\n\u003cli\u003e\n\u003cp\u003e\u003cstrong\u003eSafe Wooden Toy - \u003c\/strong\u003eCube is made from wood, plastic, and hardware. Which is safe and non-toxic to babies. It has been carefully crafted without any sharp edges and will not damage the baby's skin.\u003c\/p\u003e\n\u003c\/li\u003e\n\u003cli\u003e\n\u003cp\u003e\u003cspan data-mce-fragment=\"1\"\u003e\u003cstrong\u003eBest Travel Games - \u003c\/strong\u003eThe busy board is the perfect travel toy, very suitable for traveling by car or airplane.Its dimensions are 6.1 x 5.51 x 4.53 inches.All parts are firmly fixed, strong, and resistant, the best game for toddler travel.\u003c\/span\u003e\u003c\/p\u003e\n\u003c\/li\u003e\n\u003c\/ul\u003e\n\u003cp\u003e\u003cspan style=\"color: #ff2a00;\"\u003e\u003cstrong\u003eSPECIFICATIONS\u003c\/strong\u003e\u003c\/span\u003e\u003c\/p\u003e\n\u003cul\u003e\n\u003cli\u003e\n\u003cp\u003e\u003cstrong\u003eMaterial:\u003c\/strong\u003e Wood\u003c\/p\u003e\n\u003c\/li\u003e\n\u003cli\u003e\n\u003cp\u003e\u003cstrong\u003eAge:\u003c\/strong\u003e 18 months and above\u003c\/p\u003e\n\u003c\/li\u003e\n\u003cli\u003e\n\u003cp\u003e\u003cstrong\u003eFunction:\u003c\/strong\u003e Coordination and hands-on ability\u003c\/p\u003e\n\u003c\/li\u003e\n\u003cli\u003e\n\u003cp\u003e\u003cstrong\u003ePackage:\u003c\/strong\u003e 1 * Toddler Busy Board Montessori Toy\u003c\/p\u003e\n\u003c\/li\u003e\n\u003c\/ul\u003e\n\u003cp\u003e\u003cspan style=\"color: #ff2a00;\"\u003e\u003cstrong\u003eNOTE\u003c\/strong\u003e\u003c\/span\u003e\u003c\/p\u003e\n\u003cp\u003ePlease allow slight measurement deviations due to manual measurement.\u003cbr\u003e\u003c\/p\u003e\n\u003cp\u003eDue to the different monitor and light effect, the actual color of the item might be slightly different from the color showed in the pictures.\u003c\/p\u003e","published_at":"2022-01-27T20:11:04-10:00","created_at":"2021-07-28T16:27:33-10:00","vendor":"Yochoos","type":"Toys","tags":["toys"],"price":2999,"price_min":2999,"price_max":2999,"available":true,"price_varies":false,"compare_at_price":4998,"compare_at_price_min":4998,"compare_at_price_max":4998,"compare_at_price_varies":false,"variants":[{"id":40515642851488,"title":"A","option1":"A","option2":null,"option3":null,"sku":"TY19186-X14634","requires_shipping":true,"taxable":false,"featured_image":{"id":29608055636128,"product_id":6852762304672,"position":6,"created_at":"2021-07-28T16:27:33-10:00","updated_at":"2021-07-28T16:27:33-10:00","alt":null,"width":800,"height":800,"src":"\/\/www.flownwing.com\/cdn\/shop\/products\/6_39f30f2a-82e1-4307-a660-26ee6f9676ae.jpg?v=1627525653","variant_ids":[40515642851488]},"available":true,"name":"Toddler Busy Board Montessori Toys - A","public_title":"A","options":["A"],"price":2999,"weight":0,"compare_at_price":4998,"inventory_management":null,"barcode":null,"featured_media":{"alt":null,"id":21973423095968,"position":6,"preview_image":{"aspect_ratio":1.0,"height":800,"width":800,"src":"\/\/www.flownwing.com\/cdn\/shop\/products\/6_39f30f2a-82e1-4307-a660-26ee6f9676ae.jpg?v=1627525653"}},"requires_selling_plan":false,"selling_plan_allocations":[],"quantity_rule":{"min":1,"max":null,"increment":1}},{"id":40515642884256,"title":"B","option1":"B","option2":null,"option3":null,"sku":"TY19186-X14635","requires_shipping":true,"taxable":false,"featured_image":{"id":29608055701664,"product_id":6852762304672,"position":8,"created_at":"2021-07-28T16:27:33-10:00","updated_at":"2021-07-28T16:27:33-10:00","alt":null,"width":800,"height":800,"src":"\/\/www.flownwing.com\/cdn\/shop\/products\/8_8e907656-7d62-4fa9-bef5-b104d8797069.jpg?v=1627525653","variant_ids":[40515642884256]},"available":true,"name":"Toddler Busy Board Montessori Toys - B","public_title":"B","options":["B"],"price":2999,"weight":0,"compare_at_price":4998,"inventory_management":null,"barcode":null,"featured_media":{"alt":null,"id":21973423161504,"position":8,"preview_image":{"aspect_ratio":1.0,"height":800,"width":800,"src":"\/\/www.flownwing.com\/cdn\/shop\/products\/8_8e907656-7d62-4fa9-bef5-b104d8797069.jpg?v=1627525653"}},"requires_selling_plan":false,"selling_plan_allocations":[],"quantity_rule":{"min":1,"max":null,"increment":1}},{"id":40515642917024,"title":"C","option1":"C","option2":null,"option3":null,"sku":"TY19186-X14636","requires_shipping":true,"taxable":false,"featured_image":{"id":29608055668896,"product_id":6852762304672,"position":7,"created_at":"2021-07-28T16:27:33-10:00","updated_at":"2021-07-28T16:27:33-10:00","alt":null,"width":800,"height":800,"src":"\/\/www.flownwing.com\/cdn\/shop\/products\/7_94c3ebe2-d129-4762-aa5e-355671188a17.jpg?v=1627525653","variant_ids":[40515642917024]},"available":true,"name":"Toddler Busy Board Montessori Toys - C","public_title":"C","options":["C"],"price":2999,"weight":0,"compare_at_price":4998,"inventory_management":null,"barcode":null,"featured_media":{"alt":null,"id":21973423128736,"position":7,"preview_image":{"aspect_ratio":1.0,"height":800,"width":800,"src":"\/\/www.flownwing.com\/cdn\/shop\/products\/7_94c3ebe2-d129-4762-aa5e-355671188a17.jpg?v=1627525653"}},"requires_selling_plan":false,"selling_plan_allocations":[],"quantity_rule":{"min":1,"max":null,"increment":1}}],"images":["\/\/www.flownwing.com\/cdn\/shop\/products\/1_cabd5942-7396-4d2b-86d0-9a30b18b89d7.jpg?v=1627525653","\/\/www.flownwing.com\/cdn\/shop\/products\/2_2d0b04bb-6174-4fea-a952-0dac077203e0.jpg?v=1627525653","\/\/www.flownwing.com\/cdn\/shop\/products\/3_2c2da5a9-0df8-4c4f-8e30-a2f9b249706b.jpg?v=1627525653","\/\/www.flownwing.com\/cdn\/shop\/products\/4_bca4362a-4827-48ca-856e-89f767ede6f5.jpg?v=1627525653","\/\/www.flownwing.com\/cdn\/shop\/products\/5_d3ede8ae-9d0f-47f9-a13a-6f7116090e02.jpg?v=1627525653","\/\/www.flownwing.com\/cdn\/shop\/products\/6_39f30f2a-82e1-4307-a660-26ee6f9676ae.jpg?v=1627525653","\/\/www.flownwing.com\/cdn\/shop\/products\/7_94c3ebe2-d129-4762-aa5e-355671188a17.jpg?v=1627525653","\/\/www.flownwing.com\/cdn\/shop\/products\/8_8e907656-7d62-4fa9-bef5-b104d8797069.jpg?v=1627525653"],"featured_image":"\/\/www.flownwing.com\/cdn\/shop\/products\/1_cabd5942-7396-4d2b-86d0-9a30b18b89d7.jpg?v=1627525653","options":["Style"],"media":[{"alt":null,"id":21973422932128,"position":1,"preview_image":{"aspect_ratio":1.0,"height":800,"width":800,"src":"\/\/www.flownwing.com\/cdn\/shop\/products\/1_cabd5942-7396-4d2b-86d0-9a30b18b89d7.jpg?v=1627525653"},"aspect_ratio":1.0,"height":800,"media_type":"image","src":"\/\/www.flownwing.com\/cdn\/shop\/products\/1_cabd5942-7396-4d2b-86d0-9a30b18b89d7.jpg?v=1627525653","width":800},{"alt":null,"id":21973422964896,"position":2,"preview_image":{"aspect_ratio":1.0,"height":800,"width":800,"src":"\/\/www.flownwing.com\/cdn\/shop\/products\/2_2d0b04bb-6174-4fea-a952-0dac077203e0.jpg?v=1627525653"},"aspect_ratio":1.0,"height":800,"media_type":"image","src":"\/\/www.flownwing.com\/cdn\/shop\/products\/2_2d0b04bb-6174-4fea-a952-0dac077203e0.jpg?v=1627525653","width":800},{"alt":null,"id":21973422997664,"position":3,"preview_image":{"aspect_ratio":1.017,"height":787,"width":800,"src":"\/\/www.flownwing.com\/cdn\/shop\/products\/3_2c2da5a9-0df8-4c4f-8e30-a2f9b249706b.jpg?v=1627525653"},"aspect_ratio":1.017,"height":787,"media_type":"image","src":"\/\/www.flownwing.com\/cdn\/shop\/products\/3_2c2da5a9-0df8-4c4f-8e30-a2f9b249706b.jpg?v=1627525653","width":800},{"alt":null,"id":21973423030432,"position":4,"preview_image":{"aspect_ratio":1.014,"height":767,"width":778,"src":"\/\/www.flownwing.com\/cdn\/shop\/products\/4_bca4362a-4827-48ca-856e-89f767ede6f5.jpg?v=1627525653"},"aspect_ratio":1.014,"height":767,"media_type":"image","src":"\/\/www.flownwing.com\/cdn\/shop\/products\/4_bca4362a-4827-48ca-856e-89f767ede6f5.jpg?v=1627525653","width":778},{"alt":null,"id":21973423063200,"position":5,"preview_image":{"aspect_ratio":1.0,"height":800,"width":800,"src":"\/\/www.flownwing.com\/cdn\/shop\/products\/5_d3ede8ae-9d0f-47f9-a13a-6f7116090e02.jpg?v=1627525653"},"aspect_ratio":1.0,"height":800,"media_type":"image","src":"\/\/www.flownwing.com\/cdn\/shop\/products\/5_d3ede8ae-9d0f-47f9-a13a-6f7116090e02.jpg?v=1627525653","width":800},{"alt":null,"id":21973423095968,"position":6,"preview_image":{"aspect_ratio":1.0,"height":800,"width":800,"src":"\/\/www.flownwing.com\/cdn\/shop\/products\/6_39f30f2a-82e1-4307-a660-26ee6f9676ae.jpg?v=1627525653"},"aspect_ratio":1.0,"height":800,"media_type":"image","src":"\/\/www.flownwing.com\/cdn\/shop\/products\/6_39f30f2a-82e1-4307-a660-26ee6f9676ae.jpg?v=1627525653","width":800},{"alt":null,"id":21973423128736,"position":7,"preview_image":{"aspect_ratio":1.0,"height":800,"width":800,"src":"\/\/www.flownwing.com\/cdn\/shop\/products\/7_94c3ebe2-d129-4762-aa5e-355671188a17.jpg?v=1627525653"},"aspect_ratio":1.0,"height":800,"media_type":"image","src":"\/\/www.flownwing.com\/cdn\/shop\/products\/7_94c3ebe2-d129-4762-aa5e-355671188a17.jpg?v=1627525653","width":800},{"alt":null,"id":21973423161504,"position":8,"preview_image":{"aspect_ratio":1.0,"height":800,"width":800,"src":"\/\/www.flownwing.com\/cdn\/shop\/products\/8_8e907656-7d62-4fa9-bef5-b104d8797069.jpg?v=1627525653"},"aspect_ratio":1.0,"height":800,"media_type":"image","src":"\/\/www.flownwing.com\/cdn\/shop\/products\/8_8e907656-7d62-4fa9-bef5-b104d8797069.jpg?v=1627525653","width":800}],"requires_selling_plan":false,"selling_plan_groups":[],"content":"\u003cstrong\u003e\u003cspan style=\"color: #e48080;\"\u003e\u003cem\u003eIf you have a naughty and active baby, this busy cube can make the baby concentrate on playing and free the parents' hands.\u003c\/em\u003e\u003c\/span\u003e\u003c\/strong\u003e\u003cbr data-mce-fragment=\"1\"\u003e\n\u003cdiv\u003e\u003cimg style=\"display: block; margin-left: auto; margin-right: auto;\" srcset=\"https:\/\/cdn.shoplazza.com\/fb3431437d3f81eb3b70971410b7f191_720.jpg 48w, https:\/\/cdn.shoplazza.com\/fb3431437d3f81eb3b70971410b7f191_720.jpg 180w, https:\/\/cdn.shoplazza.com\/fb3431437d3f81eb3b70971410b7f191_720.jpg 360w, https:\/\/cdn.shoplazza.com\/fb3431437d3f81eb3b70971410b7f191_720.jpg 540w, https:\/\/cdn.shoplazza.com\/fb3431437d3f81eb3b70971410b7f191_720.jpg 720w, https:\/\/cdn.shoplazza.com\/fb3431437d3f81eb3b70971410b7f191_720.jpg 900w, https:\/\/cdn.shoplazza.com\/fb3431437d3f81eb3b70971410b7f191_720.jpg 1024w, https:\/\/cdn.shoplazza.com\/fb3431437d3f81eb3b70971410b7f191_720.jpg 1280w, https:\/\/cdn.shoplazza.com\/fb3431437d3f81eb3b70971410b7f191_720.jpg 1366w, https:\/\/cdn.shoplazza.com\/fb3431437d3f81eb3b70971410b7f191_720.jpg 1440w, https:\/\/cdn.shoplazza.com\/fb3431437d3f81eb3b70971410b7f191_720.jpg 1536w, https:\/\/cdn.shoplazza.com\/fb3431437d3f81eb3b70971410b7f191_720.jpg 1600w, https:\/\/cdn.shoplazza.com\/fb3431437d3f81eb3b70971410b7f191_720.jpg 1920w, https:\/\/cdn.shoplazza.com\/fb3431437d3f81eb3b70971410b7f191_720.jpg 2056w, https:\/\/cdn.shoplazza.com\/fb3431437d3f81eb3b70971410b7f191_720.jpg 2560w, https:\/\/cdn.shoplazza.com\/fb3431437d3f81eb3b70971410b7f191_720.jpg 2732w, https:\/\/cdn.shoplazza.com\/fb3431437d3f81eb3b70971410b7f191_720.jpg 2880w, https:\/\/cdn.shoplazza.com\/fb3431437d3f81eb3b70971410b7f191_720.jpg 3072w, https:\/\/cdn.shoplazza.com\/fb3431437d3f81eb3b70971410b7f191_720.jpg 3200w, https:\/\/cdn.shoplazza.com\/fb3431437d3f81eb3b70971410b7f191_720.jpg 3840w\" sizes=\"599px\" data-srcset=\"https:\/\/cdn.shoplazza.com\/fb3431437d3f81eb3b70971410b7f191_720.jpg 48w, https:\/\/cdn.shoplazza.com\/fb3431437d3f81eb3b70971410b7f191_720.jpg 180w, https:\/\/cdn.shoplazza.com\/fb3431437d3f81eb3b70971410b7f191_720.jpg 360w, https:\/\/cdn.shoplazza.com\/fb3431437d3f81eb3b70971410b7f191_720.jpg 540w, https:\/\/cdn.shoplazza.com\/fb3431437d3f81eb3b70971410b7f191_720.jpg 720w, https:\/\/cdn.shoplazza.com\/fb3431437d3f81eb3b70971410b7f191_720.jpg 900w, https:\/\/cdn.shoplazza.com\/fb3431437d3f81eb3b70971410b7f191_720.jpg 1024w, https:\/\/cdn.shoplazza.com\/fb3431437d3f81eb3b70971410b7f191_720.jpg 1280w, https:\/\/cdn.shoplazza.com\/fb3431437d3f81eb3b70971410b7f191_720.jpg 1366w, https:\/\/cdn.shoplazza.com\/fb3431437d3f81eb3b70971410b7f191_720.jpg 1440w, https:\/\/cdn.shoplazza.com\/fb3431437d3f81eb3b70971410b7f191_720.jpg 1536w, https:\/\/cdn.shoplazza.com\/fb3431437d3f81eb3b70971410b7f191_720.jpg 1600w, https:\/\/cdn.shoplazza.com\/fb3431437d3f81eb3b70971410b7f191_720.jpg 1920w, https:\/\/cdn.shoplazza.com\/fb3431437d3f81eb3b70971410b7f191_720.jpg 2056w, https:\/\/cdn.shoplazza.com\/fb3431437d3f81eb3b70971410b7f191_720.jpg 2560w, https:\/\/cdn.shoplazza.com\/fb3431437d3f81eb3b70971410b7f191_720.jpg 2732w, https:\/\/cdn.shoplazza.com\/fb3431437d3f81eb3b70971410b7f191_720.jpg 2880w, https:\/\/cdn.shoplazza.com\/fb3431437d3f81eb3b70971410b7f191_720.jpg 3072w, https:\/\/cdn.shoplazza.com\/fb3431437d3f81eb3b70971410b7f191_720.jpg 3200w, https:\/\/cdn.shoplazza.com\/fb3431437d3f81eb3b70971410b7f191_720.jpg 3840w\" width=\"379\" height=\"379\" alt=\"\" data-sizes=\"auto\" class=\"sep-lazyload lazyautosizes lazyloaded\" data-mce-fragment=\"1\"\u003e\u003c\/div\u003e\n\u003cspan style=\"color: #ff2a00;\"\u003e\u003cspan style=\"color: #ff2a00;\"\u003e\u003c\/span\u003e\u003c\/span\u003e\n\u003cp\u003e\u003cspan style=\"color: #ff2a00;\"\u003e\u003cstrong\u003eFEATURES\u003c\/strong\u003e\u003c\/span\u003e\u003c\/p\u003e\n\u003cul\u003e\n\u003cli\u003e\n\u003cp\u003e\u003cstrong data-mce-fragment=\"1\"\u003e\u003cspan data-mce-fragment=\"1\"\u003eExplore the World - \u003c\/span\u003e\u003c\/strong\u003e\u003cspan data-mce-fragment=\"1\"\u003eWith the curiosity of the baby gradually increases, this busy activity cube solves this problem well and enables the baby to satisfy the curiosity under safe conditions. Learn while playing and improve their learning skills.\u003c\/span\u003e\u003c\/p\u003e\n\u003c\/li\u003e\n\u003cli\u003e\n\u003cp\u003e\u003cstrong\u003eMontessori Educational Toys - \u003c\/strong\u003eThrough this activity cube, your baby can improve and cultivate hand-eye coordination, imagination, and creativity while playing. Develop fine motor skills and logical thinking skills. It can keep children busy for a long time and give parents free time.\u003c\/p\u003e\n\u003c\/li\u003e\n\u003cli\u003e\n\u003cp\u003e\u003cstrong\u003eSafe Wooden Toy - \u003c\/strong\u003eCube is made from wood, plastic, and hardware. Which is safe and non-toxic to babies. It has been carefully crafted without any sharp edges and will not damage the baby's skin.\u003c\/p\u003e\n\u003c\/li\u003e\n\u003cli\u003e\n\u003cp\u003e\u003cspan data-mce-fragment=\"1\"\u003e\u003cstrong\u003eBest Travel Games - \u003c\/strong\u003eThe busy board is the perfect travel toy, very suitable for traveling by car or airplane.Its dimensions are 6.1 x 5.51 x 4.53 inches.All parts are firmly fixed, strong, and resistant, the best game for toddler travel.\u003c\/span\u003e\u003c\/p\u003e\n\u003c\/li\u003e\n\u003c\/ul\u003e\n\u003cp\u003e\u003cspan style=\"color: #ff2a00;\"\u003e\u003cstrong\u003eSPECIFICATIONS\u003c\/strong\u003e\u003c\/span\u003e\u003c\/p\u003e\n\u003cul\u003e\n\u003cli\u003e\n\u003cp\u003e\u003cstrong\u003eMaterial:\u003c\/strong\u003e Wood\u003c\/p\u003e\n\u003c\/li\u003e\n\u003cli\u003e\n\u003cp\u003e\u003cstrong\u003eAge:\u003c\/strong\u003e 18 months and above\u003c\/p\u003e\n\u003c\/li\u003e\n\u003cli\u003e\n\u003cp\u003e\u003cstrong\u003eFunction:\u003c\/strong\u003e Coordination and hands-on ability\u003c\/p\u003e\n\u003c\/li\u003e\n\u003cli\u003e\n\u003cp\u003e\u003cstrong\u003ePackage:\u003c\/strong\u003e 1 * Toddler Busy Board Montessori Toy\u003c\/p\u003e\n\u003c\/li\u003e\n\u003c\/ul\u003e\n\u003cp\u003e\u003cspan style=\"color: #ff2a00;\"\u003e\u003cstrong\u003eNOTE\u003c\/strong\u003e\u003c\/span\u003e\u003c\/p\u003e\n\u003cp\u003ePlease allow slight measurement deviations due to manual measurement.\u003cbr\u003e\u003c\/p\u003e\n\u003cp\u003eDue to the different monitor and light effect, the actual color of the item might be slightly different from the color showed in the pictures.\u003c\/p\u003e"}
Toddler Busy Board Montessori Toys
Adding product to your cart
If you have a naughty and active baby, this busy cube can make the baby concentrate on playing and free the parents' hands.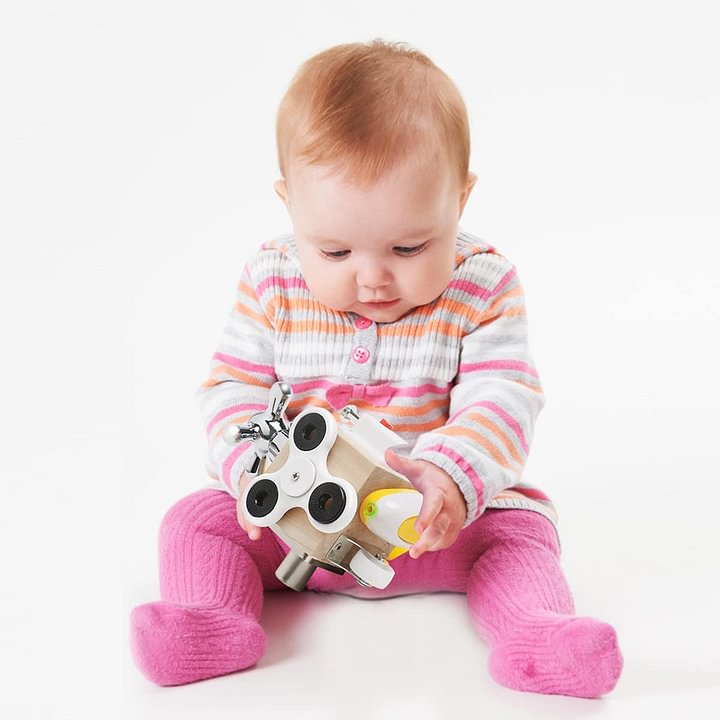 FEATURES
Explore the World - With the curiosity of the baby gradually increases, this busy activity cube solves this problem well and enables the baby to satisfy the curiosity under safe conditions. Learn while playing and improve their learning skills.

Montessori Educational Toys - Through this activity cube, your baby can improve and cultivate hand-eye coordination, imagination, and creativity while playing. Develop fine motor skills and logical thinking skills. It can keep children busy for a long time and give parents free time.

Safe Wooden Toy - Cube is made from wood, plastic, and hardware. Which is safe and non-toxic to babies. It has been carefully crafted without any sharp edges and will not damage the baby's skin.

Best Travel Games - The busy board is the perfect travel toy, very suitable for traveling by car or airplane.Its dimensions are 6.1 x 5.51 x 4.53 inches.All parts are firmly fixed, strong, and resistant, the best game for toddler travel.
SPECIFICATIONS
Material: Wood

Age: 18 months and above

Function: Coordination and hands-on ability

Package: 1 * Toddler Busy Board Montessori Toy
NOTE
Please allow slight measurement deviations due to manual measurement.

Due to the different monitor and light effect, the actual color of the item might be slightly different from the color showed in the pictures.