{"id":7059244056736,"title":"Sank® To My Grandson Granddaughter Son Daughter Gift Lettering Keychain","handle":"to-my-grandson-granddaughter-son-daughter-gift-lettering-keychain","description":"\u003cdiv style=\"text-align: center;\"\u003e\u003cstrong\u003e\u003cspan data-mce-fragment=\"1\"\u003e👨‍👩‍👧‍👦\u003c\/span\u003eTo My Son, Daughter Keychain Gift From Parent \u003cspan style=\"color: #ca3939;\"\u003eI\u003c\/span\u003e\u003cspan style=\"color: #ce3e3e;\"\u003e\u003cspan style=\"color: #ca3939;\"\u003ens\u003c\/span\u003epirational Birthday Christmas Gift for Son Daughter for Teen Boy Girl 💕\u003c\/span\u003e\u003c\/strong\u003e\u003c\/div\u003e\n\u003cdiv style=\"text-align: center;\"\u003e\u003cstrong\u003e\u003cspan style=\"color: #ce3e3e;\"\u003e\u003c\/span\u003e\u003c\/strong\u003e\u003c\/div\u003e\n\u003cdiv style=\"text-align: center;\"\u003e\u003cstrong\u003e✨The letters A-Z can be chosen✨\u003c\/strong\u003e\u003c\/div\u003e\n\u003cdiv style=\"text-align: center;\"\u003e\u003cstrong\u003e\u003c\/strong\u003e\u003c\/div\u003e\n\u003cdiv style=\"text-align: center;\"\u003e\u003cstrong\u003e\u003cimg src=\"https:\/\/cdn.shopifycdn.net\/s\/files\/1\/0296\/2073\/1988\/products\/6_351d8ba7-ad79-4e91-90d1-c6eb685a960a_800x.jpg?v=1632972370\" width=\"381\" height=\"381\"\u003e\u003c\/strong\u003e\u003c\/div\u003e\n\u003cp\u003e\u003cspan style=\"color: #ff2a00;\"\u003e\u003cstrong\u003eFeatures\u003c\/strong\u003e\u003c\/span\u003e\u003c\/p\u003e\n\u003cul\u003e\n\u003cli\u003e\n\u003cp\u003eStainless steel necklace pendant keychain, the surface of the plating layer is protected.\u003c\/p\u003e\n\u003c\/li\u003e\n\u003cli\u003e\n\u003cp\u003eExquisite workmanship, beautiful and generous.\u003c\/p\u003e\n\u003c\/li\u003e\n\u003cli\u003e\n\u003cp\u003eAffordable price, unique style.\u003c\/p\u003e\n\u003c\/li\u003e\n\u003cli\u003e\n\u003cp\u003eIt is convenient to open physical stores, online stores, and friends on various cross-border platforms for wholesale and retail.\u003c\/p\u003e\n\u003c\/li\u003e\n\u003c\/ul\u003e\n\u003cp\u003e\u003cspan style=\"color: #ff2a00;\"\u003e\u003cstrong\u003eSpecifications\u003c\/strong\u003e\u003c\/span\u003e\u003c\/p\u003e\n\u003cul\u003e\n\u003cli\u003e\n\u003cp\u003e\u003cstrong\u003eMaterial:\u003c\/strong\u003e Stainless steel\u003c\/p\u003e\n\u003c\/li\u003e\n\u003cli\u003e\n\u003cp\u003e\u003cstrong\u003eColor:\u003c\/strong\u003e Silver\u003c\/p\u003e\n\u003c\/li\u003e\n\u003cli\u003e\n\u003cp\u003e\u003cstrong\u003eWeight:\u003c\/strong\u003e 22g\u003c\/p\u003e\n\u003c\/li\u003e\n\u003c\/ul\u003e\n\u003cp\u003e\u003cspan style=\"color: #ff2a00;\"\u003e\u003cstrong\u003ePackage\u003c\/strong\u003e\u003c\/span\u003e\u003c\/p\u003e\n\u003cul\u003e\n\u003cli\u003e1* Army brand lettering keychain\u003c\/li\u003e\n\u003c\/ul\u003e\n\u003cp\u003e\u003cspan style=\"color: #ff2a00;\"\u003e\u003cstrong\u003eNote\u003c\/strong\u003e\u003c\/span\u003e\u003c\/p\u003e\n\u003cul\u003e\n\u003cli\u003e\u003cspan data-mce-fragment=\"1\"\u003eDue to the different display and lighting effects, the actual color of the object may differ slightly from the color shown in the photo.\u003c\/span\u003e\u003c\/li\u003e\n\u003c\/ul\u003e","published_at":"2022-01-27T19:46:06-10:00","created_at":"2021-10-07T23:02:50-10:00","vendor":"Antasie","type":"","tags":[],"price":1099,"price_min":1099,"price_max":1099,"available":true,"price_varies":false,"compare_at_price":2199,"compare_at_price_min":2199,"compare_at_price_max":2199,"compare_at_price_varies":false,"variants":[{"id":41138152898720,"title":"Silver one for grandson \/ A","option1":"Silver one for grandson","option2":"A","option3":null,"sku":"CP20972-C507-X4595","requires_shipping":true,"taxable":false,"featured_image":null,"available":true,"name":"Sank® To My Grandson Granddaughter Son Daughter Gift Lettering Keychain - Silver one for grandson \/ A","public_title":"Silver one for grandson \/ A","options":["Silver one for grandson","A"],"price":1099,"weight":0,"compare_at_price":2199,"inventory_management":null,"barcode":null,"requires_selling_plan":false,"selling_plan_allocations":[],"quantity_rule":{"min":1,"max":null,"increment":1}},{"id":41138152931488,"title":"Silver one for grandson \/ B","option1":"Silver one for grandson","option2":"B","option3":null,"sku":"CP20972-C507-X4596","requires_shipping":true,"taxable":false,"featured_image":null,"available":true,"name":"Sank® To My Grandson Granddaughter Son Daughter Gift Lettering Keychain - Silver one for grandson \/ B","public_title":"Silver one for grandson \/ B","options":["Silver one for grandson","B"],"price":1099,"weight":0,"compare_at_price":2199,"inventory_management":null,"barcode":null,"requires_selling_plan":false,"selling_plan_allocations":[],"quantity_rule":{"min":1,"max":null,"increment":1}},{"id":41138152964256,"title":"Silver one for grandson \/ C","option1":"Silver one for grandson","option2":"C","option3":null,"sku":"CP20972-C507-X4597","requires_shipping":true,"taxable":false,"featured_image":null,"available":true,"name":"Sank® To My Grandson Granddaughter Son Daughter Gift Lettering Keychain - Silver one for grandson \/ C","public_title":"Silver one for grandson \/ C","options":["Silver one for grandson","C"],"price":1099,"weight":0,"compare_at_price":2199,"inventory_management":null,"barcode":null,"requires_selling_plan":false,"selling_plan_allocations":[],"quantity_rule":{"min":1,"max":null,"increment":1}},{"id":41138152997024,"title":"Silver one for grandson \/ D","option1":"Silver one for grandson","option2":"D","option3":null,"sku":"CP20972-C507-X4598","requires_shipping":true,"taxable":false,"featured_image":null,"available":true,"name":"Sank® To My Grandson Granddaughter Son Daughter Gift Lettering Keychain - Silver one for grandson \/ D","public_title":"Silver one for grandson \/ D","options":["Silver one for grandson","D"],"price":1099,"weight":0,"compare_at_price":2199,"inventory_management":null,"barcode":null,"requires_selling_plan":false,"selling_plan_allocations":[],"quantity_rule":{"min":1,"max":null,"increment":1}},{"id":41138153029792,"title":"Silver one for grandson \/ E","option1":"Silver one for grandson","option2":"E","option3":null,"sku":"CP20972-C507-X4599","requires_shipping":true,"taxable":false,"featured_image":null,"available":true,"name":"Sank® To My Grandson Granddaughter Son Daughter Gift Lettering Keychain - Silver one for grandson \/ E","public_title":"Silver one for grandson \/ E","options":["Silver one for grandson","E"],"price":1099,"weight":0,"compare_at_price":2199,"inventory_management":null,"barcode":null,"requires_selling_plan":false,"selling_plan_allocations":[],"quantity_rule":{"min":1,"max":null,"increment":1}},{"id":41138153062560,"title":"Silver one for grandson \/ F","option1":"Silver one for grandson","option2":"F","option3":null,"sku":"CP20972-C507-X14615","requires_shipping":true,"taxable":false,"featured_image":null,"available":true,"name":"Sank® To My Grandson Granddaughter Son Daughter Gift Lettering Keychain - Silver one for grandson \/ F","public_title":"Silver one for grandson \/ F","options":["Silver one for grandson","F"],"price":1099,"weight":0,"compare_at_price":2199,"inventory_management":null,"barcode":null,"requires_selling_plan":false,"selling_plan_allocations":[],"quantity_rule":{"min":1,"max":null,"increment":1}},{"id":41138153095328,"title":"Silver one for grandson \/ G","option1":"Silver one for grandson","option2":"G","option3":null,"sku":"CP20972-C507-X9338","requires_shipping":true,"taxable":false,"featured_image":null,"available":true,"name":"Sank® To My Grandson Granddaughter Son Daughter Gift Lettering Keychain - Silver one for grandson \/ G","public_title":"Silver one for grandson \/ G","options":["Silver one for grandson","G"],"price":1099,"weight":0,"compare_at_price":2199,"inventory_management":null,"barcode":null,"requires_selling_plan":false,"selling_plan_allocations":[],"quantity_rule":{"min":1,"max":null,"increment":1}},{"id":41138153128096,"title":"Silver one for grandson \/ H","option1":"Silver one for grandson","option2":"H","option3":null,"sku":"CP20972-C507-X9339","requires_shipping":true,"taxable":false,"featured_image":null,"available":true,"name":"Sank® To My Grandson Granddaughter Son Daughter Gift Lettering Keychain - Silver one for grandson \/ H","public_title":"Silver one for grandson \/ H","options":["Silver one for grandson","H"],"price":1099,"weight":0,"compare_at_price":2199,"inventory_management":null,"barcode":null,"requires_selling_plan":false,"selling_plan_allocations":[],"quantity_rule":{"min":1,"max":null,"increment":1}},{"id":41138153160864,"title":"Silver one for grandson \/ I","option1":"Silver one for grandson","option2":"I","option3":null,"sku":"CP20972-C507-X9340","requires_shipping":true,"taxable":false,"featured_image":null,"available":true,"name":"Sank® To My Grandson Granddaughter Son Daughter Gift Lettering Keychain - Silver one for grandson \/ I","public_title":"Silver one for grandson \/ I","options":["Silver one for grandson","I"],"price":1099,"weight":0,"compare_at_price":2199,"inventory_management":null,"barcode":null,"requires_selling_plan":false,"selling_plan_allocations":[],"quantity_rule":{"min":1,"max":null,"increment":1}},{"id":41138153193632,"title":"Silver one for grandson \/ J","option1":"Silver one for grandson","option2":"J","option3":null,"sku":"CP20972-C507-X9341","requires_shipping":true,"taxable":false,"featured_image":null,"available":true,"name":"Sank® To My Grandson Granddaughter Son Daughter Gift Lettering Keychain - Silver one for grandson \/ J","public_title":"Silver one for grandson \/ J","options":["Silver one for grandson","J"],"price":1099,"weight":0,"compare_at_price":2199,"inventory_management":null,"barcode":null,"requires_selling_plan":false,"selling_plan_allocations":[],"quantity_rule":{"min":1,"max":null,"increment":1}},{"id":41138153226400,"title":"Silver one for grandson \/ K","option1":"Silver one for grandson","option2":"K","option3":null,"sku":"CP20972-C507-X9342","requires_shipping":true,"taxable":false,"featured_image":null,"available":true,"name":"Sank® To My Grandson Granddaughter Son Daughter Gift Lettering Keychain - Silver one for grandson \/ K","public_title":"Silver one for grandson \/ K","options":["Silver one for grandson","K"],"price":1099,"weight":0,"compare_at_price":2199,"inventory_management":null,"barcode":null,"requires_selling_plan":false,"selling_plan_allocations":[],"quantity_rule":{"min":1,"max":null,"increment":1}},{"id":41138153259168,"title":"Silver one for grandson \/ L","option1":"Silver one for grandson","option2":"L","option3":null,"sku":"CP20972-C507-X8758","requires_shipping":true,"taxable":false,"featured_image":null,"available":true,"name":"Sank® To My Grandson Granddaughter Son Daughter Gift Lettering Keychain - Silver one for grandson \/ L","public_title":"Silver one for grandson \/ L","options":["Silver one for grandson","L"],"price":1099,"weight":0,"compare_at_price":2199,"inventory_management":null,"barcode":null,"requires_selling_plan":false,"selling_plan_allocations":[],"quantity_rule":{"min":1,"max":null,"increment":1}},{"id":41138153291936,"title":"Silver one for grandson \/ M","option1":"Silver one for grandson","option2":"M","option3":null,"sku":"CP20972-C507-X14618","requires_shipping":true,"taxable":false,"featured_image":null,"available":true,"name":"Sank® To My Grandson Granddaughter Son Daughter Gift Lettering Keychain - Silver one for grandson \/ M","public_title":"Silver one for grandson \/ M","options":["Silver one for grandson","M"],"price":1099,"weight":0,"compare_at_price":2199,"inventory_management":null,"barcode":null,"requires_selling_plan":false,"selling_plan_allocations":[],"quantity_rule":{"min":1,"max":null,"increment":1}},{"id":41138153324704,"title":"Silver one for grandson \/ N","option1":"Silver one for grandson","option2":"N","option3":null,"sku":"CP20972-C507-X9343","requires_shipping":true,"taxable":false,"featured_image":null,"available":true,"name":"Sank® To My Grandson Granddaughter Son Daughter Gift Lettering Keychain - Silver one for grandson \/ N","public_title":"Silver one for grandson \/ N","options":["Silver one for grandson","N"],"price":1099,"weight":0,"compare_at_price":2199,"inventory_management":null,"barcode":null,"requires_selling_plan":false,"selling_plan_allocations":[],"quantity_rule":{"min":1,"max":null,"increment":1}},{"id":41138153357472,"title":"Silver one for grandson \/ O","option1":"Silver one for grandson","option2":"O","option3":null,"sku":"CP20972-C507-X9344","requires_shipping":true,"taxable":false,"featured_image":null,"available":true,"name":"Sank® To My Grandson Granddaughter Son Daughter Gift Lettering Keychain - Silver one for grandson \/ O","public_title":"Silver one for grandson \/ O","options":["Silver one for grandson","O"],"price":1099,"weight":0,"compare_at_price":2199,"inventory_management":null,"barcode":null,"requires_selling_plan":false,"selling_plan_allocations":[],"quantity_rule":{"min":1,"max":null,"increment":1}},{"id":41138153390240,"title":"Silver one for grandson \/ P","option1":"Silver one for grandson","option2":"P","option3":null,"sku":"CP20972-C507-X9345","requires_shipping":true,"taxable":false,"featured_image":null,"available":true,"name":"Sank® To My Grandson Granddaughter Son Daughter Gift Lettering Keychain - Silver one for grandson \/ P","public_title":"Silver one for grandson \/ P","options":["Silver one for grandson","P"],"price":1099,"weight":0,"compare_at_price":2199,"inventory_management":null,"barcode":null,"requires_selling_plan":false,"selling_plan_allocations":[],"quantity_rule":{"min":1,"max":null,"increment":1}},{"id":41138153423008,"title":"Silver one for grandson \/ Q","option1":"Silver one for grandson","option2":"Q","option3":null,"sku":"CP20972-C507-X9347","requires_shipping":true,"taxable":false,"featured_image":null,"available":true,"name":"Sank® To My Grandson Granddaughter Son Daughter Gift Lettering Keychain - Silver one for grandson \/ Q","public_title":"Silver one for grandson \/ Q","options":["Silver one for grandson","Q"],"price":1099,"weight":0,"compare_at_price":2199,"inventory_management":null,"barcode":null,"requires_selling_plan":false,"selling_plan_allocations":[],"quantity_rule":{"min":1,"max":null,"increment":1}},{"id":41138153455776,"title":"Silver one for grandson \/ R","option1":"Silver one for grandson","option2":"R","option3":null,"sku":"CP20972-C507-X9349","requires_shipping":true,"taxable":false,"featured_image":null,"available":true,"name":"Sank® To My Grandson Granddaughter Son Daughter Gift Lettering Keychain - Silver one for grandson \/ R","public_title":"Silver one for grandson \/ R","options":["Silver one for grandson","R"],"price":1099,"weight":0,"compare_at_price":2199,"inventory_management":null,"barcode":null,"requires_selling_plan":false,"selling_plan_allocations":[],"quantity_rule":{"min":1,"max":null,"increment":1}},{"id":41138153488544,"title":"Silver one for grandson \/ S","option1":"Silver one for grandson","option2":"S","option3":null,"sku":"CP20972-C507-X8750","requires_shipping":true,"taxable":false,"featured_image":null,"available":true,"name":"Sank® To My Grandson Granddaughter Son Daughter Gift Lettering Keychain - Silver one for grandson \/ S","public_title":"Silver one for grandson \/ S","options":["Silver one for grandson","S"],"price":1099,"weight":0,"compare_at_price":2199,"inventory_management":null,"barcode":null,"requires_selling_plan":false,"selling_plan_allocations":[],"quantity_rule":{"min":1,"max":null,"increment":1}},{"id":41138153521312,"title":"Silver one for grandson \/ T","option1":"Silver one for grandson","option2":"T","option3":null,"sku":"CP20972-C507-X9351","requires_shipping":true,"taxable":false,"featured_image":null,"available":true,"name":"Sank® To My Grandson Granddaughter Son Daughter Gift Lettering Keychain - Silver one for grandson \/ T","public_title":"Silver one for grandson \/ T","options":["Silver one for grandson","T"],"price":1099,"weight":0,"compare_at_price":2199,"inventory_management":null,"barcode":null,"requires_selling_plan":false,"selling_plan_allocations":[],"quantity_rule":{"min":1,"max":null,"increment":1}},{"id":41138153554080,"title":"Silver one for grandson \/ U","option1":"Silver one for grandson","option2":"U","option3":null,"sku":"CP20972-C507-X9352","requires_shipping":true,"taxable":false,"featured_image":null,"available":true,"name":"Sank® To My Grandson Granddaughter Son Daughter Gift Lettering Keychain - Silver one for grandson \/ U","public_title":"Silver one for grandson \/ U","options":["Silver one for grandson","U"],"price":1099,"weight":0,"compare_at_price":2199,"inventory_management":null,"barcode":null,"requires_selling_plan":false,"selling_plan_allocations":[],"quantity_rule":{"min":1,"max":null,"increment":1}},{"id":41138153586848,"title":"Silver one for grandson \/ V","option1":"Silver one for grandson","option2":"V","option3":null,"sku":"CP20972-C507-X9354","requires_shipping":true,"taxable":false,"featured_image":null,"available":true,"name":"Sank® To My Grandson Granddaughter Son Daughter Gift Lettering Keychain - Silver one for grandson \/ V","public_title":"Silver one for grandson \/ V","options":["Silver one for grandson","V"],"price":1099,"weight":0,"compare_at_price":2199,"inventory_management":null,"barcode":null,"requires_selling_plan":false,"selling_plan_allocations":[],"quantity_rule":{"min":1,"max":null,"increment":1}},{"id":41138153619616,"title":"Silver one for grandson \/ W","option1":"Silver one for grandson","option2":"W","option3":null,"sku":"CP20972-C507-X9355","requires_shipping":true,"taxable":false,"featured_image":null,"available":true,"name":"Sank® To My Grandson Granddaughter Son Daughter Gift Lettering Keychain - Silver one for grandson \/ W","public_title":"Silver one for grandson \/ W","options":["Silver one for grandson","W"],"price":1099,"weight":0,"compare_at_price":2199,"inventory_management":null,"barcode":null,"requires_selling_plan":false,"selling_plan_allocations":[],"quantity_rule":{"min":1,"max":null,"increment":1}},{"id":41138153652384,"title":"Silver one for grandson \/ X","option1":"Silver one for grandson","option2":"X","option3":null,"sku":"CP20972-C507-X9356","requires_shipping":true,"taxable":false,"featured_image":null,"available":true,"name":"Sank® To My Grandson Granddaughter Son Daughter Gift Lettering Keychain - Silver one for grandson \/ X","public_title":"Silver one for grandson \/ X","options":["Silver one for grandson","X"],"price":1099,"weight":0,"compare_at_price":2199,"inventory_management":null,"barcode":null,"requires_selling_plan":false,"selling_plan_allocations":[],"quantity_rule":{"min":1,"max":null,"increment":1}},{"id":41138153685152,"title":"Silver one for grandson \/ Y","option1":"Silver one for grandson","option2":"Y","option3":null,"sku":"CP20972-C507-X9357","requires_shipping":true,"taxable":false,"featured_image":null,"available":true,"name":"Sank® To My Grandson Granddaughter Son Daughter Gift Lettering Keychain - Silver one for grandson \/ Y","public_title":"Silver one for grandson \/ Y","options":["Silver one for grandson","Y"],"price":1099,"weight":0,"compare_at_price":2199,"inventory_management":null,"barcode":null,"requires_selling_plan":false,"selling_plan_allocations":[],"quantity_rule":{"min":1,"max":null,"increment":1}},{"id":41138153717920,"title":"Silver one for grandson \/ Z","option1":"Silver one for grandson","option2":"Z","option3":null,"sku":"CP20972-C507-X9358","requires_shipping":true,"taxable":false,"featured_image":null,"available":true,"name":"Sank® To My Grandson Granddaughter Son Daughter Gift Lettering Keychain - Silver one for grandson \/ Z","public_title":"Silver one for grandson \/ Z","options":["Silver one for grandson","Z"],"price":1099,"weight":0,"compare_at_price":2199,"inventory_management":null,"barcode":null,"requires_selling_plan":false,"selling_plan_allocations":[],"quantity_rule":{"min":1,"max":null,"increment":1}},{"id":41138153750688,"title":"Silver one for granddaughter \/ A","option1":"Silver one for granddaughter","option2":"A","option3":null,"sku":"CP20972-C508-X4595","requires_shipping":true,"taxable":false,"featured_image":null,"available":true,"name":"Sank® To My Grandson Granddaughter Son Daughter Gift Lettering Keychain - Silver one for granddaughter \/ A","public_title":"Silver one for granddaughter \/ A","options":["Silver one for granddaughter","A"],"price":1099,"weight":0,"compare_at_price":2199,"inventory_management":null,"barcode":null,"requires_selling_plan":false,"selling_plan_allocations":[],"quantity_rule":{"min":1,"max":null,"increment":1}},{"id":41138153783456,"title":"Silver one for granddaughter \/ B","option1":"Silver one for granddaughter","option2":"B","option3":null,"sku":"CP20972-C508-X4596","requires_shipping":true,"taxable":false,"featured_image":null,"available":true,"name":"Sank® To My Grandson Granddaughter Son Daughter Gift Lettering Keychain - Silver one for granddaughter \/ B","public_title":"Silver one for granddaughter \/ B","options":["Silver one for granddaughter","B"],"price":1099,"weight":0,"compare_at_price":2199,"inventory_management":null,"barcode":null,"requires_selling_plan":false,"selling_plan_allocations":[],"quantity_rule":{"min":1,"max":null,"increment":1}},{"id":41138153816224,"title":"Silver one for granddaughter \/ C","option1":"Silver one for granddaughter","option2":"C","option3":null,"sku":"CP20972-C508-X4597","requires_shipping":true,"taxable":false,"featured_image":null,"available":true,"name":"Sank® To My Grandson Granddaughter Son Daughter Gift Lettering Keychain - Silver one for granddaughter \/ C","public_title":"Silver one for granddaughter \/ C","options":["Silver one for granddaughter","C"],"price":1099,"weight":0,"compare_at_price":2199,"inventory_management":null,"barcode":null,"requires_selling_plan":false,"selling_plan_allocations":[],"quantity_rule":{"min":1,"max":null,"increment":1}},{"id":41138153848992,"title":"Silver one for granddaughter \/ D","option1":"Silver one for granddaughter","option2":"D","option3":null,"sku":"CP20972-C508-X4598","requires_shipping":true,"taxable":false,"featured_image":null,"available":true,"name":"Sank® To My Grandson Granddaughter Son Daughter Gift Lettering Keychain - Silver one for granddaughter \/ D","public_title":"Silver one for granddaughter \/ D","options":["Silver one for granddaughter","D"],"price":1099,"weight":0,"compare_at_price":2199,"inventory_management":null,"barcode":null,"requires_selling_plan":false,"selling_plan_allocations":[],"quantity_rule":{"min":1,"max":null,"increment":1}},{"id":41138153881760,"title":"Silver one for granddaughter \/ E","option1":"Silver one for granddaughter","option2":"E","option3":null,"sku":"CP20972-C508-X4599","requires_shipping":true,"taxable":false,"featured_image":null,"available":true,"name":"Sank® To My Grandson Granddaughter Son Daughter Gift Lettering Keychain - Silver one for granddaughter \/ E","public_title":"Silver one for granddaughter \/ E","options":["Silver one for granddaughter","E"],"price":1099,"weight":0,"compare_at_price":2199,"inventory_management":null,"barcode":null,"requires_selling_plan":false,"selling_plan_allocations":[],"quantity_rule":{"min":1,"max":null,"increment":1}},{"id":41138153914528,"title":"Silver one for granddaughter \/ F","option1":"Silver one for granddaughter","option2":"F","option3":null,"sku":"CP20972-C508-X14615","requires_shipping":true,"taxable":false,"featured_image":null,"available":true,"name":"Sank® To My Grandson Granddaughter Son Daughter Gift Lettering Keychain - Silver one for granddaughter \/ F","public_title":"Silver one for granddaughter \/ F","options":["Silver one for granddaughter","F"],"price":1099,"weight":0,"compare_at_price":2199,"inventory_management":null,"barcode":null,"requires_selling_plan":false,"selling_plan_allocations":[],"quantity_rule":{"min":1,"max":null,"increment":1}},{"id":41138153947296,"title":"Silver one for granddaughter \/ G","option1":"Silver one for granddaughter","option2":"G","option3":null,"sku":"CP20972-C508-X9338","requires_shipping":true,"taxable":false,"featured_image":null,"available":true,"name":"Sank® To My Grandson Granddaughter Son Daughter Gift Lettering Keychain - Silver one for granddaughter \/ G","public_title":"Silver one for granddaughter \/ G","options":["Silver one for granddaughter","G"],"price":1099,"weight":0,"compare_at_price":2199,"inventory_management":null,"barcode":null,"requires_selling_plan":false,"selling_plan_allocations":[],"quantity_rule":{"min":1,"max":null,"increment":1}},{"id":41138153980064,"title":"Silver one for granddaughter \/ H","option1":"Silver one for granddaughter","option2":"H","option3":null,"sku":"CP20972-C508-X9339","requires_shipping":true,"taxable":false,"featured_image":null,"available":true,"name":"Sank® To My Grandson Granddaughter Son Daughter Gift Lettering Keychain - Silver one for granddaughter \/ H","public_title":"Silver one for granddaughter \/ H","options":["Silver one for granddaughter","H"],"price":1099,"weight":0,"compare_at_price":2199,"inventory_management":null,"barcode":null,"requires_selling_plan":false,"selling_plan_allocations":[],"quantity_rule":{"min":1,"max":null,"increment":1}},{"id":41138154012832,"title":"Silver one for granddaughter \/ I","option1":"Silver one for granddaughter","option2":"I","option3":null,"sku":"CP20972-C508-X9340","requires_shipping":true,"taxable":false,"featured_image":null,"available":true,"name":"Sank® To My Grandson Granddaughter Son Daughter Gift Lettering Keychain - Silver one for granddaughter \/ I","public_title":"Silver one for granddaughter \/ I","options":["Silver one for granddaughter","I"],"price":1099,"weight":0,"compare_at_price":2199,"inventory_management":null,"barcode":null,"requires_selling_plan":false,"selling_plan_allocations":[],"quantity_rule":{"min":1,"max":null,"increment":1}},{"id":41138154045600,"title":"Silver one for granddaughter \/ J","option1":"Silver one for granddaughter","option2":"J","option3":null,"sku":"CP20972-C508-X9341","requires_shipping":true,"taxable":false,"featured_image":null,"available":true,"name":"Sank® To My Grandson Granddaughter Son Daughter Gift Lettering Keychain - Silver one for granddaughter \/ J","public_title":"Silver one for granddaughter \/ J","options":["Silver one for granddaughter","J"],"price":1099,"weight":0,"compare_at_price":2199,"inventory_management":null,"barcode":null,"requires_selling_plan":false,"selling_plan_allocations":[],"quantity_rule":{"min":1,"max":null,"increment":1}},{"id":41138154078368,"title":"Silver one for granddaughter \/ K","option1":"Silver one for granddaughter","option2":"K","option3":null,"sku":"CP20972-C508-X9342","requires_shipping":true,"taxable":false,"featured_image":null,"available":true,"name":"Sank® To My Grandson Granddaughter Son Daughter Gift Lettering Keychain - Silver one for granddaughter \/ K","public_title":"Silver one for granddaughter \/ K","options":["Silver one for granddaughter","K"],"price":1099,"weight":0,"compare_at_price":2199,"inventory_management":null,"barcode":null,"requires_selling_plan":false,"selling_plan_allocations":[],"quantity_rule":{"min":1,"max":null,"increment":1}},{"id":41138154111136,"title":"Silver one for granddaughter \/ L","option1":"Silver one for granddaughter","option2":"L","option3":null,"sku":"CP20972-C508-X8758","requires_shipping":true,"taxable":false,"featured_image":null,"available":true,"name":"Sank® To My Grandson Granddaughter Son Daughter Gift Lettering Keychain - Silver one for granddaughter \/ L","public_title":"Silver one for granddaughter \/ L","options":["Silver one for granddaughter","L"],"price":1099,"weight":0,"compare_at_price":2199,"inventory_management":null,"barcode":null,"requires_selling_plan":false,"selling_plan_allocations":[],"quantity_rule":{"min":1,"max":null,"increment":1}},{"id":41138154143904,"title":"Silver one for granddaughter \/ M","option1":"Silver one for granddaughter","option2":"M","option3":null,"sku":"CP20972-C508-X14618","requires_shipping":true,"taxable":false,"featured_image":null,"available":true,"name":"Sank® To My Grandson Granddaughter Son Daughter Gift Lettering Keychain - Silver one for granddaughter \/ M","public_title":"Silver one for granddaughter \/ M","options":["Silver one for granddaughter","M"],"price":1099,"weight":0,"compare_at_price":2199,"inventory_management":null,"barcode":null,"requires_selling_plan":false,"selling_plan_allocations":[],"quantity_rule":{"min":1,"max":null,"increment":1}},{"id":41138154176672,"title":"Silver one for granddaughter \/ N","option1":"Silver one for granddaughter","option2":"N","option3":null,"sku":"CP20972-C508-X9343","requires_shipping":true,"taxable":false,"featured_image":null,"available":true,"name":"Sank® To My Grandson Granddaughter Son Daughter Gift Lettering Keychain - Silver one for granddaughter \/ N","public_title":"Silver one for granddaughter \/ N","options":["Silver one for granddaughter","N"],"price":1099,"weight":0,"compare_at_price":2199,"inventory_management":null,"barcode":null,"requires_selling_plan":false,"selling_plan_allocations":[],"quantity_rule":{"min":1,"max":null,"increment":1}},{"id":41138154209440,"title":"Silver one for granddaughter \/ O","option1":"Silver one for granddaughter","option2":"O","option3":null,"sku":"CP20972-C508-X9344","requires_shipping":true,"taxable":false,"featured_image":null,"available":true,"name":"Sank® To My Grandson Granddaughter Son Daughter Gift Lettering Keychain - Silver one for granddaughter \/ O","public_title":"Silver one for granddaughter \/ O","options":["Silver one for granddaughter","O"],"price":1099,"weight":0,"compare_at_price":2199,"inventory_management":null,"barcode":null,"requires_selling_plan":false,"selling_plan_allocations":[],"quantity_rule":{"min":1,"max":null,"increment":1}},{"id":41138154242208,"title":"Silver one for granddaughter \/ P","option1":"Silver one for granddaughter","option2":"P","option3":null,"sku":"CP20972-C508-X9345","requires_shipping":true,"taxable":false,"featured_image":null,"available":true,"name":"Sank® To My Grandson Granddaughter Son Daughter Gift Lettering Keychain - Silver one for granddaughter \/ P","public_title":"Silver one for granddaughter \/ P","options":["Silver one for granddaughter","P"],"price":1099,"weight":0,"compare_at_price":2199,"inventory_management":null,"barcode":null,"requires_selling_plan":false,"selling_plan_allocations":[],"quantity_rule":{"min":1,"max":null,"increment":1}},{"id":41138154274976,"title":"Silver one for granddaughter \/ Q","option1":"Silver one for granddaughter","option2":"Q","option3":null,"sku":"CP20972-C508-X9347","requires_shipping":true,"taxable":false,"featured_image":null,"available":true,"name":"Sank® To My Grandson Granddaughter Son Daughter Gift Lettering Keychain - Silver one for granddaughter \/ Q","public_title":"Silver one for granddaughter \/ Q","options":["Silver one for granddaughter","Q"],"price":1099,"weight":0,"compare_at_price":2199,"inventory_management":null,"barcode":null,"requires_selling_plan":false,"selling_plan_allocations":[],"quantity_rule":{"min":1,"max":null,"increment":1}},{"id":41138154307744,"title":"Silver one for granddaughter \/ R","option1":"Silver one for granddaughter","option2":"R","option3":null,"sku":"CP20972-C508-X9349","requires_shipping":true,"taxable":false,"featured_image":null,"available":true,"name":"Sank® To My Grandson Granddaughter Son Daughter Gift Lettering Keychain - Silver one for granddaughter \/ R","public_title":"Silver one for granddaughter \/ R","options":["Silver one for granddaughter","R"],"price":1099,"weight":0,"compare_at_price":2199,"inventory_management":null,"barcode":null,"requires_selling_plan":false,"selling_plan_allocations":[],"quantity_rule":{"min":1,"max":null,"increment":1}},{"id":41138154340512,"title":"Silver one for granddaughter \/ S","option1":"Silver one for granddaughter","option2":"S","option3":null,"sku":"CP20972-C508-X8750","requires_shipping":true,"taxable":false,"featured_image":null,"available":true,"name":"Sank® To My Grandson Granddaughter Son Daughter Gift Lettering Keychain - Silver one for granddaughter \/ S","public_title":"Silver one for granddaughter \/ S","options":["Silver one for granddaughter","S"],"price":1099,"weight":0,"compare_at_price":2199,"inventory_management":null,"barcode":null,"requires_selling_plan":false,"selling_plan_allocations":[],"quantity_rule":{"min":1,"max":null,"increment":1}},{"id":41138154373280,"title":"Silver one for granddaughter \/ T","option1":"Silver one for granddaughter","option2":"T","option3":null,"sku":"CP20972-C508-X9351","requires_shipping":true,"taxable":false,"featured_image":null,"available":true,"name":"Sank® To My Grandson Granddaughter Son Daughter Gift Lettering Keychain - Silver one for granddaughter \/ T","public_title":"Silver one for granddaughter \/ T","options":["Silver one for granddaughter","T"],"price":1099,"weight":0,"compare_at_price":2199,"inventory_management":null,"barcode":null,"requires_selling_plan":false,"selling_plan_allocations":[],"quantity_rule":{"min":1,"max":null,"increment":1}},{"id":41138154406048,"title":"Silver one for granddaughter \/ U","option1":"Silver one for granddaughter","option2":"U","option3":null,"sku":"CP20972-C508-X9352","requires_shipping":true,"taxable":false,"featured_image":null,"available":true,"name":"Sank® To My Grandson Granddaughter Son Daughter Gift Lettering Keychain - Silver one for granddaughter \/ U","public_title":"Silver one for granddaughter \/ U","options":["Silver one for granddaughter","U"],"price":1099,"weight":0,"compare_at_price":2199,"inventory_management":null,"barcode":null,"requires_selling_plan":false,"selling_plan_allocations":[],"quantity_rule":{"min":1,"max":null,"increment":1}},{"id":41138154438816,"title":"Silver one for granddaughter \/ V","option1":"Silver one for granddaughter","option2":"V","option3":null,"sku":"CP20972-C508-X9354","requires_shipping":true,"taxable":false,"featured_image":null,"available":true,"name":"Sank® To My Grandson Granddaughter Son Daughter Gift Lettering Keychain - Silver one for granddaughter \/ V","public_title":"Silver one for granddaughter \/ V","options":["Silver one for granddaughter","V"],"price":1099,"weight":0,"compare_at_price":2199,"inventory_management":null,"barcode":null,"requires_selling_plan":false,"selling_plan_allocations":[],"quantity_rule":{"min":1,"max":null,"increment":1}},{"id":41138154471584,"title":"Silver one for granddaughter \/ W","option1":"Silver one for granddaughter","option2":"W","option3":null,"sku":"CP20972-C508-X9355","requires_shipping":true,"taxable":false,"featured_image":null,"available":true,"name":"Sank® To My Grandson Granddaughter Son Daughter Gift Lettering Keychain - Silver one for granddaughter \/ W","public_title":"Silver one for granddaughter \/ W","options":["Silver one for granddaughter","W"],"price":1099,"weight":0,"compare_at_price":2199,"inventory_management":null,"barcode":null,"requires_selling_plan":false,"selling_plan_allocations":[],"quantity_rule":{"min":1,"max":null,"increment":1}},{"id":41138154504352,"title":"Silver one for granddaughter \/ X","option1":"Silver one for granddaughter","option2":"X","option3":null,"sku":"CP20972-C508-X9356","requires_shipping":true,"taxable":false,"featured_image":null,"available":true,"name":"Sank® To My Grandson Granddaughter Son Daughter Gift Lettering Keychain - Silver one for granddaughter \/ X","public_title":"Silver one for granddaughter \/ X","options":["Silver one for granddaughter","X"],"price":1099,"weight":0,"compare_at_price":2199,"inventory_management":null,"barcode":null,"requires_selling_plan":false,"selling_plan_allocations":[],"quantity_rule":{"min":1,"max":null,"increment":1}},{"id":41138154537120,"title":"Silver one for granddaughter \/ Y","option1":"Silver one for granddaughter","option2":"Y","option3":null,"sku":"CP20972-C508-X9357","requires_shipping":true,"taxable":false,"featured_image":null,"available":true,"name":"Sank® To My Grandson Granddaughter Son Daughter Gift Lettering Keychain - Silver one for granddaughter \/ Y","public_title":"Silver one for granddaughter \/ Y","options":["Silver one for granddaughter","Y"],"price":1099,"weight":0,"compare_at_price":2199,"inventory_management":null,"barcode":null,"requires_selling_plan":false,"selling_plan_allocations":[],"quantity_rule":{"min":1,"max":null,"increment":1}},{"id":41138154569888,"title":"Silver one for granddaughter \/ Z","option1":"Silver one for granddaughter","option2":"Z","option3":null,"sku":"CP20972-C508-X9358","requires_shipping":true,"taxable":false,"featured_image":null,"available":true,"name":"Sank® To My Grandson Granddaughter Son Daughter Gift Lettering Keychain - Silver one for granddaughter \/ Z","public_title":"Silver one for granddaughter \/ Z","options":["Silver one for granddaughter","Z"],"price":1099,"weight":0,"compare_at_price":2199,"inventory_management":null,"barcode":null,"requires_selling_plan":false,"selling_plan_allocations":[],"quantity_rule":{"min":1,"max":null,"increment":1}}],"images":["\/\/www.flownwing.com\/cdn\/shop\/products\/H36ff3bd421604c31a4a97dcc5680491ec.jpg?v=1633683770","\/\/www.flownwing.com\/cdn\/shop\/products\/6_351d8ba7-ad79-4e91-90d1-c6eb685a960a.jpg?v=1633683770","\/\/www.flownwing.com\/cdn\/shop\/products\/3_b964f0ef-a593-4faa-860f-82566b788992.jpg?v=1633683770","\/\/www.flownwing.com\/cdn\/shop\/products\/4_918a70ba-bf98-4deb-9130-ebaef8c17c3f.jpg?v=1633683770","\/\/www.flownwing.com\/cdn\/shop\/products\/Hee1d3a42c9284d8bb2f0356e045ffa316.jpg?v=1633683770","\/\/www.flownwing.com\/cdn\/shop\/products\/1_d6f7e33c-f78a-4756-aa46-4970167be095.jpg?v=1633683770","\/\/www.flownwing.com\/cdn\/shop\/products\/H60113ac9f29442a7a160048e19f0df2b9.jpg?v=1633683770","\/\/www.flownwing.com\/cdn\/shop\/products\/7_1dc32387-7918-4d92-8fde-22bb8a8c9502.jpg?v=1633683770"],"featured_image":"\/\/www.flownwing.com\/cdn\/shop\/products\/H36ff3bd421604c31a4a97dcc5680491ec.jpg?v=1633683770","options":["Style","Type"],"media":[{"alt":null,"id":22913188364448,"position":1,"preview_image":{"aspect_ratio":1.0,"height":800,"width":800,"src":"\/\/www.flownwing.com\/cdn\/shop\/products\/H36ff3bd421604c31a4a97dcc5680491ec.jpg?v=1633683770"},"aspect_ratio":1.0,"height":800,"media_type":"image","src":"\/\/www.flownwing.com\/cdn\/shop\/products\/H36ff3bd421604c31a4a97dcc5680491ec.jpg?v=1633683770","width":800},{"alt":null,"id":22913188397216,"position":2,"preview_image":{"aspect_ratio":1.0,"height":800,"width":800,"src":"\/\/www.flownwing.com\/cdn\/shop\/products\/6_351d8ba7-ad79-4e91-90d1-c6eb685a960a.jpg?v=1633683770"},"aspect_ratio":1.0,"height":800,"media_type":"image","src":"\/\/www.flownwing.com\/cdn\/shop\/products\/6_351d8ba7-ad79-4e91-90d1-c6eb685a960a.jpg?v=1633683770","width":800},{"alt":null,"id":22913188429984,"position":3,"preview_image":{"aspect_ratio":1.0,"height":800,"width":800,"src":"\/\/www.flownwing.com\/cdn\/shop\/products\/3_b964f0ef-a593-4faa-860f-82566b788992.jpg?v=1633683770"},"aspect_ratio":1.0,"height":800,"media_type":"image","src":"\/\/www.flownwing.com\/cdn\/shop\/products\/3_b964f0ef-a593-4faa-860f-82566b788992.jpg?v=1633683770","width":800},{"alt":null,"id":22913188462752,"position":4,"preview_image":{"aspect_ratio":1.0,"height":800,"width":800,"src":"\/\/www.flownwing.com\/cdn\/shop\/products\/4_918a70ba-bf98-4deb-9130-ebaef8c17c3f.jpg?v=1633683770"},"aspect_ratio":1.0,"height":800,"media_type":"image","src":"\/\/www.flownwing.com\/cdn\/shop\/products\/4_918a70ba-bf98-4deb-9130-ebaef8c17c3f.jpg?v=1633683770","width":800},{"alt":null,"id":22913188495520,"position":5,"preview_image":{"aspect_ratio":1.0,"height":800,"width":800,"src":"\/\/www.flownwing.com\/cdn\/shop\/products\/Hee1d3a42c9284d8bb2f0356e045ffa316.jpg?v=1633683770"},"aspect_ratio":1.0,"height":800,"media_type":"image","src":"\/\/www.flownwing.com\/cdn\/shop\/products\/Hee1d3a42c9284d8bb2f0356e045ffa316.jpg?v=1633683770","width":800},{"alt":null,"id":22913188528288,"position":6,"preview_image":{"aspect_ratio":1.0,"height":800,"width":800,"src":"\/\/www.flownwing.com\/cdn\/shop\/products\/1_d6f7e33c-f78a-4756-aa46-4970167be095.jpg?v=1633683770"},"aspect_ratio":1.0,"height":800,"media_type":"image","src":"\/\/www.flownwing.com\/cdn\/shop\/products\/1_d6f7e33c-f78a-4756-aa46-4970167be095.jpg?v=1633683770","width":800},{"alt":null,"id":22913188561056,"position":7,"preview_image":{"aspect_ratio":1.0,"height":800,"width":800,"src":"\/\/www.flownwing.com\/cdn\/shop\/products\/H60113ac9f29442a7a160048e19f0df2b9.jpg?v=1633683770"},"aspect_ratio":1.0,"height":800,"media_type":"image","src":"\/\/www.flownwing.com\/cdn\/shop\/products\/H60113ac9f29442a7a160048e19f0df2b9.jpg?v=1633683770","width":800},{"alt":null,"id":22913188593824,"position":8,"preview_image":{"aspect_ratio":1.0,"height":800,"width":800,"src":"\/\/www.flownwing.com\/cdn\/shop\/products\/7_1dc32387-7918-4d92-8fde-22bb8a8c9502.jpg?v=1633683770"},"aspect_ratio":1.0,"height":800,"media_type":"image","src":"\/\/www.flownwing.com\/cdn\/shop\/products\/7_1dc32387-7918-4d92-8fde-22bb8a8c9502.jpg?v=1633683770","width":800}],"requires_selling_plan":false,"selling_plan_groups":[],"content":"\u003cdiv style=\"text-align: center;\"\u003e\u003cstrong\u003e\u003cspan data-mce-fragment=\"1\"\u003e👨‍👩‍👧‍👦\u003c\/span\u003eTo My Son, Daughter Keychain Gift From Parent \u003cspan style=\"color: #ca3939;\"\u003eI\u003c\/span\u003e\u003cspan style=\"color: #ce3e3e;\"\u003e\u003cspan style=\"color: #ca3939;\"\u003ens\u003c\/span\u003epirational Birthday Christmas Gift for Son Daughter for Teen Boy Girl 💕\u003c\/span\u003e\u003c\/strong\u003e\u003c\/div\u003e\n\u003cdiv style=\"text-align: center;\"\u003e\u003cstrong\u003e\u003cspan style=\"color: #ce3e3e;\"\u003e\u003c\/span\u003e\u003c\/strong\u003e\u003c\/div\u003e\n\u003cdiv style=\"text-align: center;\"\u003e\u003cstrong\u003e✨The letters A-Z can be chosen✨\u003c\/strong\u003e\u003c\/div\u003e\n\u003cdiv style=\"text-align: center;\"\u003e\u003cstrong\u003e\u003c\/strong\u003e\u003c\/div\u003e\n\u003cdiv style=\"text-align: center;\"\u003e\u003cstrong\u003e\u003cimg src=\"https:\/\/cdn.shopifycdn.net\/s\/files\/1\/0296\/2073\/1988\/products\/6_351d8ba7-ad79-4e91-90d1-c6eb685a960a_800x.jpg?v=1632972370\" width=\"381\" height=\"381\"\u003e\u003c\/strong\u003e\u003c\/div\u003e\n\u003cp\u003e\u003cspan style=\"color: #ff2a00;\"\u003e\u003cstrong\u003eFeatures\u003c\/strong\u003e\u003c\/span\u003e\u003c\/p\u003e\n\u003cul\u003e\n\u003cli\u003e\n\u003cp\u003eStainless steel necklace pendant keychain, the surface of the plating layer is protected.\u003c\/p\u003e\n\u003c\/li\u003e\n\u003cli\u003e\n\u003cp\u003eExquisite workmanship, beautiful and generous.\u003c\/p\u003e\n\u003c\/li\u003e\n\u003cli\u003e\n\u003cp\u003eAffordable price, unique style.\u003c\/p\u003e\n\u003c\/li\u003e\n\u003cli\u003e\n\u003cp\u003eIt is convenient to open physical stores, online stores, and friends on various cross-border platforms for wholesale and retail.\u003c\/p\u003e\n\u003c\/li\u003e\n\u003c\/ul\u003e\n\u003cp\u003e\u003cspan style=\"color: #ff2a00;\"\u003e\u003cstrong\u003eSpecifications\u003c\/strong\u003e\u003c\/span\u003e\u003c\/p\u003e\n\u003cul\u003e\n\u003cli\u003e\n\u003cp\u003e\u003cstrong\u003eMaterial:\u003c\/strong\u003e Stainless steel\u003c\/p\u003e\n\u003c\/li\u003e\n\u003cli\u003e\n\u003cp\u003e\u003cstrong\u003eColor:\u003c\/strong\u003e Silver\u003c\/p\u003e\n\u003c\/li\u003e\n\u003cli\u003e\n\u003cp\u003e\u003cstrong\u003eWeight:\u003c\/strong\u003e 22g\u003c\/p\u003e\n\u003c\/li\u003e\n\u003c\/ul\u003e\n\u003cp\u003e\u003cspan style=\"color: #ff2a00;\"\u003e\u003cstrong\u003ePackage\u003c\/strong\u003e\u003c\/span\u003e\u003c\/p\u003e\n\u003cul\u003e\n\u003cli\u003e1* Army brand lettering keychain\u003c\/li\u003e\n\u003c\/ul\u003e\n\u003cp\u003e\u003cspan style=\"color: #ff2a00;\"\u003e\u003cstrong\u003eNote\u003c\/strong\u003e\u003c\/span\u003e\u003c\/p\u003e\n\u003cul\u003e\n\u003cli\u003e\u003cspan data-mce-fragment=\"1\"\u003eDue to the different display and lighting effects, the actual color of the object may differ slightly from the color shown in the photo.\u003c\/span\u003e\u003c\/li\u003e\n\u003c\/ul\u003e"}
Sank® To My Grandson Granddaughter Son Daughter Gift Lettering Keychain
Adding product to your cart
👨‍👩‍👧‍👦

To My Son, Daughter Keychain Gift From Parent

I

ns

pirational Birthday Christmas Gift for Son Daughter for Teen Boy Girl 💕
✨The letters A-Z can be chosen✨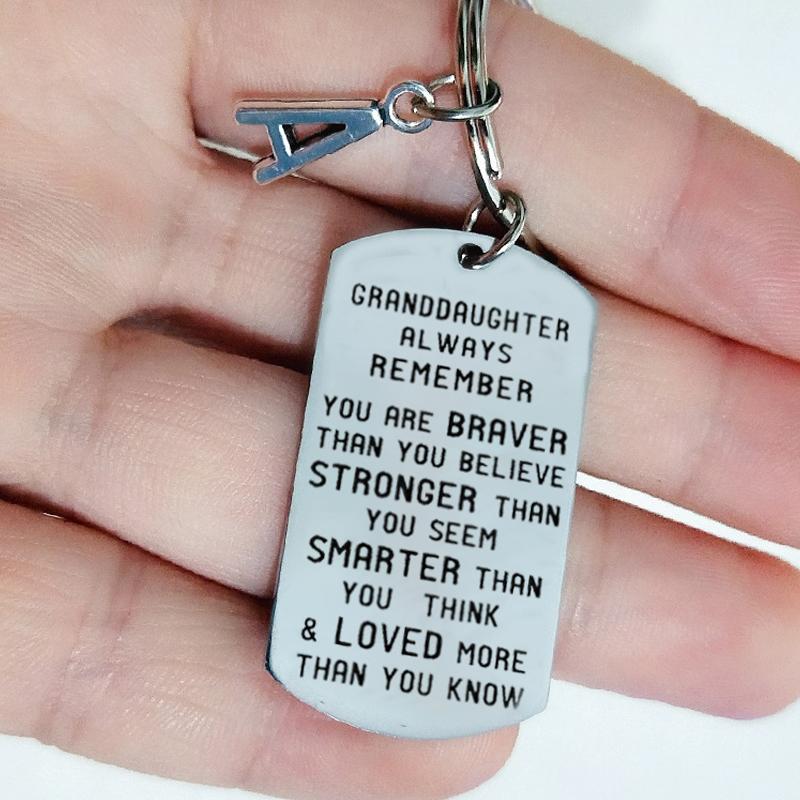 Features
Stainless steel necklace pendant keychain, the surface of the plating layer is protected.

Exquisite workmanship, beautiful and generous.

Affordable price, unique style.

It is convenient to open physical stores, online stores, and friends on various cross-border platforms for wholesale and retail.
Specifications
Material: Stainless steel

Color: Silver

Weight: 22g
Package
1* Army brand lettering keychain
Note
Due to the different display and lighting effects, the actual color of the object may differ slightly from the color shown in the photo.