{"id":8211826671776,"title":"The Best Friends Forever Rings","handle":"the-best-friends-forever-rings","description":"\u003cp style=\"text-align: center;\"\u003e\u003cspan style=\"color: #cf8377;\"\u003e\u003cem\u003e\u003cstrong\u003eIf you're looking for an unforgettable gift for your best friend, look no further than this beautiful SpongeBob Spinner Ring. \u003c\/strong\u003e\u003c\/em\u003e\u003c\/span\u003e\u003c\/p\u003e\n\u003cp\u003e\u003cimg src=\"https:\/\/img.staticdj.com\/6a8c02c828d3d40305f855eeab8e1d5c.gif\" sizes=\"451px\" width=\"451\" height=\"604\" data-src=\"https:\/\/img.staticdj.com\/6a8c02c828d3d40305f855eeab8e1d5c.gif\" alt=\"\" data-sizes=\"auto\" class=\"sep-lazyload lazyautosizes lazyloaded\" style=\"display: block; margin-left: auto; margin-right: auto;\"\u003e\u003c\/p\u003e\n\u003cp data-mce-fragment=\"1\"\u003e\u003cspan style=\"color: #4684c9;\"\u003e\u003cstrong\u003eFEATURES\u003c\/strong\u003e\u003c\/span\u003e\u003c\/p\u003e\n\u003cul\u003e\n\u003cli\u003e\u003cspan\u003eThis timeless piece is perfect to express your appreciation and love to your dearest bestie and will remind them of your bond every time they wear it.\u003c\/span\u003e\u003c\/li\u003e\n\u003c\/ul\u003e\n\u003cp\u003e\u003cspan\u003e\u003cstrong\u003e\u003cimg style=\"display: block; margin-left: auto; margin-right: auto;\" srcset=\"https:\/\/img.staticdj.com\/a88326d6a9d719d1e8c08531eedea381_720.webp 48w, https:\/\/img.staticdj.com\/a88326d6a9d719d1e8c08531eedea381_720.webp 180w, https:\/\/img.staticdj.com\/a88326d6a9d719d1e8c08531eedea381_720.webp 540w, https:\/\/img.staticdj.com\/a88326d6a9d719d1e8c08531eedea381_720.webp 720w, https:\/\/img.staticdj.com\/a88326d6a9d719d1e8c08531eedea381_720.webp 900w, https:\/\/img.staticdj.com\/a88326d6a9d719d1e8c08531eedea381_720.webp 1024w, https:\/\/img.staticdj.com\/a88326d6a9d719d1e8c08531eedea381_720.webp 1280w, https:\/\/img.staticdj.com\/a88326d6a9d719d1e8c08531eedea381_720.webp 1366w, https:\/\/img.staticdj.com\/a88326d6a9d719d1e8c08531eedea381_720.webp 1440w, https:\/\/img.staticdj.com\/a88326d6a9d719d1e8c08531eedea381_720.webp 1536w, https:\/\/img.staticdj.com\/a88326d6a9d719d1e8c08531eedea381_720.webp 1600w, https:\/\/img.staticdj.com\/a88326d6a9d719d1e8c08531eedea381_720.webp 1920w, https:\/\/img.staticdj.com\/a88326d6a9d719d1e8c08531eedea381_720.webp 2056w, https:\/\/img.staticdj.com\/a88326d6a9d719d1e8c08531eedea381_720.webp 2560w, https:\/\/img.staticdj.com\/a88326d6a9d719d1e8c08531eedea381_720.webp 2732w, https:\/\/img.staticdj.com\/a88326d6a9d719d1e8c08531eedea381_720.webp 2880w, https:\/\/img.staticdj.com\/a88326d6a9d719d1e8c08531eedea381_720.webp 3072w, https:\/\/img.staticdj.com\/a88326d6a9d719d1e8c08531eedea381_720.webp 3200w, https:\/\/img.staticdj.com\/a88326d6a9d719d1e8c08531eedea381_720.webp 3840w\" sizes=\"450px\" data-srcset=\"https:\/\/img.staticdj.com\/a88326d6a9d719d1e8c08531eedea381_720.webp 48w, https:\/\/img.staticdj.com\/a88326d6a9d719d1e8c08531eedea381_720.webp 180w, https:\/\/img.staticdj.com\/a88326d6a9d719d1e8c08531eedea381_720.webp 540w, https:\/\/img.staticdj.com\/a88326d6a9d719d1e8c08531eedea381_720.webp 720w, https:\/\/img.staticdj.com\/a88326d6a9d719d1e8c08531eedea381_720.webp 900w, https:\/\/img.staticdj.com\/a88326d6a9d719d1e8c08531eedea381_720.webp 1024w, https:\/\/img.staticdj.com\/a88326d6a9d719d1e8c08531eedea381_720.webp 1280w, https:\/\/img.staticdj.com\/a88326d6a9d719d1e8c08531eedea381_720.webp 1366w, https:\/\/img.staticdj.com\/a88326d6a9d719d1e8c08531eedea381_720.webp 1440w, https:\/\/img.staticdj.com\/a88326d6a9d719d1e8c08531eedea381_720.webp 1536w, https:\/\/img.staticdj.com\/a88326d6a9d719d1e8c08531eedea381_720.webp 1600w, https:\/\/img.staticdj.com\/a88326d6a9d719d1e8c08531eedea381_720.webp 1920w, https:\/\/img.staticdj.com\/a88326d6a9d719d1e8c08531eedea381_720.webp 2056w, https:\/\/img.staticdj.com\/a88326d6a9d719d1e8c08531eedea381_720.webp 2560w, https:\/\/img.staticdj.com\/a88326d6a9d719d1e8c08531eedea381_720.webp 2732w, https:\/\/img.staticdj.com\/a88326d6a9d719d1e8c08531eedea381_720.webp 2880w, https:\/\/img.staticdj.com\/a88326d6a9d719d1e8c08531eedea381_720.webp 3072w, https:\/\/img.staticdj.com\/a88326d6a9d719d1e8c08531eedea381_720.webp 3200w, https:\/\/img.staticdj.com\/a88326d6a9d719d1e8c08531eedea381_720.webp 3840w\" width=\"450\" height=\"483\" alt=\"\" data-sizes=\"auto\" class=\"sep-lazyload lazyautosizes lazyloaded\"\u003e\u003c\/strong\u003e\u003c\/span\u003e\u003c\/p\u003e\n\u003cul\u003e\n\u003cli\u003e\n\u003cp\u003eFully adjustable, detailed, and made of high-quality gold-plated metal that won't tarnish.\u003c\/p\u003e\n\u003c\/li\u003e\n\u003cli\u003e\n\u003cp\u003eThis beautiful and stylish SpongeBob bff ring, yet playful SpongeBob Ring makes the perfect gift for any best friend's birthday!\u003c\/p\u003e\n\u003c\/li\u003e\n\u003c\/ul\u003e\n\u003cp\u003e\u003cimg style=\"display: block; margin-left: auto; margin-right: auto;\" srcset=\"https:\/\/img.staticdj.com\/2b356e3c38ed5d09e7b6c4755fe50637_540.jpeg 48w, https:\/\/img.staticdj.com\/2b356e3c38ed5d09e7b6c4755fe50637_540.jpeg 180w, https:\/\/img.staticdj.com\/2b356e3c38ed5d09e7b6c4755fe50637_540.jpeg 540w, https:\/\/img.staticdj.com\/2b356e3c38ed5d09e7b6c4755fe50637_540.jpeg 720w, https:\/\/img.staticdj.com\/2b356e3c38ed5d09e7b6c4755fe50637_540.jpeg 900w, https:\/\/img.staticdj.com\/2b356e3c38ed5d09e7b6c4755fe50637_540.jpeg 1024w, https:\/\/img.staticdj.com\/2b356e3c38ed5d09e7b6c4755fe50637_540.jpeg 1280w, https:\/\/img.staticdj.com\/2b356e3c38ed5d09e7b6c4755fe50637_540.jpeg 1366w, https:\/\/img.staticdj.com\/2b356e3c38ed5d09e7b6c4755fe50637_540.jpeg 1440w, https:\/\/img.staticdj.com\/2b356e3c38ed5d09e7b6c4755fe50637_540.jpeg 1536w, https:\/\/img.staticdj.com\/2b356e3c38ed5d09e7b6c4755fe50637_540.jpeg 1600w, https:\/\/img.staticdj.com\/2b356e3c38ed5d09e7b6c4755fe50637_540.jpeg 1920w, https:\/\/img.staticdj.com\/2b356e3c38ed5d09e7b6c4755fe50637_540.jpeg 2056w, https:\/\/img.staticdj.com\/2b356e3c38ed5d09e7b6c4755fe50637_540.jpeg 2560w, https:\/\/img.staticdj.com\/2b356e3c38ed5d09e7b6c4755fe50637_540.jpeg 2732w, https:\/\/img.staticdj.com\/2b356e3c38ed5d09e7b6c4755fe50637_540.jpeg 2880w, https:\/\/img.staticdj.com\/2b356e3c38ed5d09e7b6c4755fe50637_540.jpeg 3072w, https:\/\/img.staticdj.com\/2b356e3c38ed5d09e7b6c4755fe50637_540.jpeg 3200w, https:\/\/img.staticdj.com\/2b356e3c38ed5d09e7b6c4755fe50637_540.jpeg 3840w\" sizes=\"430px\" data-srcset=\"https:\/\/img.staticdj.com\/2b356e3c38ed5d09e7b6c4755fe50637_540.jpeg 48w, https:\/\/img.staticdj.com\/2b356e3c38ed5d09e7b6c4755fe50637_540.jpeg 180w, https:\/\/img.staticdj.com\/2b356e3c38ed5d09e7b6c4755fe50637_540.jpeg 540w, https:\/\/img.staticdj.com\/2b356e3c38ed5d09e7b6c4755fe50637_540.jpeg 720w, https:\/\/img.staticdj.com\/2b356e3c38ed5d09e7b6c4755fe50637_540.jpeg 900w, https:\/\/img.staticdj.com\/2b356e3c38ed5d09e7b6c4755fe50637_540.jpeg 1024w, https:\/\/img.staticdj.com\/2b356e3c38ed5d09e7b6c4755fe50637_540.jpeg 1280w, https:\/\/img.staticdj.com\/2b356e3c38ed5d09e7b6c4755fe50637_540.jpeg 1366w, https:\/\/img.staticdj.com\/2b356e3c38ed5d09e7b6c4755fe50637_540.jpeg 1440w, https:\/\/img.staticdj.com\/2b356e3c38ed5d09e7b6c4755fe50637_540.jpeg 1536w, https:\/\/img.staticdj.com\/2b356e3c38ed5d09e7b6c4755fe50637_540.jpeg 1600w, https:\/\/img.staticdj.com\/2b356e3c38ed5d09e7b6c4755fe50637_540.jpeg 1920w, https:\/\/img.staticdj.com\/2b356e3c38ed5d09e7b6c4755fe50637_540.jpeg 2056w, https:\/\/img.staticdj.com\/2b356e3c38ed5d09e7b6c4755fe50637_540.jpeg 2560w, https:\/\/img.staticdj.com\/2b356e3c38ed5d09e7b6c4755fe50637_540.jpeg 2732w, https:\/\/img.staticdj.com\/2b356e3c38ed5d09e7b6c4755fe50637_540.jpeg 2880w, https:\/\/img.staticdj.com\/2b356e3c38ed5d09e7b6c4755fe50637_540.jpeg 3072w, https:\/\/img.staticdj.com\/2b356e3c38ed5d09e7b6c4755fe50637_540.jpeg 3200w, https:\/\/img.staticdj.com\/2b356e3c38ed5d09e7b6c4755fe50637_540.jpeg 3840w\" width=\"430\" height=\"430\" alt=\"\" data-sizes=\"auto\" class=\"sep-lazyload lazyautosizes lazyloaded\"\u003e\u003c\/p\u003e\n\u003cul\u003e\n\u003cli\u003eThe BFF Ring is perfect for you and your friend to represent your close friendship like Sponge and Pat's!\u003c\/li\u003e\n\u003c\/ul\u003e\n\u003cp data-mce-fragment=\"1\"\u003e\u003cspan style=\"color: #4684c9;\"\u003e\u003cstrong\u003eSPECIFICATIONS\u003c\/strong\u003e\u003c\/span\u003e\u003c\/p\u003e\n\u003cul\u003e\n\u003cli\u003e\n\u003cp\u003e\u003cb\u003e\u003cstrong\u003eMaterial: \u003c\/strong\u003e\u003c\/b\u003eAlloy\u003c\/p\u003e\n\u003c\/li\u003e\n\u003cli\u003e\n\u003cp\u003e\u003cstrong\u003eColors:\u003c\/strong\u003e\u003cspan\u003e \u003cspan class=\"Polaris-Badge_2qgie\" mce-data-marked=\"1\" data-mce-fragment=\"1\"\u003e\u003cspan class=\"Polaris-Text--root_yj4ah Polaris-Text--bodySm_nvqxj\" mce-data-marked=\"1\" data-mce-fragment=\"1\"\u003eGold\u003c\/span\u003e\u003c\/span\u003e\u003c\/span\u003e\u003c\/p\u003e\n\u003c\/li\u003e\n\u003cli\u003e\n\u003cp\u003e\u003cb\u003eWeight:\u003cspan\u003e \u003c\/span\u003e\u003c\/b\u003e10g\u003c\/p\u003e\n\u003c\/li\u003e\n\u003cli\u003e\n\u003cb\u003eSize: \u003c\/b\u003eOne Size Fits All\u003c\/li\u003e\n\u003c\/ul\u003e\n\u003cp\u003e\u003cspan style=\"color: #4684c9;\" data-mce-fragment=\"1\"\u003e\u003cstrong data-mce-fragment=\"1\"\u003ePACKAGE\u003c\/strong\u003e\u003c\/span\u003e\u003c\/p\u003e\n\u003cul\u003e\n\u003cli\u003e1 * Ring or 1 * Box or 1 * Ring+Box\u003c\/li\u003e\n\u003c\/ul\u003e\n\u003cspan style=\"color: #4684c9;\" data-mce-fragment=\"1\"\u003e\u003cstrong data-mce-fragment=\"1\"\u003eNOTE\u003c\/strong\u003e\u003c\/span\u003e\u003cbr data-mce-fragment=\"1\"\u003e\n\u003cul data-mce-fragment=\"1\"\u003e\n\u003cli data-mce-fragment=\"1\"\u003e\n\u003cp data-mce-fragment=\"1\"\u003ePlease allow slight measuring deviations due to the manual measurement.\u003c\/p\u003e\n\u003c\/li\u003e\n\u003cli data-mce-fragment=\"1\"\u003e\n\u003cp data-mce-fragment=\"1\"\u003eDue to the different monitor and light effect, the actual color of the article may differ slightly from the color shown in the pictures.\u003c\/p\u003e\n\u003c\/li\u003e\n\u003c\/ul\u003e","published_at":"2023-03-20T19:51:11-10:00","created_at":"2023-03-20T19:51:23-10:00","vendor":"flownwing","type":"","tags":["ring"],"price":999,"price_min":999,"price_max":1299,"available":true,"price_varies":true,"compare_at_price":1599,"compare_at_price_min":1599,"compare_at_price_max":2599,"compare_at_price_varies":true,"variants":[{"id":43620675813536,"title":"Box","option1":"Box","option2":null,"option3":null,"sku":"OR46608-X38430","requires_shipping":true,"taxable":false,"featured_image":null,"available":true,"name":"The Best Friends Forever Rings - Box","public_title":"Box","options":["Box"],"price":1299,"weight":0,"compare_at_price":null,"inventory_management":null,"barcode":null,"requires_selling_plan":false,"selling_plan_allocations":[],"quantity_rule":{"min":1,"max":null,"increment":1}},{"id":43620675846304,"title":"Ring","option1":"Ring","option2":null,"option3":null,"sku":"OR46608-E001","requires_shipping":true,"taxable":false,"featured_image":null,"available":true,"name":"The Best Friends Forever Rings - Ring","public_title":"Ring","options":["Ring"],"price":999,"weight":0,"compare_at_price":1599,"inventory_management":null,"barcode":null,"requires_selling_plan":false,"selling_plan_allocations":[],"quantity_rule":{"min":1,"max":null,"increment":1}},{"id":43620675911840,"title":"Box+Ring","option1":"Box+Ring","option2":null,"option3":null,"sku":"OR46608-Z09497","requires_shipping":true,"taxable":false,"featured_image":null,"available":true,"name":"The Best Friends Forever Rings - Box+Ring","public_title":"Box+Ring","options":["Box+Ring"],"price":1299,"weight":0,"compare_at_price":2599,"inventory_management":null,"barcode":null,"requires_selling_plan":false,"selling_plan_allocations":[],"quantity_rule":{"min":1,"max":null,"increment":1}}],"images":["\/\/www.flownwing.com\/cdn\/shop\/products\/FM1_7470a877-683f-44db-a843-f42faa62bda6.jpg?v=1679377883","\/\/www.flownwing.com\/cdn\/shop\/products\/FM2_95af610f-2697-4f9c-a35c-bfe1e8dbfa00.jpg?v=1679377883","\/\/www.flownwing.com\/cdn\/shop\/products\/b8421501ceee8ed8defa49d79fc692df_3a302860-f195-48d6-b6c4-8e2b7874e2b5.jpg?v=1679377883","\/\/www.flownwing.com\/cdn\/shop\/products\/1_56d6aed3-f2f4-4dbc-98de-22bc1ff2cf4d.jpg?v=1679377883","\/\/www.flownwing.com\/cdn\/shop\/products\/2_79b84939-1b75-41bc-9914-528cc3150240.jpg?v=1679377883","\/\/www.flownwing.com\/cdn\/shop\/products\/3_91340635-de4a-4d33-8e57-0d76c1ecb6f4.jpg?v=1679377883","\/\/www.flownwing.com\/cdn\/shop\/products\/4_95954dfb-6d59-4a45-b904-6023a2c1fbf8.jpg?v=1679377883","\/\/www.flownwing.com\/cdn\/shop\/products\/5_05b4b9a6-318d-43ce-ab05-be9056f2d0e5.jpg?v=1679377883","\/\/www.flownwing.com\/cdn\/shop\/products\/6_eabdd2fe-a16b-4f95-8f2c-e0fa7667e727.jpg?v=1679377883","\/\/www.flownwing.com\/cdn\/shop\/products\/7_9696698d-750b-4384-8592-178dd7b7f2d3.jpg?v=1679377883","\/\/www.flownwing.com\/cdn\/shop\/products\/11_3f323e2e-c76f-458e-8ba6-c0f9e8a3744e.jpg?v=1679377883","\/\/www.flownwing.com\/cdn\/shop\/products\/12_f06b5624-7ee9-4a28-8555-4b90b3d86379.jpg?v=1679377883","\/\/www.flownwing.com\/cdn\/shop\/products\/13_b145c386-98d7-48d2-8ab8-e63f7de4a159.jpg?v=1679377883"],"featured_image":"\/\/www.flownwing.com\/cdn\/shop\/products\/FM1_7470a877-683f-44db-a843-f42faa62bda6.jpg?v=1679377883","options":["Style"],"media":[{"alt":null,"id":26848772980896,"position":1,"preview_image":{"aspect_ratio":1.0,"height":800,"width":800,"src":"\/\/www.flownwing.com\/cdn\/shop\/products\/FM1_7470a877-683f-44db-a843-f42faa62bda6.jpg?v=1679377883"},"aspect_ratio":1.0,"height":800,"media_type":"image","src":"\/\/www.flownwing.com\/cdn\/shop\/products\/FM1_7470a877-683f-44db-a843-f42faa62bda6.jpg?v=1679377883","width":800},{"alt":null,"id":26848773013664,"position":2,"preview_image":{"aspect_ratio":1.0,"height":800,"width":800,"src":"\/\/www.flownwing.com\/cdn\/shop\/products\/FM2_95af610f-2697-4f9c-a35c-bfe1e8dbfa00.jpg?v=1679377883"},"aspect_ratio":1.0,"height":800,"media_type":"image","src":"\/\/www.flownwing.com\/cdn\/shop\/products\/FM2_95af610f-2697-4f9c-a35c-bfe1e8dbfa00.jpg?v=1679377883","width":800},{"alt":null,"id":26848773046432,"position":3,"preview_image":{"aspect_ratio":1.0,"height":800,"width":800,"src":"\/\/www.flownwing.com\/cdn\/shop\/products\/b8421501ceee8ed8defa49d79fc692df_3a302860-f195-48d6-b6c4-8e2b7874e2b5.jpg?v=1679377883"},"aspect_ratio":1.0,"height":800,"media_type":"image","src":"\/\/www.flownwing.com\/cdn\/shop\/products\/b8421501ceee8ed8defa49d79fc692df_3a302860-f195-48d6-b6c4-8e2b7874e2b5.jpg?v=1679377883","width":800},{"alt":null,"id":26848773079200,"position":4,"preview_image":{"aspect_ratio":1.0,"height":800,"width":800,"src":"\/\/www.flownwing.com\/cdn\/shop\/products\/1_56d6aed3-f2f4-4dbc-98de-22bc1ff2cf4d.jpg?v=1679377883"},"aspect_ratio":1.0,"height":800,"media_type":"image","src":"\/\/www.flownwing.com\/cdn\/shop\/products\/1_56d6aed3-f2f4-4dbc-98de-22bc1ff2cf4d.jpg?v=1679377883","width":800},{"alt":null,"id":26848773111968,"position":5,"preview_image":{"aspect_ratio":1.0,"height":800,"width":800,"src":"\/\/www.flownwing.com\/cdn\/shop\/products\/2_79b84939-1b75-41bc-9914-528cc3150240.jpg?v=1679377883"},"aspect_ratio":1.0,"height":800,"media_type":"image","src":"\/\/www.flownwing.com\/cdn\/shop\/products\/2_79b84939-1b75-41bc-9914-528cc3150240.jpg?v=1679377883","width":800},{"alt":null,"id":26848773144736,"position":6,"preview_image":{"aspect_ratio":1.0,"height":800,"width":800,"src":"\/\/www.flownwing.com\/cdn\/shop\/products\/3_91340635-de4a-4d33-8e57-0d76c1ecb6f4.jpg?v=1679377883"},"aspect_ratio":1.0,"height":800,"media_type":"image","src":"\/\/www.flownwing.com\/cdn\/shop\/products\/3_91340635-de4a-4d33-8e57-0d76c1ecb6f4.jpg?v=1679377883","width":800},{"alt":null,"id":26848773177504,"position":7,"preview_image":{"aspect_ratio":1.0,"height":800,"width":800,"src":"\/\/www.flownwing.com\/cdn\/shop\/products\/4_95954dfb-6d59-4a45-b904-6023a2c1fbf8.jpg?v=1679377883"},"aspect_ratio":1.0,"height":800,"media_type":"image","src":"\/\/www.flownwing.com\/cdn\/shop\/products\/4_95954dfb-6d59-4a45-b904-6023a2c1fbf8.jpg?v=1679377883","width":800},{"alt":null,"id":26848773210272,"position":8,"preview_image":{"aspect_ratio":1.0,"height":800,"width":800,"src":"\/\/www.flownwing.com\/cdn\/shop\/products\/5_05b4b9a6-318d-43ce-ab05-be9056f2d0e5.jpg?v=1679377883"},"aspect_ratio":1.0,"height":800,"media_type":"image","src":"\/\/www.flownwing.com\/cdn\/shop\/products\/5_05b4b9a6-318d-43ce-ab05-be9056f2d0e5.jpg?v=1679377883","width":800},{"alt":null,"id":26848773243040,"position":9,"preview_image":{"aspect_ratio":1.0,"height":800,"width":800,"src":"\/\/www.flownwing.com\/cdn\/shop\/products\/6_eabdd2fe-a16b-4f95-8f2c-e0fa7667e727.jpg?v=1679377883"},"aspect_ratio":1.0,"height":800,"media_type":"image","src":"\/\/www.flownwing.com\/cdn\/shop\/products\/6_eabdd2fe-a16b-4f95-8f2c-e0fa7667e727.jpg?v=1679377883","width":800},{"alt":null,"id":26848773275808,"position":10,"preview_image":{"aspect_ratio":1.0,"height":800,"width":800,"src":"\/\/www.flownwing.com\/cdn\/shop\/products\/7_9696698d-750b-4384-8592-178dd7b7f2d3.jpg?v=1679377883"},"aspect_ratio":1.0,"height":800,"media_type":"image","src":"\/\/www.flownwing.com\/cdn\/shop\/products\/7_9696698d-750b-4384-8592-178dd7b7f2d3.jpg?v=1679377883","width":800},{"alt":null,"id":26848773308576,"position":11,"preview_image":{"aspect_ratio":1.0,"height":800,"width":800,"src":"\/\/www.flownwing.com\/cdn\/shop\/products\/11_3f323e2e-c76f-458e-8ba6-c0f9e8a3744e.jpg?v=1679377883"},"aspect_ratio":1.0,"height":800,"media_type":"image","src":"\/\/www.flownwing.com\/cdn\/shop\/products\/11_3f323e2e-c76f-458e-8ba6-c0f9e8a3744e.jpg?v=1679377883","width":800},{"alt":null,"id":26848773341344,"position":12,"preview_image":{"aspect_ratio":1.0,"height":800,"width":800,"src":"\/\/www.flownwing.com\/cdn\/shop\/products\/12_f06b5624-7ee9-4a28-8555-4b90b3d86379.jpg?v=1679377883"},"aspect_ratio":1.0,"height":800,"media_type":"image","src":"\/\/www.flownwing.com\/cdn\/shop\/products\/12_f06b5624-7ee9-4a28-8555-4b90b3d86379.jpg?v=1679377883","width":800},{"alt":null,"id":26848773374112,"position":13,"preview_image":{"aspect_ratio":1.0,"height":800,"width":800,"src":"\/\/www.flownwing.com\/cdn\/shop\/products\/13_b145c386-98d7-48d2-8ab8-e63f7de4a159.jpg?v=1679377883"},"aspect_ratio":1.0,"height":800,"media_type":"image","src":"\/\/www.flownwing.com\/cdn\/shop\/products\/13_b145c386-98d7-48d2-8ab8-e63f7de4a159.jpg?v=1679377883","width":800}],"requires_selling_plan":false,"selling_plan_groups":[],"content":"\u003cp style=\"text-align: center;\"\u003e\u003cspan style=\"color: #cf8377;\"\u003e\u003cem\u003e\u003cstrong\u003eIf you're looking for an unforgettable gift for your best friend, look no further than this beautiful SpongeBob Spinner Ring. \u003c\/strong\u003e\u003c\/em\u003e\u003c\/span\u003e\u003c\/p\u003e\n\u003cp\u003e\u003cimg src=\"https:\/\/img.staticdj.com\/6a8c02c828d3d40305f855eeab8e1d5c.gif\" sizes=\"451px\" width=\"451\" height=\"604\" data-src=\"https:\/\/img.staticdj.com\/6a8c02c828d3d40305f855eeab8e1d5c.gif\" alt=\"\" data-sizes=\"auto\" class=\"sep-lazyload lazyautosizes lazyloaded\" style=\"display: block; margin-left: auto; margin-right: auto;\"\u003e\u003c\/p\u003e\n\u003cp data-mce-fragment=\"1\"\u003e\u003cspan style=\"color: #4684c9;\"\u003e\u003cstrong\u003eFEATURES\u003c\/strong\u003e\u003c\/span\u003e\u003c\/p\u003e\n\u003cul\u003e\n\u003cli\u003e\u003cspan\u003eThis timeless piece is perfect to express your appreciation and love to your dearest bestie and will remind them of your bond every time they wear it.\u003c\/span\u003e\u003c\/li\u003e\n\u003c\/ul\u003e\n\u003cp\u003e\u003cspan\u003e\u003cstrong\u003e\u003cimg style=\"display: block; margin-left: auto; margin-right: auto;\" srcset=\"https:\/\/img.staticdj.com\/a88326d6a9d719d1e8c08531eedea381_720.webp 48w, https:\/\/img.staticdj.com\/a88326d6a9d719d1e8c08531eedea381_720.webp 180w, https:\/\/img.staticdj.com\/a88326d6a9d719d1e8c08531eedea381_720.webp 540w, https:\/\/img.staticdj.com\/a88326d6a9d719d1e8c08531eedea381_720.webp 720w, https:\/\/img.staticdj.com\/a88326d6a9d719d1e8c08531eedea381_720.webp 900w, https:\/\/img.staticdj.com\/a88326d6a9d719d1e8c08531eedea381_720.webp 1024w, https:\/\/img.staticdj.com\/a88326d6a9d719d1e8c08531eedea381_720.webp 1280w, https:\/\/img.staticdj.com\/a88326d6a9d719d1e8c08531eedea381_720.webp 1366w, https:\/\/img.staticdj.com\/a88326d6a9d719d1e8c08531eedea381_720.webp 1440w, https:\/\/img.staticdj.com\/a88326d6a9d719d1e8c08531eedea381_720.webp 1536w, https:\/\/img.staticdj.com\/a88326d6a9d719d1e8c08531eedea381_720.webp 1600w, https:\/\/img.staticdj.com\/a88326d6a9d719d1e8c08531eedea381_720.webp 1920w, https:\/\/img.staticdj.com\/a88326d6a9d719d1e8c08531eedea381_720.webp 2056w, https:\/\/img.staticdj.com\/a88326d6a9d719d1e8c08531eedea381_720.webp 2560w, https:\/\/img.staticdj.com\/a88326d6a9d719d1e8c08531eedea381_720.webp 2732w, https:\/\/img.staticdj.com\/a88326d6a9d719d1e8c08531eedea381_720.webp 2880w, https:\/\/img.staticdj.com\/a88326d6a9d719d1e8c08531eedea381_720.webp 3072w, https:\/\/img.staticdj.com\/a88326d6a9d719d1e8c08531eedea381_720.webp 3200w, https:\/\/img.staticdj.com\/a88326d6a9d719d1e8c08531eedea381_720.webp 3840w\" sizes=\"450px\" data-srcset=\"https:\/\/img.staticdj.com\/a88326d6a9d719d1e8c08531eedea381_720.webp 48w, https:\/\/img.staticdj.com\/a88326d6a9d719d1e8c08531eedea381_720.webp 180w, https:\/\/img.staticdj.com\/a88326d6a9d719d1e8c08531eedea381_720.webp 540w, https:\/\/img.staticdj.com\/a88326d6a9d719d1e8c08531eedea381_720.webp 720w, https:\/\/img.staticdj.com\/a88326d6a9d719d1e8c08531eedea381_720.webp 900w, https:\/\/img.staticdj.com\/a88326d6a9d719d1e8c08531eedea381_720.webp 1024w, https:\/\/img.staticdj.com\/a88326d6a9d719d1e8c08531eedea381_720.webp 1280w, https:\/\/img.staticdj.com\/a88326d6a9d719d1e8c08531eedea381_720.webp 1366w, https:\/\/img.staticdj.com\/a88326d6a9d719d1e8c08531eedea381_720.webp 1440w, https:\/\/img.staticdj.com\/a88326d6a9d719d1e8c08531eedea381_720.webp 1536w, https:\/\/img.staticdj.com\/a88326d6a9d719d1e8c08531eedea381_720.webp 1600w, https:\/\/img.staticdj.com\/a88326d6a9d719d1e8c08531eedea381_720.webp 1920w, https:\/\/img.staticdj.com\/a88326d6a9d719d1e8c08531eedea381_720.webp 2056w, https:\/\/img.staticdj.com\/a88326d6a9d719d1e8c08531eedea381_720.webp 2560w, https:\/\/img.staticdj.com\/a88326d6a9d719d1e8c08531eedea381_720.webp 2732w, https:\/\/img.staticdj.com\/a88326d6a9d719d1e8c08531eedea381_720.webp 2880w, https:\/\/img.staticdj.com\/a88326d6a9d719d1e8c08531eedea381_720.webp 3072w, https:\/\/img.staticdj.com\/a88326d6a9d719d1e8c08531eedea381_720.webp 3200w, https:\/\/img.staticdj.com\/a88326d6a9d719d1e8c08531eedea381_720.webp 3840w\" width=\"450\" height=\"483\" alt=\"\" data-sizes=\"auto\" class=\"sep-lazyload lazyautosizes lazyloaded\"\u003e\u003c\/strong\u003e\u003c\/span\u003e\u003c\/p\u003e\n\u003cul\u003e\n\u003cli\u003e\n\u003cp\u003eFully adjustable, detailed, and made of high-quality gold-plated metal that won't tarnish.\u003c\/p\u003e\n\u003c\/li\u003e\n\u003cli\u003e\n\u003cp\u003eThis beautiful and stylish SpongeBob bff ring, yet playful SpongeBob Ring makes the perfect gift for any best friend's birthday!\u003c\/p\u003e\n\u003c\/li\u003e\n\u003c\/ul\u003e\n\u003cp\u003e\u003cimg style=\"display: block; margin-left: auto; margin-right: auto;\" srcset=\"https:\/\/img.staticdj.com\/2b356e3c38ed5d09e7b6c4755fe50637_540.jpeg 48w, https:\/\/img.staticdj.com\/2b356e3c38ed5d09e7b6c4755fe50637_540.jpeg 180w, https:\/\/img.staticdj.com\/2b356e3c38ed5d09e7b6c4755fe50637_540.jpeg 540w, https:\/\/img.staticdj.com\/2b356e3c38ed5d09e7b6c4755fe50637_540.jpeg 720w, https:\/\/img.staticdj.com\/2b356e3c38ed5d09e7b6c4755fe50637_540.jpeg 900w, https:\/\/img.staticdj.com\/2b356e3c38ed5d09e7b6c4755fe50637_540.jpeg 1024w, https:\/\/img.staticdj.com\/2b356e3c38ed5d09e7b6c4755fe50637_540.jpeg 1280w, https:\/\/img.staticdj.com\/2b356e3c38ed5d09e7b6c4755fe50637_540.jpeg 1366w, https:\/\/img.staticdj.com\/2b356e3c38ed5d09e7b6c4755fe50637_540.jpeg 1440w, https:\/\/img.staticdj.com\/2b356e3c38ed5d09e7b6c4755fe50637_540.jpeg 1536w, https:\/\/img.staticdj.com\/2b356e3c38ed5d09e7b6c4755fe50637_540.jpeg 1600w, https:\/\/img.staticdj.com\/2b356e3c38ed5d09e7b6c4755fe50637_540.jpeg 1920w, https:\/\/img.staticdj.com\/2b356e3c38ed5d09e7b6c4755fe50637_540.jpeg 2056w, https:\/\/img.staticdj.com\/2b356e3c38ed5d09e7b6c4755fe50637_540.jpeg 2560w, https:\/\/img.staticdj.com\/2b356e3c38ed5d09e7b6c4755fe50637_540.jpeg 2732w, https:\/\/img.staticdj.com\/2b356e3c38ed5d09e7b6c4755fe50637_540.jpeg 2880w, https:\/\/img.staticdj.com\/2b356e3c38ed5d09e7b6c4755fe50637_540.jpeg 3072w, https:\/\/img.staticdj.com\/2b356e3c38ed5d09e7b6c4755fe50637_540.jpeg 3200w, https:\/\/img.staticdj.com\/2b356e3c38ed5d09e7b6c4755fe50637_540.jpeg 3840w\" sizes=\"430px\" data-srcset=\"https:\/\/img.staticdj.com\/2b356e3c38ed5d09e7b6c4755fe50637_540.jpeg 48w, https:\/\/img.staticdj.com\/2b356e3c38ed5d09e7b6c4755fe50637_540.jpeg 180w, https:\/\/img.staticdj.com\/2b356e3c38ed5d09e7b6c4755fe50637_540.jpeg 540w, https:\/\/img.staticdj.com\/2b356e3c38ed5d09e7b6c4755fe50637_540.jpeg 720w, https:\/\/img.staticdj.com\/2b356e3c38ed5d09e7b6c4755fe50637_540.jpeg 900w, https:\/\/img.staticdj.com\/2b356e3c38ed5d09e7b6c4755fe50637_540.jpeg 1024w, https:\/\/img.staticdj.com\/2b356e3c38ed5d09e7b6c4755fe50637_540.jpeg 1280w, https:\/\/img.staticdj.com\/2b356e3c38ed5d09e7b6c4755fe50637_540.jpeg 1366w, https:\/\/img.staticdj.com\/2b356e3c38ed5d09e7b6c4755fe50637_540.jpeg 1440w, https:\/\/img.staticdj.com\/2b356e3c38ed5d09e7b6c4755fe50637_540.jpeg 1536w, https:\/\/img.staticdj.com\/2b356e3c38ed5d09e7b6c4755fe50637_540.jpeg 1600w, https:\/\/img.staticdj.com\/2b356e3c38ed5d09e7b6c4755fe50637_540.jpeg 1920w, https:\/\/img.staticdj.com\/2b356e3c38ed5d09e7b6c4755fe50637_540.jpeg 2056w, https:\/\/img.staticdj.com\/2b356e3c38ed5d09e7b6c4755fe50637_540.jpeg 2560w, https:\/\/img.staticdj.com\/2b356e3c38ed5d09e7b6c4755fe50637_540.jpeg 2732w, https:\/\/img.staticdj.com\/2b356e3c38ed5d09e7b6c4755fe50637_540.jpeg 2880w, https:\/\/img.staticdj.com\/2b356e3c38ed5d09e7b6c4755fe50637_540.jpeg 3072w, https:\/\/img.staticdj.com\/2b356e3c38ed5d09e7b6c4755fe50637_540.jpeg 3200w, https:\/\/img.staticdj.com\/2b356e3c38ed5d09e7b6c4755fe50637_540.jpeg 3840w\" width=\"430\" height=\"430\" alt=\"\" data-sizes=\"auto\" class=\"sep-lazyload lazyautosizes lazyloaded\"\u003e\u003c\/p\u003e\n\u003cul\u003e\n\u003cli\u003eThe BFF Ring is perfect for you and your friend to represent your close friendship like Sponge and Pat's!\u003c\/li\u003e\n\u003c\/ul\u003e\n\u003cp data-mce-fragment=\"1\"\u003e\u003cspan style=\"color: #4684c9;\"\u003e\u003cstrong\u003eSPECIFICATIONS\u003c\/strong\u003e\u003c\/span\u003e\u003c\/p\u003e\n\u003cul\u003e\n\u003cli\u003e\n\u003cp\u003e\u003cb\u003e\u003cstrong\u003eMaterial: \u003c\/strong\u003e\u003c\/b\u003eAlloy\u003c\/p\u003e\n\u003c\/li\u003e\n\u003cli\u003e\n\u003cp\u003e\u003cstrong\u003eColors:\u003c\/strong\u003e\u003cspan\u003e \u003cspan class=\"Polaris-Badge_2qgie\" mce-data-marked=\"1\" data-mce-fragment=\"1\"\u003e\u003cspan class=\"Polaris-Text--root_yj4ah Polaris-Text--bodySm_nvqxj\" mce-data-marked=\"1\" data-mce-fragment=\"1\"\u003eGold\u003c\/span\u003e\u003c\/span\u003e\u003c\/span\u003e\u003c\/p\u003e\n\u003c\/li\u003e\n\u003cli\u003e\n\u003cp\u003e\u003cb\u003eWeight:\u003cspan\u003e \u003c\/span\u003e\u003c\/b\u003e10g\u003c\/p\u003e\n\u003c\/li\u003e\n\u003cli\u003e\n\u003cb\u003eSize: \u003c\/b\u003eOne Size Fits All\u003c\/li\u003e\n\u003c\/ul\u003e\n\u003cp\u003e\u003cspan style=\"color: #4684c9;\" data-mce-fragment=\"1\"\u003e\u003cstrong data-mce-fragment=\"1\"\u003ePACKAGE\u003c\/strong\u003e\u003c\/span\u003e\u003c\/p\u003e\n\u003cul\u003e\n\u003cli\u003e1 * Ring or 1 * Box or 1 * Ring+Box\u003c\/li\u003e\n\u003c\/ul\u003e\n\u003cspan style=\"color: #4684c9;\" data-mce-fragment=\"1\"\u003e\u003cstrong data-mce-fragment=\"1\"\u003eNOTE\u003c\/strong\u003e\u003c\/span\u003e\u003cbr data-mce-fragment=\"1\"\u003e\n\u003cul data-mce-fragment=\"1\"\u003e\n\u003cli data-mce-fragment=\"1\"\u003e\n\u003cp data-mce-fragment=\"1\"\u003ePlease allow slight measuring deviations due to the manual measurement.\u003c\/p\u003e\n\u003c\/li\u003e\n\u003cli data-mce-fragment=\"1\"\u003e\n\u003cp data-mce-fragment=\"1\"\u003eDue to the different monitor and light effect, the actual color of the article may differ slightly from the color shown in the pictures.\u003c\/p\u003e\n\u003c\/li\u003e\n\u003c\/ul\u003e"}
The Best Friends Forever Rings
Adding product to your cart
If you're looking for an unforgettable gift for your best friend, look no further than this beautiful SpongeBob Spinner Ring.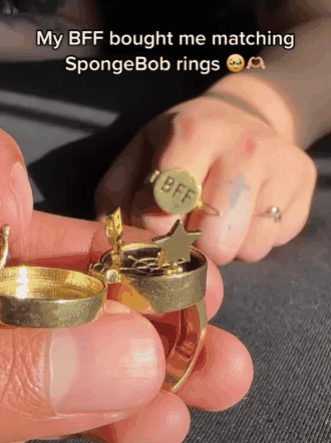 FEATURES
This timeless piece is perfect to express your appreciation and love to your dearest bestie and will remind them of your bond every time they wear it.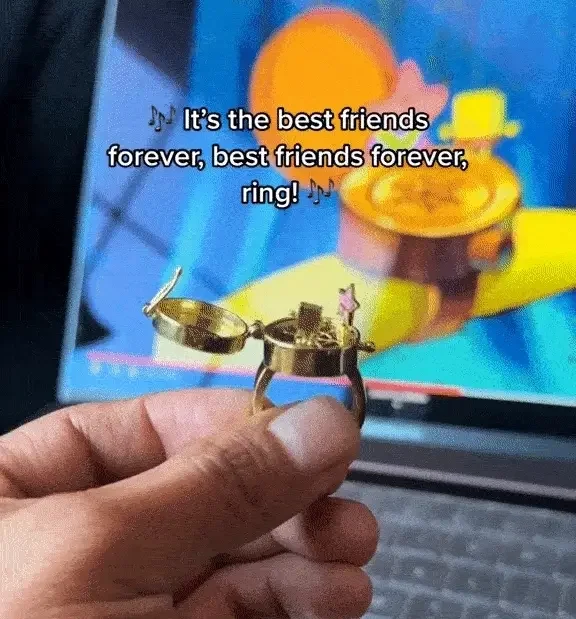 Fully adjustable, detailed, and made of high-quality gold-plated metal that won't tarnish.

This beautiful and stylish SpongeBob bff ring, yet playful SpongeBob Ring makes the perfect gift for any best friend's birthday!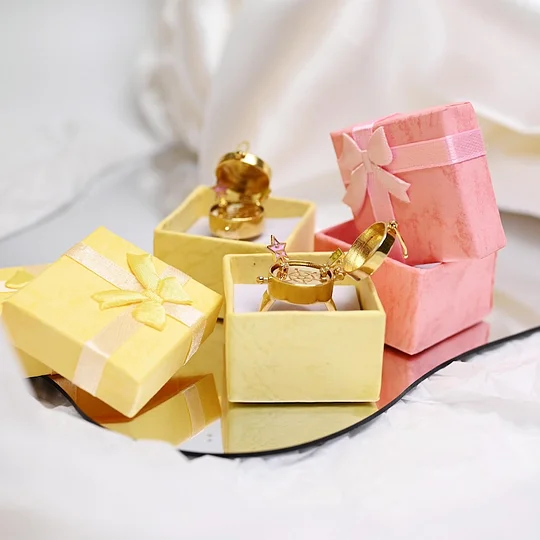 The BFF Ring is perfect for you and your friend to represent your close friendship like Sponge and Pat's!
SPECIFICATIONS
Material: Alloy

Colors: Gold

Weight: 10g

Size: One Size Fits All
PACKAGE
1 * Ring or 1 * Box or 1 * Ring+Box
NOTE
Please allow slight measuring deviations due to the manual measurement.

Due to the different monitor and light effect, the actual color of the article may differ slightly from the color shown in the pictures.