{"id":6611744653472,"title":"Sank Magic Practice Copybook for Kids","handle":"sank-magic-practice-copybook-for-kids","description":"\u003cdiv class=\"text___3JGYJ\" data-mce-fragment=\"1\" itemprop=\"description\"\u003e\n\u003ch2 style=\"text-align: center;\" data-mce-fragment=\"1\"\u003e\u003cspan style=\"color: #ff8000;\"\u003eLearning has never been this fun and easy! The best way to teach them is at home!\u003c\/span\u003e\u003c\/h2\u003e\n\u003cdiv style=\"text-align: left;\" data-mce-fragment=\"1\" data-mce-style=\"text-align: left;\"\u003e\u003cimg src=\"https:\/\/cdn.shopify.com\/s\/files\/1\/0272\/9859\/4880\/files\/00-00-21--00-00-25_2048x2048.gif?v=1602658807\" alt=\"Magic Reusable Fun Learning Guideboard Kids Practice Copybook Tracing Book (4 Books)\" width=\"435\" height=\"435\" style=\"display: block; margin-left: auto; margin-right: auto;\"\u003e\u003c\/div\u003e\n\u003cdiv style=\"text-align: left;\" data-mce-fragment=\"1\" data-mce-style=\"text-align: left;\"\u003e\u003c\/div\u003e\n\u003cdiv style=\"text-align: left;\" data-mce-fragment=\"1\" data-mce-style=\"text-align: left;\"\u003e\u003c\/div\u003e\n\u003cdiv style=\"text-align: left;\" data-mce-fragment=\"1\" data-mce-style=\"text-align: left;\"\u003e\u003c\/div\u003e\n\u003cdiv style=\"text-align: left;\" data-mce-fragment=\"1\" data-mce-style=\"text-align: left;\"\u003e\u003cstrong style=\"color: #ff2a00; font-size: 1.4em;\" data-mce-fragment=\"1\"\u003e✨FEATURES\u003c\/strong\u003e\u003c\/div\u003e\n\u003c\/div\u003e\n\u003cul data-mce-fragment=\"1\"\u003e\n\u003cli\u003e\n\u003cspan data-mce-fragment=\"1\"\u003e\u003cstrong data-mce-fragment=\"1\"\u003e✅ \u003c\/strong\u003e\u003c\/span\u003e\u003cspan style=\"color: #ff8000;\"\u003e\u003cstrong data-mce-fragment=\"1\"\u003eBest For Teaching at Home\u003c\/strong\u003e\u003c\/span\u003e\u003cspan data-mce-fragment=\"1\"\u003e \u003c\/span\u003e\u003cspan\u003e- Visually attractive graphics and illustrations that will surely motivate your kids to focus and learn while having fun.\u003c\/span\u003e\n\u003c\/li\u003e\n\u003cli data-mce-fragment=\"1\"\u003e\n\u003cp data-mce-fragment=\"1\"\u003e\u003cspan\u003e✅\u003c\/span\u003e\u003cspan data-mce-fragment=\"1\"\u003e \u003c\/span\u003e\u003cspan style=\"color: #ff8000;\"\u003e\u003cstrong data-mce-fragment=\"1\"\u003eDevelops Eye-Hand Coordination\u003c\/strong\u003e\u003c\/span\u003e\u003cspan data-mce-fragment=\"1\"\u003e \u003c\/span\u003e\u003cspan\u003e- Groove patterns greatly helps with improving your child's eye-hand coordination, fine motor skills and can also significantly boost their reading comprehension skills too!\u003c\/span\u003e\u003c\/p\u003e\n\u003c\/li\u003e\n\u003cli data-mce-fragment=\"1\"\u003e\n\u003cp data-mce-fragment=\"1\"\u003e\u003cspan\u003e\u003c\/span\u003e\u003cspan\u003e✅\u003c\/span\u003e\u003cspan data-mce-fragment=\"1\"\u003e \u003c\/span\u003e\u003cspan style=\"color: #ff8000;\"\u003e\u003cstrong data-mce-fragment=\"1\"\u003eHigh-Quality \u0026amp; Reusable\u003c\/strong\u003e\u003c\/span\u003e\u003cspan data-mce-fragment=\"1\"\u003e \u003c\/span\u003e\u003cspan\u003e- With the help of the Magic Pen, your children can reuse the books for practicing because the ink automatically disappears in a few minutes.\u003c\/span\u003e\u003c\/p\u003e\n\u003c\/li\u003e\n\u003c\/ul\u003e\n\u003cp\u003e\u003cspan\u003e\u003cimg height=\"439\" width=\"439\" alt=\"魔术可重复使用有趣的学习指南板儿童练习字帖跟踪书(4 本书)\" src=\"https:\/\/cdn.shopify.com\/s\/files\/1\/0443\/9726\/5046\/files\/20201012_Reusable_Groove_Copy_Book_GIFSC2_2048x2048.gif?v=1602488609\" style=\"display: block; margin-left: auto; margin-right: auto;\"\u003e\u003c\/span\u003e\u003c\/p\u003e\n\u003cul data-mce-fragment=\"1\"\u003e\n\u003cli data-mce-fragment=\"1\"\u003e\n\u003cp data-mce-fragment=\"1\"\u003e\u003cspan\u003e\u003c\/span\u003e\u003cspan\u003e✅\u003c\/span\u003e\u003cspan data-mce-fragment=\"1\"\u003e \u003c\/span\u003e\u003cspan style=\"color: #ff8000;\"\u003e\u003cstrong data-mce-fragment=\"1\"\u003eMultiple Characters\u003c\/strong\u003e\u003c\/span\u003e\u003cspan data-mce-fragment=\"1\"\u003e \u003c\/span\u003e\u003cspan\u003e- This Magic Practice Copybook has all necessary contents your child will learn in school; Alphabet, Numbers, Drawings and Mathematics\u003c\/span\u003e\u003c\/p\u003e\n\u003c\/li\u003e\n\u003c\/ul\u003e\n\u003cp\u003e\u003cspan data-mce-fragment=\"1\"\u003e\u003cimg alt=\"Magic Reusable Fun Learning Guideboard Kids Practice Copybook Tracing Book (4 Books)\" src=\"https:\/\/cdn.shopify.com\/s\/files\/1\/0510\/9265\/2214\/files\/features_2048x2048.png?v=1622995111\" width=\"444\" height=\"205\" style=\"display: block; margin-left: auto; margin-right: auto;\"\u003e\u003c\/span\u003e\u003c\/p\u003e\n\u003ch3 data-mce-fragment=\"1\"\u003e\u003cspan style=\"color: #00aaff;\"\u003e💡ALPHABET COPYBOOK\u003c\/span\u003e\u003c\/h3\u003e\n\u003cp class=\"width90\" data-mce-fragment=\"1\"\u003e\u003cstrong data-mce-fragment=\"1\"\u003eALPHABET\u003cspan\u003e \u003c\/span\u003e\u003c\/strong\u003eMAGIC Practice Book\u003cstrong data-mce-fragment=\"1\"\u003e \u003c\/strong\u003ehelps your kids grasp the\u003cspan\u003e \u003c\/span\u003e\u003cstrong\u003ebasic English handwriting skills and pattern\u003c\/strong\u003e.\u003c\/p\u003e\n\u003cdiv style=\"text-align: left;\" data-mce-style=\"text-align: left;\"\u003e\n\u003ch1 data-mce-fragment=\"1\"\u003e\u003cimg alt=\"Magic Reusable Fun Learning Guideboard Kids Practice Copybook Tracing Book (4 Books)\" src=\"https:\/\/cdn.shopify.com\/s\/files\/1\/0510\/9265\/2214\/files\/Alphabet_TN_2048x2048.png?v=1622995899\" width=\"444\" height=\"444\" style=\"display: block; margin-left: auto; margin-right: auto;\" data-mce-style=\"display: block; margin-left: auto; margin-right: auto;\" data-mce-src=\"https:\/\/cdn.shopify.com\/s\/files\/1\/0510\/9265\/2214\/files\/Alphabet_TN_2048x2048.png?v=1622995899\"\u003e\u003c\/h1\u003e\n\u003ch3 data-mce-fragment=\"1\"\u003e\n\u003cspan\u003e💡\u003c\/span\u003e\u003cspan style=\"color: #00aaff;\" data-mce-style=\"color: #00aaff;\"\u003eNUMBER COPYBOOK\u003c\/span\u003e\n\u003c\/h3\u003e\n\u003cp class=\"width90\" data-mce-fragment=\"1\"\u003e\u003cstrong data-mce-fragment=\"1\"\u003e\u003cspan data-mce-fragment=\"1\"\u003eNUMBER \u003c\/span\u003e\u003c\/strong\u003eMAGIC Practice Book helps your kids recognizes\u003cstrong data-mce-fragment=\"1\"\u003e\u003cspan data-mce-fragment=\"1\"\u003e \u003c\/span\u003enumber pattern\u003c\/strong\u003e\u003cstrong\u003e.\u003c\/strong\u003e\u003c\/p\u003e\n\u003c\/div\u003e\n\u003cdiv style=\"text-align: left;\"\u003e\u003cimg style=\"float: none; display: block; margin-left: auto; margin-right: auto;\" height=\"457\" width=\"457\" src=\"https:\/\/cdn.shopify.com\/s\/files\/1\/0510\/9265\/2214\/files\/Number_TN_2048x2048.png?v=1622995927\" alt=\"Magic Reusable Fun Learning Guideboard Kids Practice Copybook Tracing Book (4 Books)\"\u003e\u003c\/div\u003e\n\u003cdiv style=\"text-align: left;\"\u003e\u003c\/div\u003e\n\u003ch3 data-mce-fragment=\"1\"\u003e\n\u003cspan\u003e💡\u003c\/span\u003e\u003cspan style=\"color: #00aaff;\"\u003eDRAWING COPYBOOK\u003c\/span\u003e\n\u003c\/h3\u003e\n\u003cp class=\"width90\" data-mce-fragment=\"1\"\u003e\u003cstrong data-mce-fragment=\"1\"\u003eDRAWING \u003c\/strong\u003eMAGICPractice Book\u003cstrong data-mce-fragment=\"1\"\u003e \u003c\/strong\u003eis perfect for kids for them to recognize\u003cspan\u003e \u003c\/span\u003e\u003cstrong\u003eeveryday signs and shapes\u003c\/strong\u003e\u003cspan\u003e \u003c\/span\u003eand excite their\u003cspan\u003e \u003c\/span\u003e\u003cstrong\u003einterest in painting.\u003c\/strong\u003e\u003c\/p\u003e\n\u003cdiv style=\"text-align: left;\"\u003e\u003cimg style=\"float: none; display: block; margin-left: auto; margin-right: auto;\" height=\"468\" width=\"468\" src=\"https:\/\/cdn.shopify.com\/s\/files\/1\/0510\/9265\/2214\/files\/Drawing_TN_2048x2048.png?v=1622995953\" alt=\"Magic Reusable Fun Learning Guideboard Kids Practice Copybook Tracing Book (4 Books)\"\u003e\u003c\/div\u003e\n\u003cdiv style=\"text-align: left;\"\u003e\u003c\/div\u003e\n\u003ch3 data-mce-fragment=\"1\"\u003e\n\u003cspan\u003e💡\u003c\/span\u003e\u003cspan style=\"color: #00aaff;\"\u003eMATHEMATICS COPYBOOK\u003c\/span\u003e\n\u003c\/h3\u003e\n\u003cp class=\"width90\" data-mce-fragment=\"1\"\u003e\u003cstrong data-mce-fragment=\"1\"\u003eMATHEMATICS \u003c\/strong\u003eMAGIC Practice Book\u003cstrong data-mce-fragment=\"1\"\u003e \u003c\/strong\u003eincludes\u003cspan\u003e \u003c\/span\u003e\u003cstrong\u003ecounting game\u003c\/strong\u003es and more exciting\u003cspan\u003e \u003c\/span\u003e\u003cstrong\u003enumber activities\u003c\/strong\u003e\u003cspan\u003e \u003c\/span\u003efor your preschooler.\u003c\/p\u003e\n\u003cdiv style=\"text-align: left;\"\u003e\u003cimg style=\"float: none; display: block; margin-left: auto; margin-right: auto;\" height=\"442\" width=\"442\" src=\"https:\/\/cdn.shopify.com\/s\/files\/1\/0510\/9265\/2214\/files\/Math_TN_2048x2048.png?v=1622995975\" alt=\"Magic Reusable Fun Learning Guideboard Kids Practice Copybook Tracing Book (4 Books)\"\u003e\u003c\/div\u003e\n\u003cp\u003e\u003cspan data-mce-fragment=\"1\"\u003e\u003cbr\u003e\u003c\/span\u003e\u003c\/p\u003e\n\u003cdiv class=\"rte\" itemprop=\"description\"\u003e\n\u003cspan\u003e\u003cstrong\u003e\u003c\/strong\u003e\u003c\/span\u003e\u003cspan style=\"color: #ff8000;\" data-mce-style=\"color: #ff8000;\"\u003e\u003cstrong\u003e📚PRACTICE COPYBOOK\u003c\/strong\u003e\u003c\/span\u003e\n\u003cul\u003e\n\u003cli\u003e\n\u003cstrong\u003eMaterial:\u003c\/strong\u003e\u003cspan\u003e \u003c\/span\u003eWhite cardboard\u003c\/li\u003e\n\u003cli\u003e\n\u003cstrong\u003eStyle:\u003c\/strong\u003e Alphabet; Numbers; Drawing;Addition \u0026amp; Subtraction\u003c\/li\u003e\n\u003cli\u003e\n\u003cstrong\u003eSize:\u003c\/strong\u003e\u003cspan\u003e \u003c\/span\u003e19.5cm x 13.5cm\u003c\/li\u003e\n\u003c\/ul\u003e\n\u003cspan style=\"color: #ff8000;\" data-mce-style=\"color: #ff8000;\"\u003e\u003cstrong\u003e🎁MAGIC PEN SET\u003c\/strong\u003e\u003c\/span\u003e\n\u003cul\u003e\n\u003cli\u003e\n\u003cstrong\u003eAuto Fade \u003c\/strong\u003e\u003cbr\u003e\n\u003c\/li\u003e\n\u003cli\u003e\n\u003cstrong\u003eWriting Width:\u003c\/strong\u003e\u003cspan\u003e \u003c\/span\u003e0.5mm\u003c\/li\u003e\n\u003cli\u003e\n\u003cstrong\u003eColour:\u003c\/strong\u003e\u003cspan\u003e \u003c\/span\u003eBlack\u003c\/li\u003e\n\u003cli\u003e\n\u003cstrong\u003ePackage Include:\u003c\/strong\u003e 1*MAGIC PEN SET or 4* BOOKS+1*MAGIC PEN SET\u003c\/li\u003e\n\u003c\/ul\u003e\n\u003cp\u003e\u003cspan data-mce-fragment=\"1\"\u003e\u003cimg style=\"display: block; margin-left: auto; margin-right: auto;\" src=\"https:\/\/cdn.shopifycdn.net\/s\/files\/1\/0548\/6978\/6778\/files\/12_336d2bf9-088c-4555-a38b-9a3572ea6665_480x480.jpg?v=1616388229\" alt=\"\" data-mce-style=\"display: block; margin-left: auto; margin-right: auto;\"\u003e\u003c\/span\u003e\u003c\/p\u003e\n\u003cp\u003e\u003cstrong\u003e\u003cspan style=\"color: #ff8000;\" data-mce-fragment=\"1\"\u003e🤗HAPPY CUSTOMERS\u003c\/span\u003e\u003c\/strong\u003e\u003c\/p\u003e\n\u003cp\u003e\u003cstrong\u003e\u003cspan style=\"color: #ff8000;\" data-mce-fragment=\"1\"\u003e\u003cimg src=\"https:\/\/cdn.shopifycdn.net\/s\/files\/1\/0548\/6978\/6778\/files\/Dingtalk_20210322144811_480x480.jpg?v=1616395712\" alt=\"\"\u003e\u003c\/span\u003e\u003c\/strong\u003e\u003c\/p\u003e\n\u003cp\u003e\u003cstrong\u003e\u003cspan style=\"color: #ff8000;\" data-mce-fragment=\"1\"\u003e\u003cimg src=\"https:\/\/cdn.shopifycdn.net\/s\/files\/1\/0548\/6978\/6778\/files\/Dingtalk_20210322144911_480x480.jpg?v=1616395767\" alt=\"\"\u003e\u003c\/span\u003e\u003c\/strong\u003e\u003c\/p\u003e\n\u003cp\u003e\u003cstrong\u003e\u003cspan style=\"color: #ff8000;\" data-mce-fragment=\"1\"\u003e\u003cimg height=\"143\" width=\"541\" src=\"https:\/\/cdn.shopifycdn.net\/s\/files\/1\/0548\/6978\/6778\/files\/Dingtalk_20210322144953_480x480.jpg?v=1616395825\" alt=\"\"\u003e\u003c\/span\u003e\u003c\/strong\u003e\u003c\/p\u003e\n\u003cimg height=\"148\" width=\"523\" alt=\"\" src=\"https:\/\/cdn.shopifycdn.net\/s\/files\/1\/0548\/6978\/6778\/files\/Dingtalk_20210322145206_480x480.jpg?v=1616395944\" data-mce-fragment=\"1\" data-mce-src=\"https:\/\/cdn.shopifycdn.net\/s\/files\/1\/0548\/6978\/6778\/files\/Dingtalk_20210322145206_480x480.jpg?v=1616395944\"\u003e\n\u003c\/div\u003e\n\u003cdiv class=\"rte\" itemprop=\"description\"\u003e\u003cstrong\u003e\u003cspan\u003e\u003cspan style=\"color: #ff2a00;\" data-mce-style=\"color: #ff2a00;\"\u003e\u003cimg alt=\"\" src=\"https:\/\/cdn.shopifycdn.net\/s\/files\/1\/0548\/6978\/6778\/files\/Dingtalk_20210322145249_480x480.jpg?v=1616395993\" width=\"435\" height=\"149\" data-mce-fragment=\"1\" data-mce-src=\"https:\/\/cdn.shopifycdn.net\/s\/files\/1\/0548\/6978\/6778\/files\/Dingtalk_20210322145249_480x480.jpg?v=1616395993\"\u003e\u003c\/span\u003e\u003c\/span\u003e\u003c\/strong\u003e\u003c\/div\u003e\n\u003cdiv class=\"rte\" itemprop=\"description\"\u003e\n\u003cstrong\u003e\u003cspan\u003e\u003cspan style=\"color: #ff2a00;\" data-mce-style=\"color: #ff2a00;\"\u003eNOTE\u003c\/span\u003e\u003c\/span\u003e\u003cbr\u003e\u003c\/strong\u003e\n\u003cul\u003e\n\u003cli\u003e\u003cspan style=\"color: #ff00ff;\" data-mce-style=\"color: #ff00ff;\"\u003e\u003cem\u003e\u003cspan style=\"color: #ff8000;\" data-mce-style=\"color: #ff8000;\"\u003eCopybooks\u003cstrong\u003e must be used with\u003c\/strong\u003e magic pen to be reused.\u003c\/span\u003e\u003c\/em\u003e\u003c\/span\u003e\u003c\/li\u003e\n\u003cli\u003e\u003cem\u003eDue to the different monitor and light effect, the actual color of the item might be slightly different from the color showed in the pictures.\u003c\/em\u003e\u003c\/li\u003e\n\u003c\/ul\u003e\n\u003c\/div\u003e\n\u003cdiv style=\"position: absolute; left: -35px; top: 79px;\" id=\"gtx-trans\"\u003e\n\u003cdiv class=\"gtx-trans-icon\"\u003e\u003c\/div\u003e\n\u003c\/div\u003e\n\u003cp\u003e\u003cbr\u003e\u003c\/p\u003e","published_at":"2022-01-27T19:46:04-10:00","created_at":"2021-03-26T22:43:02-10:00","vendor":"SANK","type":"","tags":[],"price":999,"price_min":999,"price_max":4299,"available":true,"price_varies":true,"compare_at_price":1999,"compare_at_price_min":1999,"compare_at_price_max":9599,"compare_at_price_varies":true,"variants":[{"id":39573620523168,"title":"ADDITION \u0026 SUBTRACTION SET(1*MAGIC PEN SET)","option1":"ADDITION \u0026 SUBTRACTION SET(1*MAGIC PEN SET)","option2":null,"option3":null,"sku":"CP14345-X7530","requires_shipping":true,"taxable":false,"featured_image":{"id":28333384368288,"product_id":6611744653472,"position":12,"created_at":"2021-03-26T22:43:02-10:00","updated_at":"2021-03-26T22:43:02-10:00","alt":null,"width":800,"height":800,"src":"\/\/www.flownwing.com\/cdn\/shop\/products\/2_13bb768c-621a-4dea-82f2-f31b3cca6760.jpg?v=1616834582","variant_ids":[39573620523168]},"available":true,"name":"Sank Magic Practice Copybook for Kids - ADDITION \u0026 SUBTRACTION SET(1*MAGIC PEN SET)","public_title":"ADDITION \u0026 SUBTRACTION SET(1*MAGIC PEN SET)","options":["ADDITION \u0026 SUBTRACTION SET(1*MAGIC PEN SET)"],"price":1499,"weight":0,"compare_at_price":2999,"inventory_management":null,"barcode":null,"featured_media":{"alt":null,"id":20667442364576,"position":12,"preview_image":{"aspect_ratio":1.0,"height":800,"width":800,"src":"\/\/www.flownwing.com\/cdn\/shop\/products\/2_13bb768c-621a-4dea-82f2-f31b3cca6760.jpg?v=1616834582"}},"requires_selling_plan":false,"selling_plan_allocations":[],"quantity_rule":{"min":1,"max":null,"increment":1}},{"id":39573620555936,"title":"ALPHABET SET(1*MAGIC PEN SET)","option1":"ALPHABET SET(1*MAGIC PEN SET)","option2":null,"option3":null,"sku":"CP14345-X7528","requires_shipping":true,"taxable":false,"featured_image":{"id":28333384433824,"product_id":6611744653472,"position":14,"created_at":"2021-03-26T22:43:02-10:00","updated_at":"2021-03-26T22:43:02-10:00","alt":null,"width":800,"height":800,"src":"\/\/www.flownwing.com\/cdn\/shop\/products\/4_c2c16a6a-dbe6-46d0-b5dd-49fb22ac3c4f.jpg?v=1616834582","variant_ids":[39573620555936]},"available":true,"name":"Sank Magic Practice Copybook for Kids - ALPHABET SET(1*MAGIC PEN SET)","public_title":"ALPHABET SET(1*MAGIC PEN SET)","options":["ALPHABET SET(1*MAGIC PEN SET)"],"price":1499,"weight":0,"compare_at_price":2999,"inventory_management":null,"barcode":null,"featured_media":{"alt":null,"id":20667442430112,"position":14,"preview_image":{"aspect_ratio":1.0,"height":800,"width":800,"src":"\/\/www.flownwing.com\/cdn\/shop\/products\/4_c2c16a6a-dbe6-46d0-b5dd-49fb22ac3c4f.jpg?v=1616834582"}},"requires_selling_plan":false,"selling_plan_allocations":[],"quantity_rule":{"min":1,"max":null,"increment":1}},{"id":39573620588704,"title":"DRAWING SET(1*MAGIC PEN SET)","option1":"DRAWING SET(1*MAGIC PEN SET)","option2":null,"option3":null,"sku":"CP14345-X7529","requires_shipping":true,"taxable":false,"featured_image":{"id":28333384335520,"product_id":6611744653472,"position":11,"created_at":"2021-03-26T22:43:02-10:00","updated_at":"2021-03-26T22:43:02-10:00","alt":null,"width":800,"height":800,"src":"\/\/www.flownwing.com\/cdn\/shop\/products\/1_c9c62c2a-1c24-4c1c-98f0-ee34093bc61d.jpg?v=1616834582","variant_ids":[39573620588704]},"available":true,"name":"Sank Magic Practice Copybook for Kids - DRAWING SET(1*MAGIC PEN SET)","public_title":"DRAWING SET(1*MAGIC PEN SET)","options":["DRAWING SET(1*MAGIC PEN SET)"],"price":1499,"weight":0,"compare_at_price":2999,"inventory_management":null,"barcode":null,"featured_media":{"alt":null,"id":20667442331808,"position":11,"preview_image":{"aspect_ratio":1.0,"height":800,"width":800,"src":"\/\/www.flownwing.com\/cdn\/shop\/products\/1_c9c62c2a-1c24-4c1c-98f0-ee34093bc61d.jpg?v=1616834582"}},"requires_selling_plan":false,"selling_plan_allocations":[],"quantity_rule":{"min":1,"max":null,"increment":1}},{"id":39573620621472,"title":"NUMBER 0-100 SET(1*MAGIC PEN SET)","option1":"NUMBER 0-100 SET(1*MAGIC PEN SET)","option2":null,"option3":null,"sku":"CP14345-X7531","requires_shipping":true,"taxable":false,"featured_image":{"id":28333384401056,"product_id":6611744653472,"position":13,"created_at":"2021-03-26T22:43:02-10:00","updated_at":"2021-03-26T22:43:02-10:00","alt":null,"width":800,"height":800,"src":"\/\/www.flownwing.com\/cdn\/shop\/products\/3_4df64371-c5b0-42f1-8d84-e9cec6ee64d2.jpg?v=1616834582","variant_ids":[39573620621472]},"available":true,"name":"Sank Magic Practice Copybook for Kids - NUMBER 0-100 SET(1*MAGIC PEN SET)","public_title":"NUMBER 0-100 SET(1*MAGIC PEN SET)","options":["NUMBER 0-100 SET(1*MAGIC PEN SET)"],"price":1499,"weight":0,"compare_at_price":2999,"inventory_management":null,"barcode":null,"featured_media":{"alt":null,"id":20667442397344,"position":13,"preview_image":{"aspect_ratio":1.0,"height":800,"width":800,"src":"\/\/www.flownwing.com\/cdn\/shop\/products\/3_4df64371-c5b0-42f1-8d84-e9cec6ee64d2.jpg?v=1616834582"}},"requires_selling_plan":false,"selling_plan_allocations":[],"quantity_rule":{"min":1,"max":null,"increment":1}},{"id":39573620654240,"title":"COMBINATION SET (4* BOOKS+1*MAGIC PEN SET)","option1":"COMBINATION SET (4* BOOKS+1*MAGIC PEN SET)","option2":null,"option3":null,"sku":"CP14345-X7532","requires_shipping":true,"taxable":false,"featured_image":{"id":28333384007840,"product_id":6611744653472,"position":2,"created_at":"2021-03-26T22:43:02-10:00","updated_at":"2021-09-03T20:24:00-10:00","alt":null,"width":1500,"height":1500,"src":"\/\/www.flownwing.com\/cdn\/shop\/products\/78405847df80c85c1d47facb7778d760.jpg?v=1630736640","variant_ids":[39573620654240,39573620687008]},"available":true,"name":"Sank Magic Practice Copybook for Kids - COMBINATION SET (4* BOOKS+1*MAGIC PEN SET)","public_title":"COMBINATION SET (4* BOOKS+1*MAGIC PEN SET)","options":["COMBINATION SET (4* BOOKS+1*MAGIC PEN SET)"],"price":2699,"weight":0,"compare_at_price":5399,"inventory_management":null,"barcode":null,"featured_media":{"alt":null,"id":20667442004128,"position":2,"preview_image":{"aspect_ratio":1.0,"height":1500,"width":1500,"src":"\/\/www.flownwing.com\/cdn\/shop\/products\/78405847df80c85c1d47facb7778d760.jpg?v=1630736640"}},"requires_selling_plan":false,"selling_plan_allocations":[],"quantity_rule":{"min":1,"max":null,"increment":1}},{"id":39573620687008,"title":"2*COMBINATION SET (8* BOOKS+2*MAGIC PEN SET)","option1":"2*COMBINATION SET (8* BOOKS+2*MAGIC PEN SET)","option2":null,"option3":null,"sku":"CP14345-X9485","requires_shipping":true,"taxable":false,"featured_image":{"id":28333384007840,"product_id":6611744653472,"position":2,"created_at":"2021-03-26T22:43:02-10:00","updated_at":"2021-09-03T20:24:00-10:00","alt":null,"width":1500,"height":1500,"src":"\/\/www.flownwing.com\/cdn\/shop\/products\/78405847df80c85c1d47facb7778d760.jpg?v=1630736640","variant_ids":[39573620654240,39573620687008]},"available":true,"name":"Sank Magic Practice Copybook for Kids - 2*COMBINATION SET (8* BOOKS+2*MAGIC PEN SET)","public_title":"2*COMBINATION SET (8* BOOKS+2*MAGIC PEN SET)","options":["2*COMBINATION SET (8* BOOKS+2*MAGIC PEN SET)"],"price":4299,"weight":0,"compare_at_price":9599,"inventory_management":null,"barcode":null,"featured_media":{"alt":null,"id":20667442004128,"position":2,"preview_image":{"aspect_ratio":1.0,"height":1500,"width":1500,"src":"\/\/www.flownwing.com\/cdn\/shop\/products\/78405847df80c85c1d47facb7778d760.jpg?v=1630736640"}},"requires_selling_plan":false,"selling_plan_allocations":[],"quantity_rule":{"min":1,"max":null,"increment":1}},{"id":39573620719776,"title":"1*MAGIC PEN SET (BUY THIS SEPARATELY WITHOUT DELIVERY)","option1":"1*MAGIC PEN SET (BUY THIS SEPARATELY WITHOUT DELIVERY)","option2":null,"option3":null,"sku":"CP14052-X6984","requires_shipping":true,"taxable":false,"featured_image":{"id":28333384466592,"product_id":6611744653472,"position":15,"created_at":"2021-03-26T22:43:02-10:00","updated_at":"2021-03-26T22:43:02-10:00","alt":null,"width":1080,"height":1080,"src":"\/\/www.flownwing.com\/cdn\/shop\/products\/7_f4bf0cae-e800-4cf7-8d37-b91fc109a902.jpg?v=1616834582","variant_ids":[39573620719776]},"available":true,"name":"Sank Magic Practice Copybook for Kids - 1*MAGIC PEN SET (BUY THIS SEPARATELY WITHOUT DELIVERY)","public_title":"1*MAGIC PEN SET (BUY THIS SEPARATELY WITHOUT DELIVERY)","options":["1*MAGIC PEN SET (BUY THIS SEPARATELY WITHOUT DELIVERY)"],"price":999,"weight":0,"compare_at_price":1999,"inventory_management":null,"barcode":null,"featured_media":{"alt":null,"id":20667442462880,"position":15,"preview_image":{"aspect_ratio":1.0,"height":1080,"width":1080,"src":"\/\/www.flownwing.com\/cdn\/shop\/products\/7_f4bf0cae-e800-4cf7-8d37-b91fc109a902.jpg?v=1616834582"}},"requires_selling_plan":false,"selling_plan_allocations":[],"quantity_rule":{"min":1,"max":null,"increment":1}}],"images":["\/\/www.flownwing.com\/cdn\/shop\/products\/1_bdfa441d-6948-4693-aa35-a49906c14238.jpg?v=1630736640","\/\/www.flownwing.com\/cdn\/shop\/products\/78405847df80c85c1d47facb7778d760.jpg?v=1630736640","\/\/www.flownwing.com\/cdn\/shop\/products\/25_1.jpg?v=1630736640","\/\/www.flownwing.com\/cdn\/shop\/products\/2_026366ed-0e17-40a9-af0d-f862ff85cfc6.jpg?v=1630736640","\/\/www.flownwing.com\/cdn\/shop\/products\/25_2.jpg?v=1630736640","\/\/www.flownwing.com\/cdn\/shop\/products\/25_3.jpg?v=1630736640","\/\/www.flownwing.com\/cdn\/shop\/products\/25_4.jpg?v=1630736640","\/\/www.flownwing.com\/cdn\/shop\/products\/25_5.jpg?v=1630736640","\/\/www.flownwing.com\/cdn\/shop\/products\/25_6.jpg?v=1630736640","\/\/www.flownwing.com\/cdn\/shop\/products\/25_8.jpg?v=1630736640","\/\/www.flownwing.com\/cdn\/shop\/products\/1_c9c62c2a-1c24-4c1c-98f0-ee34093bc61d.jpg?v=1616834582","\/\/www.flownwing.com\/cdn\/shop\/products\/2_13bb768c-621a-4dea-82f2-f31b3cca6760.jpg?v=1616834582","\/\/www.flownwing.com\/cdn\/shop\/products\/3_4df64371-c5b0-42f1-8d84-e9cec6ee64d2.jpg?v=1616834582","\/\/www.flownwing.com\/cdn\/shop\/products\/4_c2c16a6a-dbe6-46d0-b5dd-49fb22ac3c4f.jpg?v=1616834582","\/\/www.flownwing.com\/cdn\/shop\/products\/7_f4bf0cae-e800-4cf7-8d37-b91fc109a902.jpg?v=1616834582","\/\/www.flownwing.com\/cdn\/shop\/products\/8_6e533350-7ff3-4513-ad3a-251a5f58baee.jpg?v=1616834582"],"featured_image":"\/\/www.flownwing.com\/cdn\/shop\/products\/1_bdfa441d-6948-4693-aa35-a49906c14238.jpg?v=1630736640","options":["STYLE"],"media":[{"alt":null,"id":20667442299040,"position":1,"preview_image":{"aspect_ratio":1.0,"height":1080,"width":1080,"src":"\/\/www.flownwing.com\/cdn\/shop\/products\/1_bdfa441d-6948-4693-aa35-a49906c14238.jpg?v=1630736640"},"aspect_ratio":1.0,"height":1080,"media_type":"image","src":"\/\/www.flownwing.com\/cdn\/shop\/products\/1_bdfa441d-6948-4693-aa35-a49906c14238.jpg?v=1630736640","width":1080},{"alt":null,"id":20667442004128,"position":2,"preview_image":{"aspect_ratio":1.0,"height":1500,"width":1500,"src":"\/\/www.flownwing.com\/cdn\/shop\/products\/78405847df80c85c1d47facb7778d760.jpg?v=1630736640"},"aspect_ratio":1.0,"height":1500,"media_type":"image","src":"\/\/www.flownwing.com\/cdn\/shop\/products\/78405847df80c85c1d47facb7778d760.jpg?v=1630736640","width":1500},{"alt":null,"id":20667442036896,"position":3,"preview_image":{"aspect_ratio":1.0,"height":1500,"width":1500,"src":"\/\/www.flownwing.com\/cdn\/shop\/products\/25_1.jpg?v=1630736640"},"aspect_ratio":1.0,"height":1500,"media_type":"image","src":"\/\/www.flownwing.com\/cdn\/shop\/products\/25_1.jpg?v=1630736640","width":1500},{"alt":null,"id":20667442069664,"position":4,"preview_image":{"aspect_ratio":1.0,"height":800,"width":800,"src":"\/\/www.flownwing.com\/cdn\/shop\/products\/2_026366ed-0e17-40a9-af0d-f862ff85cfc6.jpg?v=1630736640"},"aspect_ratio":1.0,"height":800,"media_type":"image","src":"\/\/www.flownwing.com\/cdn\/shop\/products\/2_026366ed-0e17-40a9-af0d-f862ff85cfc6.jpg?v=1630736640","width":800},{"alt":null,"id":20667442102432,"position":5,"preview_image":{"aspect_ratio":1.0,"height":1500,"width":1500,"src":"\/\/www.flownwing.com\/cdn\/shop\/products\/25_2.jpg?v=1630736640"},"aspect_ratio":1.0,"height":1500,"media_type":"image","src":"\/\/www.flownwing.com\/cdn\/shop\/products\/25_2.jpg?v=1630736640","width":1500},{"alt":null,"id":20667442135200,"position":6,"preview_image":{"aspect_ratio":1.0,"height":1500,"width":1500,"src":"\/\/www.flownwing.com\/cdn\/shop\/products\/25_3.jpg?v=1630736640"},"aspect_ratio":1.0,"height":1500,"media_type":"image","src":"\/\/www.flownwing.com\/cdn\/shop\/products\/25_3.jpg?v=1630736640","width":1500},{"alt":null,"id":20667442167968,"position":7,"preview_image":{"aspect_ratio":1.0,"height":1500,"width":1500,"src":"\/\/www.flownwing.com\/cdn\/shop\/products\/25_4.jpg?v=1630736640"},"aspect_ratio":1.0,"height":1500,"media_type":"image","src":"\/\/www.flownwing.com\/cdn\/shop\/products\/25_4.jpg?v=1630736640","width":1500},{"alt":null,"id":20667442200736,"position":8,"preview_image":{"aspect_ratio":1.0,"height":1500,"width":1500,"src":"\/\/www.flownwing.com\/cdn\/shop\/products\/25_5.jpg?v=1630736640"},"aspect_ratio":1.0,"height":1500,"media_type":"image","src":"\/\/www.flownwing.com\/cdn\/shop\/products\/25_5.jpg?v=1630736640","width":1500},{"alt":null,"id":20667442233504,"position":9,"preview_image":{"aspect_ratio":1.0,"height":1500,"width":1500,"src":"\/\/www.flownwing.com\/cdn\/shop\/products\/25_6.jpg?v=1630736640"},"aspect_ratio":1.0,"height":1500,"media_type":"image","src":"\/\/www.flownwing.com\/cdn\/shop\/products\/25_6.jpg?v=1630736640","width":1500},{"alt":null,"id":20667442266272,"position":10,"preview_image":{"aspect_ratio":1.0,"height":1500,"width":1500,"src":"\/\/www.flownwing.com\/cdn\/shop\/products\/25_8.jpg?v=1630736640"},"aspect_ratio":1.0,"height":1500,"media_type":"image","src":"\/\/www.flownwing.com\/cdn\/shop\/products\/25_8.jpg?v=1630736640","width":1500},{"alt":null,"id":20667442331808,"position":11,"preview_image":{"aspect_ratio":1.0,"height":800,"width":800,"src":"\/\/www.flownwing.com\/cdn\/shop\/products\/1_c9c62c2a-1c24-4c1c-98f0-ee34093bc61d.jpg?v=1616834582"},"aspect_ratio":1.0,"height":800,"media_type":"image","src":"\/\/www.flownwing.com\/cdn\/shop\/products\/1_c9c62c2a-1c24-4c1c-98f0-ee34093bc61d.jpg?v=1616834582","width":800},{"alt":null,"id":20667442364576,"position":12,"preview_image":{"aspect_ratio":1.0,"height":800,"width":800,"src":"\/\/www.flownwing.com\/cdn\/shop\/products\/2_13bb768c-621a-4dea-82f2-f31b3cca6760.jpg?v=1616834582"},"aspect_ratio":1.0,"height":800,"media_type":"image","src":"\/\/www.flownwing.com\/cdn\/shop\/products\/2_13bb768c-621a-4dea-82f2-f31b3cca6760.jpg?v=1616834582","width":800},{"alt":null,"id":20667442397344,"position":13,"preview_image":{"aspect_ratio":1.0,"height":800,"width":800,"src":"\/\/www.flownwing.com\/cdn\/shop\/products\/3_4df64371-c5b0-42f1-8d84-e9cec6ee64d2.jpg?v=1616834582"},"aspect_ratio":1.0,"height":800,"media_type":"image","src":"\/\/www.flownwing.com\/cdn\/shop\/products\/3_4df64371-c5b0-42f1-8d84-e9cec6ee64d2.jpg?v=1616834582","width":800},{"alt":null,"id":20667442430112,"position":14,"preview_image":{"aspect_ratio":1.0,"height":800,"width":800,"src":"\/\/www.flownwing.com\/cdn\/shop\/products\/4_c2c16a6a-dbe6-46d0-b5dd-49fb22ac3c4f.jpg?v=1616834582"},"aspect_ratio":1.0,"height":800,"media_type":"image","src":"\/\/www.flownwing.com\/cdn\/shop\/products\/4_c2c16a6a-dbe6-46d0-b5dd-49fb22ac3c4f.jpg?v=1616834582","width":800},{"alt":null,"id":20667442462880,"position":15,"preview_image":{"aspect_ratio":1.0,"height":1080,"width":1080,"src":"\/\/www.flownwing.com\/cdn\/shop\/products\/7_f4bf0cae-e800-4cf7-8d37-b91fc109a902.jpg?v=1616834582"},"aspect_ratio":1.0,"height":1080,"media_type":"image","src":"\/\/www.flownwing.com\/cdn\/shop\/products\/7_f4bf0cae-e800-4cf7-8d37-b91fc109a902.jpg?v=1616834582","width":1080},{"alt":null,"id":20667442495648,"position":16,"preview_image":{"aspect_ratio":1.0,"height":1080,"width":1080,"src":"\/\/www.flownwing.com\/cdn\/shop\/products\/8_6e533350-7ff3-4513-ad3a-251a5f58baee.jpg?v=1616834582"},"aspect_ratio":1.0,"height":1080,"media_type":"image","src":"\/\/www.flownwing.com\/cdn\/shop\/products\/8_6e533350-7ff3-4513-ad3a-251a5f58baee.jpg?v=1616834582","width":1080}],"requires_selling_plan":false,"selling_plan_groups":[],"content":"\u003cdiv class=\"text___3JGYJ\" data-mce-fragment=\"1\" itemprop=\"description\"\u003e\n\u003ch2 style=\"text-align: center;\" data-mce-fragment=\"1\"\u003e\u003cspan style=\"color: #ff8000;\"\u003eLearning has never been this fun and easy! The best way to teach them is at home!\u003c\/span\u003e\u003c\/h2\u003e\n\u003cdiv style=\"text-align: left;\" data-mce-fragment=\"1\" data-mce-style=\"text-align: left;\"\u003e\u003cimg src=\"https:\/\/cdn.shopify.com\/s\/files\/1\/0272\/9859\/4880\/files\/00-00-21--00-00-25_2048x2048.gif?v=1602658807\" alt=\"Magic Reusable Fun Learning Guideboard Kids Practice Copybook Tracing Book (4 Books)\" width=\"435\" height=\"435\" style=\"display: block; margin-left: auto; margin-right: auto;\"\u003e\u003c\/div\u003e\n\u003cdiv style=\"text-align: left;\" data-mce-fragment=\"1\" data-mce-style=\"text-align: left;\"\u003e\u003c\/div\u003e\n\u003cdiv style=\"text-align: left;\" data-mce-fragment=\"1\" data-mce-style=\"text-align: left;\"\u003e\u003c\/div\u003e\n\u003cdiv style=\"text-align: left;\" data-mce-fragment=\"1\" data-mce-style=\"text-align: left;\"\u003e\u003c\/div\u003e\n\u003cdiv style=\"text-align: left;\" data-mce-fragment=\"1\" data-mce-style=\"text-align: left;\"\u003e\u003cstrong style=\"color: #ff2a00; font-size: 1.4em;\" data-mce-fragment=\"1\"\u003e✨FEATURES\u003c\/strong\u003e\u003c\/div\u003e\n\u003c\/div\u003e\n\u003cul data-mce-fragment=\"1\"\u003e\n\u003cli\u003e\n\u003cspan data-mce-fragment=\"1\"\u003e\u003cstrong data-mce-fragment=\"1\"\u003e✅ \u003c\/strong\u003e\u003c\/span\u003e\u003cspan style=\"color: #ff8000;\"\u003e\u003cstrong data-mce-fragment=\"1\"\u003eBest For Teaching at Home\u003c\/strong\u003e\u003c\/span\u003e\u003cspan data-mce-fragment=\"1\"\u003e \u003c\/span\u003e\u003cspan\u003e- Visually attractive graphics and illustrations that will surely motivate your kids to focus and learn while having fun.\u003c\/span\u003e\n\u003c\/li\u003e\n\u003cli data-mce-fragment=\"1\"\u003e\n\u003cp data-mce-fragment=\"1\"\u003e\u003cspan\u003e✅\u003c\/span\u003e\u003cspan data-mce-fragment=\"1\"\u003e \u003c\/span\u003e\u003cspan style=\"color: #ff8000;\"\u003e\u003cstrong data-mce-fragment=\"1\"\u003eDevelops Eye-Hand Coordination\u003c\/strong\u003e\u003c\/span\u003e\u003cspan data-mce-fragment=\"1\"\u003e \u003c\/span\u003e\u003cspan\u003e- Groove patterns greatly helps with improving your child's eye-hand coordination, fine motor skills and can also significantly boost their reading comprehension skills too!\u003c\/span\u003e\u003c\/p\u003e\n\u003c\/li\u003e\n\u003cli data-mce-fragment=\"1\"\u003e\n\u003cp data-mce-fragment=\"1\"\u003e\u003cspan\u003e\u003c\/span\u003e\u003cspan\u003e✅\u003c\/span\u003e\u003cspan data-mce-fragment=\"1\"\u003e \u003c\/span\u003e\u003cspan style=\"color: #ff8000;\"\u003e\u003cstrong data-mce-fragment=\"1\"\u003eHigh-Quality \u0026amp; Reusable\u003c\/strong\u003e\u003c\/span\u003e\u003cspan data-mce-fragment=\"1\"\u003e \u003c\/span\u003e\u003cspan\u003e- With the help of the Magic Pen, your children can reuse the books for practicing because the ink automatically disappears in a few minutes.\u003c\/span\u003e\u003c\/p\u003e\n\u003c\/li\u003e\n\u003c\/ul\u003e\n\u003cp\u003e\u003cspan\u003e\u003cimg height=\"439\" width=\"439\" alt=\"魔术可重复使用有趣的学习指南板儿童练习字帖跟踪书(4 本书)\" src=\"https:\/\/cdn.shopify.com\/s\/files\/1\/0443\/9726\/5046\/files\/20201012_Reusable_Groove_Copy_Book_GIFSC2_2048x2048.gif?v=1602488609\" style=\"display: block; margin-left: auto; margin-right: auto;\"\u003e\u003c\/span\u003e\u003c\/p\u003e\n\u003cul data-mce-fragment=\"1\"\u003e\n\u003cli data-mce-fragment=\"1\"\u003e\n\u003cp data-mce-fragment=\"1\"\u003e\u003cspan\u003e\u003c\/span\u003e\u003cspan\u003e✅\u003c\/span\u003e\u003cspan data-mce-fragment=\"1\"\u003e \u003c\/span\u003e\u003cspan style=\"color: #ff8000;\"\u003e\u003cstrong data-mce-fragment=\"1\"\u003eMultiple Characters\u003c\/strong\u003e\u003c\/span\u003e\u003cspan data-mce-fragment=\"1\"\u003e \u003c\/span\u003e\u003cspan\u003e- This Magic Practice Copybook has all necessary contents your child will learn in school; Alphabet, Numbers, Drawings and Mathematics\u003c\/span\u003e\u003c\/p\u003e\n\u003c\/li\u003e\n\u003c\/ul\u003e\n\u003cp\u003e\u003cspan data-mce-fragment=\"1\"\u003e\u003cimg alt=\"Magic Reusable Fun Learning Guideboard Kids Practice Copybook Tracing Book (4 Books)\" src=\"https:\/\/cdn.shopify.com\/s\/files\/1\/0510\/9265\/2214\/files\/features_2048x2048.png?v=1622995111\" width=\"444\" height=\"205\" style=\"display: block; margin-left: auto; margin-right: auto;\"\u003e\u003c\/span\u003e\u003c\/p\u003e\n\u003ch3 data-mce-fragment=\"1\"\u003e\u003cspan style=\"color: #00aaff;\"\u003e💡ALPHABET COPYBOOK\u003c\/span\u003e\u003c\/h3\u003e\n\u003cp class=\"width90\" data-mce-fragment=\"1\"\u003e\u003cstrong data-mce-fragment=\"1\"\u003eALPHABET\u003cspan\u003e \u003c\/span\u003e\u003c\/strong\u003eMAGIC Practice Book\u003cstrong data-mce-fragment=\"1\"\u003e \u003c\/strong\u003ehelps your kids grasp the\u003cspan\u003e \u003c\/span\u003e\u003cstrong\u003ebasic English handwriting skills and pattern\u003c\/strong\u003e.\u003c\/p\u003e\n\u003cdiv style=\"text-align: left;\" data-mce-style=\"text-align: left;\"\u003e\n\u003ch1 data-mce-fragment=\"1\"\u003e\u003cimg alt=\"Magic Reusable Fun Learning Guideboard Kids Practice Copybook Tracing Book (4 Books)\" src=\"https:\/\/cdn.shopify.com\/s\/files\/1\/0510\/9265\/2214\/files\/Alphabet_TN_2048x2048.png?v=1622995899\" width=\"444\" height=\"444\" style=\"display: block; margin-left: auto; margin-right: auto;\" data-mce-style=\"display: block; margin-left: auto; margin-right: auto;\" data-mce-src=\"https:\/\/cdn.shopify.com\/s\/files\/1\/0510\/9265\/2214\/files\/Alphabet_TN_2048x2048.png?v=1622995899\"\u003e\u003c\/h1\u003e\n\u003ch3 data-mce-fragment=\"1\"\u003e\n\u003cspan\u003e💡\u003c\/span\u003e\u003cspan style=\"color: #00aaff;\" data-mce-style=\"color: #00aaff;\"\u003eNUMBER COPYBOOK\u003c\/span\u003e\n\u003c\/h3\u003e\n\u003cp class=\"width90\" data-mce-fragment=\"1\"\u003e\u003cstrong data-mce-fragment=\"1\"\u003e\u003cspan data-mce-fragment=\"1\"\u003eNUMBER \u003c\/span\u003e\u003c\/strong\u003eMAGIC Practice Book helps your kids recognizes\u003cstrong data-mce-fragment=\"1\"\u003e\u003cspan data-mce-fragment=\"1\"\u003e \u003c\/span\u003enumber pattern\u003c\/strong\u003e\u003cstrong\u003e.\u003c\/strong\u003e\u003c\/p\u003e\n\u003c\/div\u003e\n\u003cdiv style=\"text-align: left;\"\u003e\u003cimg style=\"float: none; display: block; margin-left: auto; margin-right: auto;\" height=\"457\" width=\"457\" src=\"https:\/\/cdn.shopify.com\/s\/files\/1\/0510\/9265\/2214\/files\/Number_TN_2048x2048.png?v=1622995927\" alt=\"Magic Reusable Fun Learning Guideboard Kids Practice Copybook Tracing Book (4 Books)\"\u003e\u003c\/div\u003e\n\u003cdiv style=\"text-align: left;\"\u003e\u003c\/div\u003e\n\u003ch3 data-mce-fragment=\"1\"\u003e\n\u003cspan\u003e💡\u003c\/span\u003e\u003cspan style=\"color: #00aaff;\"\u003eDRAWING COPYBOOK\u003c\/span\u003e\n\u003c\/h3\u003e\n\u003cp class=\"width90\" data-mce-fragment=\"1\"\u003e\u003cstrong data-mce-fragment=\"1\"\u003eDRAWING \u003c\/strong\u003eMAGICPractice Book\u003cstrong data-mce-fragment=\"1\"\u003e \u003c\/strong\u003eis perfect for kids for them to recognize\u003cspan\u003e \u003c\/span\u003e\u003cstrong\u003eeveryday signs and shapes\u003c\/strong\u003e\u003cspan\u003e \u003c\/span\u003eand excite their\u003cspan\u003e \u003c\/span\u003e\u003cstrong\u003einterest in painting.\u003c\/strong\u003e\u003c\/p\u003e\n\u003cdiv style=\"text-align: left;\"\u003e\u003cimg style=\"float: none; display: block; margin-left: auto; margin-right: auto;\" height=\"468\" width=\"468\" src=\"https:\/\/cdn.shopify.com\/s\/files\/1\/0510\/9265\/2214\/files\/Drawing_TN_2048x2048.png?v=1622995953\" alt=\"Magic Reusable Fun Learning Guideboard Kids Practice Copybook Tracing Book (4 Books)\"\u003e\u003c\/div\u003e\n\u003cdiv style=\"text-align: left;\"\u003e\u003c\/div\u003e\n\u003ch3 data-mce-fragment=\"1\"\u003e\n\u003cspan\u003e💡\u003c\/span\u003e\u003cspan style=\"color: #00aaff;\"\u003eMATHEMATICS COPYBOOK\u003c\/span\u003e\n\u003c\/h3\u003e\n\u003cp class=\"width90\" data-mce-fragment=\"1\"\u003e\u003cstrong data-mce-fragment=\"1\"\u003eMATHEMATICS \u003c\/strong\u003eMAGIC Practice Book\u003cstrong data-mce-fragment=\"1\"\u003e \u003c\/strong\u003eincludes\u003cspan\u003e \u003c\/span\u003e\u003cstrong\u003ecounting game\u003c\/strong\u003es and more exciting\u003cspan\u003e \u003c\/span\u003e\u003cstrong\u003enumber activities\u003c\/strong\u003e\u003cspan\u003e \u003c\/span\u003efor your preschooler.\u003c\/p\u003e\n\u003cdiv style=\"text-align: left;\"\u003e\u003cimg style=\"float: none; display: block; margin-left: auto; margin-right: auto;\" height=\"442\" width=\"442\" src=\"https:\/\/cdn.shopify.com\/s\/files\/1\/0510\/9265\/2214\/files\/Math_TN_2048x2048.png?v=1622995975\" alt=\"Magic Reusable Fun Learning Guideboard Kids Practice Copybook Tracing Book (4 Books)\"\u003e\u003c\/div\u003e\n\u003cp\u003e\u003cspan data-mce-fragment=\"1\"\u003e\u003cbr\u003e\u003c\/span\u003e\u003c\/p\u003e\n\u003cdiv class=\"rte\" itemprop=\"description\"\u003e\n\u003cspan\u003e\u003cstrong\u003e\u003c\/strong\u003e\u003c\/span\u003e\u003cspan style=\"color: #ff8000;\" data-mce-style=\"color: #ff8000;\"\u003e\u003cstrong\u003e📚PRACTICE COPYBOOK\u003c\/strong\u003e\u003c\/span\u003e\n\u003cul\u003e\n\u003cli\u003e\n\u003cstrong\u003eMaterial:\u003c\/strong\u003e\u003cspan\u003e \u003c\/span\u003eWhite cardboard\u003c\/li\u003e\n\u003cli\u003e\n\u003cstrong\u003eStyle:\u003c\/strong\u003e Alphabet; Numbers; Drawing;Addition \u0026amp; Subtraction\u003c\/li\u003e\n\u003cli\u003e\n\u003cstrong\u003eSize:\u003c\/strong\u003e\u003cspan\u003e \u003c\/span\u003e19.5cm x 13.5cm\u003c\/li\u003e\n\u003c\/ul\u003e\n\u003cspan style=\"color: #ff8000;\" data-mce-style=\"color: #ff8000;\"\u003e\u003cstrong\u003e🎁MAGIC PEN SET\u003c\/strong\u003e\u003c\/span\u003e\n\u003cul\u003e\n\u003cli\u003e\n\u003cstrong\u003eAuto Fade \u003c\/strong\u003e\u003cbr\u003e\n\u003c\/li\u003e\n\u003cli\u003e\n\u003cstrong\u003eWriting Width:\u003c\/strong\u003e\u003cspan\u003e \u003c\/span\u003e0.5mm\u003c\/li\u003e\n\u003cli\u003e\n\u003cstrong\u003eColour:\u003c\/strong\u003e\u003cspan\u003e \u003c\/span\u003eBlack\u003c\/li\u003e\n\u003cli\u003e\n\u003cstrong\u003ePackage Include:\u003c\/strong\u003e 1*MAGIC PEN SET or 4* BOOKS+1*MAGIC PEN SET\u003c\/li\u003e\n\u003c\/ul\u003e\n\u003cp\u003e\u003cspan data-mce-fragment=\"1\"\u003e\u003cimg style=\"display: block; margin-left: auto; margin-right: auto;\" src=\"https:\/\/cdn.shopifycdn.net\/s\/files\/1\/0548\/6978\/6778\/files\/12_336d2bf9-088c-4555-a38b-9a3572ea6665_480x480.jpg?v=1616388229\" alt=\"\" data-mce-style=\"display: block; margin-left: auto; margin-right: auto;\"\u003e\u003c\/span\u003e\u003c\/p\u003e\n\u003cp\u003e\u003cstrong\u003e\u003cspan style=\"color: #ff8000;\" data-mce-fragment=\"1\"\u003e🤗HAPPY CUSTOMERS\u003c\/span\u003e\u003c\/strong\u003e\u003c\/p\u003e\n\u003cp\u003e\u003cstrong\u003e\u003cspan style=\"color: #ff8000;\" data-mce-fragment=\"1\"\u003e\u003cimg src=\"https:\/\/cdn.shopifycdn.net\/s\/files\/1\/0548\/6978\/6778\/files\/Dingtalk_20210322144811_480x480.jpg?v=1616395712\" alt=\"\"\u003e\u003c\/span\u003e\u003c\/strong\u003e\u003c\/p\u003e\n\u003cp\u003e\u003cstrong\u003e\u003cspan style=\"color: #ff8000;\" data-mce-fragment=\"1\"\u003e\u003cimg src=\"https:\/\/cdn.shopifycdn.net\/s\/files\/1\/0548\/6978\/6778\/files\/Dingtalk_20210322144911_480x480.jpg?v=1616395767\" alt=\"\"\u003e\u003c\/span\u003e\u003c\/strong\u003e\u003c\/p\u003e\n\u003cp\u003e\u003cstrong\u003e\u003cspan style=\"color: #ff8000;\" data-mce-fragment=\"1\"\u003e\u003cimg height=\"143\" width=\"541\" src=\"https:\/\/cdn.shopifycdn.net\/s\/files\/1\/0548\/6978\/6778\/files\/Dingtalk_20210322144953_480x480.jpg?v=1616395825\" alt=\"\"\u003e\u003c\/span\u003e\u003c\/strong\u003e\u003c\/p\u003e\n\u003cimg height=\"148\" width=\"523\" alt=\"\" src=\"https:\/\/cdn.shopifycdn.net\/s\/files\/1\/0548\/6978\/6778\/files\/Dingtalk_20210322145206_480x480.jpg?v=1616395944\" data-mce-fragment=\"1\" data-mce-src=\"https:\/\/cdn.shopifycdn.net\/s\/files\/1\/0548\/6978\/6778\/files\/Dingtalk_20210322145206_480x480.jpg?v=1616395944\"\u003e\n\u003c\/div\u003e\n\u003cdiv class=\"rte\" itemprop=\"description\"\u003e\u003cstrong\u003e\u003cspan\u003e\u003cspan style=\"color: #ff2a00;\" data-mce-style=\"color: #ff2a00;\"\u003e\u003cimg alt=\"\" src=\"https:\/\/cdn.shopifycdn.net\/s\/files\/1\/0548\/6978\/6778\/files\/Dingtalk_20210322145249_480x480.jpg?v=1616395993\" width=\"435\" height=\"149\" data-mce-fragment=\"1\" data-mce-src=\"https:\/\/cdn.shopifycdn.net\/s\/files\/1\/0548\/6978\/6778\/files\/Dingtalk_20210322145249_480x480.jpg?v=1616395993\"\u003e\u003c\/span\u003e\u003c\/span\u003e\u003c\/strong\u003e\u003c\/div\u003e\n\u003cdiv class=\"rte\" itemprop=\"description\"\u003e\n\u003cstrong\u003e\u003cspan\u003e\u003cspan style=\"color: #ff2a00;\" data-mce-style=\"color: #ff2a00;\"\u003eNOTE\u003c\/span\u003e\u003c\/span\u003e\u003cbr\u003e\u003c\/strong\u003e\n\u003cul\u003e\n\u003cli\u003e\u003cspan style=\"color: #ff00ff;\" data-mce-style=\"color: #ff00ff;\"\u003e\u003cem\u003e\u003cspan style=\"color: #ff8000;\" data-mce-style=\"color: #ff8000;\"\u003eCopybooks\u003cstrong\u003e must be used with\u003c\/strong\u003e magic pen to be reused.\u003c\/span\u003e\u003c\/em\u003e\u003c\/span\u003e\u003c\/li\u003e\n\u003cli\u003e\u003cem\u003eDue to the different monitor and light effect, the actual color of the item might be slightly different from the color showed in the pictures.\u003c\/em\u003e\u003c\/li\u003e\n\u003c\/ul\u003e\n\u003c\/div\u003e\n\u003cdiv style=\"position: absolute; left: -35px; top: 79px;\" id=\"gtx-trans\"\u003e\n\u003cdiv class=\"gtx-trans-icon\"\u003e\u003c\/div\u003e\n\u003c\/div\u003e\n\u003cp\u003e\u003cbr\u003e\u003c\/p\u003e"}
Sank Magic Practice Copybook for Kids
Adding product to your cart
Learning has never been this fun and easy! The best way to teach them is at home!
✨FEATURES
✅ Best For Teaching at Home

 

- Visually attractive graphics and illustrations that will surely motivate your kids to focus and learn while having fun.

✅ Develops Eye-Hand Coordination - Groove patterns greatly helps with improving your child's eye-hand coordination, fine motor skills and can also significantly boost their reading comprehension skills too!

✅ High-Quality & Reusable - With the help of the Magic Pen, your children can reuse the books for practicing because the ink automatically disappears in a few minutes.
✅ Multiple Characters - This Magic Practice Copybook has all necessary contents your child will learn in school; Alphabet, Numbers, Drawings and Mathematics
💡ALPHABET COPYBOOK
ALPHABET MAGIC Practice Book helps your kids grasp the basic English handwriting skills and pattern.

💡
NUMBER COPYBOOK
NUMBER MAGIC Practice Book helps your kids recognizes number pattern.
💡
DRAWING COPYBOOK
DRAWING MAGICPractice Book is perfect for kids for them to recognize everyday signs and shapes and excite their interest in painting.
💡
MATHEMATICS COPYBOOK
MATHEMATICS MAGIC Practice Book includes counting games and more exciting number activities for your preschooler.
📚PRACTICE COPYBOOK
Material:

 

White cardboard
Style: Alphabet; Numbers; Drawing;Addition & Subtraction
Size:

 

19.5cm x 13.5cm
🎁MAGIC PEN SET
Auto Fade 

Writing Width:

 

0.5mm
Colour:

 

Black
Package Include: 1*MAGIC PEN SET or 4* BOOKS+1*MAGIC PEN SET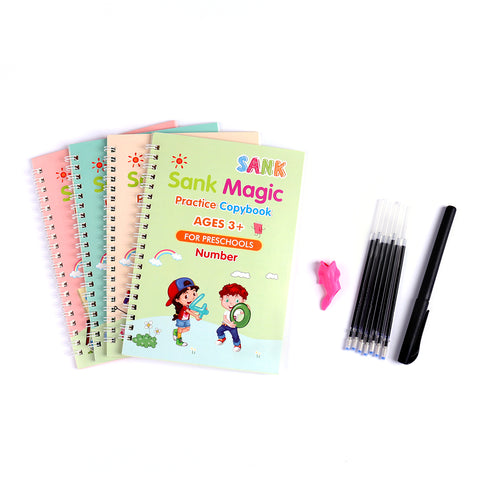 🤗HAPPY CUSTOMERS





NOTE
Copybooks must be used with magic pen to be reused.
Due to the different monitor and light effect, the actual color of the item might be slightly different from the color showed in the pictures.