{"id":5635600646304,"title":"Portable Erasable Doodle Pad Drawing Pad (12 Pens Included)","handle":"portable-erasable-doodle-pad-drawing-pad-12-pens-included","description":"\u003ch3 style=\"text-align: center;\" data-mce-style=\"text-align: center;\"\u003e\u003cspan style=\"color: #ff9900;\" data-mce-style=\"color: #ff9900;\"\u003e\u003cstrong\u003e🌈🌈Erasable Drawing Pad - perfect gift for children!\u003c\/strong\u003e\u003c\/span\u003e\u003c\/h3\u003e\n\u003ch4 class=\"a-spacing-mini\" style=\"text-align: center;\" data-mce-style=\"text-align: center;\"\u003e\u003cstrong\u003e🌟\u003cspan style=\"color: #ff9900;\" data-mce-style=\"color: #ff9900;\"\u003eBoth parents and children like it! Let children love painting!\u003c\/span\u003e🌟\u003c\/strong\u003e\u003c\/h4\u003e\n\u003cp\u003e\u003cstrong\u003e\u003cimg src=\"https:\/\/cdn.shopify.com\/s\/files\/1\/0112\/4863\/1889\/files\/8.29_2048x2048.gif?v=1567060185\" style=\"display: block; margin-left: auto; margin-right: auto;\" width=\"290\" height=\"290\" data-mce-style=\"display: block; margin-left: auto; margin-right: auto;\"\u003e\u003c\/strong\u003e\u003c\/p\u003e\n\u003cp style=\"text-align: center;\" data-mce-style=\"text-align: center;\"\u003e\u003cem\u003e\u003cspan style=\"color: #ff9900;\" data-mce-style=\"color: #ff9900;\"\u003eThe  doodle pad is 8x8 inches in size and has 14 pages, including 12 watercolor pens. The watercolor pen is colorful, dust-free and non-toxic. After use, wipe it gently with a wet tissue to make it clean and reusable! It can stimulate your child's imagination. Give it to your child as a gift.\u003c\/span\u003e\u003c\/em\u003e\u003c\/p\u003e\n\u003cp style=\"text-align: left;\" data-mce-style=\"text-align: left;\"\u003e\u003cspan style=\"color: #6aa84f;\" data-mce-style=\"color: #6aa84f;\"\u003e\u003cstrong\u003ePRODUCT FEATURES:\u003c\/strong\u003e\u003c\/span\u003e\u003c\/p\u003e\n\u003cp style=\"text-align: left;\" data-mce-style=\"text-align: left;\"\u003e\u003cstrong\u003eEnjoy Parent-Child Time: \u003c\/strong\u003eHow happy the child when they see the picture they draw in the doodle book board! Vivid color and draw-free can increase their imagination and hands-on ability.It cultivates artistic ability of your child and shows the inner capabilities of their mind, helping you to learn more about your child and communicate with them better.In your spare time,you can play with your child to drawing in the book,which can promoting parent-child emotion.\u003c\/p\u003e\n\u003cp\u003e\u003cimg style=\"display: block; margin-left: auto; margin-right: auto;\" class=\"sep-lazyload lazyautosizes lazyloaded\" data-sizes=\"auto\" alt=\"\" width=\"420\" height=\"413\" data-aspect-ratio=\"0.98\" data-srcset=\"https:\/\/img.staticdj.com\/297b48ee2f642c79bf82ccbe6614cc28_1280.png 48w, https:\/\/img.staticdj.com\/297b48ee2f642c79bf82ccbe6614cc28_1280.png 180w, https:\/\/img.staticdj.com\/297b48ee2f642c79bf82ccbe6614cc28_1280.png 360w, https:\/\/img.staticdj.com\/297b48ee2f642c79bf82ccbe6614cc28_1280.png 540w, https:\/\/img.staticdj.com\/297b48ee2f642c79bf82ccbe6614cc28_1280.png 720w, https:\/\/img.staticdj.com\/297b48ee2f642c79bf82ccbe6614cc28_1280.png 900w, https:\/\/img.staticdj.com\/297b48ee2f642c79bf82ccbe6614cc28_1280.png 1024w, https:\/\/img.staticdj.com\/297b48ee2f642c79bf82ccbe6614cc28_1280.png 1280w, https:\/\/img.staticdj.com\/297b48ee2f642c79bf82ccbe6614cc28_1280.png 1366w, https:\/\/img.staticdj.com\/297b48ee2f642c79bf82ccbe6614cc28_1280.png 1440w, https:\/\/img.staticdj.com\/297b48ee2f642c79bf82ccbe6614cc28_1280.png 1536w, https:\/\/img.staticdj.com\/297b48ee2f642c79bf82ccbe6614cc28_1280.png 1600w, https:\/\/img.staticdj.com\/297b48ee2f642c79bf82ccbe6614cc28_1280.png 1920w, https:\/\/img.staticdj.com\/297b48ee2f642c79bf82ccbe6614cc28_1280.png 2056w, https:\/\/img.staticdj.com\/297b48ee2f642c79bf82ccbe6614cc28_1280.png 2560w, https:\/\/img.staticdj.com\/297b48ee2f642c79bf82ccbe6614cc28_1280.png 2732w, https:\/\/img.staticdj.com\/297b48ee2f642c79bf82ccbe6614cc28_1280.png 2880w, https:\/\/img.staticdj.com\/297b48ee2f642c79bf82ccbe6614cc28_1280.png 3072w, https:\/\/img.staticdj.com\/297b48ee2f642c79bf82ccbe6614cc28_1280.png 3200w, https:\/\/img.staticdj.com\/297b48ee2f642c79bf82ccbe6614cc28_1280.png 3840w\" sizes=\"791px\" srcset=\"https:\/\/img.staticdj.com\/297b48ee2f642c79bf82ccbe6614cc28_1280.png 48w, https:\/\/img.staticdj.com\/297b48ee2f642c79bf82ccbe6614cc28_1280.png 180w, https:\/\/img.staticdj.com\/297b48ee2f642c79bf82ccbe6614cc28_1280.png 360w, https:\/\/img.staticdj.com\/297b48ee2f642c79bf82ccbe6614cc28_1280.png 540w, https:\/\/img.staticdj.com\/297b48ee2f642c79bf82ccbe6614cc28_1280.png 720w, https:\/\/img.staticdj.com\/297b48ee2f642c79bf82ccbe6614cc28_1280.png 900w, https:\/\/img.staticdj.com\/297b48ee2f642c79bf82ccbe6614cc28_1280.png 1024w, https:\/\/img.staticdj.com\/297b48ee2f642c79bf82ccbe6614cc28_1280.png 1280w, https:\/\/img.staticdj.com\/297b48ee2f642c79bf82ccbe6614cc28_1280.png 1366w, https:\/\/img.staticdj.com\/297b48ee2f642c79bf82ccbe6614cc28_1280.png 1440w, https:\/\/img.staticdj.com\/297b48ee2f642c79bf82ccbe6614cc28_1280.png 1536w, https:\/\/img.staticdj.com\/297b48ee2f642c79bf82ccbe6614cc28_1280.png 1600w, https:\/\/img.staticdj.com\/297b48ee2f642c79bf82ccbe6614cc28_1280.png 1920w, https:\/\/img.staticdj.com\/297b48ee2f642c79bf82ccbe6614cc28_1280.png 2056w, https:\/\/img.staticdj.com\/297b48ee2f642c79bf82ccbe6614cc28_1280.png 2560w, https:\/\/img.staticdj.com\/297b48ee2f642c79bf82ccbe6614cc28_1280.png 2732w, https:\/\/img.staticdj.com\/297b48ee2f642c79bf82ccbe6614cc28_1280.png 2880w, https:\/\/img.staticdj.com\/297b48ee2f642c79bf82ccbe6614cc28_1280.png 3072w, https:\/\/img.staticdj.com\/297b48ee2f642c79bf82ccbe6614cc28_1280.png 3200w, https:\/\/img.staticdj.com\/297b48ee2f642c79bf82ccbe6614cc28_1280.png 3840w\" data-mce-style=\"display: block; margin-left: auto; margin-right: auto;\"\u003e\u003c\/p\u003e\n\u003cp\u003e\u003cstrong\u003eDust Free \u0026amp; Non-toxic:\u003c\/strong\u003e  Dust-free Watercolor Pen, can create a clean and no mess environment for you and your family.Made of high-quality non-toxic materials, tasteless and dust-free,child-friendly and more durable.Very safe for your child to play without worrying about the health.All of them are waterproof and easy to wash,allowing drawing to be quickly .Your child only need to clean with a damp cloth or a wet wipes and start their new drawing.Can be reused to reduce paper waste!\u003c\/p\u003e\n\u003cp\u003e\u003cimg style=\"display: block; margin-left: auto; margin-right: auto;\" class=\"sep-lazyload lazyautosizes lazyloaded\" data-sizes=\"auto\" alt=\"\" width=\"373\" height=\"373\" data-aspect-ratio=\"1.00\" data-srcset=\"https:\/\/img.staticdj.com\/dc6064c8ace266eebe2f64648346f2ed_1536.jpeg 48w, https:\/\/img.staticdj.com\/dc6064c8ace266eebe2f64648346f2ed_1536.jpeg 180w, https:\/\/img.staticdj.com\/dc6064c8ace266eebe2f64648346f2ed_1536.jpeg 360w, https:\/\/img.staticdj.com\/dc6064c8ace266eebe2f64648346f2ed_1536.jpeg 540w, https:\/\/img.staticdj.com\/dc6064c8ace266eebe2f64648346f2ed_1536.jpeg 720w, https:\/\/img.staticdj.com\/dc6064c8ace266eebe2f64648346f2ed_1536.jpeg 900w, https:\/\/img.staticdj.com\/dc6064c8ace266eebe2f64648346f2ed_1536.jpeg 1024w, https:\/\/img.staticdj.com\/dc6064c8ace266eebe2f64648346f2ed_1536.jpeg 1280w, https:\/\/img.staticdj.com\/dc6064c8ace266eebe2f64648346f2ed_1536.jpeg 1366w, https:\/\/img.staticdj.com\/dc6064c8ace266eebe2f64648346f2ed_1536.jpeg 1440w, https:\/\/img.staticdj.com\/dc6064c8ace266eebe2f64648346f2ed_1536.jpeg 1536w, https:\/\/img.staticdj.com\/dc6064c8ace266eebe2f64648346f2ed_1536.jpeg 1600w, https:\/\/img.staticdj.com\/dc6064c8ace266eebe2f64648346f2ed_1536.jpeg 1920w, https:\/\/img.staticdj.com\/dc6064c8ace266eebe2f64648346f2ed_1536.jpeg 2056w, https:\/\/img.staticdj.com\/dc6064c8ace266eebe2f64648346f2ed_1536.jpeg 2560w, https:\/\/img.staticdj.com\/dc6064c8ace266eebe2f64648346f2ed_1536.jpeg 2732w, https:\/\/img.staticdj.com\/dc6064c8ace266eebe2f64648346f2ed_1536.jpeg 2880w, https:\/\/img.staticdj.com\/dc6064c8ace266eebe2f64648346f2ed_1536.jpeg 3072w, https:\/\/img.staticdj.com\/dc6064c8ace266eebe2f64648346f2ed_1536.jpeg 3200w, https:\/\/img.staticdj.com\/dc6064c8ace266eebe2f64648346f2ed_1536.jpeg 3840w\" sizes=\"1000px\" srcset=\"https:\/\/img.staticdj.com\/dc6064c8ace266eebe2f64648346f2ed_1536.jpeg 48w, https:\/\/img.staticdj.com\/dc6064c8ace266eebe2f64648346f2ed_1536.jpeg 180w, https:\/\/img.staticdj.com\/dc6064c8ace266eebe2f64648346f2ed_1536.jpeg 360w, https:\/\/img.staticdj.com\/dc6064c8ace266eebe2f64648346f2ed_1536.jpeg 540w, https:\/\/img.staticdj.com\/dc6064c8ace266eebe2f64648346f2ed_1536.jpeg 720w, https:\/\/img.staticdj.com\/dc6064c8ace266eebe2f64648346f2ed_1536.jpeg 900w, https:\/\/img.staticdj.com\/dc6064c8ace266eebe2f64648346f2ed_1536.jpeg 1024w, https:\/\/img.staticdj.com\/dc6064c8ace266eebe2f64648346f2ed_1536.jpeg 1280w, https:\/\/img.staticdj.com\/dc6064c8ace266eebe2f64648346f2ed_1536.jpeg 1366w, https:\/\/img.staticdj.com\/dc6064c8ace266eebe2f64648346f2ed_1536.jpeg 1440w, https:\/\/img.staticdj.com\/dc6064c8ace266eebe2f64648346f2ed_1536.jpeg 1536w, https:\/\/img.staticdj.com\/dc6064c8ace266eebe2f64648346f2ed_1536.jpeg 1600w, https:\/\/img.staticdj.com\/dc6064c8ace266eebe2f64648346f2ed_1536.jpeg 1920w, https:\/\/img.staticdj.com\/dc6064c8ace266eebe2f64648346f2ed_1536.jpeg 2056w, https:\/\/img.staticdj.com\/dc6064c8ace266eebe2f64648346f2ed_1536.jpeg 2560w, https:\/\/img.staticdj.com\/dc6064c8ace266eebe2f64648346f2ed_1536.jpeg 2732w, https:\/\/img.staticdj.com\/dc6064c8ace266eebe2f64648346f2ed_1536.jpeg 2880w, https:\/\/img.staticdj.com\/dc6064c8ace266eebe2f64648346f2ed_1536.jpeg 3072w, https:\/\/img.staticdj.com\/dc6064c8ace266eebe2f64648346f2ed_1536.jpeg 3200w, https:\/\/img.staticdj.com\/dc6064c8ace266eebe2f64648346f2ed_1536.jpeg 3840w\" data-mce-style=\"display: block; margin-left: auto; margin-right: auto;\"\u003e\u003c\/p\u003e\n\u003cp\u003e\u003cstrong\u003eEasy Erasable:\u003c\/strong\u003eWith a wet tissue, all the patterns can be erased easily and quickly. Moreover,it will not stain the clothes, it will not make the clothes all dirty like the ink,because it can be cleaned easily. You can relax with a peaceful mind while your child is playing with it.\u003c\/p\u003e\n\u003cp\u003e\u003cimg style=\"display: block; margin-left: auto; margin-right: auto;\" class=\"sep-lazyload lazyautosizes lazyloaded\" data-sizes=\"auto\" alt=\"\" width=\"405\" height=\"405\" data-aspect-ratio=\"1.00\" data-srcset=\"https:\/\/img.staticdj.com\/b6a328e68e2c257eaebf9d3bebefb1c3_1536.jpeg 48w, https:\/\/img.staticdj.com\/b6a328e68e2c257eaebf9d3bebefb1c3_1536.jpeg 180w, https:\/\/img.staticdj.com\/b6a328e68e2c257eaebf9d3bebefb1c3_1536.jpeg 360w, https:\/\/img.staticdj.com\/b6a328e68e2c257eaebf9d3bebefb1c3_1536.jpeg 540w, https:\/\/img.staticdj.com\/b6a328e68e2c257eaebf9d3bebefb1c3_1536.jpeg 720w, https:\/\/img.staticdj.com\/b6a328e68e2c257eaebf9d3bebefb1c3_1536.jpeg 900w, https:\/\/img.staticdj.com\/b6a328e68e2c257eaebf9d3bebefb1c3_1536.jpeg 1024w, https:\/\/img.staticdj.com\/b6a328e68e2c257eaebf9d3bebefb1c3_1536.jpeg 1280w, https:\/\/img.staticdj.com\/b6a328e68e2c257eaebf9d3bebefb1c3_1536.jpeg 1366w, https:\/\/img.staticdj.com\/b6a328e68e2c257eaebf9d3bebefb1c3_1536.jpeg 1440w, https:\/\/img.staticdj.com\/b6a328e68e2c257eaebf9d3bebefb1c3_1536.jpeg 1536w, https:\/\/img.staticdj.com\/b6a328e68e2c257eaebf9d3bebefb1c3_1536.jpeg 1600w, https:\/\/img.staticdj.com\/b6a328e68e2c257eaebf9d3bebefb1c3_1536.jpeg 1920w, https:\/\/img.staticdj.com\/b6a328e68e2c257eaebf9d3bebefb1c3_1536.jpeg 2056w, https:\/\/img.staticdj.com\/b6a328e68e2c257eaebf9d3bebefb1c3_1536.jpeg 2560w, https:\/\/img.staticdj.com\/b6a328e68e2c257eaebf9d3bebefb1c3_1536.jpeg 2732w, https:\/\/img.staticdj.com\/b6a328e68e2c257eaebf9d3bebefb1c3_1536.jpeg 2880w, https:\/\/img.staticdj.com\/b6a328e68e2c257eaebf9d3bebefb1c3_1536.jpeg 3072w, https:\/\/img.staticdj.com\/b6a328e68e2c257eaebf9d3bebefb1c3_1536.jpeg 3200w, https:\/\/img.staticdj.com\/b6a328e68e2c257eaebf9d3bebefb1c3_1536.jpeg 3840w\" sizes=\"1000px\" srcset=\"https:\/\/img.staticdj.com\/b6a328e68e2c257eaebf9d3bebefb1c3_1536.jpeg 48w, https:\/\/img.staticdj.com\/b6a328e68e2c257eaebf9d3bebefb1c3_1536.jpeg 180w, https:\/\/img.staticdj.com\/b6a328e68e2c257eaebf9d3bebefb1c3_1536.jpeg 360w, https:\/\/img.staticdj.com\/b6a328e68e2c257eaebf9d3bebefb1c3_1536.jpeg 540w, https:\/\/img.staticdj.com\/b6a328e68e2c257eaebf9d3bebefb1c3_1536.jpeg 720w, https:\/\/img.staticdj.com\/b6a328e68e2c257eaebf9d3bebefb1c3_1536.jpeg 900w, https:\/\/img.staticdj.com\/b6a328e68e2c257eaebf9d3bebefb1c3_1536.jpeg 1024w, https:\/\/img.staticdj.com\/b6a328e68e2c257eaebf9d3bebefb1c3_1536.jpeg 1280w, https:\/\/img.staticdj.com\/b6a328e68e2c257eaebf9d3bebefb1c3_1536.jpeg 1366w, https:\/\/img.staticdj.com\/b6a328e68e2c257eaebf9d3bebefb1c3_1536.jpeg 1440w, https:\/\/img.staticdj.com\/b6a328e68e2c257eaebf9d3bebefb1c3_1536.jpeg 1536w, https:\/\/img.staticdj.com\/b6a328e68e2c257eaebf9d3bebefb1c3_1536.jpeg 1600w, https:\/\/img.staticdj.com\/b6a328e68e2c257eaebf9d3bebefb1c3_1536.jpeg 1920w, https:\/\/img.staticdj.com\/b6a328e68e2c257eaebf9d3bebefb1c3_1536.jpeg 2056w, https:\/\/img.staticdj.com\/b6a328e68e2c257eaebf9d3bebefb1c3_1536.jpeg 2560w, https:\/\/img.staticdj.com\/b6a328e68e2c257eaebf9d3bebefb1c3_1536.jpeg 2732w, https:\/\/img.staticdj.com\/b6a328e68e2c257eaebf9d3bebefb1c3_1536.jpeg 2880w, https:\/\/img.staticdj.com\/b6a328e68e2c257eaebf9d3bebefb1c3_1536.jpeg 3072w, https:\/\/img.staticdj.com\/b6a328e68e2c257eaebf9d3bebefb1c3_1536.jpeg 3200w, https:\/\/img.staticdj.com\/b6a328e68e2c257eaebf9d3bebefb1c3_1536.jpeg 3840w\" data-mce-style=\"display: block; margin-left: auto; margin-right: auto;\"\u003e\u003c\/p\u003e\n\u003cp\u003e \u003c\/p\u003e\n\u003cp\u003e\u003cstrong\u003eBright-coloured:\u003c\/strong\u003eBright colors can arouse children's interest and curiosity about colors. Let your child become a painting genius!\u003c\/p\u003e\n\u003cp\u003e\u003cimg style=\"display: block; margin-left: auto; margin-right: auto;\" class=\"sep-lazyload lazyautosizes lazyloaded\" data-sizes=\"auto\" alt=\"\" width=\"434\" height=\"434\" data-aspect-ratio=\"1.00\" data-srcset=\"https:\/\/img.staticdj.com\/f1ca6e73bb3c5107b81aaa17ad236d12_1536.jpeg 48w, https:\/\/img.staticdj.com\/f1ca6e73bb3c5107b81aaa17ad236d12_1536.jpeg 180w, https:\/\/img.staticdj.com\/f1ca6e73bb3c5107b81aaa17ad236d12_1536.jpeg 360w, https:\/\/img.staticdj.com\/f1ca6e73bb3c5107b81aaa17ad236d12_1536.jpeg 540w, https:\/\/img.staticdj.com\/f1ca6e73bb3c5107b81aaa17ad236d12_1536.jpeg 720w, https:\/\/img.staticdj.com\/f1ca6e73bb3c5107b81aaa17ad236d12_1536.jpeg 900w, https:\/\/img.staticdj.com\/f1ca6e73bb3c5107b81aaa17ad236d12_1536.jpeg 1024w, https:\/\/img.staticdj.com\/f1ca6e73bb3c5107b81aaa17ad236d12_1536.jpeg 1280w, https:\/\/img.staticdj.com\/f1ca6e73bb3c5107b81aaa17ad236d12_1536.jpeg 1366w, https:\/\/img.staticdj.com\/f1ca6e73bb3c5107b81aaa17ad236d12_1536.jpeg 1440w, https:\/\/img.staticdj.com\/f1ca6e73bb3c5107b81aaa17ad236d12_1536.jpeg 1536w, https:\/\/img.staticdj.com\/f1ca6e73bb3c5107b81aaa17ad236d12_1536.jpeg 1600w, https:\/\/img.staticdj.com\/f1ca6e73bb3c5107b81aaa17ad236d12_1536.jpeg 1920w, https:\/\/img.staticdj.com\/f1ca6e73bb3c5107b81aaa17ad236d12_1536.jpeg 2056w, https:\/\/img.staticdj.com\/f1ca6e73bb3c5107b81aaa17ad236d12_1536.jpeg 2560w, https:\/\/img.staticdj.com\/f1ca6e73bb3c5107b81aaa17ad236d12_1536.jpeg 2732w, https:\/\/img.staticdj.com\/f1ca6e73bb3c5107b81aaa17ad236d12_1536.jpeg 2880w, https:\/\/img.staticdj.com\/f1ca6e73bb3c5107b81aaa17ad236d12_1536.jpeg 3072w, https:\/\/img.staticdj.com\/f1ca6e73bb3c5107b81aaa17ad236d12_1536.jpeg 3200w, https:\/\/img.staticdj.com\/f1ca6e73bb3c5107b81aaa17ad236d12_1536.jpeg 3840w\" sizes=\"1000px\" srcset=\"https:\/\/img.staticdj.com\/f1ca6e73bb3c5107b81aaa17ad236d12_1536.jpeg 48w, https:\/\/img.staticdj.com\/f1ca6e73bb3c5107b81aaa17ad236d12_1536.jpeg 180w, https:\/\/img.staticdj.com\/f1ca6e73bb3c5107b81aaa17ad236d12_1536.jpeg 360w, https:\/\/img.staticdj.com\/f1ca6e73bb3c5107b81aaa17ad236d12_1536.jpeg 540w, https:\/\/img.staticdj.com\/f1ca6e73bb3c5107b81aaa17ad236d12_1536.jpeg 720w, https:\/\/img.staticdj.com\/f1ca6e73bb3c5107b81aaa17ad236d12_1536.jpeg 900w, https:\/\/img.staticdj.com\/f1ca6e73bb3c5107b81aaa17ad236d12_1536.jpeg 1024w, https:\/\/img.staticdj.com\/f1ca6e73bb3c5107b81aaa17ad236d12_1536.jpeg 1280w, https:\/\/img.staticdj.com\/f1ca6e73bb3c5107b81aaa17ad236d12_1536.jpeg 1366w, https:\/\/img.staticdj.com\/f1ca6e73bb3c5107b81aaa17ad236d12_1536.jpeg 1440w, https:\/\/img.staticdj.com\/f1ca6e73bb3c5107b81aaa17ad236d12_1536.jpeg 1536w, https:\/\/img.staticdj.com\/f1ca6e73bb3c5107b81aaa17ad236d12_1536.jpeg 1600w, https:\/\/img.staticdj.com\/f1ca6e73bb3c5107b81aaa17ad236d12_1536.jpeg 1920w, https:\/\/img.staticdj.com\/f1ca6e73bb3c5107b81aaa17ad236d12_1536.jpeg 2056w, https:\/\/img.staticdj.com\/f1ca6e73bb3c5107b81aaa17ad236d12_1536.jpeg 2560w, https:\/\/img.staticdj.com\/f1ca6e73bb3c5107b81aaa17ad236d12_1536.jpeg 2732w, https:\/\/img.staticdj.com\/f1ca6e73bb3c5107b81aaa17ad236d12_1536.jpeg 2880w, https:\/\/img.staticdj.com\/f1ca6e73bb3c5107b81aaa17ad236d12_1536.jpeg 3072w, https:\/\/img.staticdj.com\/f1ca6e73bb3c5107b81aaa17ad236d12_1536.jpeg 3200w, https:\/\/img.staticdj.com\/f1ca6e73bb3c5107b81aaa17ad236d12_1536.jpeg 3840w\" data-mce-style=\"display: block; margin-left: auto; margin-right: auto;\"\u003e\u003c\/p\u003e\n\u003cp\u003e \u003c\/p\u003e\n\u003cp\u003e\u003cstrong\u003eLightweight \u0026amp; Portable:\u003c\/strong\u003eThis erasable and reusable drawing art pad is light with suitable size. With little handle, kids can hang it up on the wall. When going out, kids can hold it in hands or put it in their bags. What's more, it is durable enough. No worries about being folded.\u003cbr\u003e\u003c\/p\u003e\n\u003cp\u003e\u003cimg style=\"display: block; margin-left: auto; margin-right: auto;\" class=\"sep-lazyload lazyautosizes lazyloaded\" data-sizes=\"auto\" alt=\"\" width=\"429\" height=\"429\" data-aspect-ratio=\"1.00\" data-srcset=\"https:\/\/img.staticdj.com\/c4eb55edbaded68b50057d4a9ba4d2c5_1536.jpeg 48w, https:\/\/img.staticdj.com\/c4eb55edbaded68b50057d4a9ba4d2c5_1536.jpeg 180w, https:\/\/img.staticdj.com\/c4eb55edbaded68b50057d4a9ba4d2c5_1536.jpeg 360w, https:\/\/img.staticdj.com\/c4eb55edbaded68b50057d4a9ba4d2c5_1536.jpeg 540w, https:\/\/img.staticdj.com\/c4eb55edbaded68b50057d4a9ba4d2c5_1536.jpeg 720w, https:\/\/img.staticdj.com\/c4eb55edbaded68b50057d4a9ba4d2c5_1536.jpeg 900w, https:\/\/img.staticdj.com\/c4eb55edbaded68b50057d4a9ba4d2c5_1536.jpeg 1024w, https:\/\/img.staticdj.com\/c4eb55edbaded68b50057d4a9ba4d2c5_1536.jpeg 1280w, https:\/\/img.staticdj.com\/c4eb55edbaded68b50057d4a9ba4d2c5_1536.jpeg 1366w, https:\/\/img.staticdj.com\/c4eb55edbaded68b50057d4a9ba4d2c5_1536.jpeg 1440w, https:\/\/img.staticdj.com\/c4eb55edbaded68b50057d4a9ba4d2c5_1536.jpeg 1536w, https:\/\/img.staticdj.com\/c4eb55edbaded68b50057d4a9ba4d2c5_1536.jpeg 1600w, https:\/\/img.staticdj.com\/c4eb55edbaded68b50057d4a9ba4d2c5_1536.jpeg 1920w, https:\/\/img.staticdj.com\/c4eb55edbaded68b50057d4a9ba4d2c5_1536.jpeg 2056w, https:\/\/img.staticdj.com\/c4eb55edbaded68b50057d4a9ba4d2c5_1536.jpeg 2560w, https:\/\/img.staticdj.com\/c4eb55edbaded68b50057d4a9ba4d2c5_1536.jpeg 2732w, https:\/\/img.staticdj.com\/c4eb55edbaded68b50057d4a9ba4d2c5_1536.jpeg 2880w, https:\/\/img.staticdj.com\/c4eb55edbaded68b50057d4a9ba4d2c5_1536.jpeg 3072w, https:\/\/img.staticdj.com\/c4eb55edbaded68b50057d4a9ba4d2c5_1536.jpeg 3200w, https:\/\/img.staticdj.com\/c4eb55edbaded68b50057d4a9ba4d2c5_1536.jpeg 3840w\" sizes=\"1000px\" srcset=\"https:\/\/img.staticdj.com\/c4eb55edbaded68b50057d4a9ba4d2c5_1536.jpeg 48w, https:\/\/img.staticdj.com\/c4eb55edbaded68b50057d4a9ba4d2c5_1536.jpeg 180w, https:\/\/img.staticdj.com\/c4eb55edbaded68b50057d4a9ba4d2c5_1536.jpeg 360w, https:\/\/img.staticdj.com\/c4eb55edbaded68b50057d4a9ba4d2c5_1536.jpeg 540w, https:\/\/img.staticdj.com\/c4eb55edbaded68b50057d4a9ba4d2c5_1536.jpeg 720w, https:\/\/img.staticdj.com\/c4eb55edbaded68b50057d4a9ba4d2c5_1536.jpeg 900w, https:\/\/img.staticdj.com\/c4eb55edbaded68b50057d4a9ba4d2c5_1536.jpeg 1024w, https:\/\/img.staticdj.com\/c4eb55edbaded68b50057d4a9ba4d2c5_1536.jpeg 1280w, https:\/\/img.staticdj.com\/c4eb55edbaded68b50057d4a9ba4d2c5_1536.jpeg 1366w, https:\/\/img.staticdj.com\/c4eb55edbaded68b50057d4a9ba4d2c5_1536.jpeg 1440w, https:\/\/img.staticdj.com\/c4eb55edbaded68b50057d4a9ba4d2c5_1536.jpeg 1536w, https:\/\/img.staticdj.com\/c4eb55edbaded68b50057d4a9ba4d2c5_1536.jpeg 1600w, https:\/\/img.staticdj.com\/c4eb55edbaded68b50057d4a9ba4d2c5_1536.jpeg 1920w, https:\/\/img.staticdj.com\/c4eb55edbaded68b50057d4a9ba4d2c5_1536.jpeg 2056w, https:\/\/img.staticdj.com\/c4eb55edbaded68b50057d4a9ba4d2c5_1536.jpeg 2560w, https:\/\/img.staticdj.com\/c4eb55edbaded68b50057d4a9ba4d2c5_1536.jpeg 2732w, https:\/\/img.staticdj.com\/c4eb55edbaded68b50057d4a9ba4d2c5_1536.jpeg 2880w, https:\/\/img.staticdj.com\/c4eb55edbaded68b50057d4a9ba4d2c5_1536.jpeg 3072w, https:\/\/img.staticdj.com\/c4eb55edbaded68b50057d4a9ba4d2c5_1536.jpeg 3200w, https:\/\/img.staticdj.com\/c4eb55edbaded68b50057d4a9ba4d2c5_1536.jpeg 3840w\" data-mce-style=\"display: block; margin-left: auto; margin-right: auto;\"\u003e\u003c\/p\u003e\n\u003cp\u003e\u003cstrong\u003ePerfect Gift:\u003c\/strong\u003eCome with packing box,the best choice for kids Birthday gift, Christmas gift and Daily gift.Children will be very happy if they can receive such a funny and excellent gift.\u003c\/p\u003e\n\u003cp\u003e \u003c\/p\u003e\n\u003ch2\u003e\n\u003cspan style=\"color: #6aa84f;\"\u003e\u003cem\u003e\u003cstrong\u003eWhy choose our erasable drawing pad?\u003c\/strong\u003e\u003c\/em\u003e\u003c\/span\u003e\u003cbr\u003e\n\u003c\/h2\u003e\n\u003cp\u003e1. Cute design, the cover has a very cute little animal design that can easily attract children's attention.\u003cbr\u003e2. Helps to inspire your child's talent for painting and let children enjoy the colorful world.\u003cbr\u003e3. Repeated application: With a wet tissue, you can clearly check it and draw a new picture.\u003cbr\u003e4. Easy to carry. This product is a total of 6 pages, 8*8 inches, easy to carry wherever you go.\u003cbr\u003e5.12 color dust-free liquid brush, smooth and smooth color, bright colors, which can arouse children's interest and curiosity about colors.\u003c\/p\u003e\n\u003cul\u003e\u003c\/ul\u003e\n\u003cp\u003e\u003cspan class=\"a-text-bold\"\u003e\u003cimg src=\"https:\/\/cdn.shopify.com\/s\/files\/1\/0112\/4863\/1889\/files\/613PfYnvm0L._SL1000_1024x1024.jpg?v=1567064299\" width=\"421\" height=\"421\" style=\"display: block; margin-left: auto; margin-right: auto;\" data-mce-style=\"display: block; margin-left: auto; margin-right: auto;\"\u003e\u003c\/span\u003e\u003c\/p\u003e\n\u003cp\u003e\u003cspan style=\"color: #6aa84f;\" data-mce-style=\"color: #6aa84f;\"\u003e\u003cstrong\u003e\u003cspan class=\"a-text-bold\"\u003eSPECIFICATIONS:\u003c\/span\u003e\u003c\/strong\u003e\u003c\/span\u003e\u003c\/p\u003e\n\u003cul\u003e\n\u003cli\u003e\u003cspan class=\"a-text-bold\"\u003eMaterial: PVC\u003c\/span\u003e\u003c\/li\u003e\n\u003cli\u003e\u003cspan class=\"a-text-bold\"\u003eSize: 21cm * 21cm\u003c\/span\u003e\u003c\/li\u003e\n\u003cli\u003e\u003cspan class=\"a-text-bold\"\u003ePages: 14\u003c\/span\u003e\u003c\/li\u003e\n\u003c\/ul\u003e\n\u003cp\u003e\u003cspan style=\"color: #6aa84f;\" data-mce-style=\"color: #6aa84f;\"\u003e\u003cstrong\u003e\u003cspan class=\"a-text-bold\"\u003ePACKAGE INCLUDES:\u003c\/span\u003e\u003c\/strong\u003e\u003c\/span\u003e\u003c\/p\u003e\n\u003cul\u003e\n\u003cli\u003e\u003cspan class=\"a-text-bold\"\u003e1 * Doodle Pad + 12 * Watercolor Pens\u003c\/span\u003e\u003c\/li\u003e\n\u003c\/ul\u003e","published_at":"2022-01-27T20:01:01-10:00","created_at":"2020-09-14T04:33:54-10:00","vendor":"Wichoos","type":"Toys","tags":["toys"],"price":3249,"price_min":3249,"price_max":3249,"available":true,"price_varies":false,"compare_at_price":0,"compare_at_price_min":0,"compare_at_price_max":0,"compare_at_price_varies":false,"variants":[{"id":36245368864928,"title":"Black Panda","option1":"Black Panda","option2":null,"option3":null,"sku":"CKCH006","requires_shipping":true,"taxable":false,"featured_image":null,"available":false,"name":"Portable Erasable Doodle Pad Drawing Pad (12 Pens Included) - Black Panda","public_title":"Black Panda","options":["Black Panda"],"price":3249,"weight":0,"compare_at_price":0,"inventory_management":"shopify","barcode":null,"requires_selling_plan":false,"selling_plan_allocations":[],"quantity_rule":{"min":1,"max":null,"increment":1}},{"id":36245368897696,"title":"Pink Animal","option1":"Pink Animal","option2":null,"option3":null,"sku":"CKCH001","requires_shipping":true,"taxable":false,"featured_image":null,"available":true,"name":"Portable Erasable Doodle Pad Drawing Pad (12 Pens Included) - Pink Animal","public_title":"Pink Animal","options":["Pink Animal"],"price":3249,"weight":0,"compare_at_price":0,"inventory_management":null,"barcode":null,"requires_selling_plan":false,"selling_plan_allocations":[],"quantity_rule":{"min":1,"max":null,"increment":1}},{"id":36245368930464,"title":"Blue Animal","option1":"Blue Animal","option2":null,"option3":null,"sku":"CKCH002","requires_shipping":true,"taxable":false,"featured_image":null,"available":true,"name":"Portable Erasable Doodle Pad Drawing Pad (12 Pens Included) - Blue Animal","public_title":"Blue Animal","options":["Blue Animal"],"price":3249,"weight":0,"compare_at_price":0,"inventory_management":null,"barcode":null,"requires_selling_plan":false,"selling_plan_allocations":[],"quantity_rule":{"min":1,"max":null,"increment":1}},{"id":36245368963232,"title":"Pink Car","option1":"Pink Car","option2":null,"option3":null,"sku":"CKCH003","requires_shipping":true,"taxable":false,"featured_image":null,"available":false,"name":"Portable Erasable Doodle Pad Drawing Pad (12 Pens Included) - Pink Car","public_title":"Pink Car","options":["Pink Car"],"price":3249,"weight":0,"compare_at_price":0,"inventory_management":"shopify","barcode":null,"requires_selling_plan":false,"selling_plan_allocations":[],"quantity_rule":{"min":1,"max":null,"increment":1}},{"id":36245368996000,"title":"Blue Car","option1":"Blue Car","option2":null,"option3":null,"sku":"CKCH004","requires_shipping":true,"taxable":false,"featured_image":null,"available":true,"name":"Portable Erasable Doodle Pad Drawing Pad (12 Pens Included) - Blue Car","public_title":"Blue Car","options":["Blue Car"],"price":3249,"weight":0,"compare_at_price":0,"inventory_management":null,"barcode":null,"requires_selling_plan":false,"selling_plan_allocations":[],"quantity_rule":{"min":1,"max":null,"increment":1}},{"id":36245369028768,"title":"Rainbow","option1":"Rainbow","option2":null,"option3":null,"sku":"CKCH005","requires_shipping":true,"taxable":false,"featured_image":null,"available":true,"name":"Portable Erasable Doodle Pad Drawing Pad (12 Pens Included) - Rainbow","public_title":"Rainbow","options":["Rainbow"],"price":3249,"weight":0,"compare_at_price":0,"inventory_management":null,"barcode":null,"requires_selling_plan":false,"selling_plan_allocations":[],"quantity_rule":{"min":1,"max":null,"increment":1}}],"images":["\/\/www.flownwing.com\/cdn\/shop\/products\/1_2745315a-5117-4591-9e96-ca9e40c5f165.jpg?v=1600094034","\/\/www.flownwing.com\/cdn\/shop\/products\/CKCH006.jpg?v=1600094034","\/\/www.flownwing.com\/cdn\/shop\/products\/2_2912fed0-4546-4496-8365-4f31dc74a1d5.jpg?v=1600094034","\/\/www.flownwing.com\/cdn\/shop\/products\/8_264ae557-1d36-4675-a0aa-3bbe41f483e1.jpg?v=1600094034","\/\/www.flownwing.com\/cdn\/shop\/products\/3_2b3297e2-ce44-425b-af36-6f83b1cf6288.jpg?v=1600094034","\/\/www.flownwing.com\/cdn\/shop\/products\/6_541b14aa-08e7-465b-aa3d-88f5fa93c099.jpg?v=1600094034","\/\/www.flownwing.com\/cdn\/shop\/products\/4_d88f647d-500b-4ab9-8b2d-4bd062a9c11c.jpg?v=1600094034","\/\/www.flownwing.com\/cdn\/shop\/products\/5_e66244d6-e3a2-469a-8a6f-15871738078f.jpg?v=1600094034"],"featured_image":"\/\/www.flownwing.com\/cdn\/shop\/products\/1_2745315a-5117-4591-9e96-ca9e40c5f165.jpg?v=1600094034","options":["Style"],"media":[{"alt":null,"id":11252916224160,"position":1,"preview_image":{"aspect_ratio":1.0,"height":800,"width":800,"src":"\/\/www.flownwing.com\/cdn\/shop\/products\/1_2745315a-5117-4591-9e96-ca9e40c5f165.jpg?v=1600094034"},"aspect_ratio":1.0,"height":800,"media_type":"image","src":"\/\/www.flownwing.com\/cdn\/shop\/products\/1_2745315a-5117-4591-9e96-ca9e40c5f165.jpg?v=1600094034","width":800},{"alt":null,"id":11252916256928,"position":2,"preview_image":{"aspect_ratio":1.0,"height":800,"width":800,"src":"\/\/www.flownwing.com\/cdn\/shop\/products\/CKCH006.jpg?v=1600094034"},"aspect_ratio":1.0,"height":800,"media_type":"image","src":"\/\/www.flownwing.com\/cdn\/shop\/products\/CKCH006.jpg?v=1600094034","width":800},{"alt":null,"id":11252916289696,"position":3,"preview_image":{"aspect_ratio":1.0,"height":800,"width":800,"src":"\/\/www.flownwing.com\/cdn\/shop\/products\/2_2912fed0-4546-4496-8365-4f31dc74a1d5.jpg?v=1600094034"},"aspect_ratio":1.0,"height":800,"media_type":"image","src":"\/\/www.flownwing.com\/cdn\/shop\/products\/2_2912fed0-4546-4496-8365-4f31dc74a1d5.jpg?v=1600094034","width":800},{"alt":null,"id":11252916322464,"position":4,"preview_image":{"aspect_ratio":1.0,"height":800,"width":800,"src":"\/\/www.flownwing.com\/cdn\/shop\/products\/8_264ae557-1d36-4675-a0aa-3bbe41f483e1.jpg?v=1600094034"},"aspect_ratio":1.0,"height":800,"media_type":"image","src":"\/\/www.flownwing.com\/cdn\/shop\/products\/8_264ae557-1d36-4675-a0aa-3bbe41f483e1.jpg?v=1600094034","width":800},{"alt":null,"id":11252916355232,"position":5,"preview_image":{"aspect_ratio":1.0,"height":800,"width":800,"src":"\/\/www.flownwing.com\/cdn\/shop\/products\/3_2b3297e2-ce44-425b-af36-6f83b1cf6288.jpg?v=1600094034"},"aspect_ratio":1.0,"height":800,"media_type":"image","src":"\/\/www.flownwing.com\/cdn\/shop\/products\/3_2b3297e2-ce44-425b-af36-6f83b1cf6288.jpg?v=1600094034","width":800},{"alt":null,"id":11252916388000,"position":6,"preview_image":{"aspect_ratio":1.0,"height":800,"width":800,"src":"\/\/www.flownwing.com\/cdn\/shop\/products\/6_541b14aa-08e7-465b-aa3d-88f5fa93c099.jpg?v=1600094034"},"aspect_ratio":1.0,"height":800,"media_type":"image","src":"\/\/www.flownwing.com\/cdn\/shop\/products\/6_541b14aa-08e7-465b-aa3d-88f5fa93c099.jpg?v=1600094034","width":800},{"alt":null,"id":11252916420768,"position":7,"preview_image":{"aspect_ratio":1.0,"height":800,"width":800,"src":"\/\/www.flownwing.com\/cdn\/shop\/products\/4_d88f647d-500b-4ab9-8b2d-4bd062a9c11c.jpg?v=1600094034"},"aspect_ratio":1.0,"height":800,"media_type":"image","src":"\/\/www.flownwing.com\/cdn\/shop\/products\/4_d88f647d-500b-4ab9-8b2d-4bd062a9c11c.jpg?v=1600094034","width":800},{"alt":null,"id":11252916453536,"position":8,"preview_image":{"aspect_ratio":1.0,"height":800,"width":800,"src":"\/\/www.flownwing.com\/cdn\/shop\/products\/5_e66244d6-e3a2-469a-8a6f-15871738078f.jpg?v=1600094034"},"aspect_ratio":1.0,"height":800,"media_type":"image","src":"\/\/www.flownwing.com\/cdn\/shop\/products\/5_e66244d6-e3a2-469a-8a6f-15871738078f.jpg?v=1600094034","width":800}],"requires_selling_plan":false,"selling_plan_groups":[],"content":"\u003ch3 style=\"text-align: center;\" data-mce-style=\"text-align: center;\"\u003e\u003cspan style=\"color: #ff9900;\" data-mce-style=\"color: #ff9900;\"\u003e\u003cstrong\u003e🌈🌈Erasable Drawing Pad - perfect gift for children!\u003c\/strong\u003e\u003c\/span\u003e\u003c\/h3\u003e\n\u003ch4 class=\"a-spacing-mini\" style=\"text-align: center;\" data-mce-style=\"text-align: center;\"\u003e\u003cstrong\u003e🌟\u003cspan style=\"color: #ff9900;\" data-mce-style=\"color: #ff9900;\"\u003eBoth parents and children like it! Let children love painting!\u003c\/span\u003e🌟\u003c\/strong\u003e\u003c\/h4\u003e\n\u003cp\u003e\u003cstrong\u003e\u003cimg src=\"https:\/\/cdn.shopify.com\/s\/files\/1\/0112\/4863\/1889\/files\/8.29_2048x2048.gif?v=1567060185\" style=\"display: block; margin-left: auto; margin-right: auto;\" width=\"290\" height=\"290\" data-mce-style=\"display: block; margin-left: auto; margin-right: auto;\"\u003e\u003c\/strong\u003e\u003c\/p\u003e\n\u003cp style=\"text-align: center;\" data-mce-style=\"text-align: center;\"\u003e\u003cem\u003e\u003cspan style=\"color: #ff9900;\" data-mce-style=\"color: #ff9900;\"\u003eThe  doodle pad is 8x8 inches in size and has 14 pages, including 12 watercolor pens. The watercolor pen is colorful, dust-free and non-toxic. After use, wipe it gently with a wet tissue to make it clean and reusable! It can stimulate your child's imagination. Give it to your child as a gift.\u003c\/span\u003e\u003c\/em\u003e\u003c\/p\u003e\n\u003cp style=\"text-align: left;\" data-mce-style=\"text-align: left;\"\u003e\u003cspan style=\"color: #6aa84f;\" data-mce-style=\"color: #6aa84f;\"\u003e\u003cstrong\u003ePRODUCT FEATURES:\u003c\/strong\u003e\u003c\/span\u003e\u003c\/p\u003e\n\u003cp style=\"text-align: left;\" data-mce-style=\"text-align: left;\"\u003e\u003cstrong\u003eEnjoy Parent-Child Time: \u003c\/strong\u003eHow happy the child when they see the picture they draw in the doodle book board! Vivid color and draw-free can increase their imagination and hands-on ability.It cultivates artistic ability of your child and shows the inner capabilities of their mind, helping you to learn more about your child and communicate with them better.In your spare time,you can play with your child to drawing in the book,which can promoting parent-child emotion.\u003c\/p\u003e\n\u003cp\u003e\u003cimg style=\"display: block; margin-left: auto; margin-right: auto;\" class=\"sep-lazyload lazyautosizes lazyloaded\" data-sizes=\"auto\" alt=\"\" width=\"420\" height=\"413\" data-aspect-ratio=\"0.98\" data-srcset=\"https:\/\/img.staticdj.com\/297b48ee2f642c79bf82ccbe6614cc28_1280.png 48w, https:\/\/img.staticdj.com\/297b48ee2f642c79bf82ccbe6614cc28_1280.png 180w, https:\/\/img.staticdj.com\/297b48ee2f642c79bf82ccbe6614cc28_1280.png 360w, https:\/\/img.staticdj.com\/297b48ee2f642c79bf82ccbe6614cc28_1280.png 540w, https:\/\/img.staticdj.com\/297b48ee2f642c79bf82ccbe6614cc28_1280.png 720w, https:\/\/img.staticdj.com\/297b48ee2f642c79bf82ccbe6614cc28_1280.png 900w, https:\/\/img.staticdj.com\/297b48ee2f642c79bf82ccbe6614cc28_1280.png 1024w, https:\/\/img.staticdj.com\/297b48ee2f642c79bf82ccbe6614cc28_1280.png 1280w, https:\/\/img.staticdj.com\/297b48ee2f642c79bf82ccbe6614cc28_1280.png 1366w, https:\/\/img.staticdj.com\/297b48ee2f642c79bf82ccbe6614cc28_1280.png 1440w, https:\/\/img.staticdj.com\/297b48ee2f642c79bf82ccbe6614cc28_1280.png 1536w, https:\/\/img.staticdj.com\/297b48ee2f642c79bf82ccbe6614cc28_1280.png 1600w, https:\/\/img.staticdj.com\/297b48ee2f642c79bf82ccbe6614cc28_1280.png 1920w, https:\/\/img.staticdj.com\/297b48ee2f642c79bf82ccbe6614cc28_1280.png 2056w, https:\/\/img.staticdj.com\/297b48ee2f642c79bf82ccbe6614cc28_1280.png 2560w, https:\/\/img.staticdj.com\/297b48ee2f642c79bf82ccbe6614cc28_1280.png 2732w, https:\/\/img.staticdj.com\/297b48ee2f642c79bf82ccbe6614cc28_1280.png 2880w, https:\/\/img.staticdj.com\/297b48ee2f642c79bf82ccbe6614cc28_1280.png 3072w, https:\/\/img.staticdj.com\/297b48ee2f642c79bf82ccbe6614cc28_1280.png 3200w, https:\/\/img.staticdj.com\/297b48ee2f642c79bf82ccbe6614cc28_1280.png 3840w\" sizes=\"791px\" srcset=\"https:\/\/img.staticdj.com\/297b48ee2f642c79bf82ccbe6614cc28_1280.png 48w, https:\/\/img.staticdj.com\/297b48ee2f642c79bf82ccbe6614cc28_1280.png 180w, https:\/\/img.staticdj.com\/297b48ee2f642c79bf82ccbe6614cc28_1280.png 360w, https:\/\/img.staticdj.com\/297b48ee2f642c79bf82ccbe6614cc28_1280.png 540w, https:\/\/img.staticdj.com\/297b48ee2f642c79bf82ccbe6614cc28_1280.png 720w, https:\/\/img.staticdj.com\/297b48ee2f642c79bf82ccbe6614cc28_1280.png 900w, https:\/\/img.staticdj.com\/297b48ee2f642c79bf82ccbe6614cc28_1280.png 1024w, https:\/\/img.staticdj.com\/297b48ee2f642c79bf82ccbe6614cc28_1280.png 1280w, https:\/\/img.staticdj.com\/297b48ee2f642c79bf82ccbe6614cc28_1280.png 1366w, https:\/\/img.staticdj.com\/297b48ee2f642c79bf82ccbe6614cc28_1280.png 1440w, https:\/\/img.staticdj.com\/297b48ee2f642c79bf82ccbe6614cc28_1280.png 1536w, https:\/\/img.staticdj.com\/297b48ee2f642c79bf82ccbe6614cc28_1280.png 1600w, https:\/\/img.staticdj.com\/297b48ee2f642c79bf82ccbe6614cc28_1280.png 1920w, https:\/\/img.staticdj.com\/297b48ee2f642c79bf82ccbe6614cc28_1280.png 2056w, https:\/\/img.staticdj.com\/297b48ee2f642c79bf82ccbe6614cc28_1280.png 2560w, https:\/\/img.staticdj.com\/297b48ee2f642c79bf82ccbe6614cc28_1280.png 2732w, https:\/\/img.staticdj.com\/297b48ee2f642c79bf82ccbe6614cc28_1280.png 2880w, https:\/\/img.staticdj.com\/297b48ee2f642c79bf82ccbe6614cc28_1280.png 3072w, https:\/\/img.staticdj.com\/297b48ee2f642c79bf82ccbe6614cc28_1280.png 3200w, https:\/\/img.staticdj.com\/297b48ee2f642c79bf82ccbe6614cc28_1280.png 3840w\" data-mce-style=\"display: block; margin-left: auto; margin-right: auto;\"\u003e\u003c\/p\u003e\n\u003cp\u003e\u003cstrong\u003eDust Free \u0026amp; Non-toxic:\u003c\/strong\u003e  Dust-free Watercolor Pen, can create a clean and no mess environment for you and your family.Made of high-quality non-toxic materials, tasteless and dust-free,child-friendly and more durable.Very safe for your child to play without worrying about the health.All of them are waterproof and easy to wash,allowing drawing to be quickly .Your child only need to clean with a damp cloth or a wet wipes and start their new drawing.Can be reused to reduce paper waste!\u003c\/p\u003e\n\u003cp\u003e\u003cimg style=\"display: block; margin-left: auto; margin-right: auto;\" class=\"sep-lazyload lazyautosizes lazyloaded\" data-sizes=\"auto\" alt=\"\" width=\"373\" height=\"373\" data-aspect-ratio=\"1.00\" data-srcset=\"https:\/\/img.staticdj.com\/dc6064c8ace266eebe2f64648346f2ed_1536.jpeg 48w, https:\/\/img.staticdj.com\/dc6064c8ace266eebe2f64648346f2ed_1536.jpeg 180w, https:\/\/img.staticdj.com\/dc6064c8ace266eebe2f64648346f2ed_1536.jpeg 360w, https:\/\/img.staticdj.com\/dc6064c8ace266eebe2f64648346f2ed_1536.jpeg 540w, https:\/\/img.staticdj.com\/dc6064c8ace266eebe2f64648346f2ed_1536.jpeg 720w, https:\/\/img.staticdj.com\/dc6064c8ace266eebe2f64648346f2ed_1536.jpeg 900w, https:\/\/img.staticdj.com\/dc6064c8ace266eebe2f64648346f2ed_1536.jpeg 1024w, https:\/\/img.staticdj.com\/dc6064c8ace266eebe2f64648346f2ed_1536.jpeg 1280w, https:\/\/img.staticdj.com\/dc6064c8ace266eebe2f64648346f2ed_1536.jpeg 1366w, https:\/\/img.staticdj.com\/dc6064c8ace266eebe2f64648346f2ed_1536.jpeg 1440w, https:\/\/img.staticdj.com\/dc6064c8ace266eebe2f64648346f2ed_1536.jpeg 1536w, https:\/\/img.staticdj.com\/dc6064c8ace266eebe2f64648346f2ed_1536.jpeg 1600w, https:\/\/img.staticdj.com\/dc6064c8ace266eebe2f64648346f2ed_1536.jpeg 1920w, https:\/\/img.staticdj.com\/dc6064c8ace266eebe2f64648346f2ed_1536.jpeg 2056w, https:\/\/img.staticdj.com\/dc6064c8ace266eebe2f64648346f2ed_1536.jpeg 2560w, https:\/\/img.staticdj.com\/dc6064c8ace266eebe2f64648346f2ed_1536.jpeg 2732w, https:\/\/img.staticdj.com\/dc6064c8ace266eebe2f64648346f2ed_1536.jpeg 2880w, https:\/\/img.staticdj.com\/dc6064c8ace266eebe2f64648346f2ed_1536.jpeg 3072w, https:\/\/img.staticdj.com\/dc6064c8ace266eebe2f64648346f2ed_1536.jpeg 3200w, https:\/\/img.staticdj.com\/dc6064c8ace266eebe2f64648346f2ed_1536.jpeg 3840w\" sizes=\"1000px\" srcset=\"https:\/\/img.staticdj.com\/dc6064c8ace266eebe2f64648346f2ed_1536.jpeg 48w, https:\/\/img.staticdj.com\/dc6064c8ace266eebe2f64648346f2ed_1536.jpeg 180w, https:\/\/img.staticdj.com\/dc6064c8ace266eebe2f64648346f2ed_1536.jpeg 360w, https:\/\/img.staticdj.com\/dc6064c8ace266eebe2f64648346f2ed_1536.jpeg 540w, https:\/\/img.staticdj.com\/dc6064c8ace266eebe2f64648346f2ed_1536.jpeg 720w, https:\/\/img.staticdj.com\/dc6064c8ace266eebe2f64648346f2ed_1536.jpeg 900w, https:\/\/img.staticdj.com\/dc6064c8ace266eebe2f64648346f2ed_1536.jpeg 1024w, https:\/\/img.staticdj.com\/dc6064c8ace266eebe2f64648346f2ed_1536.jpeg 1280w, https:\/\/img.staticdj.com\/dc6064c8ace266eebe2f64648346f2ed_1536.jpeg 1366w, https:\/\/img.staticdj.com\/dc6064c8ace266eebe2f64648346f2ed_1536.jpeg 1440w, https:\/\/img.staticdj.com\/dc6064c8ace266eebe2f64648346f2ed_1536.jpeg 1536w, https:\/\/img.staticdj.com\/dc6064c8ace266eebe2f64648346f2ed_1536.jpeg 1600w, https:\/\/img.staticdj.com\/dc6064c8ace266eebe2f64648346f2ed_1536.jpeg 1920w, https:\/\/img.staticdj.com\/dc6064c8ace266eebe2f64648346f2ed_1536.jpeg 2056w, https:\/\/img.staticdj.com\/dc6064c8ace266eebe2f64648346f2ed_1536.jpeg 2560w, https:\/\/img.staticdj.com\/dc6064c8ace266eebe2f64648346f2ed_1536.jpeg 2732w, https:\/\/img.staticdj.com\/dc6064c8ace266eebe2f64648346f2ed_1536.jpeg 2880w, https:\/\/img.staticdj.com\/dc6064c8ace266eebe2f64648346f2ed_1536.jpeg 3072w, https:\/\/img.staticdj.com\/dc6064c8ace266eebe2f64648346f2ed_1536.jpeg 3200w, https:\/\/img.staticdj.com\/dc6064c8ace266eebe2f64648346f2ed_1536.jpeg 3840w\" data-mce-style=\"display: block; margin-left: auto; margin-right: auto;\"\u003e\u003c\/p\u003e\n\u003cp\u003e\u003cstrong\u003eEasy Erasable:\u003c\/strong\u003eWith a wet tissue, all the patterns can be erased easily and quickly. Moreover,it will not stain the clothes, it will not make the clothes all dirty like the ink,because it can be cleaned easily. You can relax with a peaceful mind while your child is playing with it.\u003c\/p\u003e\n\u003cp\u003e\u003cimg style=\"display: block; margin-left: auto; margin-right: auto;\" class=\"sep-lazyload lazyautosizes lazyloaded\" data-sizes=\"auto\" alt=\"\" width=\"405\" height=\"405\" data-aspect-ratio=\"1.00\" data-srcset=\"https:\/\/img.staticdj.com\/b6a328e68e2c257eaebf9d3bebefb1c3_1536.jpeg 48w, https:\/\/img.staticdj.com\/b6a328e68e2c257eaebf9d3bebefb1c3_1536.jpeg 180w, https:\/\/img.staticdj.com\/b6a328e68e2c257eaebf9d3bebefb1c3_1536.jpeg 360w, https:\/\/img.staticdj.com\/b6a328e68e2c257eaebf9d3bebefb1c3_1536.jpeg 540w, https:\/\/img.staticdj.com\/b6a328e68e2c257eaebf9d3bebefb1c3_1536.jpeg 720w, https:\/\/img.staticdj.com\/b6a328e68e2c257eaebf9d3bebefb1c3_1536.jpeg 900w, https:\/\/img.staticdj.com\/b6a328e68e2c257eaebf9d3bebefb1c3_1536.jpeg 1024w, https:\/\/img.staticdj.com\/b6a328e68e2c257eaebf9d3bebefb1c3_1536.jpeg 1280w, https:\/\/img.staticdj.com\/b6a328e68e2c257eaebf9d3bebefb1c3_1536.jpeg 1366w, https:\/\/img.staticdj.com\/b6a328e68e2c257eaebf9d3bebefb1c3_1536.jpeg 1440w, https:\/\/img.staticdj.com\/b6a328e68e2c257eaebf9d3bebefb1c3_1536.jpeg 1536w, https:\/\/img.staticdj.com\/b6a328e68e2c257eaebf9d3bebefb1c3_1536.jpeg 1600w, https:\/\/img.staticdj.com\/b6a328e68e2c257eaebf9d3bebefb1c3_1536.jpeg 1920w, https:\/\/img.staticdj.com\/b6a328e68e2c257eaebf9d3bebefb1c3_1536.jpeg 2056w, https:\/\/img.staticdj.com\/b6a328e68e2c257eaebf9d3bebefb1c3_1536.jpeg 2560w, https:\/\/img.staticdj.com\/b6a328e68e2c257eaebf9d3bebefb1c3_1536.jpeg 2732w, https:\/\/img.staticdj.com\/b6a328e68e2c257eaebf9d3bebefb1c3_1536.jpeg 2880w, https:\/\/img.staticdj.com\/b6a328e68e2c257eaebf9d3bebefb1c3_1536.jpeg 3072w, https:\/\/img.staticdj.com\/b6a328e68e2c257eaebf9d3bebefb1c3_1536.jpeg 3200w, https:\/\/img.staticdj.com\/b6a328e68e2c257eaebf9d3bebefb1c3_1536.jpeg 3840w\" sizes=\"1000px\" srcset=\"https:\/\/img.staticdj.com\/b6a328e68e2c257eaebf9d3bebefb1c3_1536.jpeg 48w, https:\/\/img.staticdj.com\/b6a328e68e2c257eaebf9d3bebefb1c3_1536.jpeg 180w, https:\/\/img.staticdj.com\/b6a328e68e2c257eaebf9d3bebefb1c3_1536.jpeg 360w, https:\/\/img.staticdj.com\/b6a328e68e2c257eaebf9d3bebefb1c3_1536.jpeg 540w, https:\/\/img.staticdj.com\/b6a328e68e2c257eaebf9d3bebefb1c3_1536.jpeg 720w, https:\/\/img.staticdj.com\/b6a328e68e2c257eaebf9d3bebefb1c3_1536.jpeg 900w, https:\/\/img.staticdj.com\/b6a328e68e2c257eaebf9d3bebefb1c3_1536.jpeg 1024w, https:\/\/img.staticdj.com\/b6a328e68e2c257eaebf9d3bebefb1c3_1536.jpeg 1280w, https:\/\/img.staticdj.com\/b6a328e68e2c257eaebf9d3bebefb1c3_1536.jpeg 1366w, https:\/\/img.staticdj.com\/b6a328e68e2c257eaebf9d3bebefb1c3_1536.jpeg 1440w, https:\/\/img.staticdj.com\/b6a328e68e2c257eaebf9d3bebefb1c3_1536.jpeg 1536w, https:\/\/img.staticdj.com\/b6a328e68e2c257eaebf9d3bebefb1c3_1536.jpeg 1600w, https:\/\/img.staticdj.com\/b6a328e68e2c257eaebf9d3bebefb1c3_1536.jpeg 1920w, https:\/\/img.staticdj.com\/b6a328e68e2c257eaebf9d3bebefb1c3_1536.jpeg 2056w, https:\/\/img.staticdj.com\/b6a328e68e2c257eaebf9d3bebefb1c3_1536.jpeg 2560w, https:\/\/img.staticdj.com\/b6a328e68e2c257eaebf9d3bebefb1c3_1536.jpeg 2732w, https:\/\/img.staticdj.com\/b6a328e68e2c257eaebf9d3bebefb1c3_1536.jpeg 2880w, https:\/\/img.staticdj.com\/b6a328e68e2c257eaebf9d3bebefb1c3_1536.jpeg 3072w, https:\/\/img.staticdj.com\/b6a328e68e2c257eaebf9d3bebefb1c3_1536.jpeg 3200w, https:\/\/img.staticdj.com\/b6a328e68e2c257eaebf9d3bebefb1c3_1536.jpeg 3840w\" data-mce-style=\"display: block; margin-left: auto; margin-right: auto;\"\u003e\u003c\/p\u003e\n\u003cp\u003e \u003c\/p\u003e\n\u003cp\u003e\u003cstrong\u003eBright-coloured:\u003c\/strong\u003eBright colors can arouse children's interest and curiosity about colors. Let your child become a painting genius!\u003c\/p\u003e\n\u003cp\u003e\u003cimg style=\"display: block; margin-left: auto; margin-right: auto;\" class=\"sep-lazyload lazyautosizes lazyloaded\" data-sizes=\"auto\" alt=\"\" width=\"434\" height=\"434\" data-aspect-ratio=\"1.00\" data-srcset=\"https:\/\/img.staticdj.com\/f1ca6e73bb3c5107b81aaa17ad236d12_1536.jpeg 48w, https:\/\/img.staticdj.com\/f1ca6e73bb3c5107b81aaa17ad236d12_1536.jpeg 180w, https:\/\/img.staticdj.com\/f1ca6e73bb3c5107b81aaa17ad236d12_1536.jpeg 360w, https:\/\/img.staticdj.com\/f1ca6e73bb3c5107b81aaa17ad236d12_1536.jpeg 540w, https:\/\/img.staticdj.com\/f1ca6e73bb3c5107b81aaa17ad236d12_1536.jpeg 720w, https:\/\/img.staticdj.com\/f1ca6e73bb3c5107b81aaa17ad236d12_1536.jpeg 900w, https:\/\/img.staticdj.com\/f1ca6e73bb3c5107b81aaa17ad236d12_1536.jpeg 1024w, https:\/\/img.staticdj.com\/f1ca6e73bb3c5107b81aaa17ad236d12_1536.jpeg 1280w, https:\/\/img.staticdj.com\/f1ca6e73bb3c5107b81aaa17ad236d12_1536.jpeg 1366w, https:\/\/img.staticdj.com\/f1ca6e73bb3c5107b81aaa17ad236d12_1536.jpeg 1440w, https:\/\/img.staticdj.com\/f1ca6e73bb3c5107b81aaa17ad236d12_1536.jpeg 1536w, https:\/\/img.staticdj.com\/f1ca6e73bb3c5107b81aaa17ad236d12_1536.jpeg 1600w, https:\/\/img.staticdj.com\/f1ca6e73bb3c5107b81aaa17ad236d12_1536.jpeg 1920w, https:\/\/img.staticdj.com\/f1ca6e73bb3c5107b81aaa17ad236d12_1536.jpeg 2056w, https:\/\/img.staticdj.com\/f1ca6e73bb3c5107b81aaa17ad236d12_1536.jpeg 2560w, https:\/\/img.staticdj.com\/f1ca6e73bb3c5107b81aaa17ad236d12_1536.jpeg 2732w, https:\/\/img.staticdj.com\/f1ca6e73bb3c5107b81aaa17ad236d12_1536.jpeg 2880w, https:\/\/img.staticdj.com\/f1ca6e73bb3c5107b81aaa17ad236d12_1536.jpeg 3072w, https:\/\/img.staticdj.com\/f1ca6e73bb3c5107b81aaa17ad236d12_1536.jpeg 3200w, https:\/\/img.staticdj.com\/f1ca6e73bb3c5107b81aaa17ad236d12_1536.jpeg 3840w\" sizes=\"1000px\" srcset=\"https:\/\/img.staticdj.com\/f1ca6e73bb3c5107b81aaa17ad236d12_1536.jpeg 48w, https:\/\/img.staticdj.com\/f1ca6e73bb3c5107b81aaa17ad236d12_1536.jpeg 180w, https:\/\/img.staticdj.com\/f1ca6e73bb3c5107b81aaa17ad236d12_1536.jpeg 360w, https:\/\/img.staticdj.com\/f1ca6e73bb3c5107b81aaa17ad236d12_1536.jpeg 540w, https:\/\/img.staticdj.com\/f1ca6e73bb3c5107b81aaa17ad236d12_1536.jpeg 720w, https:\/\/img.staticdj.com\/f1ca6e73bb3c5107b81aaa17ad236d12_1536.jpeg 900w, https:\/\/img.staticdj.com\/f1ca6e73bb3c5107b81aaa17ad236d12_1536.jpeg 1024w, https:\/\/img.staticdj.com\/f1ca6e73bb3c5107b81aaa17ad236d12_1536.jpeg 1280w, https:\/\/img.staticdj.com\/f1ca6e73bb3c5107b81aaa17ad236d12_1536.jpeg 1366w, https:\/\/img.staticdj.com\/f1ca6e73bb3c5107b81aaa17ad236d12_1536.jpeg 1440w, https:\/\/img.staticdj.com\/f1ca6e73bb3c5107b81aaa17ad236d12_1536.jpeg 1536w, https:\/\/img.staticdj.com\/f1ca6e73bb3c5107b81aaa17ad236d12_1536.jpeg 1600w, https:\/\/img.staticdj.com\/f1ca6e73bb3c5107b81aaa17ad236d12_1536.jpeg 1920w, https:\/\/img.staticdj.com\/f1ca6e73bb3c5107b81aaa17ad236d12_1536.jpeg 2056w, https:\/\/img.staticdj.com\/f1ca6e73bb3c5107b81aaa17ad236d12_1536.jpeg 2560w, https:\/\/img.staticdj.com\/f1ca6e73bb3c5107b81aaa17ad236d12_1536.jpeg 2732w, https:\/\/img.staticdj.com\/f1ca6e73bb3c5107b81aaa17ad236d12_1536.jpeg 2880w, https:\/\/img.staticdj.com\/f1ca6e73bb3c5107b81aaa17ad236d12_1536.jpeg 3072w, https:\/\/img.staticdj.com\/f1ca6e73bb3c5107b81aaa17ad236d12_1536.jpeg 3200w, https:\/\/img.staticdj.com\/f1ca6e73bb3c5107b81aaa17ad236d12_1536.jpeg 3840w\" data-mce-style=\"display: block; margin-left: auto; margin-right: auto;\"\u003e\u003c\/p\u003e\n\u003cp\u003e \u003c\/p\u003e\n\u003cp\u003e\u003cstrong\u003eLightweight \u0026amp; Portable:\u003c\/strong\u003eThis erasable and reusable drawing art pad is light with suitable size. With little handle, kids can hang it up on the wall. When going out, kids can hold it in hands or put it in their bags. What's more, it is durable enough. No worries about being folded.\u003cbr\u003e\u003c\/p\u003e\n\u003cp\u003e\u003cimg style=\"display: block; margin-left: auto; margin-right: auto;\" class=\"sep-lazyload lazyautosizes lazyloaded\" data-sizes=\"auto\" alt=\"\" width=\"429\" height=\"429\" data-aspect-ratio=\"1.00\" data-srcset=\"https:\/\/img.staticdj.com\/c4eb55edbaded68b50057d4a9ba4d2c5_1536.jpeg 48w, https:\/\/img.staticdj.com\/c4eb55edbaded68b50057d4a9ba4d2c5_1536.jpeg 180w, https:\/\/img.staticdj.com\/c4eb55edbaded68b50057d4a9ba4d2c5_1536.jpeg 360w, https:\/\/img.staticdj.com\/c4eb55edbaded68b50057d4a9ba4d2c5_1536.jpeg 540w, https:\/\/img.staticdj.com\/c4eb55edbaded68b50057d4a9ba4d2c5_1536.jpeg 720w, https:\/\/img.staticdj.com\/c4eb55edbaded68b50057d4a9ba4d2c5_1536.jpeg 900w, https:\/\/img.staticdj.com\/c4eb55edbaded68b50057d4a9ba4d2c5_1536.jpeg 1024w, https:\/\/img.staticdj.com\/c4eb55edbaded68b50057d4a9ba4d2c5_1536.jpeg 1280w, https:\/\/img.staticdj.com\/c4eb55edbaded68b50057d4a9ba4d2c5_1536.jpeg 1366w, https:\/\/img.staticdj.com\/c4eb55edbaded68b50057d4a9ba4d2c5_1536.jpeg 1440w, https:\/\/img.staticdj.com\/c4eb55edbaded68b50057d4a9ba4d2c5_1536.jpeg 1536w, https:\/\/img.staticdj.com\/c4eb55edbaded68b50057d4a9ba4d2c5_1536.jpeg 1600w, https:\/\/img.staticdj.com\/c4eb55edbaded68b50057d4a9ba4d2c5_1536.jpeg 1920w, https:\/\/img.staticdj.com\/c4eb55edbaded68b50057d4a9ba4d2c5_1536.jpeg 2056w, https:\/\/img.staticdj.com\/c4eb55edbaded68b50057d4a9ba4d2c5_1536.jpeg 2560w, https:\/\/img.staticdj.com\/c4eb55edbaded68b50057d4a9ba4d2c5_1536.jpeg 2732w, https:\/\/img.staticdj.com\/c4eb55edbaded68b50057d4a9ba4d2c5_1536.jpeg 2880w, https:\/\/img.staticdj.com\/c4eb55edbaded68b50057d4a9ba4d2c5_1536.jpeg 3072w, https:\/\/img.staticdj.com\/c4eb55edbaded68b50057d4a9ba4d2c5_1536.jpeg 3200w, https:\/\/img.staticdj.com\/c4eb55edbaded68b50057d4a9ba4d2c5_1536.jpeg 3840w\" sizes=\"1000px\" srcset=\"https:\/\/img.staticdj.com\/c4eb55edbaded68b50057d4a9ba4d2c5_1536.jpeg 48w, https:\/\/img.staticdj.com\/c4eb55edbaded68b50057d4a9ba4d2c5_1536.jpeg 180w, https:\/\/img.staticdj.com\/c4eb55edbaded68b50057d4a9ba4d2c5_1536.jpeg 360w, https:\/\/img.staticdj.com\/c4eb55edbaded68b50057d4a9ba4d2c5_1536.jpeg 540w, https:\/\/img.staticdj.com\/c4eb55edbaded68b50057d4a9ba4d2c5_1536.jpeg 720w, https:\/\/img.staticdj.com\/c4eb55edbaded68b50057d4a9ba4d2c5_1536.jpeg 900w, https:\/\/img.staticdj.com\/c4eb55edbaded68b50057d4a9ba4d2c5_1536.jpeg 1024w, https:\/\/img.staticdj.com\/c4eb55edbaded68b50057d4a9ba4d2c5_1536.jpeg 1280w, https:\/\/img.staticdj.com\/c4eb55edbaded68b50057d4a9ba4d2c5_1536.jpeg 1366w, https:\/\/img.staticdj.com\/c4eb55edbaded68b50057d4a9ba4d2c5_1536.jpeg 1440w, https:\/\/img.staticdj.com\/c4eb55edbaded68b50057d4a9ba4d2c5_1536.jpeg 1536w, https:\/\/img.staticdj.com\/c4eb55edbaded68b50057d4a9ba4d2c5_1536.jpeg 1600w, https:\/\/img.staticdj.com\/c4eb55edbaded68b50057d4a9ba4d2c5_1536.jpeg 1920w, https:\/\/img.staticdj.com\/c4eb55edbaded68b50057d4a9ba4d2c5_1536.jpeg 2056w, https:\/\/img.staticdj.com\/c4eb55edbaded68b50057d4a9ba4d2c5_1536.jpeg 2560w, https:\/\/img.staticdj.com\/c4eb55edbaded68b50057d4a9ba4d2c5_1536.jpeg 2732w, https:\/\/img.staticdj.com\/c4eb55edbaded68b50057d4a9ba4d2c5_1536.jpeg 2880w, https:\/\/img.staticdj.com\/c4eb55edbaded68b50057d4a9ba4d2c5_1536.jpeg 3072w, https:\/\/img.staticdj.com\/c4eb55edbaded68b50057d4a9ba4d2c5_1536.jpeg 3200w, https:\/\/img.staticdj.com\/c4eb55edbaded68b50057d4a9ba4d2c5_1536.jpeg 3840w\" data-mce-style=\"display: block; margin-left: auto; margin-right: auto;\"\u003e\u003c\/p\u003e\n\u003cp\u003e\u003cstrong\u003ePerfect Gift:\u003c\/strong\u003eCome with packing box,the best choice for kids Birthday gift, Christmas gift and Daily gift.Children will be very happy if they can receive such a funny and excellent gift.\u003c\/p\u003e\n\u003cp\u003e \u003c\/p\u003e\n\u003ch2\u003e\n\u003cspan style=\"color: #6aa84f;\"\u003e\u003cem\u003e\u003cstrong\u003eWhy choose our erasable drawing pad?\u003c\/strong\u003e\u003c\/em\u003e\u003c\/span\u003e\u003cbr\u003e\n\u003c\/h2\u003e\n\u003cp\u003e1. Cute design, the cover has a very cute little animal design that can easily attract children's attention.\u003cbr\u003e2. Helps to inspire your child's talent for painting and let children enjoy the colorful world.\u003cbr\u003e3. Repeated application: With a wet tissue, you can clearly check it and draw a new picture.\u003cbr\u003e4. Easy to carry. This product is a total of 6 pages, 8*8 inches, easy to carry wherever you go.\u003cbr\u003e5.12 color dust-free liquid brush, smooth and smooth color, bright colors, which can arouse children's interest and curiosity about colors.\u003c\/p\u003e\n\u003cul\u003e\u003c\/ul\u003e\n\u003cp\u003e\u003cspan class=\"a-text-bold\"\u003e\u003cimg src=\"https:\/\/cdn.shopify.com\/s\/files\/1\/0112\/4863\/1889\/files\/613PfYnvm0L._SL1000_1024x1024.jpg?v=1567064299\" width=\"421\" height=\"421\" style=\"display: block; margin-left: auto; margin-right: auto;\" data-mce-style=\"display: block; margin-left: auto; margin-right: auto;\"\u003e\u003c\/span\u003e\u003c\/p\u003e\n\u003cp\u003e\u003cspan style=\"color: #6aa84f;\" data-mce-style=\"color: #6aa84f;\"\u003e\u003cstrong\u003e\u003cspan class=\"a-text-bold\"\u003eSPECIFICATIONS:\u003c\/span\u003e\u003c\/strong\u003e\u003c\/span\u003e\u003c\/p\u003e\n\u003cul\u003e\n\u003cli\u003e\u003cspan class=\"a-text-bold\"\u003eMaterial: PVC\u003c\/span\u003e\u003c\/li\u003e\n\u003cli\u003e\u003cspan class=\"a-text-bold\"\u003eSize: 21cm * 21cm\u003c\/span\u003e\u003c\/li\u003e\n\u003cli\u003e\u003cspan class=\"a-text-bold\"\u003ePages: 14\u003c\/span\u003e\u003c\/li\u003e\n\u003c\/ul\u003e\n\u003cp\u003e\u003cspan style=\"color: #6aa84f;\" data-mce-style=\"color: #6aa84f;\"\u003e\u003cstrong\u003e\u003cspan class=\"a-text-bold\"\u003ePACKAGE INCLUDES:\u003c\/span\u003e\u003c\/strong\u003e\u003c\/span\u003e\u003c\/p\u003e\n\u003cul\u003e\n\u003cli\u003e\u003cspan class=\"a-text-bold\"\u003e1 * Doodle Pad + 12 * Watercolor Pens\u003c\/span\u003e\u003c\/li\u003e\n\u003c\/ul\u003e"}
Portable Erasable Doodle Pad Drawing Pad (12 Pens Included)
Adding product to your cart
🌈🌈Erasable Drawing Pad - perfect gift for children!
🌟

Both parents and children like it! Let children love painting!

🌟
The  doodle pad is 8x8 inches in size and has 14 pages, including 12 watercolor pens. The watercolor pen is colorful, dust-free and non-toxic. After use, wipe it gently with a wet tissue to make it clean and reusable! It can stimulate your child's imagination. Give it to your child as a gift.
PRODUCT FEATURES:
Enjoy Parent-Child Time: How happy the child when they see the picture they draw in the doodle book board! Vivid color and draw-free can increase their imagination and hands-on ability.It cultivates artistic ability of your child and shows the inner capabilities of their mind, helping you to learn more about your child and communicate with them better.In your spare time,you can play with your child to drawing in the book,which can promoting parent-child emotion.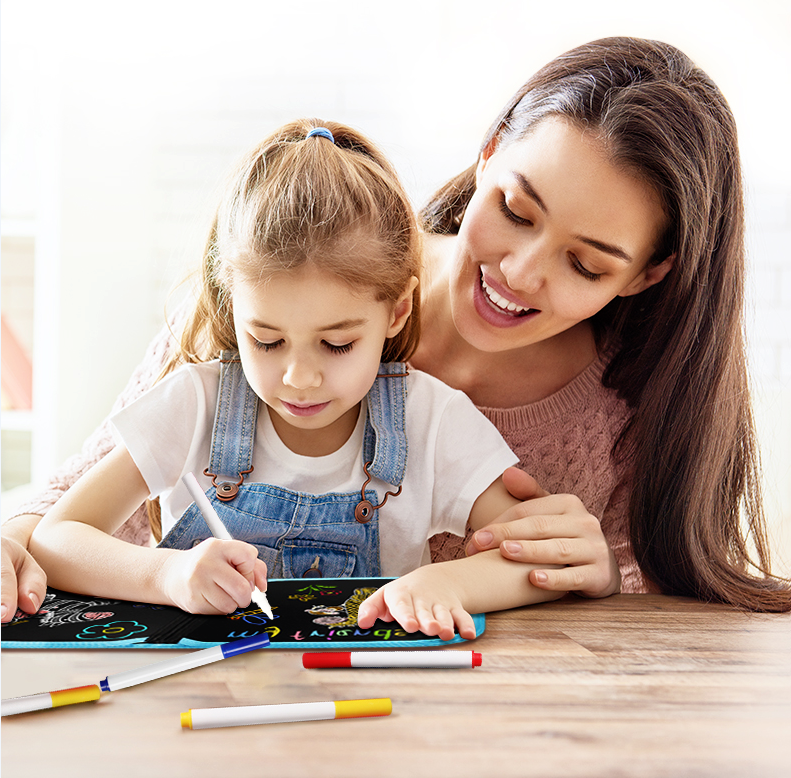 Dust Free & Non-toxic:  Dust-free Watercolor Pen, can create a clean and no mess environment for you and your family.Made of high-quality non-toxic materials, tasteless and dust-free,child-friendly and more durable.Very safe for your child to play without worrying about the health.All of them are waterproof and easy to wash,allowing drawing to be quickly .Your child only need to clean with a damp cloth or a wet wipes and start their new drawing.Can be reused to reduce paper waste!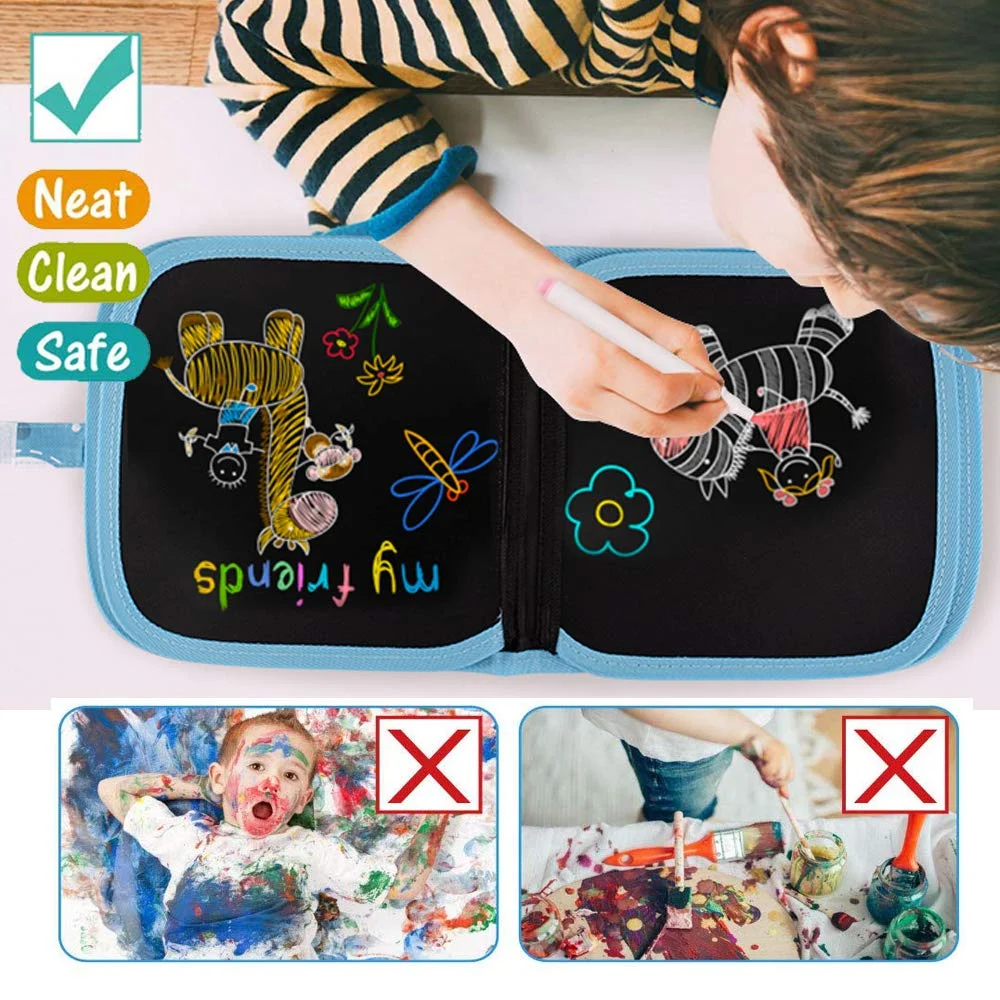 Easy Erasable:With a wet tissue, all the patterns can be erased easily and quickly. Moreover,it will not stain the clothes, it will not make the clothes all dirty like the ink,because it can be cleaned easily. You can relax with a peaceful mind while your child is playing with it.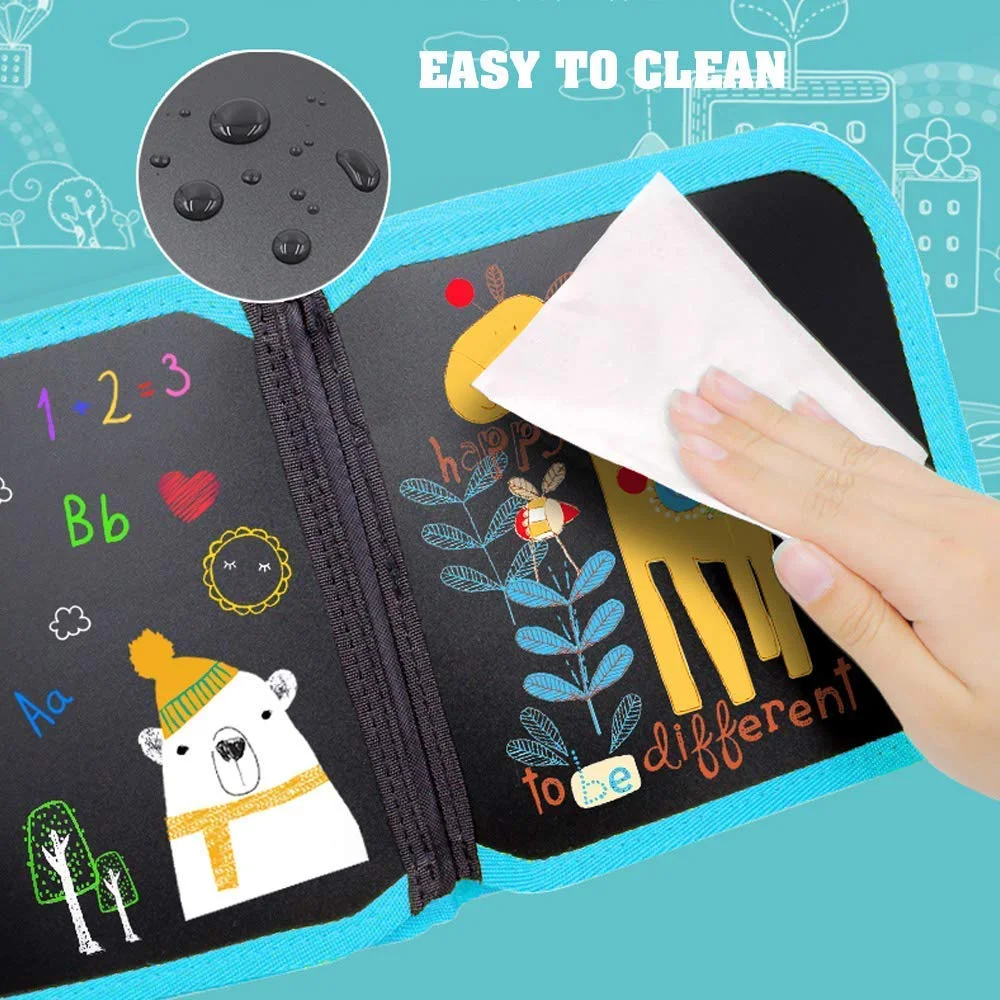 Bright-coloured:Bright colors can arouse children's interest and curiosity about colors. Let your child become a painting genius!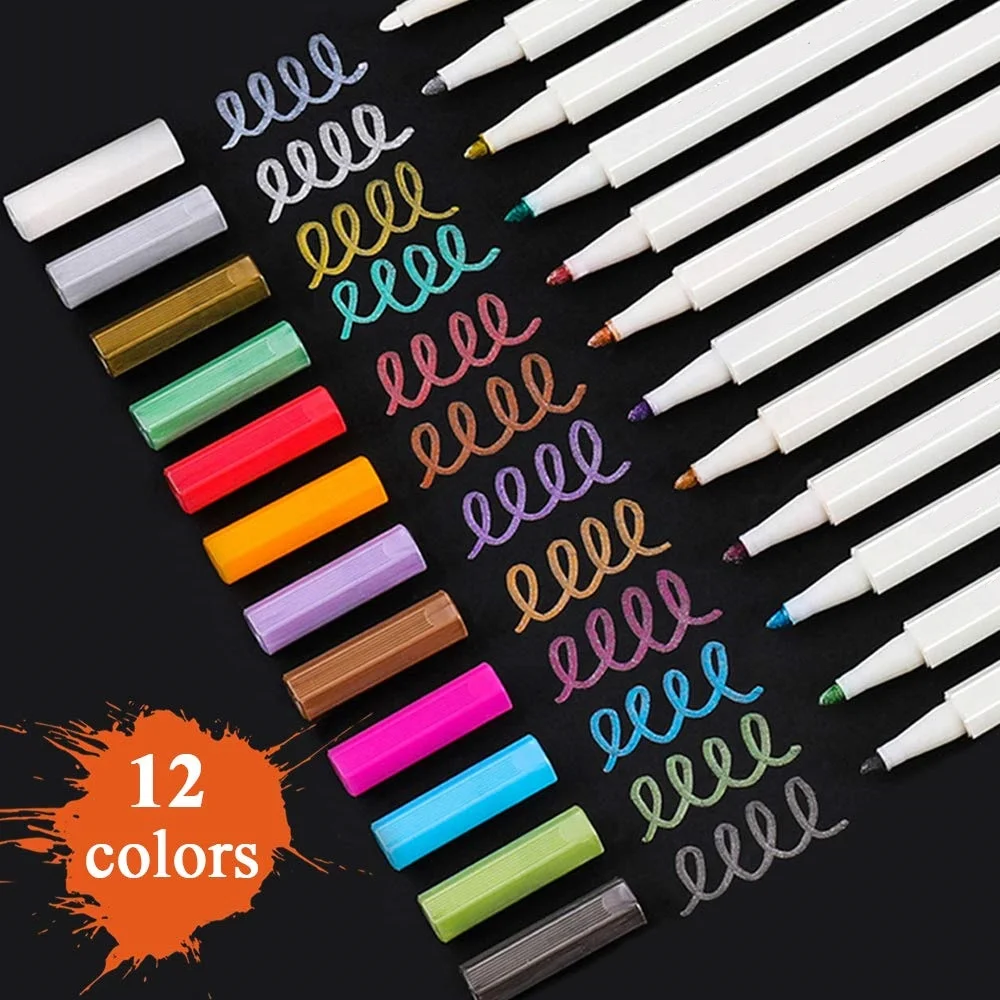 Lightweight & Portable:This erasable and reusable drawing art pad is light with suitable size. With little handle, kids can hang it up on the wall. When going out, kids can hold it in hands or put it in their bags. What's more, it is durable enough. No worries about being folded.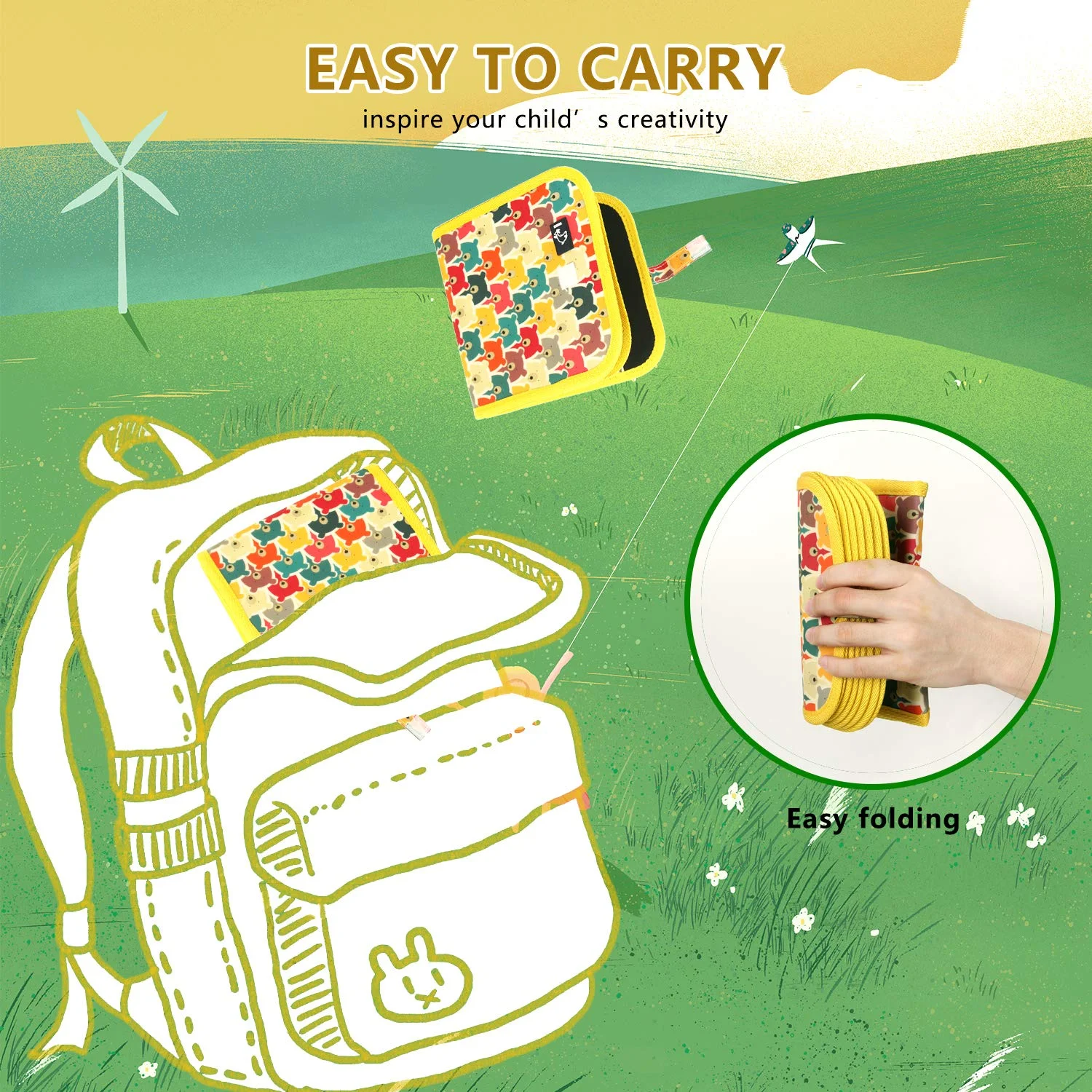 Perfect Gift:Come with packing box,the best choice for kids Birthday gift, Christmas gift and Daily gift.Children will be very happy if they can receive such a funny and excellent gift.
Why choose our erasable drawing pad?

1. Cute design, the cover has a very cute little animal design that can easily attract children's attention.
2. Helps to inspire your child's talent for painting and let children enjoy the colorful world.
3. Repeated application: With a wet tissue, you can clearly check it and draw a new picture.
4. Easy to carry. This product is a total of 6 pages, 8*8 inches, easy to carry wherever you go.
5.12 color dust-free liquid brush, smooth and smooth color, bright colors, which can arouse children's interest and curiosity about colors.
SPECIFICATIONS:
Material: PVC

Size: 21cm * 21cm

Pages: 14
PACKAGE INCLUDES:
1 * Doodle Pad + 12 * Watercolor Pens