{"id":7883178246304,"title":"Piston Skull Face Sculpture","handle":"piston-skull-face-sculpture","description":"\u003cp style=\"text-align: center;\"\u003e\u003cem\u003e\u003cstrong\u003e🔧\u003cspan style=\"color: #c26d60;\"\u003e In the world of engine rebuilding, many engines and parts become forgotten junk.\u003c\/span\u003e\u003c\/strong\u003e\u003cspan\u003e \u003c\/span\u003e\u003c\/em\u003eHowever, we take old engine parts as inspiration and create something completely new!\u003c\/p\u003e\n\u003cp\u003e\u003cimg srcset=\"https:\/\/img.staticdj.com\/dad99c8b25300f4e666f60916989ca13_900.png 48w, https:\/\/img.staticdj.com\/dad99c8b25300f4e666f60916989ca13_900.png 180w, https:\/\/img.staticdj.com\/dad99c8b25300f4e666f60916989ca13_900.png 540w, https:\/\/img.staticdj.com\/dad99c8b25300f4e666f60916989ca13_900.png 720w, https:\/\/img.staticdj.com\/dad99c8b25300f4e666f60916989ca13_900.png 900w, https:\/\/img.staticdj.com\/dad99c8b25300f4e666f60916989ca13_900.png 1024w, https:\/\/img.staticdj.com\/dad99c8b25300f4e666f60916989ca13_900.png 1280w, https:\/\/img.staticdj.com\/dad99c8b25300f4e666f60916989ca13_900.png 1366w, https:\/\/img.staticdj.com\/dad99c8b25300f4e666f60916989ca13_900.png 1440w, https:\/\/img.staticdj.com\/dad99c8b25300f4e666f60916989ca13_900.png 1536w, https:\/\/img.staticdj.com\/dad99c8b25300f4e666f60916989ca13_900.png 1600w, https:\/\/img.staticdj.com\/dad99c8b25300f4e666f60916989ca13_900.png 1920w, https:\/\/img.staticdj.com\/dad99c8b25300f4e666f60916989ca13_900.png 2056w, https:\/\/img.staticdj.com\/dad99c8b25300f4e666f60916989ca13_900.png 2560w, https:\/\/img.staticdj.com\/dad99c8b25300f4e666f60916989ca13_900.png 2732w, https:\/\/img.staticdj.com\/dad99c8b25300f4e666f60916989ca13_900.png 2880w, https:\/\/img.staticdj.com\/dad99c8b25300f4e666f60916989ca13_900.png 3072w, https:\/\/img.staticdj.com\/dad99c8b25300f4e666f60916989ca13_900.png 3200w, https:\/\/img.staticdj.com\/dad99c8b25300f4e666f60916989ca13_900.png 3840w\" sizes=\"580px\" data-srcset=\"https:\/\/img.staticdj.com\/dad99c8b25300f4e666f60916989ca13_900.png 48w, https:\/\/img.staticdj.com\/dad99c8b25300f4e666f60916989ca13_900.png 180w, https:\/\/img.staticdj.com\/dad99c8b25300f4e666f60916989ca13_900.png 540w, https:\/\/img.staticdj.com\/dad99c8b25300f4e666f60916989ca13_900.png 720w, https:\/\/img.staticdj.com\/dad99c8b25300f4e666f60916989ca13_900.png 900w, https:\/\/img.staticdj.com\/dad99c8b25300f4e666f60916989ca13_900.png 1024w, https:\/\/img.staticdj.com\/dad99c8b25300f4e666f60916989ca13_900.png 1280w, https:\/\/img.staticdj.com\/dad99c8b25300f4e666f60916989ca13_900.png 1366w, https:\/\/img.staticdj.com\/dad99c8b25300f4e666f60916989ca13_900.png 1440w, https:\/\/img.staticdj.com\/dad99c8b25300f4e666f60916989ca13_900.png 1536w, https:\/\/img.staticdj.com\/dad99c8b25300f4e666f60916989ca13_900.png 1600w, https:\/\/img.staticdj.com\/dad99c8b25300f4e666f60916989ca13_900.png 1920w, https:\/\/img.staticdj.com\/dad99c8b25300f4e666f60916989ca13_900.png 2056w, https:\/\/img.staticdj.com\/dad99c8b25300f4e666f60916989ca13_900.png 2560w, https:\/\/img.staticdj.com\/dad99c8b25300f4e666f60916989ca13_900.png 2732w, https:\/\/img.staticdj.com\/dad99c8b25300f4e666f60916989ca13_900.png 2880w, https:\/\/img.staticdj.com\/dad99c8b25300f4e666f60916989ca13_900.png 3072w, https:\/\/img.staticdj.com\/dad99c8b25300f4e666f60916989ca13_900.png 3200w, https:\/\/img.staticdj.com\/dad99c8b25300f4e666f60916989ca13_900.png 3840w\" width=\"505\" height=\"378\" alt=\"\" data-sizes=\"auto\" class=\"sep-lazyload lazyautosizes lazyloaded\" style=\"display: block; margin-left: auto; margin-right: auto;\"\u003e\u003c\/p\u003e\n\u003cp data-mce-fragment=\"1\"\u003e\u003cspan style=\"color: #2e64a0;\"\u003e\u003cstrong\u003eFEATURES\u003c\/strong\u003e\u003c\/span\u003e\u003c\/p\u003e\n\u003cul\u003e\n\u003cli\u003e\u003cem\u003e\u003cstrong\u003eWe gave a new attitude to old pistons, and we found great joy in creating piston skulls and the joy they bring to others.\u003c\/strong\u003e\u003c\/em\u003e\u003c\/li\u003e\n\u003c\/ul\u003e\n\u003cp\u003e\u003cstrong\u003e\u003cimg srcset=\"https:\/\/img.staticdj.com\/2d61a92d85c69b4d220eed4af4dccb79_900.png 48w, https:\/\/img.staticdj.com\/2d61a92d85c69b4d220eed4af4dccb79_900.png 180w, https:\/\/img.staticdj.com\/2d61a92d85c69b4d220eed4af4dccb79_900.png 540w, https:\/\/img.staticdj.com\/2d61a92d85c69b4d220eed4af4dccb79_900.png 720w, https:\/\/img.staticdj.com\/2d61a92d85c69b4d220eed4af4dccb79_900.png 900w, https:\/\/img.staticdj.com\/2d61a92d85c69b4d220eed4af4dccb79_900.png 1024w, https:\/\/img.staticdj.com\/2d61a92d85c69b4d220eed4af4dccb79_900.png 1280w, https:\/\/img.staticdj.com\/2d61a92d85c69b4d220eed4af4dccb79_900.png 1366w, https:\/\/img.staticdj.com\/2d61a92d85c69b4d220eed4af4dccb79_900.png 1440w, https:\/\/img.staticdj.com\/2d61a92d85c69b4d220eed4af4dccb79_900.png 1536w, https:\/\/img.staticdj.com\/2d61a92d85c69b4d220eed4af4dccb79_900.png 1600w, https:\/\/img.staticdj.com\/2d61a92d85c69b4d220eed4af4dccb79_900.png 1920w, https:\/\/img.staticdj.com\/2d61a92d85c69b4d220eed4af4dccb79_900.png 2056w, https:\/\/img.staticdj.com\/2d61a92d85c69b4d220eed4af4dccb79_900.png 2560w, https:\/\/img.staticdj.com\/2d61a92d85c69b4d220eed4af4dccb79_900.png 2732w, https:\/\/img.staticdj.com\/2d61a92d85c69b4d220eed4af4dccb79_900.png 2880w, https:\/\/img.staticdj.com\/2d61a92d85c69b4d220eed4af4dccb79_900.png 3072w, https:\/\/img.staticdj.com\/2d61a92d85c69b4d220eed4af4dccb79_900.png 3200w, https:\/\/img.staticdj.com\/2d61a92d85c69b4d220eed4af4dccb79_900.png 3840w\" sizes=\"580px\" data-srcset=\"https:\/\/img.staticdj.com\/2d61a92d85c69b4d220eed4af4dccb79_900.png 48w, https:\/\/img.staticdj.com\/2d61a92d85c69b4d220eed4af4dccb79_900.png 180w, https:\/\/img.staticdj.com\/2d61a92d85c69b4d220eed4af4dccb79_900.png 540w, https:\/\/img.staticdj.com\/2d61a92d85c69b4d220eed4af4dccb79_900.png 720w, https:\/\/img.staticdj.com\/2d61a92d85c69b4d220eed4af4dccb79_900.png 900w, https:\/\/img.staticdj.com\/2d61a92d85c69b4d220eed4af4dccb79_900.png 1024w, https:\/\/img.staticdj.com\/2d61a92d85c69b4d220eed4af4dccb79_900.png 1280w, https:\/\/img.staticdj.com\/2d61a92d85c69b4d220eed4af4dccb79_900.png 1366w, https:\/\/img.staticdj.com\/2d61a92d85c69b4d220eed4af4dccb79_900.png 1440w, https:\/\/img.staticdj.com\/2d61a92d85c69b4d220eed4af4dccb79_900.png 1536w, https:\/\/img.staticdj.com\/2d61a92d85c69b4d220eed4af4dccb79_900.png 1600w, https:\/\/img.staticdj.com\/2d61a92d85c69b4d220eed4af4dccb79_900.png 1920w, https:\/\/img.staticdj.com\/2d61a92d85c69b4d220eed4af4dccb79_900.png 2056w, https:\/\/img.staticdj.com\/2d61a92d85c69b4d220eed4af4dccb79_900.png 2560w, https:\/\/img.staticdj.com\/2d61a92d85c69b4d220eed4af4dccb79_900.png 2732w, https:\/\/img.staticdj.com\/2d61a92d85c69b4d220eed4af4dccb79_900.png 2880w, https:\/\/img.staticdj.com\/2d61a92d85c69b4d220eed4af4dccb79_900.png 3072w, https:\/\/img.staticdj.com\/2d61a92d85c69b4d220eed4af4dccb79_900.png 3200w, https:\/\/img.staticdj.com\/2d61a92d85c69b4d220eed4af4dccb79_900.png 3840w\" width=\"442\" height=\"442\" alt=\"\" data-sizes=\"auto\" class=\"sep-lazyload lazyautosizes lazyloaded\" style=\"display: block; margin-left: auto; margin-right: auto;\"\u003e\u003c\/strong\u003e\u003c\/p\u003e\n\u003cul\u003e\n\u003cli\u003eHandcrafted piston skull sculptures,\u003cspan\u003e \u003c\/span\u003e\u003cem\u003e\u003cstrong\u003eeach one unique. Would make a perfect keepsake and collector's item.\u003c\/strong\u003e\u003c\/em\u003e\n\u003c\/li\u003e\n\u003c\/ul\u003e\n\u003cp\u003e\u003cstrong\u003e\u003cimg srcset=\"https:\/\/img.staticdj.com\/c84dec43c08103092c402e88b4dea227_900.png 48w, https:\/\/img.staticdj.com\/c84dec43c08103092c402e88b4dea227_900.png 180w, https:\/\/img.staticdj.com\/c84dec43c08103092c402e88b4dea227_900.png 540w, https:\/\/img.staticdj.com\/c84dec43c08103092c402e88b4dea227_900.png 720w, https:\/\/img.staticdj.com\/c84dec43c08103092c402e88b4dea227_900.png 900w, https:\/\/img.staticdj.com\/c84dec43c08103092c402e88b4dea227_900.png 1024w, https:\/\/img.staticdj.com\/c84dec43c08103092c402e88b4dea227_900.png 1280w, https:\/\/img.staticdj.com\/c84dec43c08103092c402e88b4dea227_900.png 1366w, https:\/\/img.staticdj.com\/c84dec43c08103092c402e88b4dea227_900.png 1440w, https:\/\/img.staticdj.com\/c84dec43c08103092c402e88b4dea227_900.png 1536w, https:\/\/img.staticdj.com\/c84dec43c08103092c402e88b4dea227_900.png 1600w, https:\/\/img.staticdj.com\/c84dec43c08103092c402e88b4dea227_900.png 1920w, https:\/\/img.staticdj.com\/c84dec43c08103092c402e88b4dea227_900.png 2056w, https:\/\/img.staticdj.com\/c84dec43c08103092c402e88b4dea227_900.png 2560w, https:\/\/img.staticdj.com\/c84dec43c08103092c402e88b4dea227_900.png 2732w, https:\/\/img.staticdj.com\/c84dec43c08103092c402e88b4dea227_900.png 2880w, https:\/\/img.staticdj.com\/c84dec43c08103092c402e88b4dea227_900.png 3072w, https:\/\/img.staticdj.com\/c84dec43c08103092c402e88b4dea227_900.png 3200w, https:\/\/img.staticdj.com\/c84dec43c08103092c402e88b4dea227_900.png 3840w\" sizes=\"580px\" data-srcset=\"https:\/\/img.staticdj.com\/c84dec43c08103092c402e88b4dea227_900.png 48w, https:\/\/img.staticdj.com\/c84dec43c08103092c402e88b4dea227_900.png 180w, https:\/\/img.staticdj.com\/c84dec43c08103092c402e88b4dea227_900.png 540w, https:\/\/img.staticdj.com\/c84dec43c08103092c402e88b4dea227_900.png 720w, https:\/\/img.staticdj.com\/c84dec43c08103092c402e88b4dea227_900.png 900w, https:\/\/img.staticdj.com\/c84dec43c08103092c402e88b4dea227_900.png 1024w, https:\/\/img.staticdj.com\/c84dec43c08103092c402e88b4dea227_900.png 1280w, https:\/\/img.staticdj.com\/c84dec43c08103092c402e88b4dea227_900.png 1366w, https:\/\/img.staticdj.com\/c84dec43c08103092c402e88b4dea227_900.png 1440w, https:\/\/img.staticdj.com\/c84dec43c08103092c402e88b4dea227_900.png 1536w, https:\/\/img.staticdj.com\/c84dec43c08103092c402e88b4dea227_900.png 1600w, https:\/\/img.staticdj.com\/c84dec43c08103092c402e88b4dea227_900.png 1920w, https:\/\/img.staticdj.com\/c84dec43c08103092c402e88b4dea227_900.png 2056w, https:\/\/img.staticdj.com\/c84dec43c08103092c402e88b4dea227_900.png 2560w, https:\/\/img.staticdj.com\/c84dec43c08103092c402e88b4dea227_900.png 2732w, https:\/\/img.staticdj.com\/c84dec43c08103092c402e88b4dea227_900.png 2880w, https:\/\/img.staticdj.com\/c84dec43c08103092c402e88b4dea227_900.png 3072w, https:\/\/img.staticdj.com\/c84dec43c08103092c402e88b4dea227_900.png 3200w, https:\/\/img.staticdj.com\/c84dec43c08103092c402e88b4dea227_900.png 3840w\" width=\"487\" height=\"487\" alt=\"\" data-sizes=\"auto\" class=\"sep-lazyload lazyautosizes lazyloaded\" style=\"display: block; margin-left: auto; margin-right: auto;\"\u003e\u003c\/strong\u003e\u003c\/p\u003e\n\u003cul\u003e\n\u003cli\u003e\u003cem\u003e\u003cstrong\u003e🤩This is such a perfect gift for everyone who loves biker culture!\u003c\/strong\u003e\u003c\/em\u003e\u003c\/li\u003e\n\u003c\/ul\u003e\n\u003cp\u003e\u003cstrong\u003e\u003cimg alt=\"\" src=\"https:\/\/cdn.shopify.com\/s\/files\/1\/0356\/3048\/1544\/files\/fm2_1dab1ee5-2d44-4116-91a1-d01286d2fe8e_480x480.jpg?v=1676007559\" style=\"display: block; margin-left: auto; margin-right: auto;\"\u003e\u003c\/strong\u003e\u003c\/p\u003e\n\u003cp data-mce-fragment=\"1\"\u003e\u003cspan style=\"color: #2e64a1;\"\u003e\u003cstrong\u003eSPECIFICATIONS\u003c\/strong\u003e\u003c\/span\u003e\u003c\/p\u003e\n\u003cul data-mce-fragment=\"1\"\u003e\n\u003cli data-mce-fragment=\"1\"\u003e\n\u003cp data-mce-fragment=\"1\"\u003e\u003cstrong data-mce-fragment=\"1\"\u003eItem Type:\u003c\/strong\u003e\u003cspan data-mce-fragment=\"1\"\u003e Decoration\u003c\/span\u003e\u003c\/p\u003e\n\u003c\/li\u003e\n\u003cli data-mce-fragment=\"1\"\u003e\n\u003cp data-mce-fragment=\"1\"\u003e\u003cstrong data-mce-fragment=\"1\"\u003eMaterial:\u003c\/strong\u003e\u003cspan data-mce-fragment=\"1\"\u003e Resin\u003c\/span\u003e\u003cbr data-mce-fragment=\"1\"\u003e\u003c\/p\u003e\n\u003c\/li\u003e\n\u003cli data-mce-fragment=\"1\"\u003e\n\u003cp\u003e\u003cstrong\u003eWeight:\u003c\/strong\u003e 400g\u003c\/p\u003e\n\u003c\/li\u003e\n\u003cli data-mce-fragment=\"1\"\u003e\n\u003cp data-mce-fragment=\"1\"\u003e\u003cstrong data-mce-fragment=\"1\"\u003eColor:\u003c\/strong\u003e\u003cspan data-mce-fragment=\"1\"\u003e \u003cspan class=\"Polaris-Badge_2qgie\" data-mce-fragment=\"1\"\u003e\u003cspan class=\"Polaris-Text--root_yj4ah Polaris-Text--bodySm_nvqxj Polaris-Text--regular_pjgr0\" data-mce-fragment=\"1\"\u003eAs Shown\u003c\/span\u003e\u003c\/span\u003e\u003c\/span\u003e\u003c\/p\u003e\n\u003c\/li\u003e\n\u003cli data-mce-fragment=\"1\"\u003e\n\u003cstrong data-mce-fragment=\"1\"\u003eSize:\u003c\/strong\u003e\u003cspan data-mce-fragment=\"1\"\u003e \u003cimg src=\"https:\/\/cdn.shopify.com\/s\/files\/1\/0356\/3048\/1544\/files\/468ef44610c31b5b50b747b4f9f5ee49_31a016ff-4319-46a3-b28c-bfe5cfdf8b81_480x480.jpg?v=1676007347\" alt=\"\" data-mce-fragment=\"1\" data-mce-src=\"https:\/\/cdn.shopify.com\/s\/files\/1\/0356\/3048\/1544\/files\/468ef44610c31b5b50b747b4f9f5ee49_31a016ff-4319-46a3-b28c-bfe5cfdf8b81_480x480.jpg?v=1676007347\"\u003e\u003c\/span\u003e\n\u003c\/li\u003e\n\u003c\/ul\u003e\n\u003cp data-mce-fragment=\"1\"\u003e\u003cspan style=\"color: #2e64a1;\"\u003e\u003cstrong\u003ePACKAGE\u003c\/strong\u003e\u003c\/span\u003e\u003c\/p\u003e\n\u003cul data-mce-fragment=\"1\"\u003e\n\u003cli data-mce-fragment=\"1\"\u003e1 * Piston Skull Face Sculpture\u003c\/li\u003e\n\u003c\/ul\u003e\n\u003cp data-mce-fragment=\"1\"\u003e\u003cspan style=\"color: #2e64a0;\"\u003e\u003cstrong\u003eNOTE\u003c\/strong\u003e\u003c\/span\u003e\u003c\/p\u003e\n\u003cul data-mce-fragment=\"1\"\u003e\n\u003cli data-mce-fragment=\"1\"\u003e\n\u003cp data-mce-fragment=\"1\"\u003e\u003cspan data-mce-fragment=\"1\"\u003ePlease allow slight measurement deviations due to manual measurement.\u003c\/span\u003e\u003c\/p\u003e\n\u003c\/li\u003e\n\u003cli data-mce-fragment=\"1\"\u003e\n\u003cp data-mce-fragment=\"1\"\u003e\u003cspan data-mce-fragment=\"1\"\u003eDue to the different monitor and light effect, the actual color of the item might be slightly different from the color showed in the pictures.\u003c\/span\u003e\u003c\/p\u003e\n\u003c\/li\u003e\n\u003c\/ul\u003e","published_at":"2023-02-14T20:18:33-10:00","created_at":"2023-02-14T20:18:49-10:00","vendor":"flownwing","type":"","tags":["decoration"],"price":2999,"price_min":2999,"price_max":2999,"available":true,"price_varies":false,"compare_at_price":5998,"compare_at_price_min":5998,"compare_at_price_max":5998,"compare_at_price_varies":false,"variants":[{"id":43231468028064,"title":"Default Title","option1":"Default Title","option2":null,"option3":null,"sku":"CP44892-E001","requires_shipping":true,"taxable":false,"featured_image":null,"available":true,"name":"Piston Skull Face Sculpture","public_title":null,"options":["Default Title"],"price":2999,"weight":0,"compare_at_price":5998,"inventory_management":null,"barcode":"","requires_selling_plan":false,"selling_plan_allocations":[],"quantity_rule":{"min":1,"max":null,"increment":1}}],"images":["\/\/www.flownwing.com\/cdn\/shop\/products\/1_1_62e63ea1-acc6-4359-a9b0-c0e860ae50c4.jpg?v=1676441929","\/\/www.flownwing.com\/cdn\/shop\/products\/1_2_b6f47daa-39fa-4691-b8ef-9851e227fb8c.jpg?v=1676441929","\/\/www.flownwing.com\/cdn\/shop\/products\/1_3_9d14a376-533b-443e-b968-31bc3a515ea5.jpg?v=1676441929","\/\/www.flownwing.com\/cdn\/shop\/products\/1_4_c5ae520f-a21d-4bdb-9b7b-f690f3d35588.jpg?v=1676441929","\/\/www.flownwing.com\/cdn\/shop\/products\/1_5_ec423f82-acc2-44de-a756-d6cb863d5717.jpg?v=1676441929","\/\/www.flownwing.com\/cdn\/shop\/products\/1_6_27becf27-97c2-4d2c-9206-4d79cf6342ac.jpg?v=1676441929","\/\/www.flownwing.com\/cdn\/shop\/products\/1_7_7ff81a25-6923-4b57-94f7-273fa69abd10.jpg?v=1676441929","\/\/www.flownwing.com\/cdn\/shop\/products\/1_8_fe35cec3-70c8-4827-b93d-42e849623191.jpg?v=1676441929","\/\/www.flownwing.com\/cdn\/shop\/products\/fm_34938f11-c261-459a-aa22-47703280b375.jpg?v=1676441929","\/\/www.flownwing.com\/cdn\/shop\/products\/fm2_44ab5083-a407-462e-bd34-87c80cbf9f80.jpg?v=1676441929","\/\/www.flownwing.com\/cdn\/shop\/products\/b8421501ceee8ed8defa49d79fc692df_645f0ad5-9225-4af9-80d6-b48bad35fc12.jpg?v=1676441929","\/\/www.flownwing.com\/cdn\/shop\/products\/468ef44610c31b5b50b747b4f9f5ee49_c63db8ce-dd80-44b8-8e98-a91b583d0042.jpg?v=1676441929"],"featured_image":"\/\/www.flownwing.com\/cdn\/shop\/products\/1_1_62e63ea1-acc6-4359-a9b0-c0e860ae50c4.jpg?v=1676441929","options":["Title"],"media":[{"alt":null,"id":26418179408032,"position":1,"preview_image":{"aspect_ratio":1.0,"height":800,"width":800,"src":"\/\/www.flownwing.com\/cdn\/shop\/products\/1_1_62e63ea1-acc6-4359-a9b0-c0e860ae50c4.jpg?v=1676441929"},"aspect_ratio":1.0,"height":800,"media_type":"image","src":"\/\/www.flownwing.com\/cdn\/shop\/products\/1_1_62e63ea1-acc6-4359-a9b0-c0e860ae50c4.jpg?v=1676441929","width":800},{"alt":null,"id":26418179440800,"position":2,"preview_image":{"aspect_ratio":1.0,"height":800,"width":800,"src":"\/\/www.flownwing.com\/cdn\/shop\/products\/1_2_b6f47daa-39fa-4691-b8ef-9851e227fb8c.jpg?v=1676441929"},"aspect_ratio":1.0,"height":800,"media_type":"image","src":"\/\/www.flownwing.com\/cdn\/shop\/products\/1_2_b6f47daa-39fa-4691-b8ef-9851e227fb8c.jpg?v=1676441929","width":800},{"alt":null,"id":26418179473568,"position":3,"preview_image":{"aspect_ratio":1.0,"height":800,"width":800,"src":"\/\/www.flownwing.com\/cdn\/shop\/products\/1_3_9d14a376-533b-443e-b968-31bc3a515ea5.jpg?v=1676441929"},"aspect_ratio":1.0,"height":800,"media_type":"image","src":"\/\/www.flownwing.com\/cdn\/shop\/products\/1_3_9d14a376-533b-443e-b968-31bc3a515ea5.jpg?v=1676441929","width":800},{"alt":null,"id":26418179506336,"position":4,"preview_image":{"aspect_ratio":1.0,"height":800,"width":800,"src":"\/\/www.flownwing.com\/cdn\/shop\/products\/1_4_c5ae520f-a21d-4bdb-9b7b-f690f3d35588.jpg?v=1676441929"},"aspect_ratio":1.0,"height":800,"media_type":"image","src":"\/\/www.flownwing.com\/cdn\/shop\/products\/1_4_c5ae520f-a21d-4bdb-9b7b-f690f3d35588.jpg?v=1676441929","width":800},{"alt":null,"id":26418179539104,"position":5,"preview_image":{"aspect_ratio":1.0,"height":800,"width":800,"src":"\/\/www.flownwing.com\/cdn\/shop\/products\/1_5_ec423f82-acc2-44de-a756-d6cb863d5717.jpg?v=1676441929"},"aspect_ratio":1.0,"height":800,"media_type":"image","src":"\/\/www.flownwing.com\/cdn\/shop\/products\/1_5_ec423f82-acc2-44de-a756-d6cb863d5717.jpg?v=1676441929","width":800},{"alt":null,"id":26418179571872,"position":6,"preview_image":{"aspect_ratio":1.0,"height":800,"width":800,"src":"\/\/www.flownwing.com\/cdn\/shop\/products\/1_6_27becf27-97c2-4d2c-9206-4d79cf6342ac.jpg?v=1676441929"},"aspect_ratio":1.0,"height":800,"media_type":"image","src":"\/\/www.flownwing.com\/cdn\/shop\/products\/1_6_27becf27-97c2-4d2c-9206-4d79cf6342ac.jpg?v=1676441929","width":800},{"alt":null,"id":26418179604640,"position":7,"preview_image":{"aspect_ratio":1.0,"height":800,"width":800,"src":"\/\/www.flownwing.com\/cdn\/shop\/products\/1_7_7ff81a25-6923-4b57-94f7-273fa69abd10.jpg?v=1676441929"},"aspect_ratio":1.0,"height":800,"media_type":"image","src":"\/\/www.flownwing.com\/cdn\/shop\/products\/1_7_7ff81a25-6923-4b57-94f7-273fa69abd10.jpg?v=1676441929","width":800},{"alt":null,"id":26418179637408,"position":8,"preview_image":{"aspect_ratio":1.0,"height":800,"width":800,"src":"\/\/www.flownwing.com\/cdn\/shop\/products\/1_8_fe35cec3-70c8-4827-b93d-42e849623191.jpg?v=1676441929"},"aspect_ratio":1.0,"height":800,"media_type":"image","src":"\/\/www.flownwing.com\/cdn\/shop\/products\/1_8_fe35cec3-70c8-4827-b93d-42e849623191.jpg?v=1676441929","width":800},{"alt":null,"id":26418179670176,"position":9,"preview_image":{"aspect_ratio":1.0,"height":800,"width":800,"src":"\/\/www.flownwing.com\/cdn\/shop\/products\/fm_34938f11-c261-459a-aa22-47703280b375.jpg?v=1676441929"},"aspect_ratio":1.0,"height":800,"media_type":"image","src":"\/\/www.flownwing.com\/cdn\/shop\/products\/fm_34938f11-c261-459a-aa22-47703280b375.jpg?v=1676441929","width":800},{"alt":null,"id":26418179702944,"position":10,"preview_image":{"aspect_ratio":1.0,"height":800,"width":800,"src":"\/\/www.flownwing.com\/cdn\/shop\/products\/fm2_44ab5083-a407-462e-bd34-87c80cbf9f80.jpg?v=1676441929"},"aspect_ratio":1.0,"height":800,"media_type":"image","src":"\/\/www.flownwing.com\/cdn\/shop\/products\/fm2_44ab5083-a407-462e-bd34-87c80cbf9f80.jpg?v=1676441929","width":800},{"alt":null,"id":26418179735712,"position":11,"preview_image":{"aspect_ratio":1.0,"height":800,"width":800,"src":"\/\/www.flownwing.com\/cdn\/shop\/products\/b8421501ceee8ed8defa49d79fc692df_645f0ad5-9225-4af9-80d6-b48bad35fc12.jpg?v=1676441929"},"aspect_ratio":1.0,"height":800,"media_type":"image","src":"\/\/www.flownwing.com\/cdn\/shop\/products\/b8421501ceee8ed8defa49d79fc692df_645f0ad5-9225-4af9-80d6-b48bad35fc12.jpg?v=1676441929","width":800},{"alt":null,"id":26418179768480,"position":12,"preview_image":{"aspect_ratio":1.0,"height":800,"width":800,"src":"\/\/www.flownwing.com\/cdn\/shop\/products\/468ef44610c31b5b50b747b4f9f5ee49_c63db8ce-dd80-44b8-8e98-a91b583d0042.jpg?v=1676441929"},"aspect_ratio":1.0,"height":800,"media_type":"image","src":"\/\/www.flownwing.com\/cdn\/shop\/products\/468ef44610c31b5b50b747b4f9f5ee49_c63db8ce-dd80-44b8-8e98-a91b583d0042.jpg?v=1676441929","width":800}],"requires_selling_plan":false,"selling_plan_groups":[],"content":"\u003cp style=\"text-align: center;\"\u003e\u003cem\u003e\u003cstrong\u003e🔧\u003cspan style=\"color: #c26d60;\"\u003e In the world of engine rebuilding, many engines and parts become forgotten junk.\u003c\/span\u003e\u003c\/strong\u003e\u003cspan\u003e \u003c\/span\u003e\u003c\/em\u003eHowever, we take old engine parts as inspiration and create something completely new!\u003c\/p\u003e\n\u003cp\u003e\u003cimg srcset=\"https:\/\/img.staticdj.com\/dad99c8b25300f4e666f60916989ca13_900.png 48w, https:\/\/img.staticdj.com\/dad99c8b25300f4e666f60916989ca13_900.png 180w, https:\/\/img.staticdj.com\/dad99c8b25300f4e666f60916989ca13_900.png 540w, https:\/\/img.staticdj.com\/dad99c8b25300f4e666f60916989ca13_900.png 720w, https:\/\/img.staticdj.com\/dad99c8b25300f4e666f60916989ca13_900.png 900w, https:\/\/img.staticdj.com\/dad99c8b25300f4e666f60916989ca13_900.png 1024w, https:\/\/img.staticdj.com\/dad99c8b25300f4e666f60916989ca13_900.png 1280w, https:\/\/img.staticdj.com\/dad99c8b25300f4e666f60916989ca13_900.png 1366w, https:\/\/img.staticdj.com\/dad99c8b25300f4e666f60916989ca13_900.png 1440w, https:\/\/img.staticdj.com\/dad99c8b25300f4e666f60916989ca13_900.png 1536w, https:\/\/img.staticdj.com\/dad99c8b25300f4e666f60916989ca13_900.png 1600w, https:\/\/img.staticdj.com\/dad99c8b25300f4e666f60916989ca13_900.png 1920w, https:\/\/img.staticdj.com\/dad99c8b25300f4e666f60916989ca13_900.png 2056w, https:\/\/img.staticdj.com\/dad99c8b25300f4e666f60916989ca13_900.png 2560w, https:\/\/img.staticdj.com\/dad99c8b25300f4e666f60916989ca13_900.png 2732w, https:\/\/img.staticdj.com\/dad99c8b25300f4e666f60916989ca13_900.png 2880w, https:\/\/img.staticdj.com\/dad99c8b25300f4e666f60916989ca13_900.png 3072w, https:\/\/img.staticdj.com\/dad99c8b25300f4e666f60916989ca13_900.png 3200w, https:\/\/img.staticdj.com\/dad99c8b25300f4e666f60916989ca13_900.png 3840w\" sizes=\"580px\" data-srcset=\"https:\/\/img.staticdj.com\/dad99c8b25300f4e666f60916989ca13_900.png 48w, https:\/\/img.staticdj.com\/dad99c8b25300f4e666f60916989ca13_900.png 180w, https:\/\/img.staticdj.com\/dad99c8b25300f4e666f60916989ca13_900.png 540w, https:\/\/img.staticdj.com\/dad99c8b25300f4e666f60916989ca13_900.png 720w, https:\/\/img.staticdj.com\/dad99c8b25300f4e666f60916989ca13_900.png 900w, https:\/\/img.staticdj.com\/dad99c8b25300f4e666f60916989ca13_900.png 1024w, https:\/\/img.staticdj.com\/dad99c8b25300f4e666f60916989ca13_900.png 1280w, https:\/\/img.staticdj.com\/dad99c8b25300f4e666f60916989ca13_900.png 1366w, https:\/\/img.staticdj.com\/dad99c8b25300f4e666f60916989ca13_900.png 1440w, https:\/\/img.staticdj.com\/dad99c8b25300f4e666f60916989ca13_900.png 1536w, https:\/\/img.staticdj.com\/dad99c8b25300f4e666f60916989ca13_900.png 1600w, https:\/\/img.staticdj.com\/dad99c8b25300f4e666f60916989ca13_900.png 1920w, https:\/\/img.staticdj.com\/dad99c8b25300f4e666f60916989ca13_900.png 2056w, https:\/\/img.staticdj.com\/dad99c8b25300f4e666f60916989ca13_900.png 2560w, https:\/\/img.staticdj.com\/dad99c8b25300f4e666f60916989ca13_900.png 2732w, https:\/\/img.staticdj.com\/dad99c8b25300f4e666f60916989ca13_900.png 2880w, https:\/\/img.staticdj.com\/dad99c8b25300f4e666f60916989ca13_900.png 3072w, https:\/\/img.staticdj.com\/dad99c8b25300f4e666f60916989ca13_900.png 3200w, https:\/\/img.staticdj.com\/dad99c8b25300f4e666f60916989ca13_900.png 3840w\" width=\"505\" height=\"378\" alt=\"\" data-sizes=\"auto\" class=\"sep-lazyload lazyautosizes lazyloaded\" style=\"display: block; margin-left: auto; margin-right: auto;\"\u003e\u003c\/p\u003e\n\u003cp data-mce-fragment=\"1\"\u003e\u003cspan style=\"color: #2e64a0;\"\u003e\u003cstrong\u003eFEATURES\u003c\/strong\u003e\u003c\/span\u003e\u003c\/p\u003e\n\u003cul\u003e\n\u003cli\u003e\u003cem\u003e\u003cstrong\u003eWe gave a new attitude to old pistons, and we found great joy in creating piston skulls and the joy they bring to others.\u003c\/strong\u003e\u003c\/em\u003e\u003c\/li\u003e\n\u003c\/ul\u003e\n\u003cp\u003e\u003cstrong\u003e\u003cimg srcset=\"https:\/\/img.staticdj.com\/2d61a92d85c69b4d220eed4af4dccb79_900.png 48w, https:\/\/img.staticdj.com\/2d61a92d85c69b4d220eed4af4dccb79_900.png 180w, https:\/\/img.staticdj.com\/2d61a92d85c69b4d220eed4af4dccb79_900.png 540w, https:\/\/img.staticdj.com\/2d61a92d85c69b4d220eed4af4dccb79_900.png 720w, https:\/\/img.staticdj.com\/2d61a92d85c69b4d220eed4af4dccb79_900.png 900w, https:\/\/img.staticdj.com\/2d61a92d85c69b4d220eed4af4dccb79_900.png 1024w, https:\/\/img.staticdj.com\/2d61a92d85c69b4d220eed4af4dccb79_900.png 1280w, https:\/\/img.staticdj.com\/2d61a92d85c69b4d220eed4af4dccb79_900.png 1366w, https:\/\/img.staticdj.com\/2d61a92d85c69b4d220eed4af4dccb79_900.png 1440w, https:\/\/img.staticdj.com\/2d61a92d85c69b4d220eed4af4dccb79_900.png 1536w, https:\/\/img.staticdj.com\/2d61a92d85c69b4d220eed4af4dccb79_900.png 1600w, https:\/\/img.staticdj.com\/2d61a92d85c69b4d220eed4af4dccb79_900.png 1920w, https:\/\/img.staticdj.com\/2d61a92d85c69b4d220eed4af4dccb79_900.png 2056w, https:\/\/img.staticdj.com\/2d61a92d85c69b4d220eed4af4dccb79_900.png 2560w, https:\/\/img.staticdj.com\/2d61a92d85c69b4d220eed4af4dccb79_900.png 2732w, https:\/\/img.staticdj.com\/2d61a92d85c69b4d220eed4af4dccb79_900.png 2880w, https:\/\/img.staticdj.com\/2d61a92d85c69b4d220eed4af4dccb79_900.png 3072w, https:\/\/img.staticdj.com\/2d61a92d85c69b4d220eed4af4dccb79_900.png 3200w, https:\/\/img.staticdj.com\/2d61a92d85c69b4d220eed4af4dccb79_900.png 3840w\" sizes=\"580px\" data-srcset=\"https:\/\/img.staticdj.com\/2d61a92d85c69b4d220eed4af4dccb79_900.png 48w, https:\/\/img.staticdj.com\/2d61a92d85c69b4d220eed4af4dccb79_900.png 180w, https:\/\/img.staticdj.com\/2d61a92d85c69b4d220eed4af4dccb79_900.png 540w, https:\/\/img.staticdj.com\/2d61a92d85c69b4d220eed4af4dccb79_900.png 720w, https:\/\/img.staticdj.com\/2d61a92d85c69b4d220eed4af4dccb79_900.png 900w, https:\/\/img.staticdj.com\/2d61a92d85c69b4d220eed4af4dccb79_900.png 1024w, https:\/\/img.staticdj.com\/2d61a92d85c69b4d220eed4af4dccb79_900.png 1280w, https:\/\/img.staticdj.com\/2d61a92d85c69b4d220eed4af4dccb79_900.png 1366w, https:\/\/img.staticdj.com\/2d61a92d85c69b4d220eed4af4dccb79_900.png 1440w, https:\/\/img.staticdj.com\/2d61a92d85c69b4d220eed4af4dccb79_900.png 1536w, https:\/\/img.staticdj.com\/2d61a92d85c69b4d220eed4af4dccb79_900.png 1600w, https:\/\/img.staticdj.com\/2d61a92d85c69b4d220eed4af4dccb79_900.png 1920w, https:\/\/img.staticdj.com\/2d61a92d85c69b4d220eed4af4dccb79_900.png 2056w, https:\/\/img.staticdj.com\/2d61a92d85c69b4d220eed4af4dccb79_900.png 2560w, https:\/\/img.staticdj.com\/2d61a92d85c69b4d220eed4af4dccb79_900.png 2732w, https:\/\/img.staticdj.com\/2d61a92d85c69b4d220eed4af4dccb79_900.png 2880w, https:\/\/img.staticdj.com\/2d61a92d85c69b4d220eed4af4dccb79_900.png 3072w, https:\/\/img.staticdj.com\/2d61a92d85c69b4d220eed4af4dccb79_900.png 3200w, https:\/\/img.staticdj.com\/2d61a92d85c69b4d220eed4af4dccb79_900.png 3840w\" width=\"442\" height=\"442\" alt=\"\" data-sizes=\"auto\" class=\"sep-lazyload lazyautosizes lazyloaded\" style=\"display: block; margin-left: auto; margin-right: auto;\"\u003e\u003c\/strong\u003e\u003c\/p\u003e\n\u003cul\u003e\n\u003cli\u003eHandcrafted piston skull sculptures,\u003cspan\u003e \u003c\/span\u003e\u003cem\u003e\u003cstrong\u003eeach one unique. Would make a perfect keepsake and collector's item.\u003c\/strong\u003e\u003c\/em\u003e\n\u003c\/li\u003e\n\u003c\/ul\u003e\n\u003cp\u003e\u003cstrong\u003e\u003cimg srcset=\"https:\/\/img.staticdj.com\/c84dec43c08103092c402e88b4dea227_900.png 48w, https:\/\/img.staticdj.com\/c84dec43c08103092c402e88b4dea227_900.png 180w, https:\/\/img.staticdj.com\/c84dec43c08103092c402e88b4dea227_900.png 540w, https:\/\/img.staticdj.com\/c84dec43c08103092c402e88b4dea227_900.png 720w, https:\/\/img.staticdj.com\/c84dec43c08103092c402e88b4dea227_900.png 900w, https:\/\/img.staticdj.com\/c84dec43c08103092c402e88b4dea227_900.png 1024w, https:\/\/img.staticdj.com\/c84dec43c08103092c402e88b4dea227_900.png 1280w, https:\/\/img.staticdj.com\/c84dec43c08103092c402e88b4dea227_900.png 1366w, https:\/\/img.staticdj.com\/c84dec43c08103092c402e88b4dea227_900.png 1440w, https:\/\/img.staticdj.com\/c84dec43c08103092c402e88b4dea227_900.png 1536w, https:\/\/img.staticdj.com\/c84dec43c08103092c402e88b4dea227_900.png 1600w, https:\/\/img.staticdj.com\/c84dec43c08103092c402e88b4dea227_900.png 1920w, https:\/\/img.staticdj.com\/c84dec43c08103092c402e88b4dea227_900.png 2056w, https:\/\/img.staticdj.com\/c84dec43c08103092c402e88b4dea227_900.png 2560w, https:\/\/img.staticdj.com\/c84dec43c08103092c402e88b4dea227_900.png 2732w, https:\/\/img.staticdj.com\/c84dec43c08103092c402e88b4dea227_900.png 2880w, https:\/\/img.staticdj.com\/c84dec43c08103092c402e88b4dea227_900.png 3072w, https:\/\/img.staticdj.com\/c84dec43c08103092c402e88b4dea227_900.png 3200w, https:\/\/img.staticdj.com\/c84dec43c08103092c402e88b4dea227_900.png 3840w\" sizes=\"580px\" data-srcset=\"https:\/\/img.staticdj.com\/c84dec43c08103092c402e88b4dea227_900.png 48w, https:\/\/img.staticdj.com\/c84dec43c08103092c402e88b4dea227_900.png 180w, https:\/\/img.staticdj.com\/c84dec43c08103092c402e88b4dea227_900.png 540w, https:\/\/img.staticdj.com\/c84dec43c08103092c402e88b4dea227_900.png 720w, https:\/\/img.staticdj.com\/c84dec43c08103092c402e88b4dea227_900.png 900w, https:\/\/img.staticdj.com\/c84dec43c08103092c402e88b4dea227_900.png 1024w, https:\/\/img.staticdj.com\/c84dec43c08103092c402e88b4dea227_900.png 1280w, https:\/\/img.staticdj.com\/c84dec43c08103092c402e88b4dea227_900.png 1366w, https:\/\/img.staticdj.com\/c84dec43c08103092c402e88b4dea227_900.png 1440w, https:\/\/img.staticdj.com\/c84dec43c08103092c402e88b4dea227_900.png 1536w, https:\/\/img.staticdj.com\/c84dec43c08103092c402e88b4dea227_900.png 1600w, https:\/\/img.staticdj.com\/c84dec43c08103092c402e88b4dea227_900.png 1920w, https:\/\/img.staticdj.com\/c84dec43c08103092c402e88b4dea227_900.png 2056w, https:\/\/img.staticdj.com\/c84dec43c08103092c402e88b4dea227_900.png 2560w, https:\/\/img.staticdj.com\/c84dec43c08103092c402e88b4dea227_900.png 2732w, https:\/\/img.staticdj.com\/c84dec43c08103092c402e88b4dea227_900.png 2880w, https:\/\/img.staticdj.com\/c84dec43c08103092c402e88b4dea227_900.png 3072w, https:\/\/img.staticdj.com\/c84dec43c08103092c402e88b4dea227_900.png 3200w, https:\/\/img.staticdj.com\/c84dec43c08103092c402e88b4dea227_900.png 3840w\" width=\"487\" height=\"487\" alt=\"\" data-sizes=\"auto\" class=\"sep-lazyload lazyautosizes lazyloaded\" style=\"display: block; margin-left: auto; margin-right: auto;\"\u003e\u003c\/strong\u003e\u003c\/p\u003e\n\u003cul\u003e\n\u003cli\u003e\u003cem\u003e\u003cstrong\u003e🤩This is such a perfect gift for everyone who loves biker culture!\u003c\/strong\u003e\u003c\/em\u003e\u003c\/li\u003e\n\u003c\/ul\u003e\n\u003cp\u003e\u003cstrong\u003e\u003cimg alt=\"\" src=\"https:\/\/cdn.shopify.com\/s\/files\/1\/0356\/3048\/1544\/files\/fm2_1dab1ee5-2d44-4116-91a1-d01286d2fe8e_480x480.jpg?v=1676007559\" style=\"display: block; margin-left: auto; margin-right: auto;\"\u003e\u003c\/strong\u003e\u003c\/p\u003e\n\u003cp data-mce-fragment=\"1\"\u003e\u003cspan style=\"color: #2e64a1;\"\u003e\u003cstrong\u003eSPECIFICATIONS\u003c\/strong\u003e\u003c\/span\u003e\u003c\/p\u003e\n\u003cul data-mce-fragment=\"1\"\u003e\n\u003cli data-mce-fragment=\"1\"\u003e\n\u003cp data-mce-fragment=\"1\"\u003e\u003cstrong data-mce-fragment=\"1\"\u003eItem Type:\u003c\/strong\u003e\u003cspan data-mce-fragment=\"1\"\u003e Decoration\u003c\/span\u003e\u003c\/p\u003e\n\u003c\/li\u003e\n\u003cli data-mce-fragment=\"1\"\u003e\n\u003cp data-mce-fragment=\"1\"\u003e\u003cstrong data-mce-fragment=\"1\"\u003eMaterial:\u003c\/strong\u003e\u003cspan data-mce-fragment=\"1\"\u003e Resin\u003c\/span\u003e\u003cbr data-mce-fragment=\"1\"\u003e\u003c\/p\u003e\n\u003c\/li\u003e\n\u003cli data-mce-fragment=\"1\"\u003e\n\u003cp\u003e\u003cstrong\u003eWeight:\u003c\/strong\u003e 400g\u003c\/p\u003e\n\u003c\/li\u003e\n\u003cli data-mce-fragment=\"1\"\u003e\n\u003cp data-mce-fragment=\"1\"\u003e\u003cstrong data-mce-fragment=\"1\"\u003eColor:\u003c\/strong\u003e\u003cspan data-mce-fragment=\"1\"\u003e \u003cspan class=\"Polaris-Badge_2qgie\" data-mce-fragment=\"1\"\u003e\u003cspan class=\"Polaris-Text--root_yj4ah Polaris-Text--bodySm_nvqxj Polaris-Text--regular_pjgr0\" data-mce-fragment=\"1\"\u003eAs Shown\u003c\/span\u003e\u003c\/span\u003e\u003c\/span\u003e\u003c\/p\u003e\n\u003c\/li\u003e\n\u003cli data-mce-fragment=\"1\"\u003e\n\u003cstrong data-mce-fragment=\"1\"\u003eSize:\u003c\/strong\u003e\u003cspan data-mce-fragment=\"1\"\u003e \u003cimg src=\"https:\/\/cdn.shopify.com\/s\/files\/1\/0356\/3048\/1544\/files\/468ef44610c31b5b50b747b4f9f5ee49_31a016ff-4319-46a3-b28c-bfe5cfdf8b81_480x480.jpg?v=1676007347\" alt=\"\" data-mce-fragment=\"1\" data-mce-src=\"https:\/\/cdn.shopify.com\/s\/files\/1\/0356\/3048\/1544\/files\/468ef44610c31b5b50b747b4f9f5ee49_31a016ff-4319-46a3-b28c-bfe5cfdf8b81_480x480.jpg?v=1676007347\"\u003e\u003c\/span\u003e\n\u003c\/li\u003e\n\u003c\/ul\u003e\n\u003cp data-mce-fragment=\"1\"\u003e\u003cspan style=\"color: #2e64a1;\"\u003e\u003cstrong\u003ePACKAGE\u003c\/strong\u003e\u003c\/span\u003e\u003c\/p\u003e\n\u003cul data-mce-fragment=\"1\"\u003e\n\u003cli data-mce-fragment=\"1\"\u003e1 * Piston Skull Face Sculpture\u003c\/li\u003e\n\u003c\/ul\u003e\n\u003cp data-mce-fragment=\"1\"\u003e\u003cspan style=\"color: #2e64a0;\"\u003e\u003cstrong\u003eNOTE\u003c\/strong\u003e\u003c\/span\u003e\u003c\/p\u003e\n\u003cul data-mce-fragment=\"1\"\u003e\n\u003cli data-mce-fragment=\"1\"\u003e\n\u003cp data-mce-fragment=\"1\"\u003e\u003cspan data-mce-fragment=\"1\"\u003ePlease allow slight measurement deviations due to manual measurement.\u003c\/span\u003e\u003c\/p\u003e\n\u003c\/li\u003e\n\u003cli data-mce-fragment=\"1\"\u003e\n\u003cp data-mce-fragment=\"1\"\u003e\u003cspan data-mce-fragment=\"1\"\u003eDue to the different monitor and light effect, the actual color of the item might be slightly different from the color showed in the pictures.\u003c\/span\u003e\u003c\/p\u003e\n\u003c\/li\u003e\n\u003c\/ul\u003e"}
Piston Skull Face Sculpture
Adding product to your cart
🔧 In the world of engine rebuilding, many engines and parts become forgotten junk. However, we take old engine parts as inspiration and create something completely new!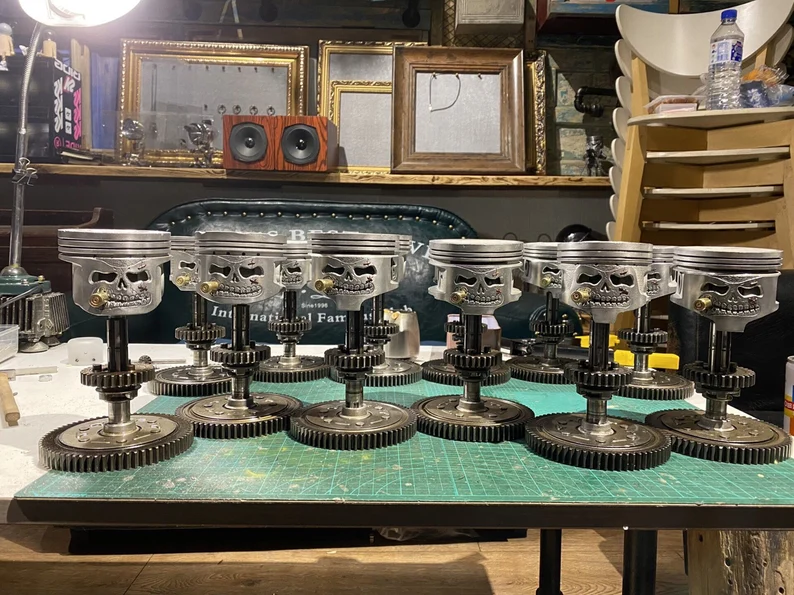 FEATURES
We gave a new attitude to old pistons, and we found great joy in creating piston skulls and the joy they bring to others.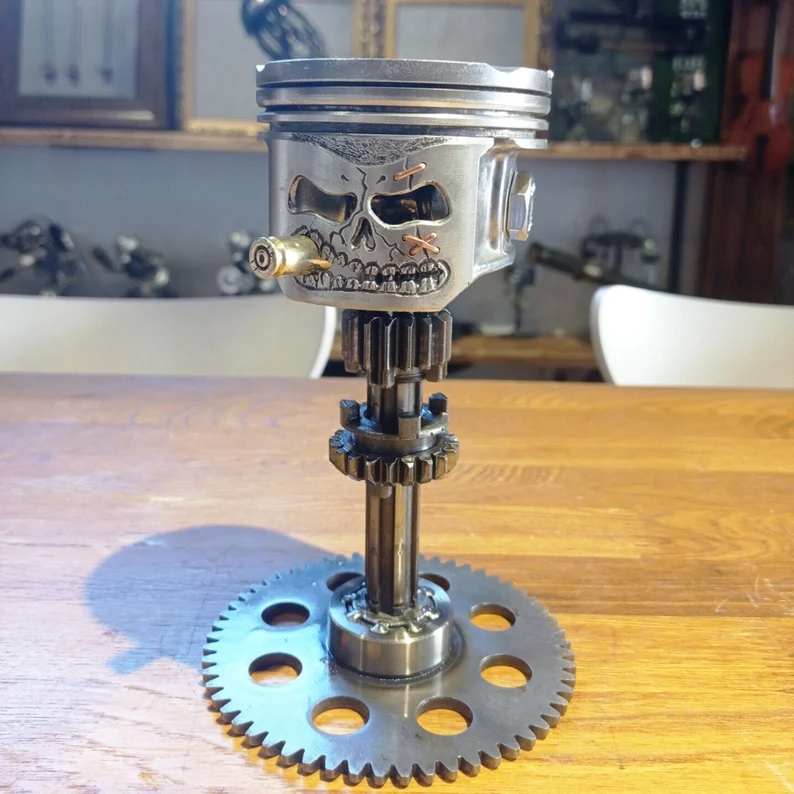 Handcrafted piston skull sculptures,

 

each one unique. Would make a perfect keepsake and collector's item.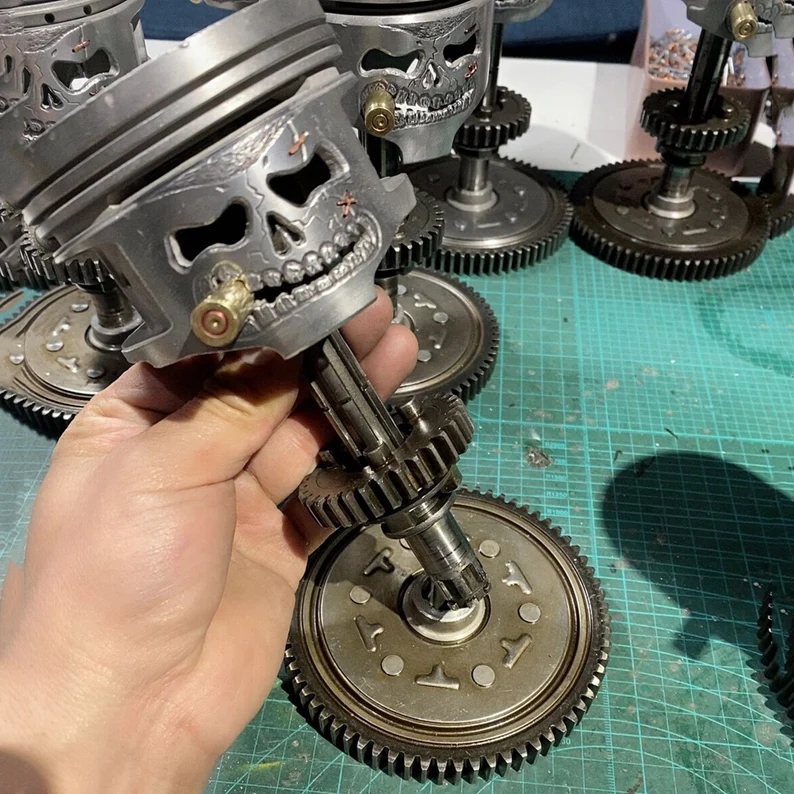 🤩This is such a perfect gift for everyone who loves biker culture!
SPECIFICATIONS
Item Type: Decoration

Material: Resin


Weight: 400g

Color: As Shown

Size: 
PACKAGE
1 * Piston Skull Face Sculpture
NOTE
Please allow slight measurement deviations due to manual measurement.

Due to the different monitor and light effect, the actual color of the item might be slightly different from the color showed in the pictures.