{"id":7615968379040,"title":"Christmas Clockwork Toy","handle":"christmas-clockwork-toy","description":"\u003cp style=\"text-align: center;\" data-mce-fragment=\"1\"\u003e\u003cspan data-mce-fragment=\"1\"\u003e\u003cstrong data-mce-fragment=\"1\"\u003e🎁\u003cspan style=\"color: #ac712d;\"\u003e The perfect little gift in a fancy Christmas stocking.\u003c\/span\u003e\u003c\/strong\u003e\u003c\/span\u003e\u003c\/p\u003e\n\u003cp data-mce-fragment=\"1\"\u003e\u003cimg src=\"https:\/\/cdn.shopifycdn.net\/s\/files\/1\/0356\/3048\/1544\/files\/04_39350ab8-3a76-4012-ab84-255a05b1998a_480x480.jpg?v=1666944116\" alt=\"\" style=\"display: block; margin-left: auto; margin-right: auto;\" data-mce-fragment=\"1\" data-mce-src=\"https:\/\/cdn.shopifycdn.net\/s\/files\/1\/0356\/3048\/1544\/files\/04_39350ab8-3a76-4012-ab84-255a05b1998a_480x480.jpg?v=1666944116\"\u003e\u003c\/p\u003e\n\u003cp data-mce-fragment=\"1\"\u003e\u003cspan style=\"color: #ff2a00;\" data-mce-fragment=\"1\"\u003e\u003cstrong data-mce-fragment=\"1\"\u003eFEATURES\u003c\/strong\u003e\u003c\/span\u003e\u003c\/p\u003e\n\u003cul\u003e\n\u003cli\u003e\u003cspan data-mce-fragment=\"1\"\u003e\u003cspan style=\"color: #b1b37e;\"\u003e\u003cstrong data-mce-fragment=\"1\"\u003eVARIETY OF PATTERNS: \u003c\/strong\u003e\u003c\/span\u003eThe assortment includes Christmas character patterns, Santa Claus, Snowman, Reindeer and more. With an internal clockwork mechanic, these springs are smart and attractive for jumping, running, bouncing, and flipping.\u003c\/span\u003e\u003c\/li\u003e\n\u003c\/ul\u003e\n\u003cdiv\u003e\u003cimg src=\"https:\/\/img-va.myshopline.com\/image\/store\/2000283284\/1649641888109\/cb6344e0d4e14c1b824e0910e2e3345e.gif?w=1280\u0026amp;h=720\u0026amp;_f=1\" alt=\"\" width=\"480\" data-src=\"https:\/\/img-va.myshopline.com\/image\/store\/2000283284\/1649641888109\/cb6344e0d4e14c1b824e0910e2e3345e.gif?w=1280\u0026amp;h=720\u0026amp;_f=1\" data-loaded=\"true\" style=\"font-size: 1.4em; display: block; margin-left: auto; margin-right: auto;\"\u003e\u003c\/div\u003e\n\u003cul\u003e\n\u003cli\u003e\u003cspan\u003e\u003cspan style=\"color: #b1b37e;\"\u003e\u003cstrong\u003eEASY TO USE:\u003c\/strong\u003e\u003c\/span\u003e These Christmas parties like small wind toys. Screw the metal spring to tighten No batteries required, fun to play with. Every mainspring toy comes with a mainspring toy.\u003c\/span\u003e\u003c\/li\u003e\n\u003c\/ul\u003e\n\u003cp\u003e\u003cspan\u003e\u003cimg data-loaded=\"true\" data-src=\"https:\/\/img-va.myshopline.com\/image\/store\/2000283284\/1649641888109\/05448771a8064e108a230cc8f4949770.jpeg?w=600\u0026amp;h=600\" height=\"480\" width=\"480\" alt=\"\" src=\"https:\/\/img-va.myshopline.com\/image\/store\/2000283284\/1649641888109\/05448771a8064e108a230cc8f4949770.jpeg?w=600\u0026amp;h=600\" style=\"display: block; margin-left: auto; margin-right: auto;\"\u003e\u003c\/span\u003e\u003c\/p\u003e\n\u003cul\u003e\n\u003cli\u003e\u003cspan\u003e\u003cspan style=\"color: #b1b37e;\"\u003e\u003cstrong\u003eBEST GIFT:\u003c\/strong\u003e \u003c\/span\u003eExquisite Christmas Stocking or Party Bag Filler, Secret Santa Claus, Gift, Party Gift Perfect Christmas Holiday Decoration for Car, Home or Office. Great Christmas gift for kids, family and friends.\u003c\/span\u003e\u003c\/li\u003e\n\u003c\/ul\u003e\n\u003cp\u003e\u003cspan\u003e\u003cimg data-loaded=\"true\" data-src=\"https:\/\/img-va.myshopline.com\/image\/store\/2000283284\/1649641888109\/c4044cda6ede45b18af6301985edf53e.jpeg?w=1500\u0026amp;h=1500\" width=\"480\" alt=\"\" src=\"https:\/\/img-va.myshopline.com\/image\/store\/2000283284\/1649641888109\/c4044cda6ede45b18af6301985edf53e.jpeg?w=1500\u0026amp;h=1500\" style=\"display: block; margin-left: auto; margin-right: auto;\"\u003e\u003c\/span\u003e\u003c\/p\u003e\n\u003cul\u003e\n\u003cli\u003e\n\u003cp data-placeholder=\"翻译\" dir=\"ltr\" id=\"tw-target-text\"\u003e\u003cspan lang=\"en\"\u003e\u003cspan style=\"color: #b1b37e;\"\u003e\u003cstrong\u003eFUN AND CUTE:\u003c\/strong\u003e A\u003c\/span\u003efter winding the spin, the toy will shake its head as it walks.\u003c\/span\u003e\u003c\/p\u003e\n\u003c\/li\u003e\n\u003c\/ul\u003e\n\u003cp data-mce-fragment=\"1\"\u003e\u003cspan style=\"color: #ff2a00;\" data-mce-fragment=\"1\"\u003e\u003cstrong data-mce-fragment=\"1\"\u003eSPECIFICATIONS\u003c\/strong\u003e\u003c\/span\u003e\u003c\/p\u003e\n\u003cul data-mce-fragment=\"1\"\u003e\n\u003cli data-mce-fragment=\"1\"\u003e\n\u003cp data-mce-fragment=\"1\"\u003e \u003cstrong data-mce-fragment=\"1\"\u003eMaterial:\u003c\/strong\u003e\u003cspan data-mce-fragment=\"1\"\u003e ABS\u003c\/span\u003e\u003c\/p\u003e\n\u003c\/li\u003e\n\u003cli data-mce-fragment=\"1\"\u003e\n\u003cp data-mce-fragment=\"1\"\u003e\u003cstrong data-mce-fragment=\"1\"\u003eWeight:\u003c\/strong\u003e\u003cspan data-mce-fragment=\"1\"\u003e 20\u003c\/span\u003eg\u003c\/p\u003e\n\u003c\/li\u003e\n\u003cli data-mce-fragment=\"1\"\u003e\n\u003cdiv class=\"TPWcv\"\u003e\n\u003cp class=\"S7cEd\"\u003e\u003cstrong\u003e\u003cspan class=\"Polaris-TextStyle--variationStrong_rpyvj\"\u003eStyle: \u003c\/span\u003e\u003c\/strong\u003e\u003cspan class=\"Polaris-Badge_2qgie\"\u003e\u003cspan\u003eSanta, \u003c\/span\u003e\u003c\/span\u003e\u003cspan class=\"Polaris-Badge_2qgie\"\u003e\u003cspan\u003eChristmas Snowman, \u003c\/span\u003e\u003c\/span\u003e\u003cspan class=\"Polaris-Badge_2qgie\"\u003e\u003cspan\u003eChristmas Elk, \u003c\/span\u003e\u003c\/span\u003e\u003cspan class=\"Polaris-Badge_2qgie\"\u003e\u003cspan\u003eClockwork Cookie Man, \u003c\/span\u003e\u003c\/span\u003e\u003cspan class=\"Polaris-Badge_2qgie\"\u003e\u003cspan\u003eChristmas Elf, \u003c\/span\u003e\u003c\/span\u003e\u003cspan class=\"Polaris-Badge_2qgie\"\u003e\u003cspan\u003eRed Hat Penguin, \u003c\/span\u003e\u003c\/span\u003e\u003cspan class=\"Polaris-Badge_2qgie\"\u003e\u003cspan\u003eBowler Penguin\u003c\/span\u003e\u003c\/span\u003e\u003c\/p\u003e\n\u003c\/div\u003e\n\u003c\/li\u003e\n\u003cli data-mce-fragment=\"1\"\u003e\n\u003cp data-mce-fragment=\"1\"\u003e\u003cstrong data-mce-fragment=\"1\"\u003eSize:\u003c\/strong\u003e\u003cspan data-mce-fragment=\"1\"\u003e \u003c\/span\u003e\u003c\/p\u003e\n\u003c\/li\u003e\n\u003c\/ul\u003e\n\u003cdiv\u003e\u003cimg src=\"https:\/\/cdn.shopifycdn.net\/s\/files\/1\/0356\/3048\/1544\/files\/2_ad74f067-9b30-44b4-85f5-96fea642ecd1_480x480.jpg?v=1666943719\" alt=\"\" style=\"display: block; margin-left: auto; margin-right: auto;\" data-mce-fragment=\"1\" data-mce-src=\"https:\/\/cdn.shopifycdn.net\/s\/files\/1\/0356\/3048\/1544\/files\/2_ad74f067-9b30-44b4-85f5-96fea642ecd1_480x480.jpg?v=1666943719\"\u003e\u003c\/div\u003e\n\u003cul data-mce-fragment=\"1\"\u003e\u003c\/ul\u003e\n\u003cul data-mce-fragment=\"1\"\u003e\u003c\/ul\u003e\n\u003cul data-mce-fragment=\"1\"\u003e\u003c\/ul\u003e\n\u003cul data-mce-fragment=\"1\"\u003e\u003c\/ul\u003e\n\u003cul data-mce-fragment=\"1\"\u003e\u003c\/ul\u003e\n\u003cp data-mce-fragment=\"1\"\u003e\u003cspan style=\"color: #ff2a00;\" data-mce-fragment=\"1\"\u003e\u003cstrong data-mce-fragment=\"1\"\u003ePACKAGE\u003c\/strong\u003e\u003c\/span\u003e\u003c\/p\u003e\n\u003cul data-mce-fragment=\"1\"\u003e\n\u003cli data-mce-fragment=\"1\"\u003e1 * Christmas Clockwork Toy\u003c\/li\u003e\n\u003c\/ul\u003e\n\u003cp data-mce-fragment=\"1\"\u003e\u003cspan style=\"color: #ff2a00;\" data-mce-fragment=\"1\"\u003e\u003cstrong data-mce-fragment=\"1\"\u003eNOTE\u003c\/strong\u003e\u003c\/span\u003e\u003c\/p\u003e\n\u003cul data-mce-fragment=\"1\"\u003e\n\u003cli data-mce-fragment=\"1\"\u003e\n\u003cp data-mce-fragment=\"1\"\u003e\u003cspan data-mce-fragment=\"1\"\u003ePlease allow slight measurement deviations due to manual measurement.\u003c\/span\u003e\u003c\/p\u003e\n\u003c\/li\u003e\n\u003cli data-mce-fragment=\"1\"\u003e\n\u003cp data-mce-fragment=\"1\"\u003e\u003cspan data-mce-fragment=\"1\"\u003eDue to the different monitor and light effect, the actual color of the item might be slightly different from the color showed in the pictures.\u003c\/span\u003e\u003c\/p\u003e\n\u003c\/li\u003e\n\u003c\/ul\u003e","published_at":"2022-11-22T20:04:38-10:00","created_at":"2022-11-22T20:04:52-10:00","vendor":"flownwing","type":"","tags":["toy"],"price":799,"price_min":799,"price_max":2999,"available":true,"price_varies":true,"compare_at_price":1599,"compare_at_price_min":1599,"compare_at_price_max":5998,"compare_at_price_varies":true,"variants":[{"id":42796440912032,"title":"Santa","option1":"Santa","option2":null,"option3":null,"sku":"TY38320-X29868","requires_shipping":true,"taxable":false,"featured_image":{"id":33433954910368,"product_id":7615968379040,"position":22,"created_at":"2022-11-22T20:05:02-10:00","updated_at":"2022-11-22T20:05:02-10:00","alt":null,"width":800,"height":800,"src":"\/\/www.flownwing.com\/cdn\/shop\/products\/0afe312200036bb4bd166b3102185ed7_66eba019-bb6e-46a9-bc57-489d06a742f5.jpg?v=1669183502","variant_ids":[42796440912032]},"available":true,"name":"Christmas Clockwork Toy - Santa","public_title":"Santa","options":["Santa"],"price":799,"weight":0,"compare_at_price":1599,"inventory_management":null,"barcode":null,"featured_media":{"alt":null,"id":25877364474016,"position":22,"preview_image":{"aspect_ratio":1.0,"height":800,"width":800,"src":"\/\/www.flownwing.com\/cdn\/shop\/products\/0afe312200036bb4bd166b3102185ed7_66eba019-bb6e-46a9-bc57-489d06a742f5.jpg?v=1669183502"}},"requires_selling_plan":false,"selling_plan_allocations":[],"quantity_rule":{"min":1,"max":null,"increment":1}},{"id":42796440944800,"title":"Christmas Snowman","option1":"Christmas Snowman","option2":null,"option3":null,"sku":"TY38320-X29869","requires_shipping":true,"taxable":false,"featured_image":{"id":33433954582688,"product_id":7615968379040,"position":19,"created_at":"2022-11-22T20:04:58-10:00","updated_at":"2022-11-22T20:04:58-10:00","alt":null,"width":800,"height":800,"src":"\/\/www.flownwing.com\/cdn\/shop\/products\/3f462ce7b86e04fd65b8d5ecd9d4be46_b5ae1269-f99d-4de5-b308-1d4e529b4d67.jpg?v=1669183498","variant_ids":[42796440944800]},"available":true,"name":"Christmas Clockwork Toy - Christmas Snowman","public_title":"Christmas Snowman","options":["Christmas Snowman"],"price":799,"weight":0,"compare_at_price":1599,"inventory_management":null,"barcode":null,"featured_media":{"alt":null,"id":25877364113568,"position":19,"preview_image":{"aspect_ratio":1.0,"height":800,"width":800,"src":"\/\/www.flownwing.com\/cdn\/shop\/products\/3f462ce7b86e04fd65b8d5ecd9d4be46_b5ae1269-f99d-4de5-b308-1d4e529b4d67.jpg?v=1669183498"}},"requires_selling_plan":false,"selling_plan_allocations":[],"quantity_rule":{"min":1,"max":null,"increment":1}},{"id":42796440977568,"title":"Christmas Elk","option1":"Christmas Elk","option2":null,"option3":null,"sku":"TY38320-X29870","requires_shipping":true,"taxable":false,"featured_image":{"id":33433955336352,"product_id":7615968379040,"position":24,"created_at":"2022-11-22T20:05:05-10:00","updated_at":"2022-11-22T20:05:05-10:00","alt":null,"width":800,"height":800,"src":"\/\/www.flownwing.com\/cdn\/shop\/products\/4a7fb92a123ca2bbc141878ae5098812_45cfd7ec-785b-4b95-b18d-fb54eff9aded.jpg?v=1669183505","variant_ids":[42796440977568]},"available":true,"name":"Christmas Clockwork Toy - Christmas Elk","public_title":"Christmas Elk","options":["Christmas Elk"],"price":799,"weight":0,"compare_at_price":1599,"inventory_management":null,"barcode":null,"featured_media":{"alt":null,"id":25877364932768,"position":24,"preview_image":{"aspect_ratio":1.0,"height":800,"width":800,"src":"\/\/www.flownwing.com\/cdn\/shop\/products\/4a7fb92a123ca2bbc141878ae5098812_45cfd7ec-785b-4b95-b18d-fb54eff9aded.jpg?v=1669183505"}},"requires_selling_plan":false,"selling_plan_allocations":[],"quantity_rule":{"min":1,"max":null,"increment":1}},{"id":42796441010336,"title":"Clockwork Cookie Man","option1":"Clockwork Cookie Man","option2":null,"option3":null,"sku":"TY38320-X29871","requires_shipping":true,"taxable":false,"featured_image":{"id":33433954713760,"product_id":7615968379040,"position":20,"created_at":"2022-11-22T20:04:59-10:00","updated_at":"2022-11-22T20:04:59-10:00","alt":null,"width":800,"height":800,"src":"\/\/www.flownwing.com\/cdn\/shop\/products\/9740dda86e8153f5f9a94948c19e0894_8efa6e3d-0ba0-4ade-b88a-7ba0d1486581.jpg?v=1669183499","variant_ids":[42796441010336]},"available":true,"name":"Christmas Clockwork Toy - Clockwork Cookie Man","public_title":"Clockwork Cookie Man","options":["Clockwork Cookie Man"],"price":799,"weight":0,"compare_at_price":1599,"inventory_management":null,"barcode":null,"featured_media":{"alt":null,"id":25877364244640,"position":20,"preview_image":{"aspect_ratio":1.0,"height":800,"width":800,"src":"\/\/www.flownwing.com\/cdn\/shop\/products\/9740dda86e8153f5f9a94948c19e0894_8efa6e3d-0ba0-4ade-b88a-7ba0d1486581.jpg?v=1669183499"}},"requires_selling_plan":false,"selling_plan_allocations":[],"quantity_rule":{"min":1,"max":null,"increment":1}},{"id":42796441043104,"title":"Christmas Elf","option1":"Christmas Elf","option2":null,"option3":null,"sku":"TY38320-X29872","requires_shipping":true,"taxable":false,"featured_image":{"id":33433955238048,"product_id":7615968379040,"position":23,"created_at":"2022-11-22T20:05:04-10:00","updated_at":"2022-11-22T20:05:04-10:00","alt":null,"width":800,"height":800,"src":"\/\/www.flownwing.com\/cdn\/shop\/products\/fac55d68d032d18e43cf2322401cd7ed_5f0d5db5-426e-4f89-a365-1445d83522fc.jpg?v=1669183504","variant_ids":[42796441043104]},"available":true,"name":"Christmas Clockwork Toy - Christmas Elf","public_title":"Christmas Elf","options":["Christmas Elf"],"price":799,"weight":0,"compare_at_price":1599,"inventory_management":null,"barcode":null,"featured_media":{"alt":null,"id":25877364801696,"position":23,"preview_image":{"aspect_ratio":1.0,"height":800,"width":800,"src":"\/\/www.flownwing.com\/cdn\/shop\/products\/fac55d68d032d18e43cf2322401cd7ed_5f0d5db5-426e-4f89-a365-1445d83522fc.jpg?v=1669183504"}},"requires_selling_plan":false,"selling_plan_allocations":[],"quantity_rule":{"min":1,"max":null,"increment":1}},{"id":42796441075872,"title":"Red Hat Penguin","option1":"Red Hat Penguin","option2":null,"option3":null,"sku":"TY38320-X29873","requires_shipping":true,"taxable":false,"featured_image":{"id":33433954255008,"product_id":7615968379040,"position":17,"created_at":"2022-11-22T20:04:55-10:00","updated_at":"2022-11-22T20:04:55-10:00","alt":null,"width":800,"height":800,"src":"\/\/www.flownwing.com\/cdn\/shop\/products\/eea0c93896fab601a240c895949dea7c_f74aca78-a46a-44ba-a779-8fdece6a88ae.jpg?v=1669183495","variant_ids":[42796441075872]},"available":true,"name":"Christmas Clockwork Toy - Red Hat Penguin","public_title":"Red Hat Penguin","options":["Red Hat Penguin"],"price":799,"weight":0,"compare_at_price":1599,"inventory_management":null,"barcode":null,"featured_media":{"alt":null,"id":25877363949728,"position":17,"preview_image":{"aspect_ratio":1.0,"height":800,"width":800,"src":"\/\/www.flownwing.com\/cdn\/shop\/products\/eea0c93896fab601a240c895949dea7c_f74aca78-a46a-44ba-a779-8fdece6a88ae.jpg?v=1669183495"}},"requires_selling_plan":false,"selling_plan_allocations":[],"quantity_rule":{"min":1,"max":null,"increment":1}},{"id":42796441108640,"title":"Bowler Penguin","option1":"Bowler Penguin","option2":null,"option3":null,"sku":"TY38320-X29874","requires_shipping":true,"taxable":false,"featured_image":{"id":33433954746528,"product_id":7615968379040,"position":21,"created_at":"2022-11-22T20:05:01-10:00","updated_at":"2022-11-22T20:05:01-10:00","alt":null,"width":800,"height":800,"src":"\/\/www.flownwing.com\/cdn\/shop\/products\/ba2664f623616dd20b15905e97eeef5c_21f7184d-9d73-4d1d-95c9-1976c971b801.jpg?v=1669183501","variant_ids":[42796441108640]},"available":true,"name":"Christmas Clockwork Toy - Bowler Penguin","public_title":"Bowler Penguin","options":["Bowler Penguin"],"price":799,"weight":0,"compare_at_price":1599,"inventory_management":null,"barcode":null,"featured_media":{"alt":null,"id":25877364310176,"position":21,"preview_image":{"aspect_ratio":1.0,"height":800,"width":800,"src":"\/\/www.flownwing.com\/cdn\/shop\/products\/ba2664f623616dd20b15905e97eeef5c_21f7184d-9d73-4d1d-95c9-1976c971b801.jpg?v=1669183501"}},"requires_selling_plan":false,"selling_plan_allocations":[],"quantity_rule":{"min":1,"max":null,"increment":1}},{"id":42796441141408,"title":"1 set (7 pieces)","option1":"1 set (7 pieces)","option2":null,"option3":null,"sku":"TY38320-Z07729","requires_shipping":true,"taxable":false,"featured_image":{"id":33433954451616,"product_id":7615968379040,"position":18,"created_at":"2022-11-22T20:04:57-10:00","updated_at":"2022-11-22T20:04:57-10:00","alt":null,"width":800,"height":800,"src":"\/\/www.flownwing.com\/cdn\/shop\/products\/08_d908daf3-5408-4467-b4a9-f4d8dd7ea21f.jpg?v=1669183497","variant_ids":[42796441141408]},"available":true,"name":"Christmas Clockwork Toy - 1 set (7 pieces)","public_title":"1 set (7 pieces)","options":["1 set (7 pieces)"],"price":2999,"weight":0,"compare_at_price":5998,"inventory_management":null,"barcode":null,"featured_media":{"alt":null,"id":25877364015264,"position":18,"preview_image":{"aspect_ratio":1.0,"height":800,"width":800,"src":"\/\/www.flownwing.com\/cdn\/shop\/products\/08_d908daf3-5408-4467-b4a9-f4d8dd7ea21f.jpg?v=1669183497"}},"requires_selling_plan":false,"selling_plan_allocations":[],"quantity_rule":{"min":1,"max":null,"increment":1}}],"images":["\/\/www.flownwing.com\/cdn\/shop\/products\/01_24715b56-a591-4c67-8744-e129227fa92c.jpg?v=1669183492","\/\/www.flownwing.com\/cdn\/shop\/products\/02_b7d36d30-48e3-4874-aca6-03fed7a9df60.jpg?v=1669183492","\/\/www.flownwing.com\/cdn\/shop\/products\/03_a58d3827-2fb3-4b2d-a912-3bfad1ed5afa.jpg?v=1669183492","\/\/www.flownwing.com\/cdn\/shop\/products\/04_3f36d773-d70e-4982-852e-6c81249ee9d2.jpg?v=1669183492","\/\/www.flownwing.com\/cdn\/shop\/products\/05_ed86c5db-909f-41e3-ba13-1f0fbd67a66c.jpg?v=1669183492","\/\/www.flownwing.com\/cdn\/shop\/products\/06_61bed6a2-f114-438e-89dc-dfbd300368a9.jpg?v=1669183492","\/\/www.flownwing.com\/cdn\/shop\/products\/07_5bef253b-88a9-4827-8618-349b7e14795c.jpg?v=1669183492","\/\/www.flownwing.com\/cdn\/shop\/products\/08_64cce912-2e7c-403f-8aea-08d7bbdc02c3.jpg?v=1669183492","\/\/www.flownwing.com\/cdn\/shop\/products\/2_8380e7d8-af9d-4a16-9e6d-aa4d98adb857.jpg?v=1669183492","\/\/www.flownwing.com\/cdn\/shop\/products\/0afe312200036bb4bd166b3102185ed7.jpg?v=1669183492","\/\/www.flownwing.com\/cdn\/shop\/products\/9740dda86e8153f5f9a94948c19e0894.jpg?v=1669183492","\/\/www.flownwing.com\/cdn\/shop\/products\/4a7fb92a123ca2bbc141878ae5098812.jpg?v=1669183492","\/\/www.flownwing.com\/cdn\/shop\/products\/eea0c93896fab601a240c895949dea7c.jpg?v=1669183492","\/\/www.flownwing.com\/cdn\/shop\/products\/3f462ce7b86e04fd65b8d5ecd9d4be46.jpg?v=1669183492","\/\/www.flownwing.com\/cdn\/shop\/products\/ba2664f623616dd20b15905e97eeef5c.jpg?v=1669183492","\/\/www.flownwing.com\/cdn\/shop\/products\/fac55d68d032d18e43cf2322401cd7ed.jpg?v=1669183492","\/\/www.flownwing.com\/cdn\/shop\/products\/eea0c93896fab601a240c895949dea7c_f74aca78-a46a-44ba-a779-8fdece6a88ae.jpg?v=1669183495","\/\/www.flownwing.com\/cdn\/shop\/products\/08_d908daf3-5408-4467-b4a9-f4d8dd7ea21f.jpg?v=1669183497","\/\/www.flownwing.com\/cdn\/shop\/products\/3f462ce7b86e04fd65b8d5ecd9d4be46_b5ae1269-f99d-4de5-b308-1d4e529b4d67.jpg?v=1669183498","\/\/www.flownwing.com\/cdn\/shop\/products\/9740dda86e8153f5f9a94948c19e0894_8efa6e3d-0ba0-4ade-b88a-7ba0d1486581.jpg?v=1669183499","\/\/www.flownwing.com\/cdn\/shop\/products\/ba2664f623616dd20b15905e97eeef5c_21f7184d-9d73-4d1d-95c9-1976c971b801.jpg?v=1669183501","\/\/www.flownwing.com\/cdn\/shop\/products\/0afe312200036bb4bd166b3102185ed7_66eba019-bb6e-46a9-bc57-489d06a742f5.jpg?v=1669183502","\/\/www.flownwing.com\/cdn\/shop\/products\/fac55d68d032d18e43cf2322401cd7ed_5f0d5db5-426e-4f89-a365-1445d83522fc.jpg?v=1669183504","\/\/www.flownwing.com\/cdn\/shop\/products\/4a7fb92a123ca2bbc141878ae5098812_45cfd7ec-785b-4b95-b18d-fb54eff9aded.jpg?v=1669183505"],"featured_image":"\/\/www.flownwing.com\/cdn\/shop\/products\/01_24715b56-a591-4c67-8744-e129227fa92c.jpg?v=1669183492","options":["Style"],"media":[{"alt":null,"id":25877362704544,"position":1,"preview_image":{"aspect_ratio":1.0,"height":800,"width":800,"src":"\/\/www.flownwing.com\/cdn\/shop\/products\/01_24715b56-a591-4c67-8744-e129227fa92c.jpg?v=1669183492"},"aspect_ratio":1.0,"height":800,"media_type":"image","src":"\/\/www.flownwing.com\/cdn\/shop\/products\/01_24715b56-a591-4c67-8744-e129227fa92c.jpg?v=1669183492","width":800},{"alt":null,"id":25877362737312,"position":2,"preview_image":{"aspect_ratio":1.0,"height":800,"width":800,"src":"\/\/www.flownwing.com\/cdn\/shop\/products\/02_b7d36d30-48e3-4874-aca6-03fed7a9df60.jpg?v=1669183492"},"aspect_ratio":1.0,"height":800,"media_type":"image","src":"\/\/www.flownwing.com\/cdn\/shop\/products\/02_b7d36d30-48e3-4874-aca6-03fed7a9df60.jpg?v=1669183492","width":800},{"alt":null,"id":25877362770080,"position":3,"preview_image":{"aspect_ratio":1.0,"height":800,"width":800,"src":"\/\/www.flownwing.com\/cdn\/shop\/products\/03_a58d3827-2fb3-4b2d-a912-3bfad1ed5afa.jpg?v=1669183492"},"aspect_ratio":1.0,"height":800,"media_type":"image","src":"\/\/www.flownwing.com\/cdn\/shop\/products\/03_a58d3827-2fb3-4b2d-a912-3bfad1ed5afa.jpg?v=1669183492","width":800},{"alt":null,"id":25877362802848,"position":4,"preview_image":{"aspect_ratio":1.0,"height":800,"width":800,"src":"\/\/www.flownwing.com\/cdn\/shop\/products\/04_3f36d773-d70e-4982-852e-6c81249ee9d2.jpg?v=1669183492"},"aspect_ratio":1.0,"height":800,"media_type":"image","src":"\/\/www.flownwing.com\/cdn\/shop\/products\/04_3f36d773-d70e-4982-852e-6c81249ee9d2.jpg?v=1669183492","width":800},{"alt":null,"id":25877362835616,"position":5,"preview_image":{"aspect_ratio":1.0,"height":800,"width":800,"src":"\/\/www.flownwing.com\/cdn\/shop\/products\/05_ed86c5db-909f-41e3-ba13-1f0fbd67a66c.jpg?v=1669183492"},"aspect_ratio":1.0,"height":800,"media_type":"image","src":"\/\/www.flownwing.com\/cdn\/shop\/products\/05_ed86c5db-909f-41e3-ba13-1f0fbd67a66c.jpg?v=1669183492","width":800},{"alt":null,"id":25877362868384,"position":6,"preview_image":{"aspect_ratio":1.0,"height":800,"width":800,"src":"\/\/www.flownwing.com\/cdn\/shop\/products\/06_61bed6a2-f114-438e-89dc-dfbd300368a9.jpg?v=1669183492"},"aspect_ratio":1.0,"height":800,"media_type":"image","src":"\/\/www.flownwing.com\/cdn\/shop\/products\/06_61bed6a2-f114-438e-89dc-dfbd300368a9.jpg?v=1669183492","width":800},{"alt":null,"id":25877362901152,"position":7,"preview_image":{"aspect_ratio":1.0,"height":800,"width":800,"src":"\/\/www.flownwing.com\/cdn\/shop\/products\/07_5bef253b-88a9-4827-8618-349b7e14795c.jpg?v=1669183492"},"aspect_ratio":1.0,"height":800,"media_type":"image","src":"\/\/www.flownwing.com\/cdn\/shop\/products\/07_5bef253b-88a9-4827-8618-349b7e14795c.jpg?v=1669183492","width":800},{"alt":null,"id":25877362933920,"position":8,"preview_image":{"aspect_ratio":1.0,"height":800,"width":800,"src":"\/\/www.flownwing.com\/cdn\/shop\/products\/08_64cce912-2e7c-403f-8aea-08d7bbdc02c3.jpg?v=1669183492"},"aspect_ratio":1.0,"height":800,"media_type":"image","src":"\/\/www.flownwing.com\/cdn\/shop\/products\/08_64cce912-2e7c-403f-8aea-08d7bbdc02c3.jpg?v=1669183492","width":800},{"alt":null,"id":25877362966688,"position":9,"preview_image":{"aspect_ratio":1.0,"height":800,"width":800,"src":"\/\/www.flownwing.com\/cdn\/shop\/products\/2_8380e7d8-af9d-4a16-9e6d-aa4d98adb857.jpg?v=1669183492"},"aspect_ratio":1.0,"height":800,"media_type":"image","src":"\/\/www.flownwing.com\/cdn\/shop\/products\/2_8380e7d8-af9d-4a16-9e6d-aa4d98adb857.jpg?v=1669183492","width":800},{"alt":null,"id":25877362999456,"position":10,"preview_image":{"aspect_ratio":1.0,"height":800,"width":800,"src":"\/\/www.flownwing.com\/cdn\/shop\/products\/0afe312200036bb4bd166b3102185ed7.jpg?v=1669183492"},"aspect_ratio":1.0,"height":800,"media_type":"image","src":"\/\/www.flownwing.com\/cdn\/shop\/products\/0afe312200036bb4bd166b3102185ed7.jpg?v=1669183492","width":800},{"alt":null,"id":25877363032224,"position":11,"preview_image":{"aspect_ratio":1.0,"height":800,"width":800,"src":"\/\/www.flownwing.com\/cdn\/shop\/products\/9740dda86e8153f5f9a94948c19e0894.jpg?v=1669183492"},"aspect_ratio":1.0,"height":800,"media_type":"image","src":"\/\/www.flownwing.com\/cdn\/shop\/products\/9740dda86e8153f5f9a94948c19e0894.jpg?v=1669183492","width":800},{"alt":null,"id":25877363064992,"position":12,"preview_image":{"aspect_ratio":1.0,"height":800,"width":800,"src":"\/\/www.flownwing.com\/cdn\/shop\/products\/4a7fb92a123ca2bbc141878ae5098812.jpg?v=1669183492"},"aspect_ratio":1.0,"height":800,"media_type":"image","src":"\/\/www.flownwing.com\/cdn\/shop\/products\/4a7fb92a123ca2bbc141878ae5098812.jpg?v=1669183492","width":800},{"alt":null,"id":25877363097760,"position":13,"preview_image":{"aspect_ratio":1.0,"height":800,"width":800,"src":"\/\/www.flownwing.com\/cdn\/shop\/products\/eea0c93896fab601a240c895949dea7c.jpg?v=1669183492"},"aspect_ratio":1.0,"height":800,"media_type":"image","src":"\/\/www.flownwing.com\/cdn\/shop\/products\/eea0c93896fab601a240c895949dea7c.jpg?v=1669183492","width":800},{"alt":null,"id":25877363130528,"position":14,"preview_image":{"aspect_ratio":1.0,"height":800,"width":800,"src":"\/\/www.flownwing.com\/cdn\/shop\/products\/3f462ce7b86e04fd65b8d5ecd9d4be46.jpg?v=1669183492"},"aspect_ratio":1.0,"height":800,"media_type":"image","src":"\/\/www.flownwing.com\/cdn\/shop\/products\/3f462ce7b86e04fd65b8d5ecd9d4be46.jpg?v=1669183492","width":800},{"alt":null,"id":25877363163296,"position":15,"preview_image":{"aspect_ratio":1.0,"height":800,"width":800,"src":"\/\/www.flownwing.com\/cdn\/shop\/products\/ba2664f623616dd20b15905e97eeef5c.jpg?v=1669183492"},"aspect_ratio":1.0,"height":800,"media_type":"image","src":"\/\/www.flownwing.com\/cdn\/shop\/products\/ba2664f623616dd20b15905e97eeef5c.jpg?v=1669183492","width":800},{"alt":null,"id":25877363196064,"position":16,"preview_image":{"aspect_ratio":1.0,"height":800,"width":800,"src":"\/\/www.flownwing.com\/cdn\/shop\/products\/fac55d68d032d18e43cf2322401cd7ed.jpg?v=1669183492"},"aspect_ratio":1.0,"height":800,"media_type":"image","src":"\/\/www.flownwing.com\/cdn\/shop\/products\/fac55d68d032d18e43cf2322401cd7ed.jpg?v=1669183492","width":800},{"alt":null,"id":25877363949728,"position":17,"preview_image":{"aspect_ratio":1.0,"height":800,"width":800,"src":"\/\/www.flownwing.com\/cdn\/shop\/products\/eea0c93896fab601a240c895949dea7c_f74aca78-a46a-44ba-a779-8fdece6a88ae.jpg?v=1669183495"},"aspect_ratio":1.0,"height":800,"media_type":"image","src":"\/\/www.flownwing.com\/cdn\/shop\/products\/eea0c93896fab601a240c895949dea7c_f74aca78-a46a-44ba-a779-8fdece6a88ae.jpg?v=1669183495","width":800},{"alt":null,"id":25877364015264,"position":18,"preview_image":{"aspect_ratio":1.0,"height":800,"width":800,"src":"\/\/www.flownwing.com\/cdn\/shop\/products\/08_d908daf3-5408-4467-b4a9-f4d8dd7ea21f.jpg?v=1669183497"},"aspect_ratio":1.0,"height":800,"media_type":"image","src":"\/\/www.flownwing.com\/cdn\/shop\/products\/08_d908daf3-5408-4467-b4a9-f4d8dd7ea21f.jpg?v=1669183497","width":800},{"alt":null,"id":25877364113568,"position":19,"preview_image":{"aspect_ratio":1.0,"height":800,"width":800,"src":"\/\/www.flownwing.com\/cdn\/shop\/products\/3f462ce7b86e04fd65b8d5ecd9d4be46_b5ae1269-f99d-4de5-b308-1d4e529b4d67.jpg?v=1669183498"},"aspect_ratio":1.0,"height":800,"media_type":"image","src":"\/\/www.flownwing.com\/cdn\/shop\/products\/3f462ce7b86e04fd65b8d5ecd9d4be46_b5ae1269-f99d-4de5-b308-1d4e529b4d67.jpg?v=1669183498","width":800},{"alt":null,"id":25877364244640,"position":20,"preview_image":{"aspect_ratio":1.0,"height":800,"width":800,"src":"\/\/www.flownwing.com\/cdn\/shop\/products\/9740dda86e8153f5f9a94948c19e0894_8efa6e3d-0ba0-4ade-b88a-7ba0d1486581.jpg?v=1669183499"},"aspect_ratio":1.0,"height":800,"media_type":"image","src":"\/\/www.flownwing.com\/cdn\/shop\/products\/9740dda86e8153f5f9a94948c19e0894_8efa6e3d-0ba0-4ade-b88a-7ba0d1486581.jpg?v=1669183499","width":800},{"alt":null,"id":25877364310176,"position":21,"preview_image":{"aspect_ratio":1.0,"height":800,"width":800,"src":"\/\/www.flownwing.com\/cdn\/shop\/products\/ba2664f623616dd20b15905e97eeef5c_21f7184d-9d73-4d1d-95c9-1976c971b801.jpg?v=1669183501"},"aspect_ratio":1.0,"height":800,"media_type":"image","src":"\/\/www.flownwing.com\/cdn\/shop\/products\/ba2664f623616dd20b15905e97eeef5c_21f7184d-9d73-4d1d-95c9-1976c971b801.jpg?v=1669183501","width":800},{"alt":null,"id":25877364474016,"position":22,"preview_image":{"aspect_ratio":1.0,"height":800,"width":800,"src":"\/\/www.flownwing.com\/cdn\/shop\/products\/0afe312200036bb4bd166b3102185ed7_66eba019-bb6e-46a9-bc57-489d06a742f5.jpg?v=1669183502"},"aspect_ratio":1.0,"height":800,"media_type":"image","src":"\/\/www.flownwing.com\/cdn\/shop\/products\/0afe312200036bb4bd166b3102185ed7_66eba019-bb6e-46a9-bc57-489d06a742f5.jpg?v=1669183502","width":800},{"alt":null,"id":25877364801696,"position":23,"preview_image":{"aspect_ratio":1.0,"height":800,"width":800,"src":"\/\/www.flownwing.com\/cdn\/shop\/products\/fac55d68d032d18e43cf2322401cd7ed_5f0d5db5-426e-4f89-a365-1445d83522fc.jpg?v=1669183504"},"aspect_ratio":1.0,"height":800,"media_type":"image","src":"\/\/www.flownwing.com\/cdn\/shop\/products\/fac55d68d032d18e43cf2322401cd7ed_5f0d5db5-426e-4f89-a365-1445d83522fc.jpg?v=1669183504","width":800},{"alt":null,"id":25877364932768,"position":24,"preview_image":{"aspect_ratio":1.0,"height":800,"width":800,"src":"\/\/www.flownwing.com\/cdn\/shop\/products\/4a7fb92a123ca2bbc141878ae5098812_45cfd7ec-785b-4b95-b18d-fb54eff9aded.jpg?v=1669183505"},"aspect_ratio":1.0,"height":800,"media_type":"image","src":"\/\/www.flownwing.com\/cdn\/shop\/products\/4a7fb92a123ca2bbc141878ae5098812_45cfd7ec-785b-4b95-b18d-fb54eff9aded.jpg?v=1669183505","width":800}],"requires_selling_plan":false,"selling_plan_groups":[],"content":"\u003cp style=\"text-align: center;\" data-mce-fragment=\"1\"\u003e\u003cspan data-mce-fragment=\"1\"\u003e\u003cstrong data-mce-fragment=\"1\"\u003e🎁\u003cspan style=\"color: #ac712d;\"\u003e The perfect little gift in a fancy Christmas stocking.\u003c\/span\u003e\u003c\/strong\u003e\u003c\/span\u003e\u003c\/p\u003e\n\u003cp data-mce-fragment=\"1\"\u003e\u003cimg src=\"https:\/\/cdn.shopifycdn.net\/s\/files\/1\/0356\/3048\/1544\/files\/04_39350ab8-3a76-4012-ab84-255a05b1998a_480x480.jpg?v=1666944116\" alt=\"\" style=\"display: block; margin-left: auto; margin-right: auto;\" data-mce-fragment=\"1\" data-mce-src=\"https:\/\/cdn.shopifycdn.net\/s\/files\/1\/0356\/3048\/1544\/files\/04_39350ab8-3a76-4012-ab84-255a05b1998a_480x480.jpg?v=1666944116\"\u003e\u003c\/p\u003e\n\u003cp data-mce-fragment=\"1\"\u003e\u003cspan style=\"color: #ff2a00;\" data-mce-fragment=\"1\"\u003e\u003cstrong data-mce-fragment=\"1\"\u003eFEATURES\u003c\/strong\u003e\u003c\/span\u003e\u003c\/p\u003e\n\u003cul\u003e\n\u003cli\u003e\u003cspan data-mce-fragment=\"1\"\u003e\u003cspan style=\"color: #b1b37e;\"\u003e\u003cstrong data-mce-fragment=\"1\"\u003eVARIETY OF PATTERNS: \u003c\/strong\u003e\u003c\/span\u003eThe assortment includes Christmas character patterns, Santa Claus, Snowman, Reindeer and more. With an internal clockwork mechanic, these springs are smart and attractive for jumping, running, bouncing, and flipping.\u003c\/span\u003e\u003c\/li\u003e\n\u003c\/ul\u003e\n\u003cdiv\u003e\u003cimg src=\"https:\/\/img-va.myshopline.com\/image\/store\/2000283284\/1649641888109\/cb6344e0d4e14c1b824e0910e2e3345e.gif?w=1280\u0026amp;h=720\u0026amp;_f=1\" alt=\"\" width=\"480\" data-src=\"https:\/\/img-va.myshopline.com\/image\/store\/2000283284\/1649641888109\/cb6344e0d4e14c1b824e0910e2e3345e.gif?w=1280\u0026amp;h=720\u0026amp;_f=1\" data-loaded=\"true\" style=\"font-size: 1.4em; display: block; margin-left: auto; margin-right: auto;\"\u003e\u003c\/div\u003e\n\u003cul\u003e\n\u003cli\u003e\u003cspan\u003e\u003cspan style=\"color: #b1b37e;\"\u003e\u003cstrong\u003eEASY TO USE:\u003c\/strong\u003e\u003c\/span\u003e These Christmas parties like small wind toys. Screw the metal spring to tighten No batteries required, fun to play with. Every mainspring toy comes with a mainspring toy.\u003c\/span\u003e\u003c\/li\u003e\n\u003c\/ul\u003e\n\u003cp\u003e\u003cspan\u003e\u003cimg data-loaded=\"true\" data-src=\"https:\/\/img-va.myshopline.com\/image\/store\/2000283284\/1649641888109\/05448771a8064e108a230cc8f4949770.jpeg?w=600\u0026amp;h=600\" height=\"480\" width=\"480\" alt=\"\" src=\"https:\/\/img-va.myshopline.com\/image\/store\/2000283284\/1649641888109\/05448771a8064e108a230cc8f4949770.jpeg?w=600\u0026amp;h=600\" style=\"display: block; margin-left: auto; margin-right: auto;\"\u003e\u003c\/span\u003e\u003c\/p\u003e\n\u003cul\u003e\n\u003cli\u003e\u003cspan\u003e\u003cspan style=\"color: #b1b37e;\"\u003e\u003cstrong\u003eBEST GIFT:\u003c\/strong\u003e \u003c\/span\u003eExquisite Christmas Stocking or Party Bag Filler, Secret Santa Claus, Gift, Party Gift Perfect Christmas Holiday Decoration for Car, Home or Office. Great Christmas gift for kids, family and friends.\u003c\/span\u003e\u003c\/li\u003e\n\u003c\/ul\u003e\n\u003cp\u003e\u003cspan\u003e\u003cimg data-loaded=\"true\" data-src=\"https:\/\/img-va.myshopline.com\/image\/store\/2000283284\/1649641888109\/c4044cda6ede45b18af6301985edf53e.jpeg?w=1500\u0026amp;h=1500\" width=\"480\" alt=\"\" src=\"https:\/\/img-va.myshopline.com\/image\/store\/2000283284\/1649641888109\/c4044cda6ede45b18af6301985edf53e.jpeg?w=1500\u0026amp;h=1500\" style=\"display: block; margin-left: auto; margin-right: auto;\"\u003e\u003c\/span\u003e\u003c\/p\u003e\n\u003cul\u003e\n\u003cli\u003e\n\u003cp data-placeholder=\"翻译\" dir=\"ltr\" id=\"tw-target-text\"\u003e\u003cspan lang=\"en\"\u003e\u003cspan style=\"color: #b1b37e;\"\u003e\u003cstrong\u003eFUN AND CUTE:\u003c\/strong\u003e A\u003c\/span\u003efter winding the spin, the toy will shake its head as it walks.\u003c\/span\u003e\u003c\/p\u003e\n\u003c\/li\u003e\n\u003c\/ul\u003e\n\u003cp data-mce-fragment=\"1\"\u003e\u003cspan style=\"color: #ff2a00;\" data-mce-fragment=\"1\"\u003e\u003cstrong data-mce-fragment=\"1\"\u003eSPECIFICATIONS\u003c\/strong\u003e\u003c\/span\u003e\u003c\/p\u003e\n\u003cul data-mce-fragment=\"1\"\u003e\n\u003cli data-mce-fragment=\"1\"\u003e\n\u003cp data-mce-fragment=\"1\"\u003e \u003cstrong data-mce-fragment=\"1\"\u003eMaterial:\u003c\/strong\u003e\u003cspan data-mce-fragment=\"1\"\u003e ABS\u003c\/span\u003e\u003c\/p\u003e\n\u003c\/li\u003e\n\u003cli data-mce-fragment=\"1\"\u003e\n\u003cp data-mce-fragment=\"1\"\u003e\u003cstrong data-mce-fragment=\"1\"\u003eWeight:\u003c\/strong\u003e\u003cspan data-mce-fragment=\"1\"\u003e 20\u003c\/span\u003eg\u003c\/p\u003e\n\u003c\/li\u003e\n\u003cli data-mce-fragment=\"1\"\u003e\n\u003cdiv class=\"TPWcv\"\u003e\n\u003cp class=\"S7cEd\"\u003e\u003cstrong\u003e\u003cspan class=\"Polaris-TextStyle--variationStrong_rpyvj\"\u003eStyle: \u003c\/span\u003e\u003c\/strong\u003e\u003cspan class=\"Polaris-Badge_2qgie\"\u003e\u003cspan\u003eSanta, \u003c\/span\u003e\u003c\/span\u003e\u003cspan class=\"Polaris-Badge_2qgie\"\u003e\u003cspan\u003eChristmas Snowman, \u003c\/span\u003e\u003c\/span\u003e\u003cspan class=\"Polaris-Badge_2qgie\"\u003e\u003cspan\u003eChristmas Elk, \u003c\/span\u003e\u003c\/span\u003e\u003cspan class=\"Polaris-Badge_2qgie\"\u003e\u003cspan\u003eClockwork Cookie Man, \u003c\/span\u003e\u003c\/span\u003e\u003cspan class=\"Polaris-Badge_2qgie\"\u003e\u003cspan\u003eChristmas Elf, \u003c\/span\u003e\u003c\/span\u003e\u003cspan class=\"Polaris-Badge_2qgie\"\u003e\u003cspan\u003eRed Hat Penguin, \u003c\/span\u003e\u003c\/span\u003e\u003cspan class=\"Polaris-Badge_2qgie\"\u003e\u003cspan\u003eBowler Penguin\u003c\/span\u003e\u003c\/span\u003e\u003c\/p\u003e\n\u003c\/div\u003e\n\u003c\/li\u003e\n\u003cli data-mce-fragment=\"1\"\u003e\n\u003cp data-mce-fragment=\"1\"\u003e\u003cstrong data-mce-fragment=\"1\"\u003eSize:\u003c\/strong\u003e\u003cspan data-mce-fragment=\"1\"\u003e \u003c\/span\u003e\u003c\/p\u003e\n\u003c\/li\u003e\n\u003c\/ul\u003e\n\u003cdiv\u003e\u003cimg src=\"https:\/\/cdn.shopifycdn.net\/s\/files\/1\/0356\/3048\/1544\/files\/2_ad74f067-9b30-44b4-85f5-96fea642ecd1_480x480.jpg?v=1666943719\" alt=\"\" style=\"display: block; margin-left: auto; margin-right: auto;\" data-mce-fragment=\"1\" data-mce-src=\"https:\/\/cdn.shopifycdn.net\/s\/files\/1\/0356\/3048\/1544\/files\/2_ad74f067-9b30-44b4-85f5-96fea642ecd1_480x480.jpg?v=1666943719\"\u003e\u003c\/div\u003e\n\u003cul data-mce-fragment=\"1\"\u003e\u003c\/ul\u003e\n\u003cul data-mce-fragment=\"1\"\u003e\u003c\/ul\u003e\n\u003cul data-mce-fragment=\"1\"\u003e\u003c\/ul\u003e\n\u003cul data-mce-fragment=\"1\"\u003e\u003c\/ul\u003e\n\u003cul data-mce-fragment=\"1\"\u003e\u003c\/ul\u003e\n\u003cp data-mce-fragment=\"1\"\u003e\u003cspan style=\"color: #ff2a00;\" data-mce-fragment=\"1\"\u003e\u003cstrong data-mce-fragment=\"1\"\u003ePACKAGE\u003c\/strong\u003e\u003c\/span\u003e\u003c\/p\u003e\n\u003cul data-mce-fragment=\"1\"\u003e\n\u003cli data-mce-fragment=\"1\"\u003e1 * Christmas Clockwork Toy\u003c\/li\u003e\n\u003c\/ul\u003e\n\u003cp data-mce-fragment=\"1\"\u003e\u003cspan style=\"color: #ff2a00;\" data-mce-fragment=\"1\"\u003e\u003cstrong data-mce-fragment=\"1\"\u003eNOTE\u003c\/strong\u003e\u003c\/span\u003e\u003c\/p\u003e\n\u003cul data-mce-fragment=\"1\"\u003e\n\u003cli data-mce-fragment=\"1\"\u003e\n\u003cp data-mce-fragment=\"1\"\u003e\u003cspan data-mce-fragment=\"1\"\u003ePlease allow slight measurement deviations due to manual measurement.\u003c\/span\u003e\u003c\/p\u003e\n\u003c\/li\u003e\n\u003cli data-mce-fragment=\"1\"\u003e\n\u003cp data-mce-fragment=\"1\"\u003e\u003cspan data-mce-fragment=\"1\"\u003eDue to the different monitor and light effect, the actual color of the item might be slightly different from the color showed in the pictures.\u003c\/span\u003e\u003c\/p\u003e\n\u003c\/li\u003e\n\u003c\/ul\u003e"}
Adding product to your cart
🎁 The perfect little gift in a fancy Christmas stocking.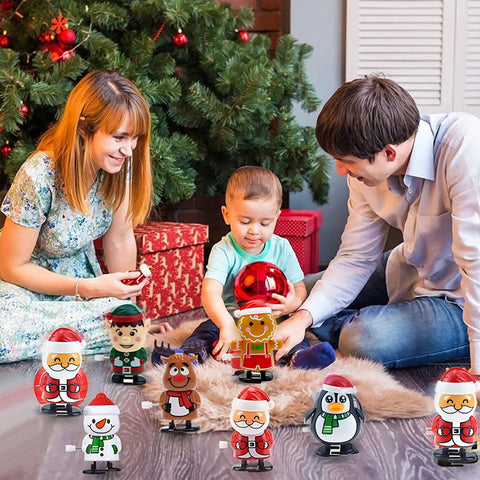 FEATURES
VARIETY OF PATTERNS: The assortment includes Christmas character patterns, Santa Claus, Snowman, Reindeer and more. With an internal clockwork mechanic, these springs are smart and attractive for jumping, running, bouncing, and flipping.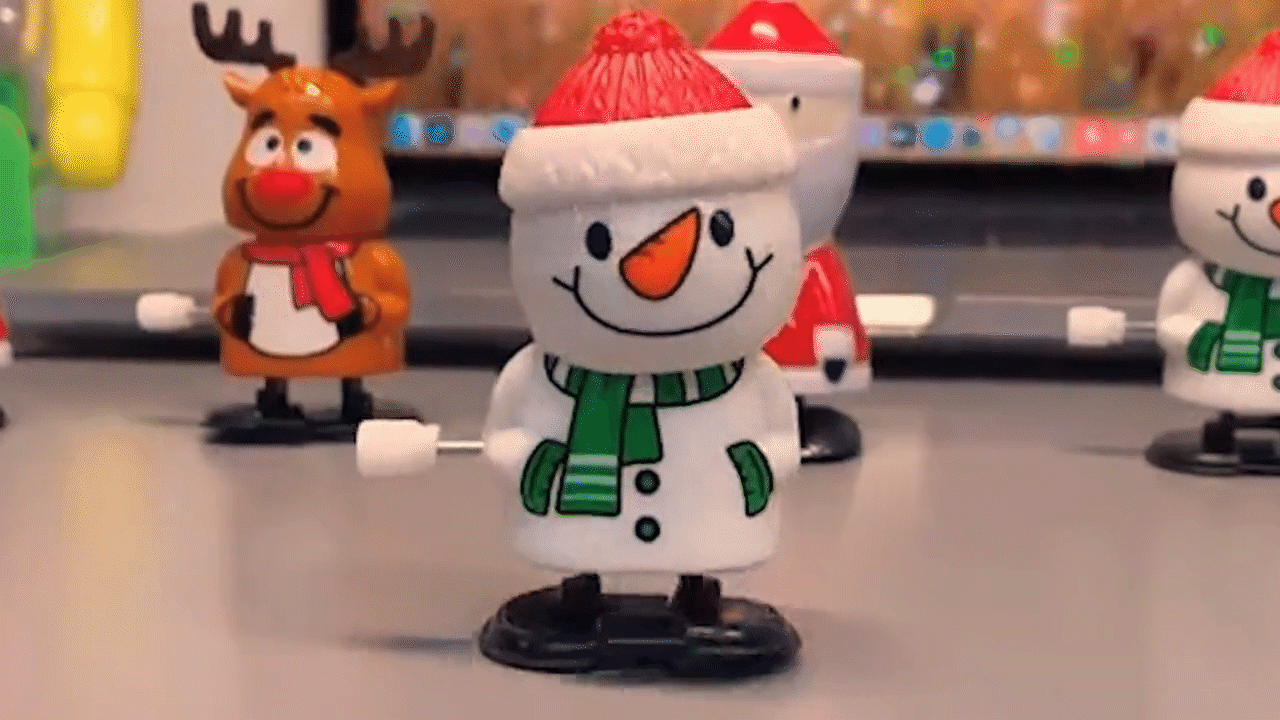 EASY TO USE: These Christmas parties like small wind toys. Screw the metal spring to tighten No batteries required, fun to play with. Every mainspring toy comes with a mainspring toy.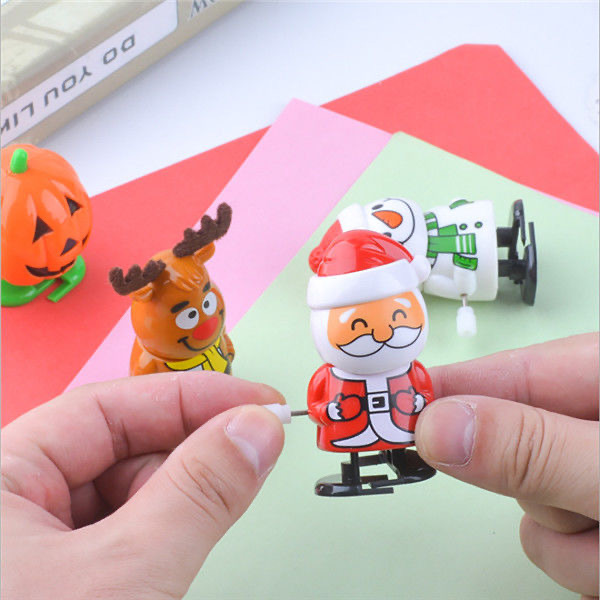 BEST GIFT: Exquisite Christmas Stocking or Party Bag Filler, Secret Santa Claus, Gift, Party Gift Perfect Christmas Holiday Decoration for Car, Home or Office. Great Christmas gift for kids, family and friends.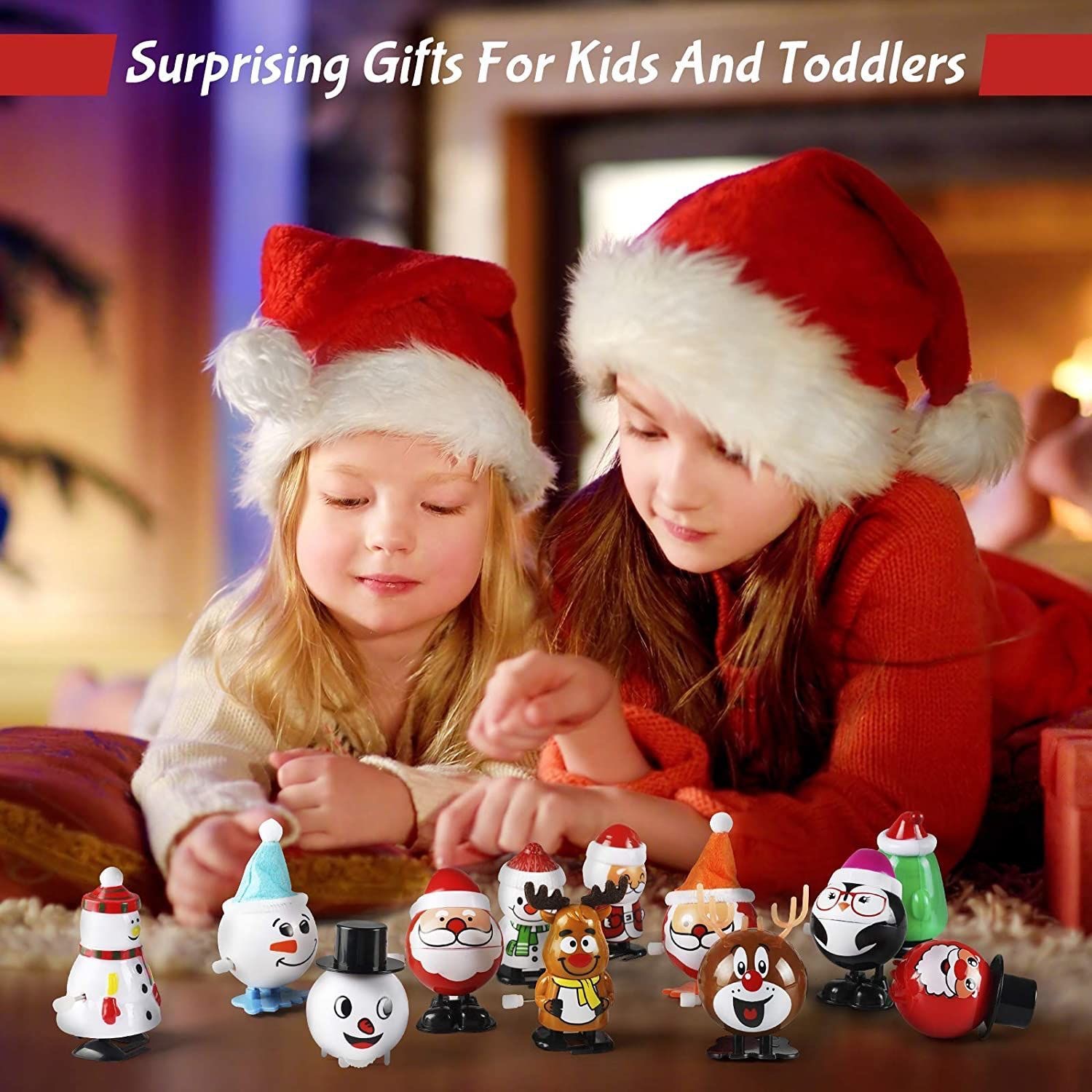 FUN AND CUTE: After winding the spin, the toy will shake its head as it walks.
SPECIFICATIONS
 Material: ABS

Weight: 20g

Style: Santa, Christmas Snowman, Christmas Elk, Clockwork Cookie Man, Christmas Elf, Red Hat Penguin, Bowler Penguin

Size: 
PACKAGE
1 * Christmas Clockwork Toy
NOTE
Please allow slight measurement deviations due to manual measurement.

Due to the different monitor and light effect, the actual color of the item might be slightly different from the color showed in the pictures.