{"id":7613472112800,"title":"Baby Winter Fluffy Fuzzy Slipper Socks","handle":"baby-winter-fluffy-fuzzy-slipper-socks","description":"\u003cp style=\"text-align: center;\"\u003e\u003cspan style=\"color: #99b0c9;\"\u003e\u003cem\u003e\u003cstrong\u003e👣Use these cute socks to dispel the chills of the baby in winter.\u003c\/strong\u003e\u003c\/em\u003e\u003c\/span\u003e\u003c\/p\u003e\n\u003cp\u003e\u003cspan\u003e\u003cimg data-loaded=\"true\" src=\"https:\/\/img-va.myshopline.com\/image\/store\/2000283284\/1662433943860\/92225bc6c4b343ac8dbc5356568e988c.gif?w=740\u0026amp;h=480\u0026amp;_f=1\" height=\"244\" width=\"375\" alt=\"\" data-src=\"https:\/\/img-va.myshopline.com\/image\/store\/2000283284\/1662433943860\/92225bc6c4b343ac8dbc5356568e988c.gif?w=740\u0026amp;h=480\u0026amp;_f=1\" class=\"lozad lazyloaded lazyloaded\" style=\"display: block; margin-left: auto; margin-right: auto;\" referrerpolicy=\"same-origin\"\u003e\u003c\/span\u003e\u003c\/p\u003e\n\u003cp data-mce-fragment=\"1\"\u003e\u003cspan style=\"color: #d68383;\" data-mce-fragment=\"1\"\u003e\u003cstrong data-mce-fragment=\"1\"\u003eFEATURES\u003c\/strong\u003e\u003c\/span\u003e\u003c\/p\u003e\n\u003cul\u003e\n\u003cli\u003e\u003cspan\u003e👶Adopted \u003cstrong\u003esuper soft ultra-thick\u003c\/strong\u003e and\u003cstrong\u003e skin-friendly fuzzy lining design\u003c\/strong\u003e, this knee long socks can bring your baby extra warmth in winter without causing any skin stimulation.\u003c\/span\u003e\u003c\/li\u003e\n\u003c\/ul\u003e\n\u003cp\u003e\u003cspan\u003e\u003cimg style=\"display: block; margin-left: auto; margin-right: auto;\" class=\"lozad lazyloaded\" data-src=\"https:\/\/img-va.myshopline.com\/image\/store\/2000283284\/1662433943860\/282ac7cdd8bf4befb42264d8f5f6de54.jpeg?w=584\u0026amp;h=476\" alt=\"\" width=\"480\" height=\"391\" src=\"https:\/\/img-va.myshopline.com\/image\/store\/2000283284\/1662433943860\/282ac7cdd8bf4befb42264d8f5f6de54.jpeg?w=584\u0026amp;h=476\" data-loaded=\"true\" referrerpolicy=\"same-origin\"\u003e\u003cbr\u003e\u003c\/span\u003e\u003c\/p\u003e\n\u003cul\u003e\n\u003cli\u003e\u003cspan\u003e👶The design of various cartoon animal shapes makes knee-long socks more attractive and unique, so they can be used as a nice present for your lovely baby.\u003c\/span\u003e\u003c\/li\u003e\n\u003c\/ul\u003e\n\u003cp\u003e\u003cspan\u003e\u003cimg style=\"display: block; margin-left: auto; margin-right: auto;\" class=\"lozad lazyloaded\" data-src=\"https:\/\/img-va.myshopline.com\/image\/store\/2000283284\/1662433943860\/b63bad8efb3a40aca7fca6b89765c762.jpeg?w=749\u0026amp;h=591\" alt=\"\" width=\"480\" height=\"379\" src=\"https:\/\/img-va.myshopline.com\/image\/store\/2000283284\/1662433943860\/b63bad8efb3a40aca7fca6b89765c762.jpeg?w=749\u0026amp;h=591\" data-loaded=\"true\" referrerpolicy=\"same-origin\"\u003e\u003c\/span\u003e\u003c\/p\u003e\n\u003cul\u003e\n\u003cli\u003e\n\u003cspan\u003e👶It is made of high-quality \u003c\/span\u003eCoral Fleece.\u003c\/li\u003e\n\u003c\/ul\u003e\n\u003cp\u003e\u003cspan\u003e\u003cimg style=\"display: block; margin-left: auto; margin-right: auto;\" class=\"lozad lazyloaded\" data-src=\"https:\/\/img-va.myshopline.com\/image\/store\/2000283284\/1662433943860\/8537a73543b84404b5d9556a6e79e628.jpeg?w=800\u0026amp;h=800\" alt=\"\" width=\"480\" height=\"480\" src=\"https:\/\/img-va.myshopline.com\/image\/store\/2000283284\/1662433943860\/8537a73543b84404b5d9556a6e79e628.jpeg?w=800\u0026amp;h=800\" data-loaded=\"true\" referrerpolicy=\"same-origin\"\u003e\u003c\/span\u003e\u003c\/p\u003e\n\u003cul\u003e\n\u003cli\u003e\u003cspan\u003e👶Perfectly suitable for 0-4 years old babies.\u003c\/span\u003e\u003c\/li\u003e\n\u003c\/ul\u003e\n\u003cp\u003e\u003cspan\u003e\u003cimg style=\"display: block; margin-left: auto; margin-right: auto;\" class=\"lozad lazyloaded\" data-src=\"https:\/\/img-va.myshopline.com\/image\/store\/2000283284\/1662433943860\/f7bfd72908934deaa9601a4121ec3c0a.jpeg?w=800\u0026amp;h=800\" alt=\"\" width=\"480\" height=\"480\" src=\"https:\/\/img-va.myshopline.com\/image\/store\/2000283284\/1662433943860\/f7bfd72908934deaa9601a4121ec3c0a.jpeg?w=800\u0026amp;h=800\" data-loaded=\"true\" referrerpolicy=\"same-origin\"\u003e\u003c\/span\u003e\u003c\/p\u003e\n\u003cp data-mce-fragment=\"1\"\u003e\u003cspan style=\"color: #d68383;\" data-mce-fragment=\"1\"\u003e\u003cstrong data-mce-fragment=\"1\"\u003eSPECIFICATIONS\u003c\/strong\u003e\u003c\/span\u003e\u003c\/p\u003e\n\u003cul data-mce-fragment=\"1\"\u003e\n\u003cli data-mce-fragment=\"1\"\u003e\n\u003cp data-mce-fragment=\"1\"\u003e\u003cstrong data-mce-fragment=\"1\"\u003eColor:\u003c\/strong\u003e\u003cspan data-mce-fragment=\"1\"\u003e \u003cspan class=\"Polaris-Badge_2qgie\" mce-data-marked=\"1\" data-mce-fragment=\"1\"\u003eLight Grey, Brown, White, Blue, Pink, Beige\u003c\/span\u003e\u003c\/span\u003e\u003c\/p\u003e\n\u003c\/li\u003e\n\u003cli data-mce-fragment=\"1\"\u003e\n\u003cp data-mce-fragment=\"1\"\u003e\u003cspan data-mce-fragment=\"1\"\u003e\u003cspan class=\"Polaris-Badge_2qgie\" mce-data-marked=\"1\" data-mce-fragment=\"1\"\u003e\u003c\/span\u003e\u003c\/span\u003e\u003cstrong data-mce-fragment=\"1\"\u003eMaterial:\u003c\/strong\u003e\u003cspan data-mce-fragment=\"1\"\u003e Coral Fleece\u003c\/span\u003e\u003c\/p\u003e\n\u003c\/li\u003e\n\u003cli data-mce-fragment=\"1\"\u003e\n\u003cp data-mce-fragment=\"1\"\u003e\u003cstrong data-mce-fragment=\"1\"\u003eStyle: \u003c\/strong\u003eCartoon\u003c\/p\u003e\n\u003c\/li\u003e\n\u003cli data-mce-fragment=\"1\"\u003e\n\u003cp\u003e\u003cstrong\u003eSeason:\u003c\/strong\u003e All seasons\u003c\/p\u003e\n\u003c\/li\u003e\n\u003cli data-mce-fragment=\"1\"\u003e\n\u003cp data-mce-fragment=\"1\"\u003e\u003cstrong data-mce-fragment=\"1\"\u003eSize:\u003c\/strong\u003e\u003cspan data-mce-fragment=\"1\"\u003e One Size Fits All\u003c\/span\u003e\u003c\/p\u003e\n\u003c\/li\u003e\n\u003c\/ul\u003e\n\u003cul data-mce-fragment=\"1\"\u003e\u003c\/ul\u003e\n\u003cul data-mce-fragment=\"1\"\u003e\u003c\/ul\u003e\n\u003cul data-mce-fragment=\"1\"\u003e\u003c\/ul\u003e\n\u003cul data-mce-fragment=\"1\"\u003e\u003c\/ul\u003e\n\u003cp data-mce-fragment=\"1\"\u003e\u003cspan style=\"color: #d68383;\" data-mce-fragment=\"1\"\u003e\u003cstrong data-mce-fragment=\"1\"\u003ePACKAGE\u003c\/strong\u003e\u003c\/span\u003e\u003c\/p\u003e\n\u003cul data-mce-fragment=\"1\"\u003e\n\u003cli data-mce-fragment=\"1\"\u003e1 Pair * Baby Winter Fluffy Fuzzy Slipper Socks\u003c\/li\u003e\n\u003c\/ul\u003e\n\u003cp data-mce-fragment=\"1\"\u003e\u003cspan style=\"color: #d68383;\" data-mce-fragment=\"1\"\u003e\u003cstrong data-mce-fragment=\"1\"\u003eNOTE\u003c\/strong\u003e\u003c\/span\u003e\u003c\/p\u003e\n\u003cul data-mce-fragment=\"1\"\u003e\n\u003cli data-mce-fragment=\"1\"\u003e\n\u003cp data-mce-fragment=\"1\"\u003e\u003cspan data-mce-fragment=\"1\"\u003ePlease allow slight measurement deviations due to manual measurement.\u003c\/span\u003e\u003c\/p\u003e\n\u003c\/li\u003e\n\u003cli data-mce-fragment=\"1\"\u003e\n\u003cp data-mce-fragment=\"1\"\u003e\u003cspan data-mce-fragment=\"1\"\u003eDue to the different monitor and light effect, the actual color of the item might be slightly different from the color showed in the pictures.\u003c\/span\u003e\u003c\/p\u003e\n\u003c\/li\u003e\n\u003c\/ul\u003e","published_at":"2022-11-20T22:29:54-10:00","created_at":"2022-11-20T22:30:01-10:00","vendor":"flownwing","type":"","tags":["baby products"],"price":1499,"price_min":1499,"price_max":1499,"available":true,"price_varies":false,"compare_at_price":2998,"compare_at_price_min":2998,"compare_at_price_max":2998,"compare_at_price_varies":false,"variants":[{"id":42789728518304,"title":"Light Gray Elephant","option1":"Light Gray Elephant","option2":null,"option3":null,"sku":"SO41289-S098-X32480","requires_shipping":true,"taxable":false,"featured_image":{"id":33413263818912,"product_id":7613472112800,"position":14,"created_at":"2022-11-20T22:30:09-10:00","updated_at":"2022-11-20T22:30:09-10:00","alt":null,"width":800,"height":800,"src":"\/\/www.flownwing.com\/cdn\/shop\/products\/7_eefa3337-8a39-459a-a950-787a706c8fa0.jpg?v=1669019409","variant_ids":[42789728518304]},"available":true,"name":"Baby Winter Fluffy Fuzzy Slipper Socks - Light Gray Elephant","public_title":"Light Gray Elephant","options":["Light Gray Elephant"],"price":1499,"weight":0,"compare_at_price":2998,"inventory_management":null,"barcode":null,"featured_media":{"alt":null,"id":25856330170528,"position":14,"preview_image":{"aspect_ratio":1.0,"height":800,"width":800,"src":"\/\/www.flownwing.com\/cdn\/shop\/products\/7_eefa3337-8a39-459a-a950-787a706c8fa0.jpg?v=1669019409"}},"requires_selling_plan":false,"selling_plan_allocations":[],"quantity_rule":{"min":1,"max":null,"increment":1}},{"id":42789728551072,"title":"Blue Dog","option1":"Blue Dog","option2":null,"option3":null,"sku":"SO41289-S098-X10378","requires_shipping":true,"taxable":false,"featured_image":{"id":33413262934176,"product_id":7613472112800,"position":10,"created_at":"2022-11-20T22:30:04-10:00","updated_at":"2022-11-20T22:30:04-10:00","alt":null,"width":800,"height":800,"src":"\/\/www.flownwing.com\/cdn\/shop\/products\/5_af55e5e6-05dc-4096-bba2-04b7021bf00f.jpg?v=1669019404","variant_ids":[42789728551072]},"available":true,"name":"Baby Winter Fluffy Fuzzy Slipper Socks - Blue Dog","public_title":"Blue Dog","options":["Blue Dog"],"price":1499,"weight":0,"compare_at_price":2998,"inventory_management":null,"barcode":null,"featured_media":{"alt":null,"id":25856329285792,"position":10,"preview_image":{"aspect_ratio":1.0,"height":800,"width":800,"src":"\/\/www.flownwing.com\/cdn\/shop\/products\/5_af55e5e6-05dc-4096-bba2-04b7021bf00f.jpg?v=1669019404"}},"requires_selling_plan":false,"selling_plan_allocations":[],"quantity_rule":{"min":1,"max":null,"increment":1}},{"id":42789728583840,"title":"Brown Bear","option1":"Brown Bear","option2":null,"option3":null,"sku":"SO41289-S098-X32481","requires_shipping":true,"taxable":false,"featured_image":{"id":33413263196320,"product_id":7613472112800,"position":12,"created_at":"2022-11-20T22:30:06-10:00","updated_at":"2022-11-20T22:30:06-10:00","alt":null,"width":800,"height":800,"src":"\/\/www.flownwing.com\/cdn\/shop\/products\/4_ded087aa-9997-435e-a706-cf739f606a12.jpg?v=1669019406","variant_ids":[42789728583840]},"available":true,"name":"Baby Winter Fluffy Fuzzy Slipper Socks - Brown Bear","public_title":"Brown Bear","options":["Brown Bear"],"price":1499,"weight":0,"compare_at_price":2998,"inventory_management":null,"barcode":null,"featured_media":{"alt":null,"id":25856329547936,"position":12,"preview_image":{"aspect_ratio":1.0,"height":800,"width":800,"src":"\/\/www.flownwing.com\/cdn\/shop\/products\/4_ded087aa-9997-435e-a706-cf739f606a12.jpg?v=1669019406"}},"requires_selling_plan":false,"selling_plan_allocations":[],"quantity_rule":{"min":1,"max":null,"increment":1}},{"id":42789728616608,"title":"White Strawberry","option1":"White Strawberry","option2":null,"option3":null,"sku":"SO41289-S098-X32482","requires_shipping":true,"taxable":false,"featured_image":{"id":33413263294624,"product_id":7613472112800,"position":13,"created_at":"2022-11-20T22:30:08-10:00","updated_at":"2022-11-20T22:30:08-10:00","alt":null,"width":800,"height":800,"src":"\/\/www.flownwing.com\/cdn\/shop\/products\/3_7b602f9d-f1bf-46fa-b296-7ec922784ec1.jpg?v=1669019408","variant_ids":[42789728616608]},"available":true,"name":"Baby Winter Fluffy Fuzzy Slipper Socks - White Strawberry","public_title":"White Strawberry","options":["White Strawberry"],"price":1499,"weight":0,"compare_at_price":2998,"inventory_management":null,"barcode":null,"featured_media":{"alt":null,"id":25856329646240,"position":13,"preview_image":{"aspect_ratio":1.0,"height":800,"width":800,"src":"\/\/www.flownwing.com\/cdn\/shop\/products\/3_7b602f9d-f1bf-46fa-b296-7ec922784ec1.jpg?v=1669019408"}},"requires_selling_plan":false,"selling_plan_allocations":[],"quantity_rule":{"min":1,"max":null,"increment":1}},{"id":42789728649376,"title":"Pink Rabbit","option1":"Pink Rabbit","option2":null,"option3":null,"sku":"SO41289-S098-X26218","requires_shipping":true,"taxable":false,"featured_image":{"id":33413263065248,"product_id":7613472112800,"position":11,"created_at":"2022-11-20T22:30:05-10:00","updated_at":"2022-11-20T22:30:05-10:00","alt":null,"width":800,"height":800,"src":"\/\/www.flownwing.com\/cdn\/shop\/products\/2_d33b2c21-2fec-4cd8-a4a7-e82cbacc2c08.jpg?v=1669019405","variant_ids":[42789728649376]},"available":true,"name":"Baby Winter Fluffy Fuzzy Slipper Socks - Pink Rabbit","public_title":"Pink Rabbit","options":["Pink Rabbit"],"price":1499,"weight":0,"compare_at_price":2998,"inventory_management":null,"barcode":null,"featured_media":{"alt":null,"id":25856329416864,"position":11,"preview_image":{"aspect_ratio":1.0,"height":800,"width":800,"src":"\/\/www.flownwing.com\/cdn\/shop\/products\/2_d33b2c21-2fec-4cd8-a4a7-e82cbacc2c08.jpg?v=1669019405"}},"requires_selling_plan":false,"selling_plan_allocations":[],"quantity_rule":{"min":1,"max":null,"increment":1}},{"id":42789728682144,"title":"Beige Pineapple","option1":"Beige Pineapple","option2":null,"option3":null,"sku":"SO41289-S098-X32483","requires_shipping":true,"taxable":false,"featured_image":{"id":33413263917216,"product_id":7613472112800,"position":15,"created_at":"2022-11-20T22:30:11-10:00","updated_at":"2022-11-20T22:30:11-10:00","alt":null,"width":800,"height":800,"src":"\/\/www.flownwing.com\/cdn\/shop\/products\/1_4ddf6f16-8356-4c7c-a5e6-e995e6342ac8.jpg?v=1669019411","variant_ids":[42789728682144]},"available":true,"name":"Baby Winter Fluffy Fuzzy Slipper Socks - Beige Pineapple","public_title":"Beige Pineapple","options":["Beige Pineapple"],"price":1499,"weight":0,"compare_at_price":2998,"inventory_management":null,"barcode":null,"featured_media":{"alt":null,"id":25856330268832,"position":15,"preview_image":{"aspect_ratio":1.0,"height":800,"width":800,"src":"\/\/www.flownwing.com\/cdn\/shop\/products\/1_4ddf6f16-8356-4c7c-a5e6-e995e6342ac8.jpg?v=1669019411"}},"requires_selling_plan":false,"selling_plan_allocations":[],"quantity_rule":{"min":1,"max":null,"increment":1}}],"images":["\/\/www.flownwing.com\/cdn\/shop\/products\/6_a7e84e56-4f3c-4c6d-bf49-39392db13dc3.jpg?v=1669019401","\/\/www.flownwing.com\/cdn\/shop\/products\/8_63fac17f-f8ca-4f15-b03e-92537b63e7c7.jpg?v=1669019401","\/\/www.flownwing.com\/cdn\/shop\/products\/9_a889e031-4166-48a7-ae23-ee52c1fb8c8c.jpg?v=1669019401","\/\/www.flownwing.com\/cdn\/shop\/products\/10_9499c63c-d5db-4412-883e-c117621f65cb.jpg?v=1669019401","\/\/www.flownwing.com\/cdn\/shop\/products\/11_d66bc1a3-302e-44b3-a2c4-52d7cdc813cb.jpg?v=1669019401","\/\/www.flownwing.com\/cdn\/shop\/products\/12_4a0da21a-ad2c-4a92-870d-42327480433e.jpg?v=1669019401","\/\/www.flownwing.com\/cdn\/shop\/products\/baidi_0b6e7789-94de-46fc-b743-1c4ebb9b5a8a.jpg?v=1669019401","\/\/www.flownwing.com\/cdn\/shop\/products\/fm_722854b5-4d40-4722-b5de-ef047b85f7bb.jpg?v=1669019401","\/\/www.flownwing.com\/cdn\/shop\/products\/fm2_8c984a25-e789-4b00-9a28-053d65a8bb16.jpg?v=1669019401","\/\/www.flownwing.com\/cdn\/shop\/products\/5_af55e5e6-05dc-4096-bba2-04b7021bf00f.jpg?v=1669019404","\/\/www.flownwing.com\/cdn\/shop\/products\/2_d33b2c21-2fec-4cd8-a4a7-e82cbacc2c08.jpg?v=1669019405","\/\/www.flownwing.com\/cdn\/shop\/products\/4_ded087aa-9997-435e-a706-cf739f606a12.jpg?v=1669019406","\/\/www.flownwing.com\/cdn\/shop\/products\/3_7b602f9d-f1bf-46fa-b296-7ec922784ec1.jpg?v=1669019408","\/\/www.flownwing.com\/cdn\/shop\/products\/7_eefa3337-8a39-459a-a950-787a706c8fa0.jpg?v=1669019409","\/\/www.flownwing.com\/cdn\/shop\/products\/1_4ddf6f16-8356-4c7c-a5e6-e995e6342ac8.jpg?v=1669019411"],"featured_image":"\/\/www.flownwing.com\/cdn\/shop\/products\/6_a7e84e56-4f3c-4c6d-bf49-39392db13dc3.jpg?v=1669019401","options":["Style"],"media":[{"alt":null,"id":25856328859808,"position":1,"preview_image":{"aspect_ratio":1.0,"height":800,"width":800,"src":"\/\/www.flownwing.com\/cdn\/shop\/products\/6_a7e84e56-4f3c-4c6d-bf49-39392db13dc3.jpg?v=1669019401"},"aspect_ratio":1.0,"height":800,"media_type":"image","src":"\/\/www.flownwing.com\/cdn\/shop\/products\/6_a7e84e56-4f3c-4c6d-bf49-39392db13dc3.jpg?v=1669019401","width":800},{"alt":null,"id":25856328892576,"position":2,"preview_image":{"aspect_ratio":1.0,"height":800,"width":800,"src":"\/\/www.flownwing.com\/cdn\/shop\/products\/8_63fac17f-f8ca-4f15-b03e-92537b63e7c7.jpg?v=1669019401"},"aspect_ratio":1.0,"height":800,"media_type":"image","src":"\/\/www.flownwing.com\/cdn\/shop\/products\/8_63fac17f-f8ca-4f15-b03e-92537b63e7c7.jpg?v=1669019401","width":800},{"alt":null,"id":25856328925344,"position":3,"preview_image":{"aspect_ratio":1.0,"height":800,"width":800,"src":"\/\/www.flownwing.com\/cdn\/shop\/products\/9_a889e031-4166-48a7-ae23-ee52c1fb8c8c.jpg?v=1669019401"},"aspect_ratio":1.0,"height":800,"media_type":"image","src":"\/\/www.flownwing.com\/cdn\/shop\/products\/9_a889e031-4166-48a7-ae23-ee52c1fb8c8c.jpg?v=1669019401","width":800},{"alt":null,"id":25856328958112,"position":4,"preview_image":{"aspect_ratio":1.0,"height":800,"width":800,"src":"\/\/www.flownwing.com\/cdn\/shop\/products\/10_9499c63c-d5db-4412-883e-c117621f65cb.jpg?v=1669019401"},"aspect_ratio":1.0,"height":800,"media_type":"image","src":"\/\/www.flownwing.com\/cdn\/shop\/products\/10_9499c63c-d5db-4412-883e-c117621f65cb.jpg?v=1669019401","width":800},{"alt":null,"id":25856328990880,"position":5,"preview_image":{"aspect_ratio":1.0,"height":800,"width":800,"src":"\/\/www.flownwing.com\/cdn\/shop\/products\/11_d66bc1a3-302e-44b3-a2c4-52d7cdc813cb.jpg?v=1669019401"},"aspect_ratio":1.0,"height":800,"media_type":"image","src":"\/\/www.flownwing.com\/cdn\/shop\/products\/11_d66bc1a3-302e-44b3-a2c4-52d7cdc813cb.jpg?v=1669019401","width":800},{"alt":null,"id":25856329023648,"position":6,"preview_image":{"aspect_ratio":1.0,"height":800,"width":800,"src":"\/\/www.flownwing.com\/cdn\/shop\/products\/12_4a0da21a-ad2c-4a92-870d-42327480433e.jpg?v=1669019401"},"aspect_ratio":1.0,"height":800,"media_type":"image","src":"\/\/www.flownwing.com\/cdn\/shop\/products\/12_4a0da21a-ad2c-4a92-870d-42327480433e.jpg?v=1669019401","width":800},{"alt":null,"id":25856329056416,"position":7,"preview_image":{"aspect_ratio":1.0,"height":800,"width":800,"src":"\/\/www.flownwing.com\/cdn\/shop\/products\/baidi_0b6e7789-94de-46fc-b743-1c4ebb9b5a8a.jpg?v=1669019401"},"aspect_ratio":1.0,"height":800,"media_type":"image","src":"\/\/www.flownwing.com\/cdn\/shop\/products\/baidi_0b6e7789-94de-46fc-b743-1c4ebb9b5a8a.jpg?v=1669019401","width":800},{"alt":null,"id":25856329089184,"position":8,"preview_image":{"aspect_ratio":1.0,"height":800,"width":800,"src":"\/\/www.flownwing.com\/cdn\/shop\/products\/fm_722854b5-4d40-4722-b5de-ef047b85f7bb.jpg?v=1669019401"},"aspect_ratio":1.0,"height":800,"media_type":"image","src":"\/\/www.flownwing.com\/cdn\/shop\/products\/fm_722854b5-4d40-4722-b5de-ef047b85f7bb.jpg?v=1669019401","width":800},{"alt":null,"id":25856329121952,"position":9,"preview_image":{"aspect_ratio":1.0,"height":800,"width":800,"src":"\/\/www.flownwing.com\/cdn\/shop\/products\/fm2_8c984a25-e789-4b00-9a28-053d65a8bb16.jpg?v=1669019401"},"aspect_ratio":1.0,"height":800,"media_type":"image","src":"\/\/www.flownwing.com\/cdn\/shop\/products\/fm2_8c984a25-e789-4b00-9a28-053d65a8bb16.jpg?v=1669019401","width":800},{"alt":null,"id":25856329285792,"position":10,"preview_image":{"aspect_ratio":1.0,"height":800,"width":800,"src":"\/\/www.flownwing.com\/cdn\/shop\/products\/5_af55e5e6-05dc-4096-bba2-04b7021bf00f.jpg?v=1669019404"},"aspect_ratio":1.0,"height":800,"media_type":"image","src":"\/\/www.flownwing.com\/cdn\/shop\/products\/5_af55e5e6-05dc-4096-bba2-04b7021bf00f.jpg?v=1669019404","width":800},{"alt":null,"id":25856329416864,"position":11,"preview_image":{"aspect_ratio":1.0,"height":800,"width":800,"src":"\/\/www.flownwing.com\/cdn\/shop\/products\/2_d33b2c21-2fec-4cd8-a4a7-e82cbacc2c08.jpg?v=1669019405"},"aspect_ratio":1.0,"height":800,"media_type":"image","src":"\/\/www.flownwing.com\/cdn\/shop\/products\/2_d33b2c21-2fec-4cd8-a4a7-e82cbacc2c08.jpg?v=1669019405","width":800},{"alt":null,"id":25856329547936,"position":12,"preview_image":{"aspect_ratio":1.0,"height":800,"width":800,"src":"\/\/www.flownwing.com\/cdn\/shop\/products\/4_ded087aa-9997-435e-a706-cf739f606a12.jpg?v=1669019406"},"aspect_ratio":1.0,"height":800,"media_type":"image","src":"\/\/www.flownwing.com\/cdn\/shop\/products\/4_ded087aa-9997-435e-a706-cf739f606a12.jpg?v=1669019406","width":800},{"alt":null,"id":25856329646240,"position":13,"preview_image":{"aspect_ratio":1.0,"height":800,"width":800,"src":"\/\/www.flownwing.com\/cdn\/shop\/products\/3_7b602f9d-f1bf-46fa-b296-7ec922784ec1.jpg?v=1669019408"},"aspect_ratio":1.0,"height":800,"media_type":"image","src":"\/\/www.flownwing.com\/cdn\/shop\/products\/3_7b602f9d-f1bf-46fa-b296-7ec922784ec1.jpg?v=1669019408","width":800},{"alt":null,"id":25856330170528,"position":14,"preview_image":{"aspect_ratio":1.0,"height":800,"width":800,"src":"\/\/www.flownwing.com\/cdn\/shop\/products\/7_eefa3337-8a39-459a-a950-787a706c8fa0.jpg?v=1669019409"},"aspect_ratio":1.0,"height":800,"media_type":"image","src":"\/\/www.flownwing.com\/cdn\/shop\/products\/7_eefa3337-8a39-459a-a950-787a706c8fa0.jpg?v=1669019409","width":800},{"alt":null,"id":25856330268832,"position":15,"preview_image":{"aspect_ratio":1.0,"height":800,"width":800,"src":"\/\/www.flownwing.com\/cdn\/shop\/products\/1_4ddf6f16-8356-4c7c-a5e6-e995e6342ac8.jpg?v=1669019411"},"aspect_ratio":1.0,"height":800,"media_type":"image","src":"\/\/www.flownwing.com\/cdn\/shop\/products\/1_4ddf6f16-8356-4c7c-a5e6-e995e6342ac8.jpg?v=1669019411","width":800}],"requires_selling_plan":false,"selling_plan_groups":[],"content":"\u003cp style=\"text-align: center;\"\u003e\u003cspan style=\"color: #99b0c9;\"\u003e\u003cem\u003e\u003cstrong\u003e👣Use these cute socks to dispel the chills of the baby in winter.\u003c\/strong\u003e\u003c\/em\u003e\u003c\/span\u003e\u003c\/p\u003e\n\u003cp\u003e\u003cspan\u003e\u003cimg data-loaded=\"true\" src=\"https:\/\/img-va.myshopline.com\/image\/store\/2000283284\/1662433943860\/92225bc6c4b343ac8dbc5356568e988c.gif?w=740\u0026amp;h=480\u0026amp;_f=1\" height=\"244\" width=\"375\" alt=\"\" data-src=\"https:\/\/img-va.myshopline.com\/image\/store\/2000283284\/1662433943860\/92225bc6c4b343ac8dbc5356568e988c.gif?w=740\u0026amp;h=480\u0026amp;_f=1\" class=\"lozad lazyloaded lazyloaded\" style=\"display: block; margin-left: auto; margin-right: auto;\" referrerpolicy=\"same-origin\"\u003e\u003c\/span\u003e\u003c\/p\u003e\n\u003cp data-mce-fragment=\"1\"\u003e\u003cspan style=\"color: #d68383;\" data-mce-fragment=\"1\"\u003e\u003cstrong data-mce-fragment=\"1\"\u003eFEATURES\u003c\/strong\u003e\u003c\/span\u003e\u003c\/p\u003e\n\u003cul\u003e\n\u003cli\u003e\u003cspan\u003e👶Adopted \u003cstrong\u003esuper soft ultra-thick\u003c\/strong\u003e and\u003cstrong\u003e skin-friendly fuzzy lining design\u003c\/strong\u003e, this knee long socks can bring your baby extra warmth in winter without causing any skin stimulation.\u003c\/span\u003e\u003c\/li\u003e\n\u003c\/ul\u003e\n\u003cp\u003e\u003cspan\u003e\u003cimg style=\"display: block; margin-left: auto; margin-right: auto;\" class=\"lozad lazyloaded\" data-src=\"https:\/\/img-va.myshopline.com\/image\/store\/2000283284\/1662433943860\/282ac7cdd8bf4befb42264d8f5f6de54.jpeg?w=584\u0026amp;h=476\" alt=\"\" width=\"480\" height=\"391\" src=\"https:\/\/img-va.myshopline.com\/image\/store\/2000283284\/1662433943860\/282ac7cdd8bf4befb42264d8f5f6de54.jpeg?w=584\u0026amp;h=476\" data-loaded=\"true\" referrerpolicy=\"same-origin\"\u003e\u003cbr\u003e\u003c\/span\u003e\u003c\/p\u003e\n\u003cul\u003e\n\u003cli\u003e\u003cspan\u003e👶The design of various cartoon animal shapes makes knee-long socks more attractive and unique, so they can be used as a nice present for your lovely baby.\u003c\/span\u003e\u003c\/li\u003e\n\u003c\/ul\u003e\n\u003cp\u003e\u003cspan\u003e\u003cimg style=\"display: block; margin-left: auto; margin-right: auto;\" class=\"lozad lazyloaded\" data-src=\"https:\/\/img-va.myshopline.com\/image\/store\/2000283284\/1662433943860\/b63bad8efb3a40aca7fca6b89765c762.jpeg?w=749\u0026amp;h=591\" alt=\"\" width=\"480\" height=\"379\" src=\"https:\/\/img-va.myshopline.com\/image\/store\/2000283284\/1662433943860\/b63bad8efb3a40aca7fca6b89765c762.jpeg?w=749\u0026amp;h=591\" data-loaded=\"true\" referrerpolicy=\"same-origin\"\u003e\u003c\/span\u003e\u003c\/p\u003e\n\u003cul\u003e\n\u003cli\u003e\n\u003cspan\u003e👶It is made of high-quality \u003c\/span\u003eCoral Fleece.\u003c\/li\u003e\n\u003c\/ul\u003e\n\u003cp\u003e\u003cspan\u003e\u003cimg style=\"display: block; margin-left: auto; margin-right: auto;\" class=\"lozad lazyloaded\" data-src=\"https:\/\/img-va.myshopline.com\/image\/store\/2000283284\/1662433943860\/8537a73543b84404b5d9556a6e79e628.jpeg?w=800\u0026amp;h=800\" alt=\"\" width=\"480\" height=\"480\" src=\"https:\/\/img-va.myshopline.com\/image\/store\/2000283284\/1662433943860\/8537a73543b84404b5d9556a6e79e628.jpeg?w=800\u0026amp;h=800\" data-loaded=\"true\" referrerpolicy=\"same-origin\"\u003e\u003c\/span\u003e\u003c\/p\u003e\n\u003cul\u003e\n\u003cli\u003e\u003cspan\u003e👶Perfectly suitable for 0-4 years old babies.\u003c\/span\u003e\u003c\/li\u003e\n\u003c\/ul\u003e\n\u003cp\u003e\u003cspan\u003e\u003cimg style=\"display: block; margin-left: auto; margin-right: auto;\" class=\"lozad lazyloaded\" data-src=\"https:\/\/img-va.myshopline.com\/image\/store\/2000283284\/1662433943860\/f7bfd72908934deaa9601a4121ec3c0a.jpeg?w=800\u0026amp;h=800\" alt=\"\" width=\"480\" height=\"480\" src=\"https:\/\/img-va.myshopline.com\/image\/store\/2000283284\/1662433943860\/f7bfd72908934deaa9601a4121ec3c0a.jpeg?w=800\u0026amp;h=800\" data-loaded=\"true\" referrerpolicy=\"same-origin\"\u003e\u003c\/span\u003e\u003c\/p\u003e\n\u003cp data-mce-fragment=\"1\"\u003e\u003cspan style=\"color: #d68383;\" data-mce-fragment=\"1\"\u003e\u003cstrong data-mce-fragment=\"1\"\u003eSPECIFICATIONS\u003c\/strong\u003e\u003c\/span\u003e\u003c\/p\u003e\n\u003cul data-mce-fragment=\"1\"\u003e\n\u003cli data-mce-fragment=\"1\"\u003e\n\u003cp data-mce-fragment=\"1\"\u003e\u003cstrong data-mce-fragment=\"1\"\u003eColor:\u003c\/strong\u003e\u003cspan data-mce-fragment=\"1\"\u003e \u003cspan class=\"Polaris-Badge_2qgie\" mce-data-marked=\"1\" data-mce-fragment=\"1\"\u003eLight Grey, Brown, White, Blue, Pink, Beige\u003c\/span\u003e\u003c\/span\u003e\u003c\/p\u003e\n\u003c\/li\u003e\n\u003cli data-mce-fragment=\"1\"\u003e\n\u003cp data-mce-fragment=\"1\"\u003e\u003cspan data-mce-fragment=\"1\"\u003e\u003cspan class=\"Polaris-Badge_2qgie\" mce-data-marked=\"1\" data-mce-fragment=\"1\"\u003e\u003c\/span\u003e\u003c\/span\u003e\u003cstrong data-mce-fragment=\"1\"\u003eMaterial:\u003c\/strong\u003e\u003cspan data-mce-fragment=\"1\"\u003e Coral Fleece\u003c\/span\u003e\u003c\/p\u003e\n\u003c\/li\u003e\n\u003cli data-mce-fragment=\"1\"\u003e\n\u003cp data-mce-fragment=\"1\"\u003e\u003cstrong data-mce-fragment=\"1\"\u003eStyle: \u003c\/strong\u003eCartoon\u003c\/p\u003e\n\u003c\/li\u003e\n\u003cli data-mce-fragment=\"1\"\u003e\n\u003cp\u003e\u003cstrong\u003eSeason:\u003c\/strong\u003e All seasons\u003c\/p\u003e\n\u003c\/li\u003e\n\u003cli data-mce-fragment=\"1\"\u003e\n\u003cp data-mce-fragment=\"1\"\u003e\u003cstrong data-mce-fragment=\"1\"\u003eSize:\u003c\/strong\u003e\u003cspan data-mce-fragment=\"1\"\u003e One Size Fits All\u003c\/span\u003e\u003c\/p\u003e\n\u003c\/li\u003e\n\u003c\/ul\u003e\n\u003cul data-mce-fragment=\"1\"\u003e\u003c\/ul\u003e\n\u003cul data-mce-fragment=\"1\"\u003e\u003c\/ul\u003e\n\u003cul data-mce-fragment=\"1\"\u003e\u003c\/ul\u003e\n\u003cul data-mce-fragment=\"1\"\u003e\u003c\/ul\u003e\n\u003cp data-mce-fragment=\"1\"\u003e\u003cspan style=\"color: #d68383;\" data-mce-fragment=\"1\"\u003e\u003cstrong data-mce-fragment=\"1\"\u003ePACKAGE\u003c\/strong\u003e\u003c\/span\u003e\u003c\/p\u003e\n\u003cul data-mce-fragment=\"1\"\u003e\n\u003cli data-mce-fragment=\"1\"\u003e1 Pair * Baby Winter Fluffy Fuzzy Slipper Socks\u003c\/li\u003e\n\u003c\/ul\u003e\n\u003cp data-mce-fragment=\"1\"\u003e\u003cspan style=\"color: #d68383;\" data-mce-fragment=\"1\"\u003e\u003cstrong data-mce-fragment=\"1\"\u003eNOTE\u003c\/strong\u003e\u003c\/span\u003e\u003c\/p\u003e\n\u003cul data-mce-fragment=\"1\"\u003e\n\u003cli data-mce-fragment=\"1\"\u003e\n\u003cp data-mce-fragment=\"1\"\u003e\u003cspan data-mce-fragment=\"1\"\u003ePlease allow slight measurement deviations due to manual measurement.\u003c\/span\u003e\u003c\/p\u003e\n\u003c\/li\u003e\n\u003cli data-mce-fragment=\"1\"\u003e\n\u003cp data-mce-fragment=\"1\"\u003e\u003cspan data-mce-fragment=\"1\"\u003eDue to the different monitor and light effect, the actual color of the item might be slightly different from the color showed in the pictures.\u003c\/span\u003e\u003c\/p\u003e\n\u003c\/li\u003e\n\u003c\/ul\u003e"}
Baby Winter Fluffy Fuzzy Slipper Socks
Adding product to your cart
👣Use these cute socks to dispel the chills of the baby in winter.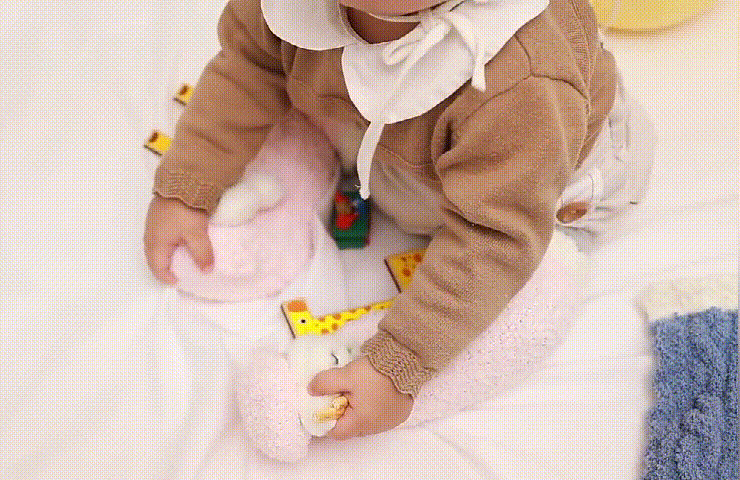 FEATURES
👶Adopted super soft ultra-thick and skin-friendly fuzzy lining design, this knee long socks can bring your baby extra warmth in winter without causing any skin stimulation.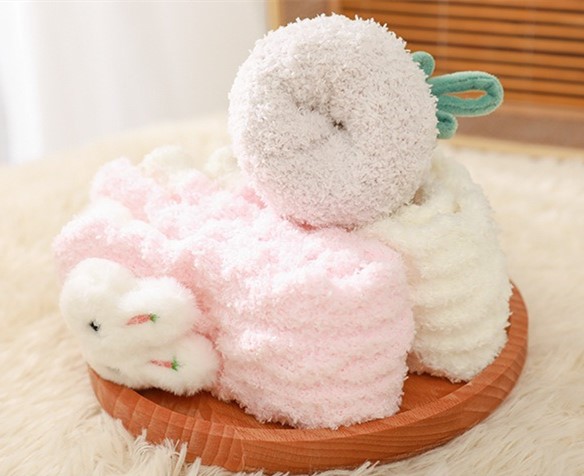 👶The design of various cartoon animal shapes makes knee-long socks more attractive and unique, so they can be used as a nice present for your lovely baby.
👶It is made of high-quality 

Coral Fleece.
👶Perfectly suitable for 0-4 years old babies.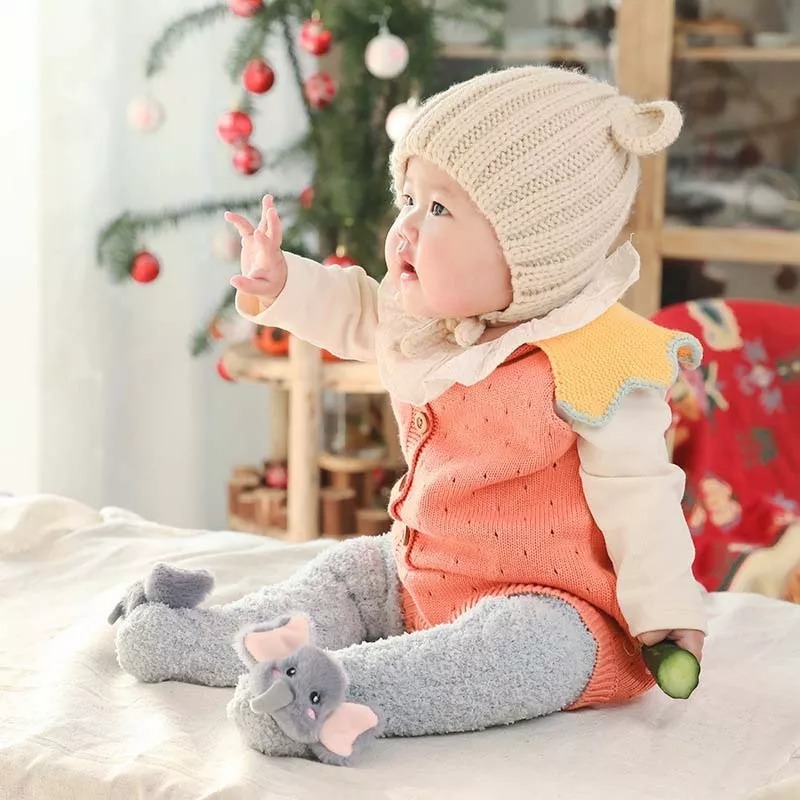 SPECIFICATIONS
Color: Light Grey, Brown, White, Blue, Pink, Beige

Material: Coral Fleece

Style: Cartoon

Season: All seasons

Size: One Size Fits All
PACKAGE
1 Pair * Baby Winter Fluffy Fuzzy Slipper Socks
NOTE
Please allow slight measurement deviations due to manual measurement.

Due to the different monitor and light effect, the actual color of the item might be slightly different from the color showed in the pictures.