{"id":8635420737696,"title":"Baby Potty Training Underwear","handle":"baby-potty-training-underwear","description":"\u003ch4 style=\"text-align: center;\"\u003e\u003cspan style=\"color: #0088cc;\"\u003e\u003cstrong\u003e\u003c\/strong\u003e\u003c\/span\u003e\u003c\/h4\u003e\n\u003ch4 style=\"text-align: center;\"\u003e\u003cspan style=\"color: #ff8900;\"\u003e\u003cstrong\u003eMake your child less dependent on diapers and quickly master toileting!\u003c\/strong\u003e\u003c\/span\u003e\u003c\/h4\u003e\n\u003cp\u003e\u003cspan style=\"color: #000000;\"\u003eOver-reliance on diapers affects the urine storage function of the baby's bladder, and if the baby is still using diapers at an overage will cause the baby to lose the ability to hold urine.\u003c\/span\u003e\u003c\/p\u003e\n\u003ch4\u003e\u003cimg class=\"lozad lazyloaded\" style=\"display: block; margin-left: auto; margin-right: auto;\" data-src=\"https:\/\/img-va.myshopline.com\/image\/store\/2000315506\/1635401935104\/191716e6728b473e83c42de25c4e58c6.gif?w=300\u0026amp;h=375\u0026amp;_f=1\" src=\"https:\/\/img-va.myshopline.com\/image\/store\/2000315506\/1635401935104\/191716e6728b473e83c42de25c4e58c6.gif?w=300\u0026amp;h=375\u0026amp;_f=1\" data-loaded=\"true\" width=\"316\" height=\"398\" data-mce-style=\"display: block; margin-left: auto; margin-right: auto;\" data-mce-src=\"https:\/\/img-va.myshopline.com\/image\/store\/2000315506\/1635401935104\/191716e6728b473e83c42de25c4e58c6.gif?w=300\u0026amp;h=375\u0026amp;_f=1\" referrerpolicy=\"same-origin\" data-mce-fragment=\"1\"\u003e\u003c\/h4\u003e\n\u003cspan style=\"color: #ff9b4b;\"\u003e\u003cstrong\u003eWhat are study pants? \u003c\/strong\u003e\u003c\/span\u003e\n\u003cp\u003e\u003cspan style=\"color: #ff9b4b;\"\u003e\u003cstrong\u003eLearning pants ≠ diapers\u003c\/strong\u003e\u003c\/span\u003e\u003c\/p\u003e\n\u003cp\u003eLearning pants are underwear that help babies transition from diapers to learning to go to the toilet. When wearing learning pants, babies will feel wet and uncomfortable and will remind mom and dad to help them take off their underwear and gradually form their own consciousness to complete the transition period.\u003c\/p\u003e\n\u003cspan style=\"color: #0088cc;\"\u003e\u003cstrong\u003eFEATURE:\u003c\/strong\u003e\u003c\/span\u003e\u003cbr data-mce-fragment=\"1\"\u003e\n\u003cul\u003e\n\u003cli\u003e\n\u003cspan style=\"color: #ff9b4b;\"\u003e\u003cstrong\u003eWater storage \u0026gt; ordinary underwear\u003c\/strong\u003e\u003c\/span\u003e\u003cbr\u003eThe 6-layer gauze is super absorbent and contains a TPU layer and knitted layer, which enhances the absorbency and water resistance of the panties. Prevents leakage of urine and does not stain the sheets.\u003cbr\u003eNote: Learning pants ≠ diapers, need to be changed when baby is reminded.\u003cbr\u003e\n\u003c\/li\u003e\n\u003c\/ul\u003e\n\u003cp\u003e\u003cimg height=\"396\" width=\"316\" class=\"lozad lazyloaded\" data-src=\"https:\/\/img-va.myshopline.com\/image\/store\/2000315506\/1635401935104\/5817f504046c4108bce8abc70690f45f.gif?w=300\u0026amp;h=375\u0026amp;_f=1\" src=\"https:\/\/img-va.myshopline.com\/image\/store\/2000315506\/1635401935104\/5817f504046c4108bce8abc70690f45f.gif?w=300\u0026amp;h=375\u0026amp;_f=1\" data-loaded=\"true\" style=\"display: block; margin-left: auto; margin-right: auto;\" referrerpolicy=\"same-origin\" data-mce-src=\"https:\/\/img-va.myshopline.com\/image\/store\/2000315506\/1635401935104\/5817f504046c4108bce8abc70690f45f.gif?w=300\u0026amp;h=375\u0026amp;_f=1\" data-mce-fragment=\"1\"\u003e\u003c\/p\u003e\n\u003cul\u003e\n\u003cli\u003e\n\u003cspan style=\"color: #ff9b4b;\"\u003e\u003cstrong\u003eNo sense of restraint\u003c\/strong\u003e\u003c\/span\u003e\u003cbr\u003eLegs and waist are elastic band design, elastic, suitable for different body shape of the baby wear. Will not feel uncomfortable and tight.\u003cbr\u003e\u003cbr\u003e\n\u003c\/li\u003e\n\u003cli\u003e\n\u003cspan style=\"color: #ff9b4b;\"\u003e\u003cstrong\u003eSafer\u003c\/strong\u003e\u003c\/span\u003e\u003cbr\u003eNo fluorescent agent, through the professional instrument test, no fluorescent agent, the mother more assured.\u003cbr\u003e\n\u003c\/li\u003e\n\u003c\/ul\u003e\n\u003cp\u003e\u003cimg alt=\"\" src=\"https:\/\/cdn.shopify.com\/s\/files\/1\/0040\/2728\/5539\/files\/06_7ab6a32a-5967-4836-978c-bf44a8d44ce6_480x480.jpg?v=1660713376\" style=\"display: block; margin-left: auto; margin-right: auto;\"\u003e\u003c\/p\u003e\n\u003cul\u003e\n\u003cli\u003e\n\u003cspan style=\"color: #ff9b4b;\"\u003e\u003cstrong\u003eSave more money\u003c\/strong\u003e\u003c\/span\u003e\u003cbr\u003e\"Disposable diapers cost me too much money each month, so I prefer these reusable training pants for boys and girls that are durable, washable for multiple uses, and easy to machine wash and care for. The middle section is designed with a concealed thicker inner pad (multiple layers) that enhances the ability to absorb large amounts of urine and reduce leakage. And it allows babies to better learn to hold their own urine, which is helpful for their health\"\u003cbr\u003e\n\u003c\/li\u003e\n\u003c\/ul\u003e\n\u003cp\u003e\u003cimg alt=\"\" src=\"https:\/\/cdn.shopify.com\/s\/files\/1\/0040\/2728\/5539\/files\/12_e71f8c18-da4b-412c-ae98-882f471bdd44_480x480.jpg?v=1660713453\" style=\"display: block; margin-left: auto; margin-right: auto;\"\u003e\u003c\/p\u003e\n\u003cul\u003e\n\u003cli\u003e\n\u003cspan style=\"color: #ff9b4b;\"\u003e\u003cstrong\u003eRecommended Use\u003c\/strong\u003e\u003c\/span\u003e\u003cbr\u003eUse our learning pants for babies during the day to make it easier for parents to change them in time. Use diapers for babies at night to prevent them from affecting their sleep and health at night due to wet underwear.\u003cbr\u003e\n\u003c\/li\u003e\n\u003c\/ul\u003e\n\u003cul\u003e\u003c\/ul\u003e\n\u003ch4\u003e\u003cstrong\u003e\u003c\/strong\u003e\u003c\/h4\u003e\n\u003ch4\u003e\n\u003cspan style=\"color: #0088cc;\"\u003e \u003cstrong\u003eSPECIFICATION:\u003c\/strong\u003e\u003c\/span\u003e\u003cbr\u003e\n\u003c\/h4\u003e\n\u003cul\u003e\n\u003cli\u003e\n\u003cstrong\u003eMaterial:\u003c\/strong\u003e \u003cspan class=\"VIiyi\" lang=\"en\" jsname=\"jqKxS\" jsaction=\"mouseup:BR6jm\" data-mce-fragment=\"1\"\u003e\u003cspan data-number-of-phrases=\"1\" data-phrase-index=\"0\" data-language-to-translate-into=\"zh-CN\" data-language-for-alternatives=\"en\" class=\"JLqJ4b ChMk0b C1N51c\" jsmodel=\"SsMkhd\" jsdata=\"uqLsIf;_;$146\" jscontroller=\"Zl5N8\" jsname=\"txFAF\" jsaction=\"agoMJf:PFBcW;usxOmf:aWLT7;jhKsnd:P7O7bd,F8DmGf;Q4AGo:Gm7gYd,qAKMYb;uFUCPb:pvnm0e,pfE8Hb,PFBcW;f56efd:dJXsye;EnoYf:KNzws,ZJsZZ,JgVSJc;zdMJQc:cCQNKb,ZJsZZ,zchEXc;Ytrrj:JJDvdc;tNR8yc:GeFvjb;oFN6Ye:hij5Wb;bmeZHc:iURhpf;Oxj3Xe:qAKMYb,yaf12d\" data-mce-fragment=\"1\"\u003e\u003cspan class=\"Q4iAWc\" jsname=\"W297wb\" jsaction=\"click:qtZ4nf,GFf3ac,tMZCfe; contextmenu:Nqw7Te,QP7LD; mouseout:Nqw7Te; mouseover:qtZ4nf,c2aHje\" data-mce-fragment=\"1\"\u003ecotton\u003c\/span\u003e\u003c\/span\u003e\u003c\/span\u003e\u003cbr\u003e\n\u003c\/li\u003e\n\u003cli\u003e\n\u003cstrong\u003eColor:\u003c\/strong\u003e \u003cspan class=\"VIiyi\" lang=\"en\" jsname=\"jqKxS\" jsaction=\"mouseup:BR6jm\" data-mce-fragment=\"1\"\u003e\u003cspan data-number-of-phrases=\"1\" data-phrase-index=\"0\" data-language-to-translate-into=\"zh-CN\" data-language-for-alternatives=\"en\" class=\"JLqJ4b ChMk0b\" jsmodel=\"SsMkhd\" jsdata=\"uqLsIf;_;$194\" jscontroller=\"Zl5N8\" jsname=\"txFAF\" jsaction=\"agoMJf:PFBcW;usxOmf:aWLT7;jhKsnd:P7O7bd,F8DmGf;Q4AGo:Gm7gYd,qAKMYb;uFUCPb:pvnm0e,pfE8Hb,PFBcW;f56efd:dJXsye;EnoYf:KNzws,ZJsZZ,JgVSJc;zdMJQc:cCQNKb,ZJsZZ,zchEXc;Ytrrj:JJDvdc;tNR8yc:GeFvjb;oFN6Ye:hij5Wb;bmeZHc:iURhpf;Oxj3Xe:qAKMYb,yaf12d\" data-mce-fragment=\"1\"\u003e\u003cspan class=\"Q4iAWc\" jsname=\"W297wb\" jsaction=\"click:qtZ4nf,GFf3ac,tMZCfe; contextmenu:Nqw7Te,QP7LD; mouseout:Nqw7Te; mouseover:qtZ4nf,c2aHje\" data-mce-fragment=\"1\"\u003eas shown\u003c\/span\u003e\u003c\/span\u003e\u003c\/span\u003e\u003cbr\u003e\n\u003c\/li\u003e\n\u003cli\u003e\u003cspan class=\"VIiyi\" lang=\"en\" jsname=\"jqKxS\" jsaction=\"mouseup:BR6jm\" data-mce-fragment=\"1\"\u003e\u003cspan data-number-of-phrases=\"1\" data-phrase-index=\"0\" data-language-to-translate-into=\"zh-CN\" data-language-for-alternatives=\"en\" class=\"JLqJ4b ChMk0b\" jsmodel=\"SsMkhd\" jsdata=\"uqLsIf;_;$194\" jscontroller=\"Zl5N8\" jsname=\"txFAF\" jsaction=\"agoMJf:PFBcW;usxOmf:aWLT7;jhKsnd:P7O7bd,F8DmGf;Q4AGo:Gm7gYd,qAKMYb;uFUCPb:pvnm0e,pfE8Hb,PFBcW;f56efd:dJXsye;EnoYf:KNzws,ZJsZZ,JgVSJc;zdMJQc:cCQNKb,ZJsZZ,zchEXc;Ytrrj:JJDvdc;tNR8yc:GeFvjb;oFN6Ye:hij5Wb;bmeZHc:iURhpf;Oxj3Xe:qAKMYb,yaf12d\" data-mce-fragment=\"1\"\u003e\u003cspan class=\"Q4iAWc\" jsname=\"W297wb\" jsaction=\"click:qtZ4nf,GFf3ac,tMZCfe; contextmenu:Nqw7Te,QP7LD; mouseout:Nqw7Te; mouseover:qtZ4nf,c2aHje\" data-mce-fragment=\"1\"\u003e\u003cspan data-number-of-phrases=\"1\" data-phrase-index=\"0\" data-language-to-translate-into=\"zh-CN\" data-language-for-alternatives=\"en\" class=\"JLqJ4b ChMk0b C1N51c\" jsmodel=\"SsMkhd\" jsdata=\"uqLsIf;_;$810\" jscontroller=\"Zl5N8\" jsname=\"txFAF\" jsaction=\"agoMJf:PFBcW;usxOmf:aWLT7;jhKsnd:P7O7bd,F8DmGf;Q4AGo:Gm7gYd,qAKMYb;uFUCPb:pvnm0e,pfE8Hb,PFBcW;f56efd:dJXsye;EnoYf:KNzws,ZJsZZ,JgVSJc;zdMJQc:cCQNKb,ZJsZZ,zchEXc;Ytrrj:JJDvdc;tNR8yc:GeFvjb;oFN6Ye:hij5Wb;bmeZHc:iURhpf;Oxj3Xe:qAKMYb,yaf12d\"\u003e\u003cstrong\u003eStyle:\u003c\/strong\u003e cartoon\u003c\/span\u003e\u003c\/span\u003e\u003c\/span\u003e\u003c\/span\u003e\u003c\/li\u003e\n\u003cli\u003e\u003cspan class=\"VIiyi\" lang=\"en\" jsaction=\"mouseup:BR6jm\" jsname=\"jqKxS\"\u003e\u003cspan class=\"JLqJ4b ChMk0b C1N51c\" data-language-for-alternatives=\"en\" data-language-to-translate-into=\"zh-CN\" data-phrase-index=\"0\" data-number-of-phrases=\"1\" jsaction=\"agoMJf:PFBcW;usxOmf:aWLT7;jhKsnd:P7O7bd,F8DmGf;Q4AGo:Gm7gYd,qAKMYb;uFUCPb:pvnm0e,pfE8Hb,PFBcW;f56efd:dJXsye;EnoYf:KNzws,ZJsZZ,JgVSJc;zdMJQc:cCQNKb,ZJsZZ,zchEXc;Ytrrj:JJDvdc;tNR8yc:GeFvjb;oFN6Ye:hij5Wb;bmeZHc:iURhpf;Oxj3Xe:qAKMYb,yaf12d\" jsname=\"txFAF\" jscontroller=\"Zl5N8\" jsdata=\"uqLsIf;_;$354\" jsmodel=\"SsMkhd\"\u003e\u003cspan class=\"Q4iAWc\" jsaction=\"click:qtZ4nf,GFf3ac,tMZCfe; contextmenu:Nqw7Te,QP7LD; mouseout:Nqw7Te; mouseover:qtZ4nf,c2aHje\" jsname=\"W297wb\"\u003e\u003cstrong\u003eFunction:\u003c\/strong\u003e moisture wicking and perspiration\u003c\/span\u003e\u003c\/span\u003e\u003c\/span\u003e\u003c\/li\u003e\n\u003c\/ul\u003e\n\u003ch4\u003e\n\u003cbr\u003e\u003cspan style=\"color: #0088cc;\"\u003e\u003cstrong\u003ePACKAGE INCLUDES:\u003c\/strong\u003e\u003c\/span\u003e\u003cbr\u003e\n\u003c\/h4\u003e\n\u003cul\u003e\n\u003cli\u003e1×Baby Potty Training Underwear\u003c\/li\u003e\n\u003c\/ul\u003e","published_at":"2023-04-24T22:38:09-10:00","created_at":"2023-04-24T22:38:18-10:00","vendor":"flownwing","type":"","tags":["baby","baby care","baby products"],"price":899,"price_min":899,"price_max":899,"available":true,"price_varies":false,"compare_at_price":1799,"compare_at_price_min":1799,"compare_at_price_max":1799,"compare_at_price_varies":false,"variants":[{"id":44144171352224,"title":"Strawberry Rabbit \/ 90( Suggested Weight: 10-13kg)","option1":"Strawberry Rabbit","option2":"90( Suggested Weight: 10-13kg)","option3":null,"sku":"UN35687-S527-X28165","requires_shipping":true,"taxable":false,"featured_image":{"id":34033174380704,"product_id":8635420737696,"position":11,"created_at":"2023-04-24T22:38:25-10:00","updated_at":"2023-04-24T22:38:25-10:00","alt":null,"width":800,"height":800,"src":"\/\/www.flownwing.com\/cdn\/shop\/files\/01_8e7fc7b9-ff4a-4387-9378-986a4a8f35d5.jpg?v=1682411905","variant_ids":[44144171352224,44144171384992,44144171417760]},"available":true,"name":"Baby Potty Training Underwear - Strawberry Rabbit \/ 90( Suggested Weight: 10-13kg)","public_title":"Strawberry Rabbit \/ 90( Suggested Weight: 10-13kg)","options":["Strawberry Rabbit","90( Suggested Weight: 10-13kg)"],"price":899,"weight":0,"compare_at_price":1799,"inventory_management":null,"barcode":null,"featured_media":{"alt":null,"id":27386272153760,"position":11,"preview_image":{"aspect_ratio":1.0,"height":800,"width":800,"src":"\/\/www.flownwing.com\/cdn\/shop\/files\/01_8e7fc7b9-ff4a-4387-9378-986a4a8f35d5.jpg?v=1682411905"}},"requires_selling_plan":false,"selling_plan_allocations":[],"quantity_rule":{"min":1,"max":null,"increment":1}},{"id":44144171384992,"title":"Strawberry Rabbit \/ 100( Suggested Weight: 13-15kg)","option1":"Strawberry Rabbit","option2":"100( Suggested Weight: 13-15kg)","option3":null,"sku":"UN35687-S528-X28165","requires_shipping":true,"taxable":false,"featured_image":{"id":34033174380704,"product_id":8635420737696,"position":11,"created_at":"2023-04-24T22:38:25-10:00","updated_at":"2023-04-24T22:38:25-10:00","alt":null,"width":800,"height":800,"src":"\/\/www.flownwing.com\/cdn\/shop\/files\/01_8e7fc7b9-ff4a-4387-9378-986a4a8f35d5.jpg?v=1682411905","variant_ids":[44144171352224,44144171384992,44144171417760]},"available":true,"name":"Baby Potty Training Underwear - Strawberry Rabbit \/ 100( Suggested Weight: 13-15kg)","public_title":"Strawberry Rabbit \/ 100( Suggested Weight: 13-15kg)","options":["Strawberry Rabbit","100( Suggested Weight: 13-15kg)"],"price":899,"weight":0,"compare_at_price":1799,"inventory_management":null,"barcode":null,"featured_media":{"alt":null,"id":27386272153760,"position":11,"preview_image":{"aspect_ratio":1.0,"height":800,"width":800,"src":"\/\/www.flownwing.com\/cdn\/shop\/files\/01_8e7fc7b9-ff4a-4387-9378-986a4a8f35d5.jpg?v=1682411905"}},"requires_selling_plan":false,"selling_plan_allocations":[],"quantity_rule":{"min":1,"max":null,"increment":1}},{"id":44144171417760,"title":"Strawberry Rabbit \/ 110( Suggested Weight: 15-18kg)","option1":"Strawberry Rabbit","option2":"110( Suggested Weight: 15-18kg)","option3":null,"sku":"UN35687-S529-X28165","requires_shipping":true,"taxable":false,"featured_image":{"id":34033174380704,"product_id":8635420737696,"position":11,"created_at":"2023-04-24T22:38:25-10:00","updated_at":"2023-04-24T22:38:25-10:00","alt":null,"width":800,"height":800,"src":"\/\/www.flownwing.com\/cdn\/shop\/files\/01_8e7fc7b9-ff4a-4387-9378-986a4a8f35d5.jpg?v=1682411905","variant_ids":[44144171352224,44144171384992,44144171417760]},"available":true,"name":"Baby Potty Training Underwear - Strawberry Rabbit \/ 110( Suggested Weight: 15-18kg)","public_title":"Strawberry Rabbit \/ 110( Suggested Weight: 15-18kg)","options":["Strawberry Rabbit","110( Suggested Weight: 15-18kg)"],"price":899,"weight":0,"compare_at_price":1799,"inventory_management":null,"barcode":null,"featured_media":{"alt":null,"id":27386272153760,"position":11,"preview_image":{"aspect_ratio":1.0,"height":800,"width":800,"src":"\/\/www.flownwing.com\/cdn\/shop\/files\/01_8e7fc7b9-ff4a-4387-9378-986a4a8f35d5.jpg?v=1682411905"}},"requires_selling_plan":false,"selling_plan_allocations":[],"quantity_rule":{"min":1,"max":null,"increment":1}},{"id":44144171450528,"title":"Little Duck \/ 90( Suggested Weight: 10-13kg)","option1":"Little Duck","option2":"90( Suggested Weight: 10-13kg)","option3":null,"sku":"UN35687-S527-X28166","requires_shipping":true,"taxable":false,"featured_image":{"id":34033174249632,"product_id":8635420737696,"position":9,"created_at":"2023-04-24T22:38:21-10:00","updated_at":"2023-04-24T22:38:21-10:00","alt":null,"width":800,"height":800,"src":"\/\/www.flownwing.com\/cdn\/shop\/files\/02_8965388a-56b8-4e0a-a5b3-6d2a7d87d0e0.jpg?v=1682411901","variant_ids":[44144171450528,44144171483296,44144171516064]},"available":true,"name":"Baby Potty Training Underwear - Little Duck \/ 90( Suggested Weight: 10-13kg)","public_title":"Little Duck \/ 90( Suggested Weight: 10-13kg)","options":["Little Duck","90( Suggested Weight: 10-13kg)"],"price":899,"weight":0,"compare_at_price":1799,"inventory_management":null,"barcode":null,"featured_media":{"alt":null,"id":27386271727776,"position":9,"preview_image":{"aspect_ratio":1.0,"height":800,"width":800,"src":"\/\/www.flownwing.com\/cdn\/shop\/files\/02_8965388a-56b8-4e0a-a5b3-6d2a7d87d0e0.jpg?v=1682411901"}},"requires_selling_plan":false,"selling_plan_allocations":[],"quantity_rule":{"min":1,"max":null,"increment":1}},{"id":44144171483296,"title":"Little Duck \/ 100( Suggested Weight: 13-15kg)","option1":"Little Duck","option2":"100( Suggested Weight: 13-15kg)","option3":null,"sku":"UN35687-S528-X28166","requires_shipping":true,"taxable":false,"featured_image":{"id":34033174249632,"product_id":8635420737696,"position":9,"created_at":"2023-04-24T22:38:21-10:00","updated_at":"2023-04-24T22:38:21-10:00","alt":null,"width":800,"height":800,"src":"\/\/www.flownwing.com\/cdn\/shop\/files\/02_8965388a-56b8-4e0a-a5b3-6d2a7d87d0e0.jpg?v=1682411901","variant_ids":[44144171450528,44144171483296,44144171516064]},"available":true,"name":"Baby Potty Training Underwear - Little Duck \/ 100( Suggested Weight: 13-15kg)","public_title":"Little Duck \/ 100( Suggested Weight: 13-15kg)","options":["Little Duck","100( Suggested Weight: 13-15kg)"],"price":899,"weight":0,"compare_at_price":1799,"inventory_management":null,"barcode":null,"featured_media":{"alt":null,"id":27386271727776,"position":9,"preview_image":{"aspect_ratio":1.0,"height":800,"width":800,"src":"\/\/www.flownwing.com\/cdn\/shop\/files\/02_8965388a-56b8-4e0a-a5b3-6d2a7d87d0e0.jpg?v=1682411901"}},"requires_selling_plan":false,"selling_plan_allocations":[],"quantity_rule":{"min":1,"max":null,"increment":1}},{"id":44144171516064,"title":"Little Duck \/ 110( Suggested Weight: 15-18kg)","option1":"Little Duck","option2":"110( Suggested Weight: 15-18kg)","option3":null,"sku":"UN35687-S529-X28166","requires_shipping":true,"taxable":false,"featured_image":{"id":34033174249632,"product_id":8635420737696,"position":9,"created_at":"2023-04-24T22:38:21-10:00","updated_at":"2023-04-24T22:38:21-10:00","alt":null,"width":800,"height":800,"src":"\/\/www.flownwing.com\/cdn\/shop\/files\/02_8965388a-56b8-4e0a-a5b3-6d2a7d87d0e0.jpg?v=1682411901","variant_ids":[44144171450528,44144171483296,44144171516064]},"available":true,"name":"Baby Potty Training Underwear - Little Duck \/ 110( Suggested Weight: 15-18kg)","public_title":"Little Duck \/ 110( Suggested Weight: 15-18kg)","options":["Little Duck","110( Suggested Weight: 15-18kg)"],"price":899,"weight":0,"compare_at_price":1799,"inventory_management":null,"barcode":null,"featured_media":{"alt":null,"id":27386271727776,"position":9,"preview_image":{"aspect_ratio":1.0,"height":800,"width":800,"src":"\/\/www.flownwing.com\/cdn\/shop\/files\/02_8965388a-56b8-4e0a-a5b3-6d2a7d87d0e0.jpg?v=1682411901"}},"requires_selling_plan":false,"selling_plan_allocations":[],"quantity_rule":{"min":1,"max":null,"increment":1}},{"id":44144171548832,"title":"Cheep-Cheep Chick \/ 90( Suggested Weight: 10-13kg)","option1":"Cheep-Cheep Chick","option2":"90( Suggested Weight: 10-13kg)","option3":null,"sku":"UN35687-S527-X28167","requires_shipping":true,"taxable":false,"featured_image":{"id":34033174577312,"product_id":8635420737696,"position":12,"created_at":"2023-04-24T22:38:26-10:00","updated_at":"2023-04-24T22:38:26-10:00","alt":null,"width":800,"height":800,"src":"\/\/www.flownwing.com\/cdn\/shop\/files\/03_a8136ed7-b303-422c-a604-73d816ac789b.jpg?v=1682411906","variant_ids":[44144171548832,44144171581600,44144171614368]},"available":true,"name":"Baby Potty Training Underwear - Cheep-Cheep Chick \/ 90( Suggested Weight: 10-13kg)","public_title":"Cheep-Cheep Chick \/ 90( Suggested Weight: 10-13kg)","options":["Cheep-Cheep Chick","90( Suggested Weight: 10-13kg)"],"price":899,"weight":0,"compare_at_price":1799,"inventory_management":null,"barcode":null,"featured_media":{"alt":null,"id":27386272481440,"position":12,"preview_image":{"aspect_ratio":1.0,"height":800,"width":800,"src":"\/\/www.flownwing.com\/cdn\/shop\/files\/03_a8136ed7-b303-422c-a604-73d816ac789b.jpg?v=1682411906"}},"requires_selling_plan":false,"selling_plan_allocations":[],"quantity_rule":{"min":1,"max":null,"increment":1}},{"id":44144171581600,"title":"Cheep-Cheep Chick \/ 100( Suggested Weight: 13-15kg)","option1":"Cheep-Cheep Chick","option2":"100( Suggested Weight: 13-15kg)","option3":null,"sku":"UN35687-S528-X28167","requires_shipping":true,"taxable":false,"featured_image":{"id":34033174577312,"product_id":8635420737696,"position":12,"created_at":"2023-04-24T22:38:26-10:00","updated_at":"2023-04-24T22:38:26-10:00","alt":null,"width":800,"height":800,"src":"\/\/www.flownwing.com\/cdn\/shop\/files\/03_a8136ed7-b303-422c-a604-73d816ac789b.jpg?v=1682411906","variant_ids":[44144171548832,44144171581600,44144171614368]},"available":true,"name":"Baby Potty Training Underwear - Cheep-Cheep Chick \/ 100( Suggested Weight: 13-15kg)","public_title":"Cheep-Cheep Chick \/ 100( Suggested Weight: 13-15kg)","options":["Cheep-Cheep Chick","100( Suggested Weight: 13-15kg)"],"price":899,"weight":0,"compare_at_price":1799,"inventory_management":null,"barcode":null,"featured_media":{"alt":null,"id":27386272481440,"position":12,"preview_image":{"aspect_ratio":1.0,"height":800,"width":800,"src":"\/\/www.flownwing.com\/cdn\/shop\/files\/03_a8136ed7-b303-422c-a604-73d816ac789b.jpg?v=1682411906"}},"requires_selling_plan":false,"selling_plan_allocations":[],"quantity_rule":{"min":1,"max":null,"increment":1}},{"id":44144171614368,"title":"Cheep-Cheep Chick \/ 110( Suggested Weight: 15-18kg)","option1":"Cheep-Cheep Chick","option2":"110( Suggested Weight: 15-18kg)","option3":null,"sku":"UN35687-S529-X28167","requires_shipping":true,"taxable":false,"featured_image":{"id":34033174577312,"product_id":8635420737696,"position":12,"created_at":"2023-04-24T22:38:26-10:00","updated_at":"2023-04-24T22:38:26-10:00","alt":null,"width":800,"height":800,"src":"\/\/www.flownwing.com\/cdn\/shop\/files\/03_a8136ed7-b303-422c-a604-73d816ac789b.jpg?v=1682411906","variant_ids":[44144171548832,44144171581600,44144171614368]},"available":true,"name":"Baby Potty Training Underwear - Cheep-Cheep Chick \/ 110( Suggested Weight: 15-18kg)","public_title":"Cheep-Cheep Chick \/ 110( Suggested Weight: 15-18kg)","options":["Cheep-Cheep Chick","110( Suggested Weight: 15-18kg)"],"price":899,"weight":0,"compare_at_price":1799,"inventory_management":null,"barcode":null,"featured_media":{"alt":null,"id":27386272481440,"position":12,"preview_image":{"aspect_ratio":1.0,"height":800,"width":800,"src":"\/\/www.flownwing.com\/cdn\/shop\/files\/03_a8136ed7-b303-422c-a604-73d816ac789b.jpg?v=1682411906"}},"requires_selling_plan":false,"selling_plan_allocations":[],"quantity_rule":{"min":1,"max":null,"increment":1}},{"id":44144171647136,"title":"Cute Tiger \/ 90( Suggested Weight: 10-13kg)","option1":"Cute Tiger","option2":"90( Suggested Weight: 10-13kg)","option3":null,"sku":"UN35687-S527-X28168","requires_shipping":true,"taxable":false,"featured_image":{"id":34033174347936,"product_id":8635420737696,"position":10,"created_at":"2023-04-24T22:38:23-10:00","updated_at":"2023-04-24T22:38:23-10:00","alt":null,"width":800,"height":800,"src":"\/\/www.flownwing.com\/cdn\/shop\/files\/04_adc7ff55-8655-4b33-9b11-b2ad778e5bed.jpg?v=1682411903","variant_ids":[44144171647136,44144171679904,44144171712672]},"available":true,"name":"Baby Potty Training Underwear - Cute Tiger \/ 90( Suggested Weight: 10-13kg)","public_title":"Cute Tiger \/ 90( Suggested Weight: 10-13kg)","options":["Cute Tiger","90( Suggested Weight: 10-13kg)"],"price":899,"weight":0,"compare_at_price":1799,"inventory_management":null,"barcode":null,"featured_media":{"alt":null,"id":27386271989920,"position":10,"preview_image":{"aspect_ratio":1.0,"height":800,"width":800,"src":"\/\/www.flownwing.com\/cdn\/shop\/files\/04_adc7ff55-8655-4b33-9b11-b2ad778e5bed.jpg?v=1682411903"}},"requires_selling_plan":false,"selling_plan_allocations":[],"quantity_rule":{"min":1,"max":null,"increment":1}},{"id":44144171679904,"title":"Cute Tiger \/ 100( Suggested Weight: 13-15kg)","option1":"Cute Tiger","option2":"100( Suggested Weight: 13-15kg)","option3":null,"sku":"UN35687-S528-X28168","requires_shipping":true,"taxable":false,"featured_image":{"id":34033174347936,"product_id":8635420737696,"position":10,"created_at":"2023-04-24T22:38:23-10:00","updated_at":"2023-04-24T22:38:23-10:00","alt":null,"width":800,"height":800,"src":"\/\/www.flownwing.com\/cdn\/shop\/files\/04_adc7ff55-8655-4b33-9b11-b2ad778e5bed.jpg?v=1682411903","variant_ids":[44144171647136,44144171679904,44144171712672]},"available":true,"name":"Baby Potty Training Underwear - Cute Tiger \/ 100( Suggested Weight: 13-15kg)","public_title":"Cute Tiger \/ 100( Suggested Weight: 13-15kg)","options":["Cute Tiger","100( Suggested Weight: 13-15kg)"],"price":899,"weight":0,"compare_at_price":1799,"inventory_management":null,"barcode":null,"featured_media":{"alt":null,"id":27386271989920,"position":10,"preview_image":{"aspect_ratio":1.0,"height":800,"width":800,"src":"\/\/www.flownwing.com\/cdn\/shop\/files\/04_adc7ff55-8655-4b33-9b11-b2ad778e5bed.jpg?v=1682411903"}},"requires_selling_plan":false,"selling_plan_allocations":[],"quantity_rule":{"min":1,"max":null,"increment":1}},{"id":44144171712672,"title":"Cute Tiger \/ 110( Suggested Weight: 15-18kg)","option1":"Cute Tiger","option2":"110( Suggested Weight: 15-18kg)","option3":null,"sku":"UN35687-S529-X28168","requires_shipping":true,"taxable":false,"featured_image":{"id":34033174347936,"product_id":8635420737696,"position":10,"created_at":"2023-04-24T22:38:23-10:00","updated_at":"2023-04-24T22:38:23-10:00","alt":null,"width":800,"height":800,"src":"\/\/www.flownwing.com\/cdn\/shop\/files\/04_adc7ff55-8655-4b33-9b11-b2ad778e5bed.jpg?v=1682411903","variant_ids":[44144171647136,44144171679904,44144171712672]},"available":true,"name":"Baby Potty Training Underwear - Cute Tiger \/ 110( Suggested Weight: 15-18kg)","public_title":"Cute Tiger \/ 110( Suggested Weight: 15-18kg)","options":["Cute Tiger","110( Suggested Weight: 15-18kg)"],"price":899,"weight":0,"compare_at_price":1799,"inventory_management":null,"barcode":null,"featured_media":{"alt":null,"id":27386271989920,"position":10,"preview_image":{"aspect_ratio":1.0,"height":800,"width":800,"src":"\/\/www.flownwing.com\/cdn\/shop\/files\/04_adc7ff55-8655-4b33-9b11-b2ad778e5bed.jpg?v=1682411903"}},"requires_selling_plan":false,"selling_plan_allocations":[],"quantity_rule":{"min":1,"max":null,"increment":1}}],"images":["\/\/www.flownwing.com\/cdn\/shop\/products\/12_d335d276-f4a3-4f53-9f03-cd54c63b8b05.jpg?v=1682411899","\/\/www.flownwing.com\/cdn\/shop\/products\/05_664b67db-abe6-4437-952b-c3e2ef94252f.jpg?v=1682411899","\/\/www.flownwing.com\/cdn\/shop\/products\/06_901e2cc4-4f0b-4f88-9410-6898d3a63729.jpg?v=1682411899","\/\/www.flownwing.com\/cdn\/shop\/products\/07_71acb6dd-ba34-40c7-a081-e61ebd6a2af5.jpg?v=1682411899","\/\/www.flownwing.com\/cdn\/shop\/products\/08_88f6475b-7e54-49aa-bbae-6c982e094411.jpg?v=1682411899","\/\/www.flownwing.com\/cdn\/shop\/products\/09_255f9051-8642-427b-829f-ea0b8808992a.jpg?v=1682411899","\/\/www.flownwing.com\/cdn\/shop\/products\/10_f7355dbe-3e83-4bc7-9f0e-b011393e9623.jpg?v=1682411899","\/\/www.flownwing.com\/cdn\/shop\/products\/11_0218c20b-d01d-49d3-9f03-be553db1a841.jpg?v=1682411899","\/\/www.flownwing.com\/cdn\/shop\/files\/02_8965388a-56b8-4e0a-a5b3-6d2a7d87d0e0.jpg?v=1682411901","\/\/www.flownwing.com\/cdn\/shop\/files\/04_adc7ff55-8655-4b33-9b11-b2ad778e5bed.jpg?v=1682411903","\/\/www.flownwing.com\/cdn\/shop\/files\/01_8e7fc7b9-ff4a-4387-9378-986a4a8f35d5.jpg?v=1682411905","\/\/www.flownwing.com\/cdn\/shop\/files\/03_a8136ed7-b303-422c-a604-73d816ac789b.jpg?v=1682411906"],"featured_image":"\/\/www.flownwing.com\/cdn\/shop\/products\/12_d335d276-f4a3-4f53-9f03-cd54c63b8b05.jpg?v=1682411899","options":["Style","Size"],"media":[{"alt":null,"id":27386271203488,"position":1,"preview_image":{"aspect_ratio":1.0,"height":800,"width":800,"src":"\/\/www.flownwing.com\/cdn\/shop\/products\/12_d335d276-f4a3-4f53-9f03-cd54c63b8b05.jpg?v=1682411899"},"aspect_ratio":1.0,"height":800,"media_type":"image","src":"\/\/www.flownwing.com\/cdn\/shop\/products\/12_d335d276-f4a3-4f53-9f03-cd54c63b8b05.jpg?v=1682411899","width":800},{"alt":null,"id":27386271236256,"position":2,"preview_image":{"aspect_ratio":1.0,"height":800,"width":800,"src":"\/\/www.flownwing.com\/cdn\/shop\/products\/05_664b67db-abe6-4437-952b-c3e2ef94252f.jpg?v=1682411899"},"aspect_ratio":1.0,"height":800,"media_type":"image","src":"\/\/www.flownwing.com\/cdn\/shop\/products\/05_664b67db-abe6-4437-952b-c3e2ef94252f.jpg?v=1682411899","width":800},{"alt":null,"id":27386271269024,"position":3,"preview_image":{"aspect_ratio":1.0,"height":800,"width":800,"src":"\/\/www.flownwing.com\/cdn\/shop\/products\/06_901e2cc4-4f0b-4f88-9410-6898d3a63729.jpg?v=1682411899"},"aspect_ratio":1.0,"height":800,"media_type":"image","src":"\/\/www.flownwing.com\/cdn\/shop\/products\/06_901e2cc4-4f0b-4f88-9410-6898d3a63729.jpg?v=1682411899","width":800},{"alt":null,"id":27386271301792,"position":4,"preview_image":{"aspect_ratio":1.0,"height":800,"width":800,"src":"\/\/www.flownwing.com\/cdn\/shop\/products\/07_71acb6dd-ba34-40c7-a081-e61ebd6a2af5.jpg?v=1682411899"},"aspect_ratio":1.0,"height":800,"media_type":"image","src":"\/\/www.flownwing.com\/cdn\/shop\/products\/07_71acb6dd-ba34-40c7-a081-e61ebd6a2af5.jpg?v=1682411899","width":800},{"alt":null,"id":27386271334560,"position":5,"preview_image":{"aspect_ratio":1.0,"height":800,"width":800,"src":"\/\/www.flownwing.com\/cdn\/shop\/products\/08_88f6475b-7e54-49aa-bbae-6c982e094411.jpg?v=1682411899"},"aspect_ratio":1.0,"height":800,"media_type":"image","src":"\/\/www.flownwing.com\/cdn\/shop\/products\/08_88f6475b-7e54-49aa-bbae-6c982e094411.jpg?v=1682411899","width":800},{"alt":null,"id":27386271367328,"position":6,"preview_image":{"aspect_ratio":1.0,"height":800,"width":800,"src":"\/\/www.flownwing.com\/cdn\/shop\/products\/09_255f9051-8642-427b-829f-ea0b8808992a.jpg?v=1682411899"},"aspect_ratio":1.0,"height":800,"media_type":"image","src":"\/\/www.flownwing.com\/cdn\/shop\/products\/09_255f9051-8642-427b-829f-ea0b8808992a.jpg?v=1682411899","width":800},{"alt":null,"id":27386271400096,"position":7,"preview_image":{"aspect_ratio":1.0,"height":800,"width":800,"src":"\/\/www.flownwing.com\/cdn\/shop\/products\/10_f7355dbe-3e83-4bc7-9f0e-b011393e9623.jpg?v=1682411899"},"aspect_ratio":1.0,"height":800,"media_type":"image","src":"\/\/www.flownwing.com\/cdn\/shop\/products\/10_f7355dbe-3e83-4bc7-9f0e-b011393e9623.jpg?v=1682411899","width":800},{"alt":null,"id":27386271432864,"position":8,"preview_image":{"aspect_ratio":1.0,"height":800,"width":800,"src":"\/\/www.flownwing.com\/cdn\/shop\/products\/11_0218c20b-d01d-49d3-9f03-be553db1a841.jpg?v=1682411899"},"aspect_ratio":1.0,"height":800,"media_type":"image","src":"\/\/www.flownwing.com\/cdn\/shop\/products\/11_0218c20b-d01d-49d3-9f03-be553db1a841.jpg?v=1682411899","width":800},{"alt":null,"id":27386271727776,"position":9,"preview_image":{"aspect_ratio":1.0,"height":800,"width":800,"src":"\/\/www.flownwing.com\/cdn\/shop\/files\/02_8965388a-56b8-4e0a-a5b3-6d2a7d87d0e0.jpg?v=1682411901"},"aspect_ratio":1.0,"height":800,"media_type":"image","src":"\/\/www.flownwing.com\/cdn\/shop\/files\/02_8965388a-56b8-4e0a-a5b3-6d2a7d87d0e0.jpg?v=1682411901","width":800},{"alt":null,"id":27386271989920,"position":10,"preview_image":{"aspect_ratio":1.0,"height":800,"width":800,"src":"\/\/www.flownwing.com\/cdn\/shop\/files\/04_adc7ff55-8655-4b33-9b11-b2ad778e5bed.jpg?v=1682411903"},"aspect_ratio":1.0,"height":800,"media_type":"image","src":"\/\/www.flownwing.com\/cdn\/shop\/files\/04_adc7ff55-8655-4b33-9b11-b2ad778e5bed.jpg?v=1682411903","width":800},{"alt":null,"id":27386272153760,"position":11,"preview_image":{"aspect_ratio":1.0,"height":800,"width":800,"src":"\/\/www.flownwing.com\/cdn\/shop\/files\/01_8e7fc7b9-ff4a-4387-9378-986a4a8f35d5.jpg?v=1682411905"},"aspect_ratio":1.0,"height":800,"media_type":"image","src":"\/\/www.flownwing.com\/cdn\/shop\/files\/01_8e7fc7b9-ff4a-4387-9378-986a4a8f35d5.jpg?v=1682411905","width":800},{"alt":null,"id":27386272481440,"position":12,"preview_image":{"aspect_ratio":1.0,"height":800,"width":800,"src":"\/\/www.flownwing.com\/cdn\/shop\/files\/03_a8136ed7-b303-422c-a604-73d816ac789b.jpg?v=1682411906"},"aspect_ratio":1.0,"height":800,"media_type":"image","src":"\/\/www.flownwing.com\/cdn\/shop\/files\/03_a8136ed7-b303-422c-a604-73d816ac789b.jpg?v=1682411906","width":800}],"requires_selling_plan":false,"selling_plan_groups":[],"content":"\u003ch4 style=\"text-align: center;\"\u003e\u003cspan style=\"color: #0088cc;\"\u003e\u003cstrong\u003e\u003c\/strong\u003e\u003c\/span\u003e\u003c\/h4\u003e\n\u003ch4 style=\"text-align: center;\"\u003e\u003cspan style=\"color: #ff8900;\"\u003e\u003cstrong\u003eMake your child less dependent on diapers and quickly master toileting!\u003c\/strong\u003e\u003c\/span\u003e\u003c\/h4\u003e\n\u003cp\u003e\u003cspan style=\"color: #000000;\"\u003eOver-reliance on diapers affects the urine storage function of the baby's bladder, and if the baby is still using diapers at an overage will cause the baby to lose the ability to hold urine.\u003c\/span\u003e\u003c\/p\u003e\n\u003ch4\u003e\u003cimg class=\"lozad lazyloaded\" style=\"display: block; margin-left: auto; margin-right: auto;\" data-src=\"https:\/\/img-va.myshopline.com\/image\/store\/2000315506\/1635401935104\/191716e6728b473e83c42de25c4e58c6.gif?w=300\u0026amp;h=375\u0026amp;_f=1\" src=\"https:\/\/img-va.myshopline.com\/image\/store\/2000315506\/1635401935104\/191716e6728b473e83c42de25c4e58c6.gif?w=300\u0026amp;h=375\u0026amp;_f=1\" data-loaded=\"true\" width=\"316\" height=\"398\" data-mce-style=\"display: block; margin-left: auto; margin-right: auto;\" data-mce-src=\"https:\/\/img-va.myshopline.com\/image\/store\/2000315506\/1635401935104\/191716e6728b473e83c42de25c4e58c6.gif?w=300\u0026amp;h=375\u0026amp;_f=1\" referrerpolicy=\"same-origin\" data-mce-fragment=\"1\"\u003e\u003c\/h4\u003e\n\u003cspan style=\"color: #ff9b4b;\"\u003e\u003cstrong\u003eWhat are study pants? \u003c\/strong\u003e\u003c\/span\u003e\n\u003cp\u003e\u003cspan style=\"color: #ff9b4b;\"\u003e\u003cstrong\u003eLearning pants ≠ diapers\u003c\/strong\u003e\u003c\/span\u003e\u003c\/p\u003e\n\u003cp\u003eLearning pants are underwear that help babies transition from diapers to learning to go to the toilet. When wearing learning pants, babies will feel wet and uncomfortable and will remind mom and dad to help them take off their underwear and gradually form their own consciousness to complete the transition period.\u003c\/p\u003e\n\u003cspan style=\"color: #0088cc;\"\u003e\u003cstrong\u003eFEATURE:\u003c\/strong\u003e\u003c\/span\u003e\u003cbr data-mce-fragment=\"1\"\u003e\n\u003cul\u003e\n\u003cli\u003e\n\u003cspan style=\"color: #ff9b4b;\"\u003e\u003cstrong\u003eWater storage \u0026gt; ordinary underwear\u003c\/strong\u003e\u003c\/span\u003e\u003cbr\u003eThe 6-layer gauze is super absorbent and contains a TPU layer and knitted layer, which enhances the absorbency and water resistance of the panties. Prevents leakage of urine and does not stain the sheets.\u003cbr\u003eNote: Learning pants ≠ diapers, need to be changed when baby is reminded.\u003cbr\u003e\n\u003c\/li\u003e\n\u003c\/ul\u003e\n\u003cp\u003e\u003cimg height=\"396\" width=\"316\" class=\"lozad lazyloaded\" data-src=\"https:\/\/img-va.myshopline.com\/image\/store\/2000315506\/1635401935104\/5817f504046c4108bce8abc70690f45f.gif?w=300\u0026amp;h=375\u0026amp;_f=1\" src=\"https:\/\/img-va.myshopline.com\/image\/store\/2000315506\/1635401935104\/5817f504046c4108bce8abc70690f45f.gif?w=300\u0026amp;h=375\u0026amp;_f=1\" data-loaded=\"true\" style=\"display: block; margin-left: auto; margin-right: auto;\" referrerpolicy=\"same-origin\" data-mce-src=\"https:\/\/img-va.myshopline.com\/image\/store\/2000315506\/1635401935104\/5817f504046c4108bce8abc70690f45f.gif?w=300\u0026amp;h=375\u0026amp;_f=1\" data-mce-fragment=\"1\"\u003e\u003c\/p\u003e\n\u003cul\u003e\n\u003cli\u003e\n\u003cspan style=\"color: #ff9b4b;\"\u003e\u003cstrong\u003eNo sense of restraint\u003c\/strong\u003e\u003c\/span\u003e\u003cbr\u003eLegs and waist are elastic band design, elastic, suitable for different body shape of the baby wear. Will not feel uncomfortable and tight.\u003cbr\u003e\u003cbr\u003e\n\u003c\/li\u003e\n\u003cli\u003e\n\u003cspan style=\"color: #ff9b4b;\"\u003e\u003cstrong\u003eSafer\u003c\/strong\u003e\u003c\/span\u003e\u003cbr\u003eNo fluorescent agent, through the professional instrument test, no fluorescent agent, the mother more assured.\u003cbr\u003e\n\u003c\/li\u003e\n\u003c\/ul\u003e\n\u003cp\u003e\u003cimg alt=\"\" src=\"https:\/\/cdn.shopify.com\/s\/files\/1\/0040\/2728\/5539\/files\/06_7ab6a32a-5967-4836-978c-bf44a8d44ce6_480x480.jpg?v=1660713376\" style=\"display: block; margin-left: auto; margin-right: auto;\"\u003e\u003c\/p\u003e\n\u003cul\u003e\n\u003cli\u003e\n\u003cspan style=\"color: #ff9b4b;\"\u003e\u003cstrong\u003eSave more money\u003c\/strong\u003e\u003c\/span\u003e\u003cbr\u003e\"Disposable diapers cost me too much money each month, so I prefer these reusable training pants for boys and girls that are durable, washable for multiple uses, and easy to machine wash and care for. The middle section is designed with a concealed thicker inner pad (multiple layers) that enhances the ability to absorb large amounts of urine and reduce leakage. And it allows babies to better learn to hold their own urine, which is helpful for their health\"\u003cbr\u003e\n\u003c\/li\u003e\n\u003c\/ul\u003e\n\u003cp\u003e\u003cimg alt=\"\" src=\"https:\/\/cdn.shopify.com\/s\/files\/1\/0040\/2728\/5539\/files\/12_e71f8c18-da4b-412c-ae98-882f471bdd44_480x480.jpg?v=1660713453\" style=\"display: block; margin-left: auto; margin-right: auto;\"\u003e\u003c\/p\u003e\n\u003cul\u003e\n\u003cli\u003e\n\u003cspan style=\"color: #ff9b4b;\"\u003e\u003cstrong\u003eRecommended Use\u003c\/strong\u003e\u003c\/span\u003e\u003cbr\u003eUse our learning pants for babies during the day to make it easier for parents to change them in time. Use diapers for babies at night to prevent them from affecting their sleep and health at night due to wet underwear.\u003cbr\u003e\n\u003c\/li\u003e\n\u003c\/ul\u003e\n\u003cul\u003e\u003c\/ul\u003e\n\u003ch4\u003e\u003cstrong\u003e\u003c\/strong\u003e\u003c\/h4\u003e\n\u003ch4\u003e\n\u003cspan style=\"color: #0088cc;\"\u003e \u003cstrong\u003eSPECIFICATION:\u003c\/strong\u003e\u003c\/span\u003e\u003cbr\u003e\n\u003c\/h4\u003e\n\u003cul\u003e\n\u003cli\u003e\n\u003cstrong\u003eMaterial:\u003c\/strong\u003e \u003cspan class=\"VIiyi\" lang=\"en\" jsname=\"jqKxS\" jsaction=\"mouseup:BR6jm\" data-mce-fragment=\"1\"\u003e\u003cspan data-number-of-phrases=\"1\" data-phrase-index=\"0\" data-language-to-translate-into=\"zh-CN\" data-language-for-alternatives=\"en\" class=\"JLqJ4b ChMk0b C1N51c\" jsmodel=\"SsMkhd\" jsdata=\"uqLsIf;_;$146\" jscontroller=\"Zl5N8\" jsname=\"txFAF\" jsaction=\"agoMJf:PFBcW;usxOmf:aWLT7;jhKsnd:P7O7bd,F8DmGf;Q4AGo:Gm7gYd,qAKMYb;uFUCPb:pvnm0e,pfE8Hb,PFBcW;f56efd:dJXsye;EnoYf:KNzws,ZJsZZ,JgVSJc;zdMJQc:cCQNKb,ZJsZZ,zchEXc;Ytrrj:JJDvdc;tNR8yc:GeFvjb;oFN6Ye:hij5Wb;bmeZHc:iURhpf;Oxj3Xe:qAKMYb,yaf12d\" data-mce-fragment=\"1\"\u003e\u003cspan class=\"Q4iAWc\" jsname=\"W297wb\" jsaction=\"click:qtZ4nf,GFf3ac,tMZCfe; contextmenu:Nqw7Te,QP7LD; mouseout:Nqw7Te; mouseover:qtZ4nf,c2aHje\" data-mce-fragment=\"1\"\u003ecotton\u003c\/span\u003e\u003c\/span\u003e\u003c\/span\u003e\u003cbr\u003e\n\u003c\/li\u003e\n\u003cli\u003e\n\u003cstrong\u003eColor:\u003c\/strong\u003e \u003cspan class=\"VIiyi\" lang=\"en\" jsname=\"jqKxS\" jsaction=\"mouseup:BR6jm\" data-mce-fragment=\"1\"\u003e\u003cspan data-number-of-phrases=\"1\" data-phrase-index=\"0\" data-language-to-translate-into=\"zh-CN\" data-language-for-alternatives=\"en\" class=\"JLqJ4b ChMk0b\" jsmodel=\"SsMkhd\" jsdata=\"uqLsIf;_;$194\" jscontroller=\"Zl5N8\" jsname=\"txFAF\" jsaction=\"agoMJf:PFBcW;usxOmf:aWLT7;jhKsnd:P7O7bd,F8DmGf;Q4AGo:Gm7gYd,qAKMYb;uFUCPb:pvnm0e,pfE8Hb,PFBcW;f56efd:dJXsye;EnoYf:KNzws,ZJsZZ,JgVSJc;zdMJQc:cCQNKb,ZJsZZ,zchEXc;Ytrrj:JJDvdc;tNR8yc:GeFvjb;oFN6Ye:hij5Wb;bmeZHc:iURhpf;Oxj3Xe:qAKMYb,yaf12d\" data-mce-fragment=\"1\"\u003e\u003cspan class=\"Q4iAWc\" jsname=\"W297wb\" jsaction=\"click:qtZ4nf,GFf3ac,tMZCfe; contextmenu:Nqw7Te,QP7LD; mouseout:Nqw7Te; mouseover:qtZ4nf,c2aHje\" data-mce-fragment=\"1\"\u003eas shown\u003c\/span\u003e\u003c\/span\u003e\u003c\/span\u003e\u003cbr\u003e\n\u003c\/li\u003e\n\u003cli\u003e\u003cspan class=\"VIiyi\" lang=\"en\" jsname=\"jqKxS\" jsaction=\"mouseup:BR6jm\" data-mce-fragment=\"1\"\u003e\u003cspan data-number-of-phrases=\"1\" data-phrase-index=\"0\" data-language-to-translate-into=\"zh-CN\" data-language-for-alternatives=\"en\" class=\"JLqJ4b ChMk0b\" jsmodel=\"SsMkhd\" jsdata=\"uqLsIf;_;$194\" jscontroller=\"Zl5N8\" jsname=\"txFAF\" jsaction=\"agoMJf:PFBcW;usxOmf:aWLT7;jhKsnd:P7O7bd,F8DmGf;Q4AGo:Gm7gYd,qAKMYb;uFUCPb:pvnm0e,pfE8Hb,PFBcW;f56efd:dJXsye;EnoYf:KNzws,ZJsZZ,JgVSJc;zdMJQc:cCQNKb,ZJsZZ,zchEXc;Ytrrj:JJDvdc;tNR8yc:GeFvjb;oFN6Ye:hij5Wb;bmeZHc:iURhpf;Oxj3Xe:qAKMYb,yaf12d\" data-mce-fragment=\"1\"\u003e\u003cspan class=\"Q4iAWc\" jsname=\"W297wb\" jsaction=\"click:qtZ4nf,GFf3ac,tMZCfe; contextmenu:Nqw7Te,QP7LD; mouseout:Nqw7Te; mouseover:qtZ4nf,c2aHje\" data-mce-fragment=\"1\"\u003e\u003cspan data-number-of-phrases=\"1\" data-phrase-index=\"0\" data-language-to-translate-into=\"zh-CN\" data-language-for-alternatives=\"en\" class=\"JLqJ4b ChMk0b C1N51c\" jsmodel=\"SsMkhd\" jsdata=\"uqLsIf;_;$810\" jscontroller=\"Zl5N8\" jsname=\"txFAF\" jsaction=\"agoMJf:PFBcW;usxOmf:aWLT7;jhKsnd:P7O7bd,F8DmGf;Q4AGo:Gm7gYd,qAKMYb;uFUCPb:pvnm0e,pfE8Hb,PFBcW;f56efd:dJXsye;EnoYf:KNzws,ZJsZZ,JgVSJc;zdMJQc:cCQNKb,ZJsZZ,zchEXc;Ytrrj:JJDvdc;tNR8yc:GeFvjb;oFN6Ye:hij5Wb;bmeZHc:iURhpf;Oxj3Xe:qAKMYb,yaf12d\"\u003e\u003cstrong\u003eStyle:\u003c\/strong\u003e cartoon\u003c\/span\u003e\u003c\/span\u003e\u003c\/span\u003e\u003c\/span\u003e\u003c\/li\u003e\n\u003cli\u003e\u003cspan class=\"VIiyi\" lang=\"en\" jsaction=\"mouseup:BR6jm\" jsname=\"jqKxS\"\u003e\u003cspan class=\"JLqJ4b ChMk0b C1N51c\" data-language-for-alternatives=\"en\" data-language-to-translate-into=\"zh-CN\" data-phrase-index=\"0\" data-number-of-phrases=\"1\" jsaction=\"agoMJf:PFBcW;usxOmf:aWLT7;jhKsnd:P7O7bd,F8DmGf;Q4AGo:Gm7gYd,qAKMYb;uFUCPb:pvnm0e,pfE8Hb,PFBcW;f56efd:dJXsye;EnoYf:KNzws,ZJsZZ,JgVSJc;zdMJQc:cCQNKb,ZJsZZ,zchEXc;Ytrrj:JJDvdc;tNR8yc:GeFvjb;oFN6Ye:hij5Wb;bmeZHc:iURhpf;Oxj3Xe:qAKMYb,yaf12d\" jsname=\"txFAF\" jscontroller=\"Zl5N8\" jsdata=\"uqLsIf;_;$354\" jsmodel=\"SsMkhd\"\u003e\u003cspan class=\"Q4iAWc\" jsaction=\"click:qtZ4nf,GFf3ac,tMZCfe; contextmenu:Nqw7Te,QP7LD; mouseout:Nqw7Te; mouseover:qtZ4nf,c2aHje\" jsname=\"W297wb\"\u003e\u003cstrong\u003eFunction:\u003c\/strong\u003e moisture wicking and perspiration\u003c\/span\u003e\u003c\/span\u003e\u003c\/span\u003e\u003c\/li\u003e\n\u003c\/ul\u003e\n\u003ch4\u003e\n\u003cbr\u003e\u003cspan style=\"color: #0088cc;\"\u003e\u003cstrong\u003ePACKAGE INCLUDES:\u003c\/strong\u003e\u003c\/span\u003e\u003cbr\u003e\n\u003c\/h4\u003e\n\u003cul\u003e\n\u003cli\u003e1×Baby Potty Training Underwear\u003c\/li\u003e\n\u003c\/ul\u003e"}
Baby Potty Training Underwear
Adding product to your cart
Make your child less dependent on diapers and quickly master toileting!
Over-reliance on diapers affects the urine storage function of the baby's bladder, and if the baby is still using diapers at an overage will cause the baby to lose the ability to hold urine.

What are study pants?
Learning pants ≠ diapers
Learning pants are underwear that help babies transition from diapers to learning to go to the toilet. When wearing learning pants, babies will feel wet and uncomfortable and will remind mom and dad to help them take off their underwear and gradually form their own consciousness to complete the transition period.
FEATURE:
Water storage > ordinary underwear
The 6-layer gauze is super absorbent and contains a TPU layer and knitted layer, which enhances the absorbency and water resistance of the panties. Prevents leakage of urine and does not stain the sheets.
Note: Learning pants ≠ diapers, need to be changed when baby is reminded.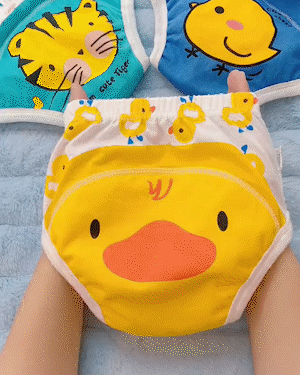 No sense of restraint
Legs and waist are elastic band design, elastic, suitable for different body shape of the baby wear. Will not feel uncomfortable and tight.


Safer
No fluorescent agent, through the professional instrument test, no fluorescent agent, the mother more assured.

Save more money
"Disposable diapers cost me too much money each month, so I prefer these reusable training pants for boys and girls that are durable, washable for multiple uses, and easy to machine wash and care for. The middle section is designed with a concealed thicker inner pad (multiple layers) that enhances the ability to absorb large amounts of urine and reduce leakage. And it allows babies to better learn to hold their own urine, which is helpful for their health"

Recommended Use
Use our learning pants for babies during the day to make it easier for parents to change them in time. Use diapers for babies at night to prevent them from affecting their sleep and health at night due to wet underwear.

SPECIFICATION:

Material:

cotton



Color:

as shown



Style: cartoon
Function: moisture wicking and perspiration

PACKAGE INCLUDES:

1×Baby Potty Training Underwear