{"id":7596185976992,"title":"3-in-1 Magnetic Jigsaw Puzzle Book","handle":"3-in-1-magnetic-jigsaw-puzzle-book","description":"\u003cp style=\"text-align: center;\" data-mce-fragment=\"1\"\u003e\u003cspan style=\"color: #239342;\"\u003e \u003cstrong\u003e\u003cem\u003eThis magnetic puzzle can exercise children's hand-eye coordination ability and promote brain development while enjoying the fun of games.Away from electronic device and start playing!\u003c\/em\u003e\u003c\/strong\u003e\u003c\/span\u003e\u003c\/p\u003e\n\u003cdiv\u003e\u003cstrong\u003e\u003cspan\u003e\u003cem\u003e\u003cimg src=\"https:\/\/img.cdncloud.top\/uploader\/6b8b8bc19d435347be2f34c21402a827.gif\" style=\"display: block; margin-left: auto; margin-right: auto;\"\u003e\u003c\/em\u003e\u003c\/span\u003e\u003c\/strong\u003e\u003c\/div\u003e\n\u003cp data-mce-fragment=\"1\"\u003e\u003cspan style=\"color: #3d6796;\" data-mce-fragment=\"1\"\u003e\u003cstrong data-mce-fragment=\"1\"\u003eFEATURES\u003c\/strong\u003e\u003c\/span\u003e\u003c\/p\u003e\n\u003cul class=\"default\"\u003e\n\u003cli class=\"default\"\u003eThe puzzle pieces stick to the magnetized portfolio so there is \u003cspan style=\"color: #d7ac70;\"\u003e\u003cstrong\u003eno slipping or lost pieces.\u003c\/strong\u003e\u003c\/span\u003e The portfolio also includes an extra magnetic surface in case it is time to pack up before the puzzles are complete.\u003c\/li\u003e\n\u003c\/ul\u003e\n\u003cp\u003e\u003cimg style=\"display: block; margin-left: auto; margin-right: auto;\" src=\"https:\/\/img.cdncloud.top\/uploader\/388bbe441f524435341069cb1af8d208.jpg\" width=\"350\" height=\"350\"\u003e\u003c\/p\u003e\n\u003cul class=\"default\"\u003e\n\u003cli class=\"default\"\u003e\n\u003cp\u003ePrinted with non-toxic, soy-based inks. Edges are rounded to prevent injuries.\u003c\/p\u003e\n\u003c\/li\u003e\n\u003cli class=\"default\"\u003e\n\u003cp\u003e\u003cspan style=\"color: #d7ac70;\"\u003e\u003cstrong\u003eEach book contains 3 sets of magnetic puzzles and every book is of increasing difficulty level. \u003c\/strong\u003e\u003c\/span\u003e\u003c\/p\u003e\n\u003c\/li\u003e\n\u003cli class=\"default\"\u003e\n\u003cp\u003e6 designs to choose from. Interesting and colorful cartoon pictures.\u003c\/p\u003e\n\u003c\/li\u003e\n\u003c\/ul\u003e\n\u003cp\u003e\u003cimg style=\"display: block; margin-left: auto; margin-right: auto;\" src=\"https:\/\/img.cdncloud.top\/uploader\/be119f6d87a72b0eb9b64104025e2f15.jpg\" width=\"352\" height=\"352\"\u003e\u003c\/p\u003e\n\u003cdiv\u003e\u003cbr\u003e\u003c\/div\u003e\n\u003cul\u003e\n\u003cli\u003e\n\u003cp\u003e\u003cspan\u003e👪 Perfect game for family. \u003c\/span\u003e\u003cspan style=\"color: #daae71;\"\u003e\u003cstrong\u003eChildren will forget their screens \u003c\/strong\u003e\u003c\/span\u003ewith this new addictive toy. \u003cspan\u003eFor children's Christmas, birthdays, parties.\u003cspan style=\"color: #d7ac70;\"\u003e \u003c\/span\u003e\u003c\/span\u003e\u003cspan style=\"color: #d7ac70;\"\u003e\u003cstrong\u003eForget old games \u003c\/strong\u003e\u003c\/span\u003eand play all day long with your new best friend.\u003c\/p\u003e\n\u003c\/li\u003e\n\u003cli\u003e\n\u003cp\u003e\u003cspan\u003ePlay with your children. \u003c\/span\u003eFather and sons will have again good times together. And mums and girls too, for sure.\u003c\/p\u003e\n\u003c\/li\u003e\n\u003c\/ul\u003e\n\u003cp data-mce-fragment=\"1\"\u003e\u003cspan style=\"color: #3d6796;\" data-mce-fragment=\"1\"\u003e\u003cstrong data-mce-fragment=\"1\"\u003eSPECIFICATIONS\u003c\/strong\u003e\u003c\/span\u003e\u003cspan data-mce-fragment=\"1\"\u003e\u003c\/span\u003e\u003cspan data-mce-fragment=\"1\"\u003e\u003c\/span\u003e\u003c\/p\u003e\n\u003cul data-mce-fragment=\"1\"\u003e\n\u003cli data-mce-fragment=\"1\"\u003e\n\u003cp data-mce-fragment=\"1\"\u003e\u003cstrong data-mce-fragment=\"1\"\u003eMaterial:\u003c\/strong\u003e\u003cspan data-mce-fragment=\"1\"\u003e ABS\u003c\/span\u003e\u003c\/p\u003e\n\u003c\/li\u003e\n\u003cli data-mce-fragment=\"1\"\u003e\n\u003cp data-mce-fragment=\"1\"\u003e\u003cstrong data-mce-fragment=\"1\"\u003eWeight:\u003c\/strong\u003e\u003cspan data-mce-fragment=\"1\"\u003e 600\u003c\/span\u003eg\u003c\/p\u003e\n\u003c\/li\u003e\n\u003cli data-mce-fragment=\"1\"\u003e\n\u003cp data-mce-fragment=\"1\"\u003e\u003cstrong data-mce-fragment=\"1\"\u003e\u003cspan class=\"Polaris-TextStyle--variationStrong_rpyvj\" data-mce-fragment=\"1\"\u003eStyle:\u003c\/span\u003e\u003c\/strong\u003e\u003cspan class=\"Polaris-TextStyle--variationStrong_rpyvj\" data-mce-fragment=\"1\"\u003e\u003cspan data-mce-fragment=\"1\"\u003e \u003cspan class=\"Polaris-Badge_2qgie\" data-mce-fragment=\"1\"\u003eLEVEL 1-Construction, \u003c\/span\u003e\u003cspan class=\"Polaris-Badge_2qgie\" data-mce-fragment=\"1\"\u003eLEVEL 2-Animal Park, \u003c\/span\u003e\u003cspan class=\"Polaris-Badge_2qgie\" data-mce-fragment=\"1\"\u003eLEVEL 3-Transportation, \u003c\/span\u003e\u003cspan class=\"Polaris-Badge_2qgie\" data-mce-fragment=\"1\"\u003eLEVEL 4-Space Travel, \u003c\/span\u003e\u003cspan class=\"Polaris-Badge_2qgie\" data-mce-fragment=\"1\"\u003eLEVEL 5-Dinosaurs World, \u003c\/span\u003e\u003cspan class=\"Polaris-Badge_2qgie\" data-mce-fragment=\"1\"\u003eLEVEL 6-Human Evolution\u003c\/span\u003e\u003c\/span\u003e\u003c\/span\u003e\u003c\/p\u003e\n\u003c\/li\u003e\n\u003cli data-mce-fragment=\"1\"\u003e\n\u003cp data-mce-fragment=\"1\"\u003e\u003cspan data-mce-fragment=\"1\"\u003e\u003cstrong data-mce-fragment=\"1\"\u003eSize:\u003c\/strong\u003e \u003c\/span\u003e\u003c\/p\u003e\n\u003c\/li\u003e\n\u003c\/ul\u003e\n\u003cdiv data-mce-fragment=\"1\"\u003e\u003cimg alt=\"\" src=\"https:\/\/cdn.shopifycdn.net\/s\/files\/1\/0356\/3048\/1544\/files\/bcc364c9c6a0e68a9370a321f733ee5f_535af105-6096-4f56-9e7e-5df9f0cc07f1_480x480.png?v=1666766505\" style=\"display: block; margin-left: auto; margin-right: auto;\"\u003e\u003c\/div\u003e\n\u003cul data-mce-fragment=\"1\"\u003e\u003c\/ul\u003e\n\u003cul data-mce-fragment=\"1\"\u003e\u003c\/ul\u003e\n\u003cul data-mce-fragment=\"1\"\u003e\u003c\/ul\u003e\n\u003cul data-mce-fragment=\"1\"\u003e\u003c\/ul\u003e\n\u003cul data-mce-fragment=\"1\"\u003e\u003c\/ul\u003e\n\u003cul data-mce-fragment=\"1\"\u003e\u003c\/ul\u003e\n\u003cul data-mce-fragment=\"1\"\u003e\u003c\/ul\u003e\n\u003cul data-mce-fragment=\"1\"\u003e\u003c\/ul\u003e\n\u003cspan style=\"color: #3d6796;\" data-mce-fragment=\"1\"\u003e\u003cstrong data-mce-fragment=\"1\"\u003ePACKAGE\u003c\/strong\u003e\u003c\/span\u003e\u003cspan data-mce-fragment=\"1\"\u003e\u003c\/span\u003e\u003cspan data-mce-fragment=\"1\"\u003e\u003c\/span\u003e\u003cspan data-mce-fragment=\"1\"\u003e\u003c\/span\u003e\u003cspan data-mce-fragment=\"1\"\u003e\u003c\/span\u003e\u003cspan data-mce-fragment=\"1\"\u003e\u003c\/span\u003e\u003cspan data-mce-fragment=\"1\"\u003e\u003c\/span\u003e\u003cspan data-mce-fragment=\"1\"\u003e\u003c\/span\u003e\u003cspan data-mce-fragment=\"1\"\u003e\u003c\/span\u003e\u003cspan data-mce-fragment=\"1\"\u003e\u003c\/span\u003e\u003cspan data-mce-fragment=\"1\"\u003e\u003c\/span\u003e\u003cspan data-mce-fragment=\"1\"\u003e\u003c\/span\u003e\u003cspan data-mce-fragment=\"1\"\u003e\u003c\/span\u003e\u003cspan data-mce-fragment=\"1\"\u003e\u003c\/span\u003e\u003cspan data-mce-fragment=\"1\"\u003e\u003c\/span\u003e\u003cspan data-mce-fragment=\"1\"\u003e\u003c\/span\u003e\u003cspan data-mce-fragment=\"1\"\u003e\u003c\/span\u003e\u003cspan data-mce-fragment=\"1\"\u003e\u003c\/span\u003e\u003cspan data-mce-fragment=\"1\"\u003e\u003c\/span\u003e\u003cspan data-mce-fragment=\"1\"\u003e\u003c\/span\u003e\u003cspan data-mce-fragment=\"1\"\u003e\u003c\/span\u003e\n\u003cul data-mce-fragment=\"1\"\u003e\n\u003cli data-mce-fragment=\"1\"\u003e1 * 3-in-1 Magnetic Jigsaw Puzzle Book\u003c\/li\u003e\n\u003c\/ul\u003e\n\u003cspan style=\"color: #3d6796;\" data-mce-fragment=\"1\"\u003e\u003cstrong data-mce-fragment=\"1\"\u003eNOTE\u003c\/strong\u003e\u003c\/span\u003e\u003cspan data-mce-fragment=\"1\"\u003e\u003c\/span\u003e\u003cspan data-mce-fragment=\"1\"\u003e\u003c\/span\u003e\u003cspan data-mce-fragment=\"1\"\u003e\u003c\/span\u003e\u003cspan data-mce-fragment=\"1\"\u003e\u003c\/span\u003e\u003cspan data-mce-fragment=\"1\"\u003e\u003c\/span\u003e\u003cspan data-mce-fragment=\"1\"\u003e\u003c\/span\u003e\u003cspan data-mce-fragment=\"1\"\u003e\u003c\/span\u003e\u003cspan data-mce-fragment=\"1\"\u003e\u003c\/span\u003e\u003cspan data-mce-fragment=\"1\"\u003e\u003c\/span\u003e\u003cspan data-mce-fragment=\"1\"\u003e\u003c\/span\u003e\u003cspan data-mce-fragment=\"1\"\u003e\u003c\/span\u003e\u003cspan data-mce-fragment=\"1\"\u003e\u003c\/span\u003e\u003cspan data-mce-fragment=\"1\"\u003e\u003c\/span\u003e\u003cspan data-mce-fragment=\"1\"\u003e\u003c\/span\u003e\u003cspan data-mce-fragment=\"1\"\u003e\u003c\/span\u003e\u003cspan data-mce-fragment=\"1\"\u003e\u003c\/span\u003e\u003cspan data-mce-fragment=\"1\"\u003e\u003c\/span\u003e\u003cspan data-mce-fragment=\"1\"\u003e\u003c\/span\u003e\u003cspan data-mce-fragment=\"1\"\u003e\u003c\/span\u003e\u003cspan data-mce-fragment=\"1\"\u003e\u003c\/span\u003e\n\u003cul data-mce-fragment=\"1\"\u003e\n\u003cli data-mce-fragment=\"1\"\u003e\n\u003cp data-mce-fragment=\"1\"\u003e\u003cspan data-mce-fragment=\"1\"\u003ePlease allow slight measurement deviations due to manual measurement.\u003c\/span\u003e\u003c\/p\u003e\n\u003c\/li\u003e\n\u003cli data-mce-fragment=\"1\"\u003e\n\u003cp data-mce-fragment=\"1\"\u003e\u003cspan data-mce-fragment=\"1\"\u003eDue to the different monitor and light effect, the actual color of the item might be slightly different from the color showed in the pictures.\u003c\/span\u003e\u003c\/p\u003e\n\u003c\/li\u003e\n\u003c\/ul\u003e","published_at":"2022-10-31T23:04:52-10:00","created_at":"2022-10-31T23:05:11-10:00","vendor":"flownwing","type":"","tags":["gift"],"price":2499,"price_min":2499,"price_max":2499,"available":true,"price_varies":false,"compare_at_price":4999,"compare_at_price_min":4999,"compare_at_price_max":4999,"compare_at_price_varies":false,"variants":[{"id":42733589594272,"title":"LEVEL 1-Construction","option1":"LEVEL 1-Construction","option2":null,"option3":null,"sku":"TY40025-X31165","requires_shipping":true,"taxable":false,"featured_image":{"id":33301790851232,"product_id":7596185976992,"position":19,"created_at":"2022-10-31T23:05:15-10:00","updated_at":"2022-10-31T23:05:16-10:00","alt":null,"width":800,"height":800,"src":"\/\/www.flownwing.com\/cdn\/shop\/products\/845698aaf0480dee65e404307020f294_41c54035-722f-4313-9406-c9082d26a690.png?v=1667293516","variant_ids":[42733589594272]},"available":true,"name":"3-in-1 Magnetic Jigsaw Puzzle Book - LEVEL 1-Construction","public_title":"LEVEL 1-Construction","options":["LEVEL 1-Construction"],"price":2499,"weight":0,"compare_at_price":4999,"inventory_management":null,"barcode":null,"featured_media":{"alt":null,"id":25742728364192,"position":19,"preview_image":{"aspect_ratio":1.0,"height":800,"width":800,"src":"\/\/www.flownwing.com\/cdn\/shop\/products\/845698aaf0480dee65e404307020f294_41c54035-722f-4313-9406-c9082d26a690.png?v=1667293516"}},"requires_selling_plan":false,"selling_plan_allocations":[],"quantity_rule":{"min":1,"max":null,"increment":1}},{"id":42733589627040,"title":"LEVEL 2-Animal Park","option1":"LEVEL 2-Animal Park","option2":null,"option3":null,"sku":"TY40025-X31166","requires_shipping":true,"taxable":false,"featured_image":{"id":33301791211680,"product_id":7596185976992,"position":21,"created_at":"2022-10-31T23:05:19-10:00","updated_at":"2022-10-31T23:05:19-10:00","alt":null,"width":800,"height":800,"src":"\/\/www.flownwing.com\/cdn\/shop\/products\/1_d327de81-aafb-4af1-9757-2e9ba9b53310.png?v=1667293519","variant_ids":[42733589627040]},"available":true,"name":"3-in-1 Magnetic Jigsaw Puzzle Book - LEVEL 2-Animal Park","public_title":"LEVEL 2-Animal Park","options":["LEVEL 2-Animal Park"],"price":2499,"weight":0,"compare_at_price":4999,"inventory_management":null,"barcode":null,"featured_media":{"alt":null,"id":25742728724640,"position":21,"preview_image":{"aspect_ratio":1.0,"height":800,"width":800,"src":"\/\/www.flownwing.com\/cdn\/shop\/products\/1_d327de81-aafb-4af1-9757-2e9ba9b53310.png?v=1667293519"}},"requires_selling_plan":false,"selling_plan_allocations":[],"quantity_rule":{"min":1,"max":null,"increment":1}},{"id":42733589659808,"title":"LEVEL 3-Transportation","option1":"LEVEL 3-Transportation","option2":null,"option3":null,"sku":"TY40025-X31167","requires_shipping":true,"taxable":false,"featured_image":{"id":33301791572128,"product_id":7596185976992,"position":23,"created_at":"2022-10-31T23:05:22-10:00","updated_at":"2022-10-31T23:05:22-10:00","alt":null,"width":800,"height":800,"src":"\/\/www.flownwing.com\/cdn\/shop\/products\/2_e88ca88d-3073-4139-9f2a-36e134e6c061.png?v=1667293522","variant_ids":[42733589659808]},"available":true,"name":"3-in-1 Magnetic Jigsaw Puzzle Book - LEVEL 3-Transportation","public_title":"LEVEL 3-Transportation","options":["LEVEL 3-Transportation"],"price":2499,"weight":0,"compare_at_price":4999,"inventory_management":null,"barcode":null,"featured_media":{"alt":null,"id":25742729117856,"position":23,"preview_image":{"aspect_ratio":1.0,"height":800,"width":800,"src":"\/\/www.flownwing.com\/cdn\/shop\/products\/2_e88ca88d-3073-4139-9f2a-36e134e6c061.png?v=1667293522"}},"requires_selling_plan":false,"selling_plan_allocations":[],"quantity_rule":{"min":1,"max":null,"increment":1}},{"id":42733589692576,"title":"LEVEL 4-Space Travel","option1":"LEVEL 4-Space Travel","option2":null,"option3":null,"sku":"TY40025-X31168","requires_shipping":true,"taxable":false,"featured_image":{"id":33301791506592,"product_id":7596185976992,"position":22,"created_at":"2022-10-31T23:05:20-10:00","updated_at":"2022-10-31T23:05:20-10:00","alt":null,"width":800,"height":800,"src":"\/\/www.flownwing.com\/cdn\/shop\/products\/3_30eed32b-99f3-42c6-a225-091febd4e18d.png?v=1667293520","variant_ids":[42733589692576]},"available":true,"name":"3-in-1 Magnetic Jigsaw Puzzle Book - LEVEL 4-Space Travel","public_title":"LEVEL 4-Space Travel","options":["LEVEL 4-Space Travel"],"price":2499,"weight":0,"compare_at_price":4999,"inventory_management":null,"barcode":null,"featured_media":{"alt":null,"id":25742729052320,"position":22,"preview_image":{"aspect_ratio":1.0,"height":800,"width":800,"src":"\/\/www.flownwing.com\/cdn\/shop\/products\/3_30eed32b-99f3-42c6-a225-091febd4e18d.png?v=1667293520"}},"requires_selling_plan":false,"selling_plan_allocations":[],"quantity_rule":{"min":1,"max":null,"increment":1}},{"id":42733589725344,"title":"LEVEL 5-Dinosaurs World","option1":"LEVEL 5-Dinosaurs World","option2":null,"option3":null,"sku":"TY40025-X31169","requires_shipping":true,"taxable":false,"featured_image":{"id":33301791146144,"product_id":7596185976992,"position":20,"created_at":"2022-10-31T23:05:17-10:00","updated_at":"2022-10-31T23:05:17-10:00","alt":null,"width":800,"height":800,"src":"\/\/www.flownwing.com\/cdn\/shop\/products\/4_0fd4632d-5762-4e47-86ae-a0d653f4bc5b.png?v=1667293517","variant_ids":[42733589725344]},"available":true,"name":"3-in-1 Magnetic Jigsaw Puzzle Book - LEVEL 5-Dinosaurs World","public_title":"LEVEL 5-Dinosaurs World","options":["LEVEL 5-Dinosaurs World"],"price":2499,"weight":0,"compare_at_price":4999,"inventory_management":null,"barcode":null,"featured_media":{"alt":null,"id":25742728659104,"position":20,"preview_image":{"aspect_ratio":1.0,"height":800,"width":800,"src":"\/\/www.flownwing.com\/cdn\/shop\/products\/4_0fd4632d-5762-4e47-86ae-a0d653f4bc5b.png?v=1667293517"}},"requires_selling_plan":false,"selling_plan_allocations":[],"quantity_rule":{"min":1,"max":null,"increment":1}},{"id":42733589758112,"title":"LEVEL 6-Human Evolution","option1":"LEVEL 6-Human Evolution","option2":null,"option3":null,"sku":"TY40025-X31170","requires_shipping":true,"taxable":false,"featured_image":{"id":33301790687392,"product_id":7596185976992,"position":18,"created_at":"2022-10-31T23:05:14-10:00","updated_at":"2022-10-31T23:05:14-10:00","alt":null,"width":800,"height":800,"src":"\/\/www.flownwing.com\/cdn\/shop\/products\/5_59c83f44-88a5-4961-ae50-fb85e846d9c2.png?v=1667293514","variant_ids":[42733589758112]},"available":true,"name":"3-in-1 Magnetic Jigsaw Puzzle Book - LEVEL 6-Human Evolution","public_title":"LEVEL 6-Human Evolution","options":["LEVEL 6-Human Evolution"],"price":2499,"weight":0,"compare_at_price":4999,"inventory_management":null,"barcode":null,"featured_media":{"alt":null,"id":25742728200352,"position":18,"preview_image":{"aspect_ratio":1.0,"height":800,"width":800,"src":"\/\/www.flownwing.com\/cdn\/shop\/products\/5_59c83f44-88a5-4961-ae50-fb85e846d9c2.png?v=1667293514"}},"requires_selling_plan":false,"selling_plan_allocations":[],"quantity_rule":{"min":1,"max":null,"increment":1}}],"images":["\/\/www.flownwing.com\/cdn\/shop\/products\/2_4b2ff672-9e9b-47d5-af73-7b9f6ce8d864.png?v=1667293511","\/\/www.flownwing.com\/cdn\/shop\/products\/3_8a2f8383-76ff-4076-8137-681bb0f0756f.png?v=1667293511","\/\/www.flownwing.com\/cdn\/shop\/products\/4_16b7258f-85f5-436f-b7db-fbb5e0b56a13.png?v=1667293511","\/\/www.flownwing.com\/cdn\/shop\/products\/5_e33638f8-08a2-46dc-aeea-1450cef33fc3.png?v=1667293511","\/\/www.flownwing.com\/cdn\/shop\/products\/6_e7c6eb23-72b5-44a9-84b9-d446c9aeb977.png?v=1667293511","\/\/www.flownwing.com\/cdn\/shop\/products\/7_d4015fb7-d72b-4189-b3f4-fc72f6106be6.png?v=1667293511","\/\/www.flownwing.com\/cdn\/shop\/products\/8_771b65f5-aa49-46eb-b3d4-2ef5c3a56106.png?v=1667293511","\/\/www.flownwing.com\/cdn\/shop\/products\/bcc364c9c6a0e68a9370a321f733ee5f_485301e9-dc97-4198-82ab-a8c0840562a4.png?v=1667293511","\/\/www.flownwing.com\/cdn\/shop\/products\/960d31dc159bd21df3667ad762458aeb_eb7f1e8e-924d-43a6-8572-dac3feb189a4.png?v=1667293511","\/\/www.flownwing.com\/cdn\/shop\/products\/1_00169e06-7d0f-4031-a03f-55a168117a47.png?v=1667293511","\/\/www.flownwing.com\/cdn\/shop\/products\/3_09b3dbcb-857c-4e18-a797-71500d5cb582.png?v=1667293511","\/\/www.flownwing.com\/cdn\/shop\/products\/1_4d6f6a21-3ec7-4acb-bbc9-ecae76454c25.png?v=1667293511","\/\/www.flownwing.com\/cdn\/shop\/products\/845698aaf0480dee65e404307020f294_7da6f782-7ecc-46df-8b7f-2619ac83ff04.png?v=1667293511","\/\/www.flownwing.com\/cdn\/shop\/products\/4_48f939ca-b26b-4036-be2a-b243576f8f71.png?v=1667293511","\/\/www.flownwing.com\/cdn\/shop\/products\/5_6c5f6f36-31cb-479a-b6ab-96a26109de79.png?v=1667293511","\/\/www.flownwing.com\/cdn\/shop\/products\/2_16efcef1-ddc3-4f69-8992-33f2d64d4e6c.png?v=1667293511","\/\/www.flownwing.com\/cdn\/shop\/products\/1_88521914-b5b2-4a9c-8f05-ea442a5d8e6f.png?v=1667293511","\/\/www.flownwing.com\/cdn\/shop\/products\/5_59c83f44-88a5-4961-ae50-fb85e846d9c2.png?v=1667293514","\/\/www.flownwing.com\/cdn\/shop\/products\/845698aaf0480dee65e404307020f294_41c54035-722f-4313-9406-c9082d26a690.png?v=1667293516","\/\/www.flownwing.com\/cdn\/shop\/products\/4_0fd4632d-5762-4e47-86ae-a0d653f4bc5b.png?v=1667293517","\/\/www.flownwing.com\/cdn\/shop\/products\/1_d327de81-aafb-4af1-9757-2e9ba9b53310.png?v=1667293519","\/\/www.flownwing.com\/cdn\/shop\/products\/3_30eed32b-99f3-42c6-a225-091febd4e18d.png?v=1667293520","\/\/www.flownwing.com\/cdn\/shop\/products\/2_e88ca88d-3073-4139-9f2a-36e134e6c061.png?v=1667293522"],"featured_image":"\/\/www.flownwing.com\/cdn\/shop\/products\/2_4b2ff672-9e9b-47d5-af73-7b9f6ce8d864.png?v=1667293511","options":["Style"],"media":[{"alt":null,"id":25742727610528,"position":1,"preview_image":{"aspect_ratio":1.0,"height":800,"width":800,"src":"\/\/www.flownwing.com\/cdn\/shop\/products\/2_4b2ff672-9e9b-47d5-af73-7b9f6ce8d864.png?v=1667293511"},"aspect_ratio":1.0,"height":800,"media_type":"image","src":"\/\/www.flownwing.com\/cdn\/shop\/products\/2_4b2ff672-9e9b-47d5-af73-7b9f6ce8d864.png?v=1667293511","width":800},{"alt":null,"id":25742727643296,"position":2,"preview_image":{"aspect_ratio":1.0,"height":800,"width":800,"src":"\/\/www.flownwing.com\/cdn\/shop\/products\/3_8a2f8383-76ff-4076-8137-681bb0f0756f.png?v=1667293511"},"aspect_ratio":1.0,"height":800,"media_type":"image","src":"\/\/www.flownwing.com\/cdn\/shop\/products\/3_8a2f8383-76ff-4076-8137-681bb0f0756f.png?v=1667293511","width":800},{"alt":null,"id":25742727676064,"position":3,"preview_image":{"aspect_ratio":1.0,"height":800,"width":800,"src":"\/\/www.flownwing.com\/cdn\/shop\/products\/4_16b7258f-85f5-436f-b7db-fbb5e0b56a13.png?v=1667293511"},"aspect_ratio":1.0,"height":800,"media_type":"image","src":"\/\/www.flownwing.com\/cdn\/shop\/products\/4_16b7258f-85f5-436f-b7db-fbb5e0b56a13.png?v=1667293511","width":800},{"alt":null,"id":25742727708832,"position":4,"preview_image":{"aspect_ratio":1.0,"height":800,"width":800,"src":"\/\/www.flownwing.com\/cdn\/shop\/products\/5_e33638f8-08a2-46dc-aeea-1450cef33fc3.png?v=1667293511"},"aspect_ratio":1.0,"height":800,"media_type":"image","src":"\/\/www.flownwing.com\/cdn\/shop\/products\/5_e33638f8-08a2-46dc-aeea-1450cef33fc3.png?v=1667293511","width":800},{"alt":null,"id":25742727741600,"position":5,"preview_image":{"aspect_ratio":1.0,"height":800,"width":800,"src":"\/\/www.flownwing.com\/cdn\/shop\/products\/6_e7c6eb23-72b5-44a9-84b9-d446c9aeb977.png?v=1667293511"},"aspect_ratio":1.0,"height":800,"media_type":"image","src":"\/\/www.flownwing.com\/cdn\/shop\/products\/6_e7c6eb23-72b5-44a9-84b9-d446c9aeb977.png?v=1667293511","width":800},{"alt":null,"id":25742727774368,"position":6,"preview_image":{"aspect_ratio":1.0,"height":800,"width":800,"src":"\/\/www.flownwing.com\/cdn\/shop\/products\/7_d4015fb7-d72b-4189-b3f4-fc72f6106be6.png?v=1667293511"},"aspect_ratio":1.0,"height":800,"media_type":"image","src":"\/\/www.flownwing.com\/cdn\/shop\/products\/7_d4015fb7-d72b-4189-b3f4-fc72f6106be6.png?v=1667293511","width":800},{"alt":null,"id":25742727807136,"position":7,"preview_image":{"aspect_ratio":1.0,"height":800,"width":800,"src":"\/\/www.flownwing.com\/cdn\/shop\/products\/8_771b65f5-aa49-46eb-b3d4-2ef5c3a56106.png?v=1667293511"},"aspect_ratio":1.0,"height":800,"media_type":"image","src":"\/\/www.flownwing.com\/cdn\/shop\/products\/8_771b65f5-aa49-46eb-b3d4-2ef5c3a56106.png?v=1667293511","width":800},{"alt":null,"id":25742727839904,"position":8,"preview_image":{"aspect_ratio":1.0,"height":800,"width":800,"src":"\/\/www.flownwing.com\/cdn\/shop\/products\/bcc364c9c6a0e68a9370a321f733ee5f_485301e9-dc97-4198-82ab-a8c0840562a4.png?v=1667293511"},"aspect_ratio":1.0,"height":800,"media_type":"image","src":"\/\/www.flownwing.com\/cdn\/shop\/products\/bcc364c9c6a0e68a9370a321f733ee5f_485301e9-dc97-4198-82ab-a8c0840562a4.png?v=1667293511","width":800},{"alt":null,"id":25742727872672,"position":9,"preview_image":{"aspect_ratio":1.0,"height":800,"width":800,"src":"\/\/www.flownwing.com\/cdn\/shop\/products\/960d31dc159bd21df3667ad762458aeb_eb7f1e8e-924d-43a6-8572-dac3feb189a4.png?v=1667293511"},"aspect_ratio":1.0,"height":800,"media_type":"image","src":"\/\/www.flownwing.com\/cdn\/shop\/products\/960d31dc159bd21df3667ad762458aeb_eb7f1e8e-924d-43a6-8572-dac3feb189a4.png?v=1667293511","width":800},{"alt":null,"id":25742727905440,"position":10,"preview_image":{"aspect_ratio":1.0,"height":800,"width":800,"src":"\/\/www.flownwing.com\/cdn\/shop\/products\/1_00169e06-7d0f-4031-a03f-55a168117a47.png?v=1667293511"},"aspect_ratio":1.0,"height":800,"media_type":"image","src":"\/\/www.flownwing.com\/cdn\/shop\/products\/1_00169e06-7d0f-4031-a03f-55a168117a47.png?v=1667293511","width":800},{"alt":null,"id":25742727938208,"position":11,"preview_image":{"aspect_ratio":1.0,"height":800,"width":800,"src":"\/\/www.flownwing.com\/cdn\/shop\/products\/3_09b3dbcb-857c-4e18-a797-71500d5cb582.png?v=1667293511"},"aspect_ratio":1.0,"height":800,"media_type":"image","src":"\/\/www.flownwing.com\/cdn\/shop\/products\/3_09b3dbcb-857c-4e18-a797-71500d5cb582.png?v=1667293511","width":800},{"alt":null,"id":25742727970976,"position":12,"preview_image":{"aspect_ratio":1.0,"height":800,"width":800,"src":"\/\/www.flownwing.com\/cdn\/shop\/products\/1_4d6f6a21-3ec7-4acb-bbc9-ecae76454c25.png?v=1667293511"},"aspect_ratio":1.0,"height":800,"media_type":"image","src":"\/\/www.flownwing.com\/cdn\/shop\/products\/1_4d6f6a21-3ec7-4acb-bbc9-ecae76454c25.png?v=1667293511","width":800},{"alt":null,"id":25742728003744,"position":13,"preview_image":{"aspect_ratio":1.0,"height":800,"width":800,"src":"\/\/www.flownwing.com\/cdn\/shop\/products\/845698aaf0480dee65e404307020f294_7da6f782-7ecc-46df-8b7f-2619ac83ff04.png?v=1667293511"},"aspect_ratio":1.0,"height":800,"media_type":"image","src":"\/\/www.flownwing.com\/cdn\/shop\/products\/845698aaf0480dee65e404307020f294_7da6f782-7ecc-46df-8b7f-2619ac83ff04.png?v=1667293511","width":800},{"alt":null,"id":25742728036512,"position":14,"preview_image":{"aspect_ratio":1.0,"height":800,"width":800,"src":"\/\/www.flownwing.com\/cdn\/shop\/products\/4_48f939ca-b26b-4036-be2a-b243576f8f71.png?v=1667293511"},"aspect_ratio":1.0,"height":800,"media_type":"image","src":"\/\/www.flownwing.com\/cdn\/shop\/products\/4_48f939ca-b26b-4036-be2a-b243576f8f71.png?v=1667293511","width":800},{"alt":null,"id":25742728069280,"position":15,"preview_image":{"aspect_ratio":1.0,"height":800,"width":800,"src":"\/\/www.flownwing.com\/cdn\/shop\/products\/5_6c5f6f36-31cb-479a-b6ab-96a26109de79.png?v=1667293511"},"aspect_ratio":1.0,"height":800,"media_type":"image","src":"\/\/www.flownwing.com\/cdn\/shop\/products\/5_6c5f6f36-31cb-479a-b6ab-96a26109de79.png?v=1667293511","width":800},{"alt":null,"id":25742728102048,"position":16,"preview_image":{"aspect_ratio":1.0,"height":800,"width":800,"src":"\/\/www.flownwing.com\/cdn\/shop\/products\/2_16efcef1-ddc3-4f69-8992-33f2d64d4e6c.png?v=1667293511"},"aspect_ratio":1.0,"height":800,"media_type":"image","src":"\/\/www.flownwing.com\/cdn\/shop\/products\/2_16efcef1-ddc3-4f69-8992-33f2d64d4e6c.png?v=1667293511","width":800},{"alt":null,"id":25742728134816,"position":17,"preview_image":{"aspect_ratio":1.0,"height":800,"width":800,"src":"\/\/www.flownwing.com\/cdn\/shop\/products\/1_88521914-b5b2-4a9c-8f05-ea442a5d8e6f.png?v=1667293511"},"aspect_ratio":1.0,"height":800,"media_type":"image","src":"\/\/www.flownwing.com\/cdn\/shop\/products\/1_88521914-b5b2-4a9c-8f05-ea442a5d8e6f.png?v=1667293511","width":800},{"alt":null,"id":25742728200352,"position":18,"preview_image":{"aspect_ratio":1.0,"height":800,"width":800,"src":"\/\/www.flownwing.com\/cdn\/shop\/products\/5_59c83f44-88a5-4961-ae50-fb85e846d9c2.png?v=1667293514"},"aspect_ratio":1.0,"height":800,"media_type":"image","src":"\/\/www.flownwing.com\/cdn\/shop\/products\/5_59c83f44-88a5-4961-ae50-fb85e846d9c2.png?v=1667293514","width":800},{"alt":null,"id":25742728364192,"position":19,"preview_image":{"aspect_ratio":1.0,"height":800,"width":800,"src":"\/\/www.flownwing.com\/cdn\/shop\/products\/845698aaf0480dee65e404307020f294_41c54035-722f-4313-9406-c9082d26a690.png?v=1667293516"},"aspect_ratio":1.0,"height":800,"media_type":"image","src":"\/\/www.flownwing.com\/cdn\/shop\/products\/845698aaf0480dee65e404307020f294_41c54035-722f-4313-9406-c9082d26a690.png?v=1667293516","width":800},{"alt":null,"id":25742728659104,"position":20,"preview_image":{"aspect_ratio":1.0,"height":800,"width":800,"src":"\/\/www.flownwing.com\/cdn\/shop\/products\/4_0fd4632d-5762-4e47-86ae-a0d653f4bc5b.png?v=1667293517"},"aspect_ratio":1.0,"height":800,"media_type":"image","src":"\/\/www.flownwing.com\/cdn\/shop\/products\/4_0fd4632d-5762-4e47-86ae-a0d653f4bc5b.png?v=1667293517","width":800},{"alt":null,"id":25742728724640,"position":21,"preview_image":{"aspect_ratio":1.0,"height":800,"width":800,"src":"\/\/www.flownwing.com\/cdn\/shop\/products\/1_d327de81-aafb-4af1-9757-2e9ba9b53310.png?v=1667293519"},"aspect_ratio":1.0,"height":800,"media_type":"image","src":"\/\/www.flownwing.com\/cdn\/shop\/products\/1_d327de81-aafb-4af1-9757-2e9ba9b53310.png?v=1667293519","width":800},{"alt":null,"id":25742729052320,"position":22,"preview_image":{"aspect_ratio":1.0,"height":800,"width":800,"src":"\/\/www.flownwing.com\/cdn\/shop\/products\/3_30eed32b-99f3-42c6-a225-091febd4e18d.png?v=1667293520"},"aspect_ratio":1.0,"height":800,"media_type":"image","src":"\/\/www.flownwing.com\/cdn\/shop\/products\/3_30eed32b-99f3-42c6-a225-091febd4e18d.png?v=1667293520","width":800},{"alt":null,"id":25742729117856,"position":23,"preview_image":{"aspect_ratio":1.0,"height":800,"width":800,"src":"\/\/www.flownwing.com\/cdn\/shop\/products\/2_e88ca88d-3073-4139-9f2a-36e134e6c061.png?v=1667293522"},"aspect_ratio":1.0,"height":800,"media_type":"image","src":"\/\/www.flownwing.com\/cdn\/shop\/products\/2_e88ca88d-3073-4139-9f2a-36e134e6c061.png?v=1667293522","width":800}],"requires_selling_plan":false,"selling_plan_groups":[],"content":"\u003cp style=\"text-align: center;\" data-mce-fragment=\"1\"\u003e\u003cspan style=\"color: #239342;\"\u003e \u003cstrong\u003e\u003cem\u003eThis magnetic puzzle can exercise children's hand-eye coordination ability and promote brain development while enjoying the fun of games.Away from electronic device and start playing!\u003c\/em\u003e\u003c\/strong\u003e\u003c\/span\u003e\u003c\/p\u003e\n\u003cdiv\u003e\u003cstrong\u003e\u003cspan\u003e\u003cem\u003e\u003cimg src=\"https:\/\/img.cdncloud.top\/uploader\/6b8b8bc19d435347be2f34c21402a827.gif\" style=\"display: block; margin-left: auto; margin-right: auto;\"\u003e\u003c\/em\u003e\u003c\/span\u003e\u003c\/strong\u003e\u003c\/div\u003e\n\u003cp data-mce-fragment=\"1\"\u003e\u003cspan style=\"color: #3d6796;\" data-mce-fragment=\"1\"\u003e\u003cstrong data-mce-fragment=\"1\"\u003eFEATURES\u003c\/strong\u003e\u003c\/span\u003e\u003c\/p\u003e\n\u003cul class=\"default\"\u003e\n\u003cli class=\"default\"\u003eThe puzzle pieces stick to the magnetized portfolio so there is \u003cspan style=\"color: #d7ac70;\"\u003e\u003cstrong\u003eno slipping or lost pieces.\u003c\/strong\u003e\u003c\/span\u003e The portfolio also includes an extra magnetic surface in case it is time to pack up before the puzzles are complete.\u003c\/li\u003e\n\u003c\/ul\u003e\n\u003cp\u003e\u003cimg style=\"display: block; margin-left: auto; margin-right: auto;\" src=\"https:\/\/img.cdncloud.top\/uploader\/388bbe441f524435341069cb1af8d208.jpg\" width=\"350\" height=\"350\"\u003e\u003c\/p\u003e\n\u003cul class=\"default\"\u003e\n\u003cli class=\"default\"\u003e\n\u003cp\u003ePrinted with non-toxic, soy-based inks. Edges are rounded to prevent injuries.\u003c\/p\u003e\n\u003c\/li\u003e\n\u003cli class=\"default\"\u003e\n\u003cp\u003e\u003cspan style=\"color: #d7ac70;\"\u003e\u003cstrong\u003eEach book contains 3 sets of magnetic puzzles and every book is of increasing difficulty level. \u003c\/strong\u003e\u003c\/span\u003e\u003c\/p\u003e\n\u003c\/li\u003e\n\u003cli class=\"default\"\u003e\n\u003cp\u003e6 designs to choose from. Interesting and colorful cartoon pictures.\u003c\/p\u003e\n\u003c\/li\u003e\n\u003c\/ul\u003e\n\u003cp\u003e\u003cimg style=\"display: block; margin-left: auto; margin-right: auto;\" src=\"https:\/\/img.cdncloud.top\/uploader\/be119f6d87a72b0eb9b64104025e2f15.jpg\" width=\"352\" height=\"352\"\u003e\u003c\/p\u003e\n\u003cdiv\u003e\u003cbr\u003e\u003c\/div\u003e\n\u003cul\u003e\n\u003cli\u003e\n\u003cp\u003e\u003cspan\u003e👪 Perfect game for family. \u003c\/span\u003e\u003cspan style=\"color: #daae71;\"\u003e\u003cstrong\u003eChildren will forget their screens \u003c\/strong\u003e\u003c\/span\u003ewith this new addictive toy. \u003cspan\u003eFor children's Christmas, birthdays, parties.\u003cspan style=\"color: #d7ac70;\"\u003e \u003c\/span\u003e\u003c\/span\u003e\u003cspan style=\"color: #d7ac70;\"\u003e\u003cstrong\u003eForget old games \u003c\/strong\u003e\u003c\/span\u003eand play all day long with your new best friend.\u003c\/p\u003e\n\u003c\/li\u003e\n\u003cli\u003e\n\u003cp\u003e\u003cspan\u003ePlay with your children. \u003c\/span\u003eFather and sons will have again good times together. And mums and girls too, for sure.\u003c\/p\u003e\n\u003c\/li\u003e\n\u003c\/ul\u003e\n\u003cp data-mce-fragment=\"1\"\u003e\u003cspan style=\"color: #3d6796;\" data-mce-fragment=\"1\"\u003e\u003cstrong data-mce-fragment=\"1\"\u003eSPECIFICATIONS\u003c\/strong\u003e\u003c\/span\u003e\u003cspan data-mce-fragment=\"1\"\u003e\u003c\/span\u003e\u003cspan data-mce-fragment=\"1\"\u003e\u003c\/span\u003e\u003c\/p\u003e\n\u003cul data-mce-fragment=\"1\"\u003e\n\u003cli data-mce-fragment=\"1\"\u003e\n\u003cp data-mce-fragment=\"1\"\u003e\u003cstrong data-mce-fragment=\"1\"\u003eMaterial:\u003c\/strong\u003e\u003cspan data-mce-fragment=\"1\"\u003e ABS\u003c\/span\u003e\u003c\/p\u003e\n\u003c\/li\u003e\n\u003cli data-mce-fragment=\"1\"\u003e\n\u003cp data-mce-fragment=\"1\"\u003e\u003cstrong data-mce-fragment=\"1\"\u003eWeight:\u003c\/strong\u003e\u003cspan data-mce-fragment=\"1\"\u003e 600\u003c\/span\u003eg\u003c\/p\u003e\n\u003c\/li\u003e\n\u003cli data-mce-fragment=\"1\"\u003e\n\u003cp data-mce-fragment=\"1\"\u003e\u003cstrong data-mce-fragment=\"1\"\u003e\u003cspan class=\"Polaris-TextStyle--variationStrong_rpyvj\" data-mce-fragment=\"1\"\u003eStyle:\u003c\/span\u003e\u003c\/strong\u003e\u003cspan class=\"Polaris-TextStyle--variationStrong_rpyvj\" data-mce-fragment=\"1\"\u003e\u003cspan data-mce-fragment=\"1\"\u003e \u003cspan class=\"Polaris-Badge_2qgie\" data-mce-fragment=\"1\"\u003eLEVEL 1-Construction, \u003c\/span\u003e\u003cspan class=\"Polaris-Badge_2qgie\" data-mce-fragment=\"1\"\u003eLEVEL 2-Animal Park, \u003c\/span\u003e\u003cspan class=\"Polaris-Badge_2qgie\" data-mce-fragment=\"1\"\u003eLEVEL 3-Transportation, \u003c\/span\u003e\u003cspan class=\"Polaris-Badge_2qgie\" data-mce-fragment=\"1\"\u003eLEVEL 4-Space Travel, \u003c\/span\u003e\u003cspan class=\"Polaris-Badge_2qgie\" data-mce-fragment=\"1\"\u003eLEVEL 5-Dinosaurs World, \u003c\/span\u003e\u003cspan class=\"Polaris-Badge_2qgie\" data-mce-fragment=\"1\"\u003eLEVEL 6-Human Evolution\u003c\/span\u003e\u003c\/span\u003e\u003c\/span\u003e\u003c\/p\u003e\n\u003c\/li\u003e\n\u003cli data-mce-fragment=\"1\"\u003e\n\u003cp data-mce-fragment=\"1\"\u003e\u003cspan data-mce-fragment=\"1\"\u003e\u003cstrong data-mce-fragment=\"1\"\u003eSize:\u003c\/strong\u003e \u003c\/span\u003e\u003c\/p\u003e\n\u003c\/li\u003e\n\u003c\/ul\u003e\n\u003cdiv data-mce-fragment=\"1\"\u003e\u003cimg alt=\"\" src=\"https:\/\/cdn.shopifycdn.net\/s\/files\/1\/0356\/3048\/1544\/files\/bcc364c9c6a0e68a9370a321f733ee5f_535af105-6096-4f56-9e7e-5df9f0cc07f1_480x480.png?v=1666766505\" style=\"display: block; margin-left: auto; margin-right: auto;\"\u003e\u003c\/div\u003e\n\u003cul data-mce-fragment=\"1\"\u003e\u003c\/ul\u003e\n\u003cul data-mce-fragment=\"1\"\u003e\u003c\/ul\u003e\n\u003cul data-mce-fragment=\"1\"\u003e\u003c\/ul\u003e\n\u003cul data-mce-fragment=\"1\"\u003e\u003c\/ul\u003e\n\u003cul data-mce-fragment=\"1\"\u003e\u003c\/ul\u003e\n\u003cul data-mce-fragment=\"1\"\u003e\u003c\/ul\u003e\n\u003cul data-mce-fragment=\"1\"\u003e\u003c\/ul\u003e\n\u003cul data-mce-fragment=\"1\"\u003e\u003c\/ul\u003e\n\u003cspan style=\"color: #3d6796;\" data-mce-fragment=\"1\"\u003e\u003cstrong data-mce-fragment=\"1\"\u003ePACKAGE\u003c\/strong\u003e\u003c\/span\u003e\u003cspan data-mce-fragment=\"1\"\u003e\u003c\/span\u003e\u003cspan data-mce-fragment=\"1\"\u003e\u003c\/span\u003e\u003cspan data-mce-fragment=\"1\"\u003e\u003c\/span\u003e\u003cspan data-mce-fragment=\"1\"\u003e\u003c\/span\u003e\u003cspan data-mce-fragment=\"1\"\u003e\u003c\/span\u003e\u003cspan data-mce-fragment=\"1\"\u003e\u003c\/span\u003e\u003cspan data-mce-fragment=\"1\"\u003e\u003c\/span\u003e\u003cspan data-mce-fragment=\"1\"\u003e\u003c\/span\u003e\u003cspan data-mce-fragment=\"1\"\u003e\u003c\/span\u003e\u003cspan data-mce-fragment=\"1\"\u003e\u003c\/span\u003e\u003cspan data-mce-fragment=\"1\"\u003e\u003c\/span\u003e\u003cspan data-mce-fragment=\"1\"\u003e\u003c\/span\u003e\u003cspan data-mce-fragment=\"1\"\u003e\u003c\/span\u003e\u003cspan data-mce-fragment=\"1\"\u003e\u003c\/span\u003e\u003cspan data-mce-fragment=\"1\"\u003e\u003c\/span\u003e\u003cspan data-mce-fragment=\"1\"\u003e\u003c\/span\u003e\u003cspan data-mce-fragment=\"1\"\u003e\u003c\/span\u003e\u003cspan data-mce-fragment=\"1\"\u003e\u003c\/span\u003e\u003cspan data-mce-fragment=\"1\"\u003e\u003c\/span\u003e\u003cspan data-mce-fragment=\"1\"\u003e\u003c\/span\u003e\n\u003cul data-mce-fragment=\"1\"\u003e\n\u003cli data-mce-fragment=\"1\"\u003e1 * 3-in-1 Magnetic Jigsaw Puzzle Book\u003c\/li\u003e\n\u003c\/ul\u003e\n\u003cspan style=\"color: #3d6796;\" data-mce-fragment=\"1\"\u003e\u003cstrong data-mce-fragment=\"1\"\u003eNOTE\u003c\/strong\u003e\u003c\/span\u003e\u003cspan data-mce-fragment=\"1\"\u003e\u003c\/span\u003e\u003cspan data-mce-fragment=\"1\"\u003e\u003c\/span\u003e\u003cspan data-mce-fragment=\"1\"\u003e\u003c\/span\u003e\u003cspan data-mce-fragment=\"1\"\u003e\u003c\/span\u003e\u003cspan data-mce-fragment=\"1\"\u003e\u003c\/span\u003e\u003cspan data-mce-fragment=\"1\"\u003e\u003c\/span\u003e\u003cspan data-mce-fragment=\"1\"\u003e\u003c\/span\u003e\u003cspan data-mce-fragment=\"1\"\u003e\u003c\/span\u003e\u003cspan data-mce-fragment=\"1\"\u003e\u003c\/span\u003e\u003cspan data-mce-fragment=\"1\"\u003e\u003c\/span\u003e\u003cspan data-mce-fragment=\"1\"\u003e\u003c\/span\u003e\u003cspan data-mce-fragment=\"1\"\u003e\u003c\/span\u003e\u003cspan data-mce-fragment=\"1\"\u003e\u003c\/span\u003e\u003cspan data-mce-fragment=\"1\"\u003e\u003c\/span\u003e\u003cspan data-mce-fragment=\"1\"\u003e\u003c\/span\u003e\u003cspan data-mce-fragment=\"1\"\u003e\u003c\/span\u003e\u003cspan data-mce-fragment=\"1\"\u003e\u003c\/span\u003e\u003cspan data-mce-fragment=\"1\"\u003e\u003c\/span\u003e\u003cspan data-mce-fragment=\"1\"\u003e\u003c\/span\u003e\u003cspan data-mce-fragment=\"1\"\u003e\u003c\/span\u003e\n\u003cul data-mce-fragment=\"1\"\u003e\n\u003cli data-mce-fragment=\"1\"\u003e\n\u003cp data-mce-fragment=\"1\"\u003e\u003cspan data-mce-fragment=\"1\"\u003ePlease allow slight measurement deviations due to manual measurement.\u003c\/span\u003e\u003c\/p\u003e\n\u003c\/li\u003e\n\u003cli data-mce-fragment=\"1\"\u003e\n\u003cp data-mce-fragment=\"1\"\u003e\u003cspan data-mce-fragment=\"1\"\u003eDue to the different monitor and light effect, the actual color of the item might be slightly different from the color showed in the pictures.\u003c\/span\u003e\u003c\/p\u003e\n\u003c\/li\u003e\n\u003c\/ul\u003e"}
3-in-1 Magnetic Jigsaw Puzzle Book
Adding product to your cart
 This magnetic puzzle can exercise children's hand-eye coordination ability and promote brain development while enjoying the fun of games.Away from electronic device and start playing!
FEATURES
The puzzle pieces stick to the magnetized portfolio so there is no slipping or lost pieces. The portfolio also includes an extra magnetic surface in case it is time to pack up before the puzzles are complete.
Printed with non-toxic, soy-based inks. Edges are rounded to prevent injuries.

Each book contains 3 sets of magnetic puzzles and every book is of increasing difficulty level. 

6 designs to choose from. Interesting and colorful cartoon pictures.
👪 Perfect game for family. Children will forget their screens with this new addictive toy. For children's Christmas, birthdays, parties. Forget old games and play all day long with your new best friend.

Play with your children. Father and sons will have again good times together. And mums and girls too, for sure.
SPECIFICATIONS
Material: ABS

Weight: 600g

Style: LEVEL 1-Construction, LEVEL 2-Animal Park, LEVEL 3-Transportation, LEVEL 4-Space Travel, LEVEL 5-Dinosaurs World, LEVEL 6-Human Evolution

Size: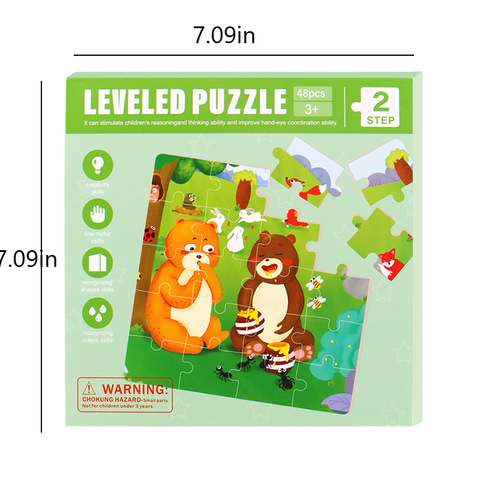 PACKAGE
1 * 3-in-1 Magnetic Jigsaw Puzzle Book
NOTE
Please allow slight measurement deviations due to manual measurement.

Due to the different monitor and light effect, the actual color of the item might be slightly different from the color showed in the pictures.