{"id":7420644098208,"title":"20 in 1 Stacking Point Crayons","handle":"20-in-1-stacking-point-crayons","description":"\u003ch3 data-mce-fragment=\"1\"\u003e\u003cspan style=\"color: #ff2a00;\" data-mce-fragment=\"1\" data-mce-style=\"color: #ff2a00;\"\u003e\u003cstrong data-mce-fragment=\"1\"\u003eFEATURES\u003c\/strong\u003e\u003c\/span\u003e\u003c\/h3\u003e\n\u003cul class=\"features\"\u003e\n\u003cli\u003e\n\u003cp\u003e\u003cspan style=\"color: #ff2a00;\" data-mce-fragment=\"1\" data-mce-style=\"color: #ff2a00;\"\u003e\u003c\/span\u003e\u003cstrong style=\"font-size: 1.4em;\"\u003e🖍\u003c\/strong\u003e 20 In 1 Multicolored Crayon: Each crayon\u003cspan\u003e \u003c\/span\u003e\u003cspan\u003e\u003cstrong\u003econtains 20 colors of ink\u003c\/strong\u003e\u003c\/span\u003e, all of which are beautiful and\u003cspan\u003e \u003c\/span\u003e\u003cspan\u003e\u003cstrong\u003esuitable for your basic use\u003c\/strong\u003e\u003c\/span\u003e. The colored crayons will meet the needs of the drawing process and the colorful inks will\u003cspan\u003e \u003c\/span\u003e\u003cspan\u003e\u003cstrong\u003estimulate your creativity and imagination\u003c\/strong\u003e\u003c\/span\u003e\u003cspan\u003e \u003c\/span\u003eand\u003cspan\u003e \u003c\/span\u003e\u003cspan\u003e\u003cstrong\u003eincrease your interest in learning\u003c\/strong\u003e\u003c\/span\u003e.\u003c\/p\u003e\n\u003c\/li\u003e\n\u003c\/ul\u003e\n\u003cp\u003e\u003cimg data-loaded=\"true\" src=\"https:\/\/cdn.shopifycdn.net\/s\/files\/1\/0570\/6632\/4013\/files\/2_10f760af-1634-4093-9281-d1d069d3cac2_480x480.jpg?v=1647851588\" height=\"355\" width=\"355\" data-src=\"https:\/\/cdn.shopifycdn.net\/s\/files\/1\/0570\/6632\/4013\/files\/2_10f760af-1634-4093-9281-d1d069d3cac2_480x480.jpg?v=1647851588\" alt=\"\" class=\"lozad lazyloaded\" style=\"font-size: 1.4em; display: block; margin-left: auto; margin-right: auto;\"\u003e\u003c\/p\u003e\n\u003cul class=\"features\"\u003e\n\u003cul class=\"features\"\u003e\u003c\/ul\u003e\n\u003c\/ul\u003e\n\u003cul class=\"features\"\u003e\n\u003cli\u003e\n\u003cp\u003e\u003cspan\u003e🖍 \u003cstrong\u003eConvenient To Use: \u003c\/strong\u003e\u003c\/span\u003eEnvironmentally friendly crayon,\u003cspan\u003e \u003c\/span\u003e\u003cspan\u003e\u003cstrong\u003ethe refill can be replaced at will\u003c\/strong\u003e\u003c\/span\u003e, just push it from the side with your finger and take out the refill into the nib,\u003cspan\u003e \u003c\/span\u003e\u003cspan\u003e\u003cstrong\u003enot easy to dirty your hands\u003c\/strong\u003e\u003c\/span\u003e,\u003cspan\u003e \u003c\/span\u003e\u003cspan\u003e\u003cstrong\u003enon-toxic, children can use it without worry\u003c\/strong\u003e\u003c\/span\u003e.\u003c\/p\u003e\n\u003c\/li\u003e\n\u003c\/ul\u003e\n\u003cp\u003e\u003cimg data-loaded=\"true\" src=\"https:\/\/cdn.shopifycdn.net\/s\/files\/1\/0570\/6632\/4013\/files\/3_702429e2-c27e-4b5f-9c5c-eace2a300e18_480x480.jpg?v=1647851622\" height=\"355\" width=\"355\" data-src=\"https:\/\/cdn.shopifycdn.net\/s\/files\/1\/0570\/6632\/4013\/files\/3_702429e2-c27e-4b5f-9c5c-eace2a300e18_480x480.jpg?v=1647851622\" alt=\"\" class=\"lozad lazyloaded\" style=\"font-size: 1.4em; display: block; margin-left: auto; margin-right: auto;\"\u003e\u003c\/p\u003e\n\u003cul class=\"features\"\u003e\n\u003cli\u003e\n\u003cp\u003e\u003cspan\u003e🖍 \u003cstrong\u003ePractical Drawing\/Writing Colored Crayons: \u003c\/strong\u003e\u003c\/span\u003eFeaturing a\u003cspan\u003e\u003cstrong\u003e sturdy cap and smooth ink\u003c\/strong\u003e\u003c\/span\u003e, these crayons combine a\u003cspan\u003e \u003c\/span\u003e\u003cspan\u003e\u003cstrong\u003ecute look\u003c\/strong\u003e \u003c\/span\u003ewith practicality to\u003cspan\u003e \u003c\/span\u003e\u003cspan\u003e\u003cstrong\u003ehelp you write or draw\u003c\/strong\u003e\u003c\/span\u003e\u003cspan\u003e \u003c\/span\u003ewith them conveniently.\u003c\/p\u003e\n\u003c\/li\u003e\n\u003cli\u003e\n\u003cp\u003e\u003cimg data-loaded=\"true\" src=\"https:\/\/cdn.shopifycdn.net\/s\/files\/1\/0570\/6632\/4013\/files\/4_16d8f2ea-3e4c-4902-894b-7557af2f187d_480x480.jpg?v=1647851657\" height=\"355\" width=\"355\" alt=\"\" data-src=\"https:\/\/cdn.shopifycdn.net\/s\/files\/1\/0570\/6632\/4013\/files\/4_16d8f2ea-3e4c-4902-894b-7557af2f187d_480x480.jpg?v=1647851657\" class=\"lozad lazyloaded\" data-mce-fragment=\"1\" style=\"display: block; margin-left: auto; margin-right: auto;\" data-mce-src=\"https:\/\/cdn.shopifycdn.net\/s\/files\/1\/0570\/6632\/4013\/files\/4_16d8f2ea-3e4c-4902-894b-7557af2f187d_480x480.jpg?v=1647851657\"\u003e\u003c\/p\u003e\n\u003c\/li\u003e\n\u003cli\u003e\n\u003cp\u003eCompared to a large box of crayons, this one is\u003cspan\u003e \u003c\/span\u003e\u003cspan\u003e\u003cstrong\u003elighter and more portable\u003c\/strong\u003e\u003c\/span\u003e, so it's easy to carry around for\u003cspan\u003e \u003c\/span\u003e\u003cspan\u003e\u003cstrong\u003eoutdoor sketching or school.\u003c\/strong\u003e\u003c\/span\u003e\u003c\/p\u003e\n\u003c\/li\u003e\n\u003c\/ul\u003e\n\u003ch3\u003e\u003cspan style=\"color: #ff2a00;\"\u003e\u003cstrong\u003eSTEPS\u003c\/strong\u003e\u003c\/span\u003e\u003c\/h3\u003e\n\u003cul class=\"features\"\u003e\n\u003cli\u003e\n\u003cp\u003e\u003cspan\u003e▶ Step 1 Pull the pen flat\u003c\/span\u003e\u003c\/p\u003e\n\u003c\/li\u003e\n\u003cli\u003e\n\u003cp\u003e\u003cspan\u003e▶ Step 2 Remove the color from the side\u003c\/span\u003e\u003c\/p\u003e\n\u003c\/li\u003e\n\u003cli\u003e\n\u003cp\u003e\u003cspan\u003e▶ Step 3 Pull out the refill\u003c\/span\u003e\u003c\/p\u003e\n\u003c\/li\u003e\n\u003cli\u003e\n\u003cp\u003e\u003cspan\u003e▶ Step 4 Insert the new color\u003c\/span\u003e\u003c\/p\u003e\n\u003c\/li\u003e\n\u003c\/ul\u003e\n\u003ch3 data-mce-fragment=\"1\"\u003e\u003cspan style=\"color: #ff2a00;\" data-mce-fragment=\"1\" data-mce-style=\"color: #ff2a00;\"\u003e\u003cstrong data-mce-fragment=\"1\"\u003eSPECIFICATIONS\u003c\/strong\u003e\u003c\/span\u003e\u003c\/h3\u003e\n\u003cul data-mce-fragment=\"1\"\u003e\n\u003cli data-mce-fragment=\"1\"\u003e\n\u003cp data-mce-fragment=\"1\"\u003e\u003cstrong data-mce-fragment=\"1\"\u003eColor:\u003c\/strong\u003e\u003cspan data-mce-fragment=\"1\"\u003e \u003cspan class=\"Polaris-Badge_2qgie\" data-mce-fragment=\"1\" mce-data-marked=\"1\"\u003eAs Shown\u003c\/span\u003e\u003c\/span\u003e\u003c\/p\u003e\n\u003c\/li\u003e\n\u003cli data-mce-fragment=\"1\"\u003e\n\u003cp data-mce-fragment=\"1\"\u003e\u003cstrong data-mce-fragment=\"1\"\u003eMaterial:\u003c\/strong\u003e Plastic\u003c\/p\u003e\n\u003c\/li\u003e\n\u003cli data-mce-fragment=\"1\"\u003e\n\u003cp data-mce-fragment=\"1\"\u003e\u003cstrong data-mce-fragment=\"1\"\u003eWeight:\u003c\/strong\u003e 55g\u003c\/p\u003e\n\u003c\/li\u003e\n\u003cli data-mce-fragment=\"1\"\u003e\n\u003cp data-mce-fragment=\"1\"\u003e\u003cstrong data-mce-fragment=\"1\"\u003eSize:\u003c\/strong\u003e\u003cspan data-mce-fragment=\"1\"\u003e 19 × 8 × 2cm \/ 7.5 × 3.1 × 0.8inches\u003c\/span\u003e\u003c\/p\u003e\n\u003c\/li\u003e\n\u003c\/ul\u003e\n\u003cul data-mce-fragment=\"1\"\u003e\u003c\/ul\u003e\n\u003cul data-mce-fragment=\"1\"\u003e\u003c\/ul\u003e\n\u003cul data-mce-fragment=\"1\"\u003e\u003c\/ul\u003e\n\u003ch3 data-mce-fragment=\"1\"\u003e\u003cspan style=\"color: #ff2a00;\" data-mce-fragment=\"1\" data-mce-style=\"color: #ff2a00;\"\u003e\u003cstrong data-mce-fragment=\"1\"\u003ePACKAGE\u003c\/strong\u003e\u003c\/span\u003e\u003c\/h3\u003e\n\u003cul data-mce-fragment=\"1\"\u003e\n\u003cli data-mce-fragment=\"1\"\u003e1 Set * 20 in 1 Stacking Point Crayons(4pcs)\u003cbr data-mce-fragment=\"1\"\u003e\n\u003c\/li\u003e\n\u003c\/ul\u003e\n\u003ch3 data-mce-fragment=\"1\"\u003e\n\u003cspan style=\"color: #ff2a00;\" data-mce-fragment=\"1\" data-mce-style=\"color: #ff2a00;\"\u003e\u003cstrong data-mce-fragment=\"1\"\u003eNOTE\u003c\/strong\u003e\u003c\/span\u003e\u003cbr data-mce-fragment=\"1\"\u003e\n\u003c\/h3\u003e\n\u003cul data-mce-fragment=\"1\"\u003e\n\u003cli data-mce-fragment=\"1\"\u003ePlease allow slight measurement deviations due to manual measurement.\u003c\/li\u003e\n\u003c\/ul\u003e\n\u003cul data-mce-fragment=\"1\"\u003e\n\u003cli data-mce-fragment=\"1\"\u003eDue to the different monitor and light effect, the actual color of the item might be slightly different from the color showed in the pictures.\u003c\/li\u003e\n\u003c\/ul\u003e","published_at":"2022-06-20T23:06:03-10:00","created_at":"2022-06-20T23:06:08-10:00","vendor":"flownwing","type":"","tags":["toys"],"price":1299,"price_min":1299,"price_max":1299,"available":true,"price_varies":false,"compare_at_price":2598,"compare_at_price_min":2598,"compare_at_price_max":2598,"compare_at_price_varies":false,"variants":[{"id":42223960129696,"title":"Default Title","option1":"Default Title","option2":null,"option3":null,"sku":"CP27712-E004","requires_shipping":true,"taxable":false,"featured_image":null,"available":true,"name":"20 in 1 Stacking Point Crayons","public_title":null,"options":["Default Title"],"price":1299,"weight":0,"compare_at_price":2598,"inventory_management":null,"barcode":"","requires_selling_plan":false,"selling_plan_allocations":[],"quantity_rule":{"min":1,"max":null,"increment":1}}],"images":["\/\/www.flownwing.com\/cdn\/shop\/products\/20in1StackingPointCrayons_1.jpg?v=1655802368","\/\/www.flownwing.com\/cdn\/shop\/products\/20in1StackingPointCrayons_2.jpg?v=1655802368","\/\/www.flownwing.com\/cdn\/shop\/products\/20in1StackingPointCrayons_3.jpg?v=1655802368","\/\/www.flownwing.com\/cdn\/shop\/products\/20in1StackingPointCrayons_4.jpg?v=1655802368","\/\/www.flownwing.com\/cdn\/shop\/products\/20in1StackingPointCrayons_5.jpg?v=1655802368","\/\/www.flownwing.com\/cdn\/shop\/products\/20in1StackingPointCrayons_6.jpg?v=1655802368","\/\/www.flownwing.com\/cdn\/shop\/products\/20in1StackingPointCrayons_8.jpg?v=1655802368","\/\/www.flownwing.com\/cdn\/shop\/products\/20in1StackingPointCrayons_9.jpg?v=1655802369"],"featured_image":"\/\/www.flownwing.com\/cdn\/shop\/products\/20in1StackingPointCrayons_1.jpg?v=1655802368","options":["Title"],"media":[{"alt":null,"id":24890595737760,"position":1,"preview_image":{"aspect_ratio":1.0,"height":800,"width":800,"src":"\/\/www.flownwing.com\/cdn\/shop\/products\/20in1StackingPointCrayons_1.jpg?v=1655802368"},"aspect_ratio":1.0,"height":800,"media_type":"image","src":"\/\/www.flownwing.com\/cdn\/shop\/products\/20in1StackingPointCrayons_1.jpg?v=1655802368","width":800},{"alt":null,"id":24890595770528,"position":2,"preview_image":{"aspect_ratio":1.0,"height":800,"width":800,"src":"\/\/www.flownwing.com\/cdn\/shop\/products\/20in1StackingPointCrayons_2.jpg?v=1655802368"},"aspect_ratio":1.0,"height":800,"media_type":"image","src":"\/\/www.flownwing.com\/cdn\/shop\/products\/20in1StackingPointCrayons_2.jpg?v=1655802368","width":800},{"alt":null,"id":24890595803296,"position":3,"preview_image":{"aspect_ratio":1.0,"height":800,"width":800,"src":"\/\/www.flownwing.com\/cdn\/shop\/products\/20in1StackingPointCrayons_3.jpg?v=1655802368"},"aspect_ratio":1.0,"height":800,"media_type":"image","src":"\/\/www.flownwing.com\/cdn\/shop\/products\/20in1StackingPointCrayons_3.jpg?v=1655802368","width":800},{"alt":null,"id":24890595836064,"position":4,"preview_image":{"aspect_ratio":1.0,"height":800,"width":800,"src":"\/\/www.flownwing.com\/cdn\/shop\/products\/20in1StackingPointCrayons_4.jpg?v=1655802368"},"aspect_ratio":1.0,"height":800,"media_type":"image","src":"\/\/www.flownwing.com\/cdn\/shop\/products\/20in1StackingPointCrayons_4.jpg?v=1655802368","width":800},{"alt":null,"id":24890595868832,"position":5,"preview_image":{"aspect_ratio":1.0,"height":800,"width":800,"src":"\/\/www.flownwing.com\/cdn\/shop\/products\/20in1StackingPointCrayons_5.jpg?v=1655802368"},"aspect_ratio":1.0,"height":800,"media_type":"image","src":"\/\/www.flownwing.com\/cdn\/shop\/products\/20in1StackingPointCrayons_5.jpg?v=1655802368","width":800},{"alt":null,"id":24890595901600,"position":6,"preview_image":{"aspect_ratio":1.0,"height":800,"width":800,"src":"\/\/www.flownwing.com\/cdn\/shop\/products\/20in1StackingPointCrayons_6.jpg?v=1655802368"},"aspect_ratio":1.0,"height":800,"media_type":"image","src":"\/\/www.flownwing.com\/cdn\/shop\/products\/20in1StackingPointCrayons_6.jpg?v=1655802368","width":800},{"alt":null,"id":24890595934368,"position":7,"preview_image":{"aspect_ratio":1.0,"height":800,"width":800,"src":"\/\/www.flownwing.com\/cdn\/shop\/products\/20in1StackingPointCrayons_8.jpg?v=1655802368"},"aspect_ratio":1.0,"height":800,"media_type":"image","src":"\/\/www.flownwing.com\/cdn\/shop\/products\/20in1StackingPointCrayons_8.jpg?v=1655802368","width":800},{"alt":null,"id":24890595967136,"position":8,"preview_image":{"aspect_ratio":1.0,"height":800,"width":800,"src":"\/\/www.flownwing.com\/cdn\/shop\/products\/20in1StackingPointCrayons_9.jpg?v=1655802369"},"aspect_ratio":1.0,"height":800,"media_type":"image","src":"\/\/www.flownwing.com\/cdn\/shop\/products\/20in1StackingPointCrayons_9.jpg?v=1655802369","width":800}],"requires_selling_plan":false,"selling_plan_groups":[],"content":"\u003ch3 data-mce-fragment=\"1\"\u003e\u003cspan style=\"color: #ff2a00;\" data-mce-fragment=\"1\" data-mce-style=\"color: #ff2a00;\"\u003e\u003cstrong data-mce-fragment=\"1\"\u003eFEATURES\u003c\/strong\u003e\u003c\/span\u003e\u003c\/h3\u003e\n\u003cul class=\"features\"\u003e\n\u003cli\u003e\n\u003cp\u003e\u003cspan style=\"color: #ff2a00;\" data-mce-fragment=\"1\" data-mce-style=\"color: #ff2a00;\"\u003e\u003c\/span\u003e\u003cstrong style=\"font-size: 1.4em;\"\u003e🖍\u003c\/strong\u003e 20 In 1 Multicolored Crayon: Each crayon\u003cspan\u003e \u003c\/span\u003e\u003cspan\u003e\u003cstrong\u003econtains 20 colors of ink\u003c\/strong\u003e\u003c\/span\u003e, all of which are beautiful and\u003cspan\u003e \u003c\/span\u003e\u003cspan\u003e\u003cstrong\u003esuitable for your basic use\u003c\/strong\u003e\u003c\/span\u003e. The colored crayons will meet the needs of the drawing process and the colorful inks will\u003cspan\u003e \u003c\/span\u003e\u003cspan\u003e\u003cstrong\u003estimulate your creativity and imagination\u003c\/strong\u003e\u003c\/span\u003e\u003cspan\u003e \u003c\/span\u003eand\u003cspan\u003e \u003c\/span\u003e\u003cspan\u003e\u003cstrong\u003eincrease your interest in learning\u003c\/strong\u003e\u003c\/span\u003e.\u003c\/p\u003e\n\u003c\/li\u003e\n\u003c\/ul\u003e\n\u003cp\u003e\u003cimg data-loaded=\"true\" src=\"https:\/\/cdn.shopifycdn.net\/s\/files\/1\/0570\/6632\/4013\/files\/2_10f760af-1634-4093-9281-d1d069d3cac2_480x480.jpg?v=1647851588\" height=\"355\" width=\"355\" data-src=\"https:\/\/cdn.shopifycdn.net\/s\/files\/1\/0570\/6632\/4013\/files\/2_10f760af-1634-4093-9281-d1d069d3cac2_480x480.jpg?v=1647851588\" alt=\"\" class=\"lozad lazyloaded\" style=\"font-size: 1.4em; display: block; margin-left: auto; margin-right: auto;\"\u003e\u003c\/p\u003e\n\u003cul class=\"features\"\u003e\n\u003cul class=\"features\"\u003e\u003c\/ul\u003e\n\u003c\/ul\u003e\n\u003cul class=\"features\"\u003e\n\u003cli\u003e\n\u003cp\u003e\u003cspan\u003e🖍 \u003cstrong\u003eConvenient To Use: \u003c\/strong\u003e\u003c\/span\u003eEnvironmentally friendly crayon,\u003cspan\u003e \u003c\/span\u003e\u003cspan\u003e\u003cstrong\u003ethe refill can be replaced at will\u003c\/strong\u003e\u003c\/span\u003e, just push it from the side with your finger and take out the refill into the nib,\u003cspan\u003e \u003c\/span\u003e\u003cspan\u003e\u003cstrong\u003enot easy to dirty your hands\u003c\/strong\u003e\u003c\/span\u003e,\u003cspan\u003e \u003c\/span\u003e\u003cspan\u003e\u003cstrong\u003enon-toxic, children can use it without worry\u003c\/strong\u003e\u003c\/span\u003e.\u003c\/p\u003e\n\u003c\/li\u003e\n\u003c\/ul\u003e\n\u003cp\u003e\u003cimg data-loaded=\"true\" src=\"https:\/\/cdn.shopifycdn.net\/s\/files\/1\/0570\/6632\/4013\/files\/3_702429e2-c27e-4b5f-9c5c-eace2a300e18_480x480.jpg?v=1647851622\" height=\"355\" width=\"355\" data-src=\"https:\/\/cdn.shopifycdn.net\/s\/files\/1\/0570\/6632\/4013\/files\/3_702429e2-c27e-4b5f-9c5c-eace2a300e18_480x480.jpg?v=1647851622\" alt=\"\" class=\"lozad lazyloaded\" style=\"font-size: 1.4em; display: block; margin-left: auto; margin-right: auto;\"\u003e\u003c\/p\u003e\n\u003cul class=\"features\"\u003e\n\u003cli\u003e\n\u003cp\u003e\u003cspan\u003e🖍 \u003cstrong\u003ePractical Drawing\/Writing Colored Crayons: \u003c\/strong\u003e\u003c\/span\u003eFeaturing a\u003cspan\u003e\u003cstrong\u003e sturdy cap and smooth ink\u003c\/strong\u003e\u003c\/span\u003e, these crayons combine a\u003cspan\u003e \u003c\/span\u003e\u003cspan\u003e\u003cstrong\u003ecute look\u003c\/strong\u003e \u003c\/span\u003ewith practicality to\u003cspan\u003e \u003c\/span\u003e\u003cspan\u003e\u003cstrong\u003ehelp you write or draw\u003c\/strong\u003e\u003c\/span\u003e\u003cspan\u003e \u003c\/span\u003ewith them conveniently.\u003c\/p\u003e\n\u003c\/li\u003e\n\u003cli\u003e\n\u003cp\u003e\u003cimg data-loaded=\"true\" src=\"https:\/\/cdn.shopifycdn.net\/s\/files\/1\/0570\/6632\/4013\/files\/4_16d8f2ea-3e4c-4902-894b-7557af2f187d_480x480.jpg?v=1647851657\" height=\"355\" width=\"355\" alt=\"\" data-src=\"https:\/\/cdn.shopifycdn.net\/s\/files\/1\/0570\/6632\/4013\/files\/4_16d8f2ea-3e4c-4902-894b-7557af2f187d_480x480.jpg?v=1647851657\" class=\"lozad lazyloaded\" data-mce-fragment=\"1\" style=\"display: block; margin-left: auto; margin-right: auto;\" data-mce-src=\"https:\/\/cdn.shopifycdn.net\/s\/files\/1\/0570\/6632\/4013\/files\/4_16d8f2ea-3e4c-4902-894b-7557af2f187d_480x480.jpg?v=1647851657\"\u003e\u003c\/p\u003e\n\u003c\/li\u003e\n\u003cli\u003e\n\u003cp\u003eCompared to a large box of crayons, this one is\u003cspan\u003e \u003c\/span\u003e\u003cspan\u003e\u003cstrong\u003elighter and more portable\u003c\/strong\u003e\u003c\/span\u003e, so it's easy to carry around for\u003cspan\u003e \u003c\/span\u003e\u003cspan\u003e\u003cstrong\u003eoutdoor sketching or school.\u003c\/strong\u003e\u003c\/span\u003e\u003c\/p\u003e\n\u003c\/li\u003e\n\u003c\/ul\u003e\n\u003ch3\u003e\u003cspan style=\"color: #ff2a00;\"\u003e\u003cstrong\u003eSTEPS\u003c\/strong\u003e\u003c\/span\u003e\u003c\/h3\u003e\n\u003cul class=\"features\"\u003e\n\u003cli\u003e\n\u003cp\u003e\u003cspan\u003e▶ Step 1 Pull the pen flat\u003c\/span\u003e\u003c\/p\u003e\n\u003c\/li\u003e\n\u003cli\u003e\n\u003cp\u003e\u003cspan\u003e▶ Step 2 Remove the color from the side\u003c\/span\u003e\u003c\/p\u003e\n\u003c\/li\u003e\n\u003cli\u003e\n\u003cp\u003e\u003cspan\u003e▶ Step 3 Pull out the refill\u003c\/span\u003e\u003c\/p\u003e\n\u003c\/li\u003e\n\u003cli\u003e\n\u003cp\u003e\u003cspan\u003e▶ Step 4 Insert the new color\u003c\/span\u003e\u003c\/p\u003e\n\u003c\/li\u003e\n\u003c\/ul\u003e\n\u003ch3 data-mce-fragment=\"1\"\u003e\u003cspan style=\"color: #ff2a00;\" data-mce-fragment=\"1\" data-mce-style=\"color: #ff2a00;\"\u003e\u003cstrong data-mce-fragment=\"1\"\u003eSPECIFICATIONS\u003c\/strong\u003e\u003c\/span\u003e\u003c\/h3\u003e\n\u003cul data-mce-fragment=\"1\"\u003e\n\u003cli data-mce-fragment=\"1\"\u003e\n\u003cp data-mce-fragment=\"1\"\u003e\u003cstrong data-mce-fragment=\"1\"\u003eColor:\u003c\/strong\u003e\u003cspan data-mce-fragment=\"1\"\u003e \u003cspan class=\"Polaris-Badge_2qgie\" data-mce-fragment=\"1\" mce-data-marked=\"1\"\u003eAs Shown\u003c\/span\u003e\u003c\/span\u003e\u003c\/p\u003e\n\u003c\/li\u003e\n\u003cli data-mce-fragment=\"1\"\u003e\n\u003cp data-mce-fragment=\"1\"\u003e\u003cstrong data-mce-fragment=\"1\"\u003eMaterial:\u003c\/strong\u003e Plastic\u003c\/p\u003e\n\u003c\/li\u003e\n\u003cli data-mce-fragment=\"1\"\u003e\n\u003cp data-mce-fragment=\"1\"\u003e\u003cstrong data-mce-fragment=\"1\"\u003eWeight:\u003c\/strong\u003e 55g\u003c\/p\u003e\n\u003c\/li\u003e\n\u003cli data-mce-fragment=\"1\"\u003e\n\u003cp data-mce-fragment=\"1\"\u003e\u003cstrong data-mce-fragment=\"1\"\u003eSize:\u003c\/strong\u003e\u003cspan data-mce-fragment=\"1\"\u003e 19 × 8 × 2cm \/ 7.5 × 3.1 × 0.8inches\u003c\/span\u003e\u003c\/p\u003e\n\u003c\/li\u003e\n\u003c\/ul\u003e\n\u003cul data-mce-fragment=\"1\"\u003e\u003c\/ul\u003e\n\u003cul data-mce-fragment=\"1\"\u003e\u003c\/ul\u003e\n\u003cul data-mce-fragment=\"1\"\u003e\u003c\/ul\u003e\n\u003ch3 data-mce-fragment=\"1\"\u003e\u003cspan style=\"color: #ff2a00;\" data-mce-fragment=\"1\" data-mce-style=\"color: #ff2a00;\"\u003e\u003cstrong data-mce-fragment=\"1\"\u003ePACKAGE\u003c\/strong\u003e\u003c\/span\u003e\u003c\/h3\u003e\n\u003cul data-mce-fragment=\"1\"\u003e\n\u003cli data-mce-fragment=\"1\"\u003e1 Set * 20 in 1 Stacking Point Crayons(4pcs)\u003cbr data-mce-fragment=\"1\"\u003e\n\u003c\/li\u003e\n\u003c\/ul\u003e\n\u003ch3 data-mce-fragment=\"1\"\u003e\n\u003cspan style=\"color: #ff2a00;\" data-mce-fragment=\"1\" data-mce-style=\"color: #ff2a00;\"\u003e\u003cstrong data-mce-fragment=\"1\"\u003eNOTE\u003c\/strong\u003e\u003c\/span\u003e\u003cbr data-mce-fragment=\"1\"\u003e\n\u003c\/h3\u003e\n\u003cul data-mce-fragment=\"1\"\u003e\n\u003cli data-mce-fragment=\"1\"\u003ePlease allow slight measurement deviations due to manual measurement.\u003c\/li\u003e\n\u003c\/ul\u003e\n\u003cul data-mce-fragment=\"1\"\u003e\n\u003cli data-mce-fragment=\"1\"\u003eDue to the different monitor and light effect, the actual color of the item might be slightly different from the color showed in the pictures.\u003c\/li\u003e\n\u003c\/ul\u003e"}
20 in 1 Stacking Point Crayons
Adding product to your cart
FEATURES
🖍 20 In 1 Multicolored Crayon: Each crayon contains 20 colors of ink, all of which are beautiful and suitable for your basic use. The colored crayons will meet the needs of the drawing process and the colorful inks will stimulate your creativity and imagination and increase your interest in learning.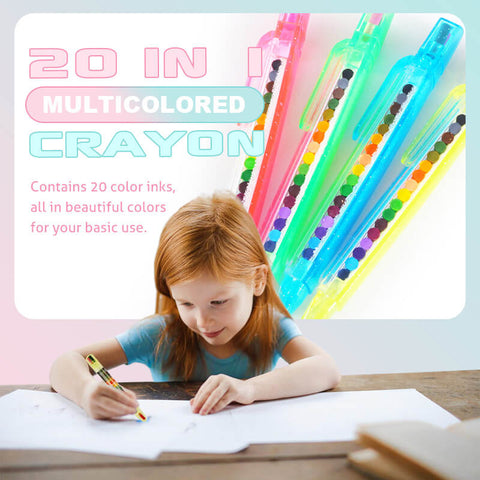 🖍 Convenient To Use: Environmentally friendly crayon, the refill can be replaced at will, just push it from the side with your finger and take out the refill into the nib, not easy to dirty your hands, non-toxic, children can use it without worry.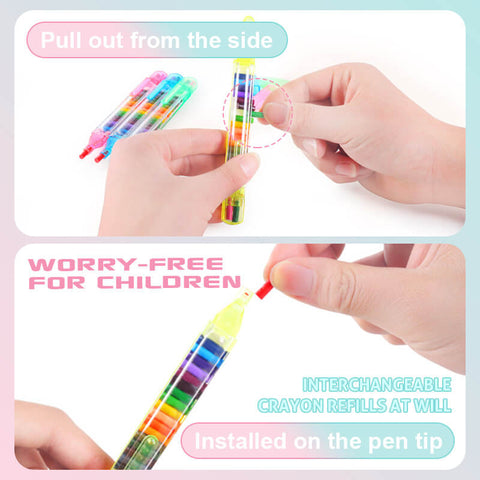 🖍 Practical Drawing/Writing Colored Crayons: Featuring a sturdy cap and smooth ink, these crayons combine a cute look with practicality to help you write or draw with them conveniently.

Compared to a large box of crayons, this one is lighter and more portable, so it's easy to carry around for outdoor sketching or school.
STEPS
▶ Step 1 Pull the pen flat

▶ Step 2 Remove the color from the side

▶ Step 3 Pull out the refill

▶ Step 4 Insert the new color
SPECIFICATIONS
Color: As Shown

Material: Plastic

Weight: 55g

Size: 19 × 8 × 2cm / 7.5 × 3.1 × 0.8inches
PACKAGE
1 Set * 20 in 1 Stacking Point Crayons(4pcs)

NOTE

Please allow slight measurement deviations due to manual measurement.
Due to the different monitor and light effect, the actual color of the item might be slightly different from the color showed in the pictures.