{"id":7623766835360,"title":"Natural Crystal Gravel Epoxy Owl Ornament","handle":"natural-crystal-gravel-epoxy-owl-ornament","description":"\u003ch3 style=\"text-align: center;\" data-mce-fragment=\"1\"\u003e\u003cspan style=\"color: #ff8000;\" data-mce-fragment=\"1\"\u003e\u003cstrong data-mce-fragment=\"1\"\u003e🦉These beautiful crystal owls have fresh lines, fine workmanship, and crystal clear.💝It is a surprise gift for owl lovers,also a perfect addition to lucky crystal home decor.🎁\u003c\/strong\u003e\u003c\/span\u003e\u003c\/h3\u003e\n\u003cp\u003e\u003cspan style=\"color: #ff8000;\" data-mce-fragment=\"1\"\u003e\u003cstrong data-mce-fragment=\"1\"\u003e\u003cimg style=\"display: block; margin-left: auto; margin-right: auto;\" src=\"https:\/\/img-va.myshopline.com\/image\/store\/2000367186\/1655450836957\/8e7bcc4e98c3449e9aaeeb4e6bfdf02d.gif?w=320\u0026amp;h=320\u0026amp;_f=1\"\u003e\u003c\/strong\u003e\u003c\/span\u003e\u003c\/p\u003e\n\u003cp data-mce-fragment=\"1\"\u003e\u003cspan style=\"color: #637e9c;\" data-mce-fragment=\"1\"\u003e\u003cstrong data-mce-fragment=\"1\"\u003eFEATURES\u003c\/strong\u003e\u003c\/span\u003e\u003c\/p\u003e\n\u003cul\u003e\n\u003cli\u003e\n\u003cp\u003e\u003cspan data-mce-fragment=\"1\"\u003e\u003cspan style=\"color: #b9b46e;\"\u003e\u003cstrong\u003eExquisite Crystal Decoration—\u003c\/strong\u003e\u003c\/span\u003eDifferent from heavy resin, the unique luster of high grade crystal will shine sparkly in the sun, and the hand-painted gold is gorgeous with exquisite workmanship, widely popular in all of ages. \u003c\/span\u003e\u003c\/p\u003e\n\u003c\/li\u003e\n\u003c\/ul\u003e\n\u003cdiv\u003e\u003cimg style=\"display: block; margin-left: auto; margin-right: auto;\" height=\"389\" width=\"480\" src=\"https:\/\/img-va.myshopline.com\/image\/store\/2000367186\/1639969818162\/e62aa192f87d4732a5db80aa021711ee.jpeg?w=794\u0026amp;h=644\"\u003e\u003c\/div\u003e\n\u003cul\u003e\n\u003cli\u003e\n\u003cp\u003e\u003cspan style=\"color: #bab670;\"\u003e\u003cstrong\u003eCute Owl Statue—\u003c\/strong\u003e\u003c\/span\u003eOwl is generally a symbol of paranormal wisdom, regal silence and fierce intelligence. You can mix and match with other animal decorative paperweight to create a menagerie in your own collection, add fairy tale fun and art to your home.\u003c\/p\u003e\n\u003c\/li\u003e\n\u003c\/ul\u003e\n\u003cdiv\u003e\u003cimg style=\"display: block; margin-left: auto; margin-right: auto;\" alt=\"\" src=\"https:\/\/cdn.shopify.com\/s\/files\/1\/0356\/3048\/1544\/files\/2_bb8f9a27-e6a4-414e-b9c7-713c0ea57fc1_480x480.jpg?v=1663910148\" data-mce-src=\"https:\/\/cdn.shopify.com\/s\/files\/1\/0356\/3048\/1544\/files\/2_bb8f9a27-e6a4-414e-b9c7-713c0ea57fc1_480x480.jpg?v=1663910148\" data-mce-fragment=\"1\"\u003e\u003c\/div\u003e\n\u003cul\u003e\n\u003cli\u003e\n\u003cp\u003e\u003cspan style=\"color: #b9b46e;\"\u003e\u003cstrong\u003eScope of Application—\u003c\/strong\u003e\u003c\/span\u003ePerfect for indoor decoration such as office, bookshelves, garden, patio, bedside tables, fireplaces, mantel table and more. Great accent for your living room, wedding, party, celebration, anniversary and banquet.\u003c\/p\u003e\n\u003c\/li\u003e\n\u003c\/ul\u003e\n\u003cdiv\u003e\u003cimg style=\"display: block; margin-left: auto; margin-right: auto;\" alt=\"\" src=\"https:\/\/cdn.shopify.com\/s\/files\/1\/0356\/3048\/1544\/files\/05_62e9d77f-ddaf-49d3-a82d-9ba6d14a6f13_480x480.jpg?v=1663910168\" data-mce-src=\"https:\/\/cdn.shopify.com\/s\/files\/1\/0356\/3048\/1544\/files\/05_62e9d77f-ddaf-49d3-a82d-9ba6d14a6f13_480x480.jpg?v=1663910168\" data-mce-fragment=\"1\"\u003e\u003c\/div\u003e\n\u003cul\u003e\n\u003cli\u003e\n\u003cp\u003e\u003cspan style=\"color: #b9b46e;\"\u003e\u003cstrong\u003eIdeal Gift for Owl Lover—\u003c\/strong\u003e\u003c\/span\u003eIf you're a owl lover, our crystal owl collectible figurine home decor is for you! Also popular for holiday festivals, like Christmas, Thanksgiving, Mother's Day, Valentine's Day, birthday, housewarming gift to surprise your friends.\u003c\/p\u003e\n\u003c\/li\u003e\n\u003c\/ul\u003e\n\u003cp\u003e\u003cimg style=\"display: block; margin-left: auto; margin-right: auto;\" height=\"480\" width=\"480\" src=\"https:\/\/img-va.myshopline.com\/image\/store\/2000367186\/1639969818162\/05b3a542300546a6b02ab5c9af8147f9.jpeg?w=794\u0026amp;h=794\"\u003e\u003c\/p\u003e\n\u003cp data-mce-fragment=\"1\"\u003e\u003cspan style=\"color: #637e9c;\" data-mce-fragment=\"1\"\u003e\u003cstrong data-mce-fragment=\"1\"\u003eSPECIFICATIONS\u003c\/strong\u003e\u003c\/span\u003e\u003c\/p\u003e\n\u003cul data-mce-fragment=\"1\"\u003e\n\u003cli data-mce-fragment=\"1\"\u003e\n\u003cp data-mce-fragment=\"1\"\u003e\u003cstrong data-mce-fragment=\"1\"\u003eMaterial:\u003c\/strong\u003e\u003cspan data-mce-fragment=\"1\"\u003e \u003c\/span\u003eCrystal, \u003cspan data-mce-fragment=\"1\"\u003eResin\u003c\/span\u003e\u003c\/p\u003e\n\u003c\/li\u003e\n\u003cli data-mce-fragment=\"1\"\u003e\n\u003cp data-mce-fragment=\"1\"\u003e\u003cspan data-mce-fragment=\"1\"\u003e\u003cstrong data-mce-fragment=\"1\"\u003eWeight:\u003c\/strong\u003e 90g\u003c\/span\u003e\u003c\/p\u003e\n\u003c\/li\u003e\n\u003cli data-mce-fragment=\"1\"\u003e\n\u003cdiv class=\"TPWcv\" data-mce-fragment=\"1\"\u003e\n\u003cdiv class=\"TPWcv\" data-mce-fragment=\"1\"\u003e\n\u003cp class=\"S7cEd\" data-mce-fragment=\"1\"\u003e\u003cstrong data-mce-fragment=\"1\"\u003e\u003cspan class=\"Polaris-TextStyle--variationStrong_rpyvj\" data-mce-fragment=\"1\"\u003eColor:\u003cspan data-mce-fragment=\"1\"\u003e \u003c\/span\u003e\u003c\/span\u003e\u003c\/strong\u003e\u003cspan class=\"Polaris-TextStyle--variationStrong_rpyvj\" data-mce-fragment=\"1\" mce-data-marked=\"1\"\u003e\u003cspan class=\"Polaris-Badge_2qgie\" data-mce-fragment=\"1\" mce-data-marked=\"1\"\u003eAs shown\u003c\/span\u003e\u003c\/span\u003e\u003c\/p\u003e\n\u003c\/div\u003e\n\u003c\/div\u003e\n\u003c\/li\u003e\n\u003cli data-mce-fragment=\"1\"\u003e\n\u003cp data-mce-fragment=\"1\"\u003e\u003cb data-mce-fragment=\"1\"\u003eSize: \u003c\/b\u003e5.3*4.3*3.7cm\/2.09*1.69*1.47in\u003c\/p\u003e\n\u003c\/li\u003e\n\u003c\/ul\u003e\n\u003cp\u003e\u003cimg height=\"370\" width=\"370\" src=\"https:\/\/cdn.shopify.com\/s\/files\/1\/0549\/5010\/1178\/files\/468ef44610c31b5b50b747b4f9f5ee49_bbc81dac-421f-4304-8bc4-ddffdfda55d9_480x480.jpg?v=1663909856\" alt=\"\" style=\"display: block; margin-left: auto; margin-right: auto;\" data-mce-selected=\"1\"\u003e\u003c\/p\u003e\n\u003cul data-mce-fragment=\"1\"\u003e\u003c\/ul\u003e\n\u003cul data-mce-fragment=\"1\"\u003e\u003c\/ul\u003e\n\u003cul data-mce-fragment=\"1\"\u003e\u003c\/ul\u003e\n\u003cul data-mce-fragment=\"1\"\u003e\u003c\/ul\u003e\n\u003cul data-mce-fragment=\"1\"\u003e\u003c\/ul\u003e\n\u003cp data-mce-fragment=\"1\"\u003e\u003cspan style=\"color: #637e9c;\" data-mce-fragment=\"1\"\u003e\u003cstrong data-mce-fragment=\"1\"\u003ePACKAGE\u003c\/strong\u003e\u003c\/span\u003e\u003c\/p\u003e\n\u003cul data-mce-fragment=\"1\"\u003e\n\u003cli data-mce-fragment=\"1\"\u003e1 * Natural Crystal Gravel Epoxy Owl Ornament\u003c\/li\u003e\n\u003c\/ul\u003e\n\u003cp data-mce-fragment=\"1\"\u003e\u003cspan style=\"color: #637e9c;\" data-mce-fragment=\"1\"\u003e\u003cstrong data-mce-fragment=\"1\"\u003eNOTE\u003c\/strong\u003e\u003c\/span\u003e\u003c\/p\u003e\n\u003cul data-mce-fragment=\"1\"\u003e\n\u003cli data-mce-fragment=\"1\"\u003e\n\u003cp data-mce-fragment=\"1\"\u003ePlease allow slight measurement deviations due to manual measurement.\u003c\/p\u003e\n\u003c\/li\u003e\n\u003cli data-mce-fragment=\"1\"\u003e\n\u003cp data-mce-fragment=\"1\"\u003eDue to the different monitor and light effect, the actual color of the item might be slightly different from the color showed in the pictures.\u003c\/p\u003e\n\u003c\/li\u003e\n\u003c\/ul\u003e","published_at":"2022-12-02T06:29:57-10:00","created_at":"2022-12-02T06:30:08-10:00","vendor":"flownwing","type":"","tags":["decoration"],"price":1399,"price_min":1399,"price_max":1399,"available":true,"price_varies":false,"compare_at_price":2799,"compare_at_price_min":2799,"compare_at_price_max":2799,"compare_at_price_varies":false,"variants":[{"id":42818981068960,"title":"Yellow Agate + Gold Foil","option1":"Yellow Agate + Gold Foil","option2":null,"option3":null,"sku":"CP38065-X29673","requires_shipping":true,"taxable":false,"featured_image":{"id":33481353396384,"product_id":7623766835360,"position":12,"created_at":"2022-12-02T06:30:15-10:00","updated_at":"2022-12-02T06:30:15-10:00","alt":null,"width":800,"height":800,"src":"\/\/www.flownwing.com\/cdn\/shop\/products\/f5df7b7058edcbfce0aea46a3ba30324.jpg?v=1669998615","variant_ids":[42818981068960]},"available":true,"name":"Natural Crystal Gravel Epoxy Owl Ornament - Yellow Agate + Gold Foil","public_title":"Yellow Agate + Gold Foil","options":["Yellow Agate + Gold Foil"],"price":1399,"weight":0,"compare_at_price":2799,"inventory_management":null,"barcode":null,"featured_media":{"alt":null,"id":25925928714400,"position":12,"preview_image":{"aspect_ratio":1.0,"height":800,"width":800,"src":"\/\/www.flownwing.com\/cdn\/shop\/products\/f5df7b7058edcbfce0aea46a3ba30324.jpg?v=1669998615"}},"requires_selling_plan":false,"selling_plan_allocations":[],"quantity_rule":{"min":1,"max":null,"increment":1}},{"id":42818981101728,"title":"Tiger Eye","option1":"Tiger Eye","option2":null,"option3":null,"sku":"CP38065-X7433","requires_shipping":true,"taxable":false,"featured_image":{"id":33481354903712,"product_id":7623766835360,"position":19,"created_at":"2022-12-02T06:30:30-10:00","updated_at":"2022-12-02T06:30:30-10:00","alt":null,"width":800,"height":800,"src":"\/\/www.flownwing.com\/cdn\/shop\/products\/3c6fa4bfcffbec2d8b09b006496e1f88.jpg?v=1669998630","variant_ids":[42818981101728]},"available":true,"name":"Natural Crystal Gravel Epoxy Owl Ornament - Tiger Eye","public_title":"Tiger Eye","options":["Tiger Eye"],"price":1399,"weight":0,"compare_at_price":2799,"inventory_management":null,"barcode":null,"featured_media":{"alt":null,"id":25925930254496,"position":19,"preview_image":{"aspect_ratio":1.0,"height":800,"width":800,"src":"\/\/www.flownwing.com\/cdn\/shop\/products\/3c6fa4bfcffbec2d8b09b006496e1f88.jpg?v=1669998630"}},"requires_selling_plan":false,"selling_plan_allocations":[],"quantity_rule":{"min":1,"max":null,"increment":1}},{"id":42818981134496,"title":"Opal","option1":"Opal","option2":null,"option3":null,"sku":"CP38065-X20174","requires_shipping":true,"taxable":false,"featured_image":{"id":33481354969248,"product_id":7623766835360,"position":20,"created_at":"2022-12-02T06:30:32-10:00","updated_at":"2022-12-02T06:30:32-10:00","alt":null,"width":800,"height":800,"src":"\/\/www.flownwing.com\/cdn\/shop\/products\/62b705911e912a32e4bc8ceb1b2b3d42.jpg?v=1669998632","variant_ids":[42818981134496]},"available":true,"name":"Natural Crystal Gravel Epoxy Owl Ornament - Opal","public_title":"Opal","options":["Opal"],"price":1399,"weight":0,"compare_at_price":2799,"inventory_management":null,"barcode":null,"featured_media":{"alt":null,"id":25925930320032,"position":20,"preview_image":{"aspect_ratio":1.0,"height":800,"width":800,"src":"\/\/www.flownwing.com\/cdn\/shop\/products\/62b705911e912a32e4bc8ceb1b2b3d42.jpg?v=1669998632"}},"requires_selling_plan":false,"selling_plan_allocations":[],"quantity_rule":{"min":1,"max":null,"increment":1}},{"id":42818981167264,"title":"Sun Stone","option1":"Sun Stone","option2":null,"option3":null,"sku":"CP38065-X29676","requires_shipping":true,"taxable":false,"featured_image":{"id":33481353232544,"product_id":7623766835360,"position":11,"created_at":"2022-12-02T06:30:13-10:00","updated_at":"2022-12-02T06:30:13-10:00","alt":null,"width":800,"height":800,"src":"\/\/www.flownwing.com\/cdn\/shop\/products\/0d87579c798eaaf5eb24d8427d98c057.jpg?v=1669998613","variant_ids":[42818981167264]},"available":true,"name":"Natural Crystal Gravel Epoxy Owl Ornament - Sun Stone","public_title":"Sun Stone","options":["Sun Stone"],"price":1399,"weight":0,"compare_at_price":2799,"inventory_management":null,"barcode":null,"featured_media":{"alt":null,"id":25925928550560,"position":11,"preview_image":{"aspect_ratio":1.0,"height":800,"width":800,"src":"\/\/www.flownwing.com\/cdn\/shop\/products\/0d87579c798eaaf5eb24d8427d98c057.jpg?v=1669998613"}},"requires_selling_plan":false,"selling_plan_allocations":[],"quantity_rule":{"min":1,"max":null,"increment":1}},{"id":42818981200032,"title":"Obsidian + Gold Foil","option1":"Obsidian + Gold Foil","option2":null,"option3":null,"sku":"CP38065-X29677","requires_shipping":true,"taxable":false,"featured_image":{"id":33481353986208,"product_id":7623766835360,"position":16,"created_at":"2022-12-02T06:30:24-10:00","updated_at":"2022-12-02T06:30:24-10:00","alt":null,"width":800,"height":800,"src":"\/\/www.flownwing.com\/cdn\/shop\/products\/0f97080d02179c3862f54a1953c3122d.jpg?v=1669998624","variant_ids":[42818981200032]},"available":true,"name":"Natural Crystal Gravel Epoxy Owl Ornament - Obsidian + Gold Foil","public_title":"Obsidian + Gold Foil","options":["Obsidian + Gold Foil"],"price":1399,"weight":0,"compare_at_price":2799,"inventory_management":null,"barcode":null,"featured_media":{"alt":null,"id":25925929336992,"position":16,"preview_image":{"aspect_ratio":1.0,"height":800,"width":800,"src":"\/\/www.flownwing.com\/cdn\/shop\/products\/0f97080d02179c3862f54a1953c3122d.jpg?v=1669998624"}},"requires_selling_plan":false,"selling_plan_allocations":[],"quantity_rule":{"min":1,"max":null,"increment":1}},{"id":42818981232800,"title":"Pink Crystal + Sequins","option1":"Pink Crystal + Sequins","option2":null,"option3":null,"sku":"CP38065-X29678","requires_shipping":true,"taxable":false,"featured_image":{"id":33481354707104,"product_id":7623766835360,"position":18,"created_at":"2022-12-02T06:30:28-10:00","updated_at":"2022-12-02T06:30:28-10:00","alt":null,"width":800,"height":800,"src":"\/\/www.flownwing.com\/cdn\/shop\/products\/b8421501ceee8ed8defa49d79fc692df_ce83503b-01a9-481a-a4c3-b6f694b5af0b.jpg?v=1669998628","variant_ids":[42818981232800]},"available":true,"name":"Natural Crystal Gravel Epoxy Owl Ornament - Pink Crystal + Sequins","public_title":"Pink Crystal + Sequins","options":["Pink Crystal + Sequins"],"price":1399,"weight":0,"compare_at_price":2799,"inventory_management":null,"barcode":null,"featured_media":{"alt":null,"id":25925930090656,"position":18,"preview_image":{"aspect_ratio":1.0,"height":800,"width":800,"src":"\/\/www.flownwing.com\/cdn\/shop\/products\/b8421501ceee8ed8defa49d79fc692df_ce83503b-01a9-481a-a4c3-b6f694b5af0b.jpg?v=1669998628"}},"requires_selling_plan":false,"selling_plan_allocations":[],"quantity_rule":{"min":1,"max":null,"increment":1}},{"id":42818981265568,"title":"Deep Sea Caterpillar + Gold Foil","option1":"Deep Sea Caterpillar + Gold Foil","option2":null,"option3":null,"sku":"CP38065-X29679","requires_shipping":true,"taxable":false,"featured_image":{"id":33481354117280,"product_id":7623766835360,"position":17,"created_at":"2022-12-02T06:30:27-10:00","updated_at":"2022-12-02T06:30:27-10:00","alt":null,"width":800,"height":800,"src":"\/\/www.flownwing.com\/cdn\/shop\/products\/2a9ad7adfb8cee91c6546b49bd1e24de.jpg?v=1669998627","variant_ids":[42818981265568]},"available":true,"name":"Natural Crystal Gravel Epoxy Owl Ornament - Deep Sea Caterpillar + Gold Foil","public_title":"Deep Sea Caterpillar + Gold Foil","options":["Deep Sea Caterpillar + Gold Foil"],"price":1399,"weight":0,"compare_at_price":2799,"inventory_management":null,"barcode":null,"featured_media":{"alt":null,"id":25925929468064,"position":17,"preview_image":{"aspect_ratio":1.0,"height":800,"width":800,"src":"\/\/www.flownwing.com\/cdn\/shop\/products\/2a9ad7adfb8cee91c6546b49bd1e24de.jpg?v=1669998627"}},"requires_selling_plan":false,"selling_plan_allocations":[],"quantity_rule":{"min":1,"max":null,"increment":1}},{"id":42818981298336,"title":"Pink Crystal + Gold Foil","option1":"Pink Crystal + Gold Foil","option2":null,"option3":null,"sku":"CP38065-X29680","requires_shipping":true,"taxable":false,"featured_image":{"id":33481353658528,"product_id":7623766835360,"position":14,"created_at":"2022-12-02T06:30:19-10:00","updated_at":"2022-12-02T06:30:19-10:00","alt":null,"width":800,"height":800,"src":"\/\/www.flownwing.com\/cdn\/shop\/products\/0d1d5280068ffe5bc4e83d2e0f1df719.jpg?v=1669998619","variant_ids":[42818981298336]},"available":true,"name":"Natural Crystal Gravel Epoxy Owl Ornament - Pink Crystal + Gold Foil","public_title":"Pink Crystal + Gold Foil","options":["Pink Crystal + Gold Foil"],"price":1399,"weight":0,"compare_at_price":2799,"inventory_management":null,"barcode":null,"featured_media":{"alt":null,"id":25925929009312,"position":14,"preview_image":{"aspect_ratio":1.0,"height":800,"width":800,"src":"\/\/www.flownwing.com\/cdn\/shop\/products\/0d1d5280068ffe5bc4e83d2e0f1df719.jpg?v=1669998619"}},"requires_selling_plan":false,"selling_plan_allocations":[],"quantity_rule":{"min":1,"max":null,"increment":1}},{"id":42818981331104,"title":"Color Shell","option1":"Color Shell","option2":null,"option3":null,"sku":"CP38065-X29681","requires_shipping":true,"taxable":false,"featured_image":{"id":33481353789600,"product_id":7623766835360,"position":15,"created_at":"2022-12-02T06:30:22-10:00","updated_at":"2022-12-02T06:30:22-10:00","alt":null,"width":800,"height":800,"src":"\/\/www.flownwing.com\/cdn\/shop\/products\/ee1011fdcd757daf3f4b8f9d133ae00f.jpg?v=1669998622","variant_ids":[42818981331104]},"available":true,"name":"Natural Crystal Gravel Epoxy Owl Ornament - Color Shell","public_title":"Color Shell","options":["Color Shell"],"price":1399,"weight":0,"compare_at_price":2799,"inventory_management":null,"barcode":null,"featured_media":{"alt":null,"id":25925929140384,"position":15,"preview_image":{"aspect_ratio":1.0,"height":800,"width":800,"src":"\/\/www.flownwing.com\/cdn\/shop\/products\/ee1011fdcd757daf3f4b8f9d133ae00f.jpg?v=1669998622"}},"requires_selling_plan":false,"selling_plan_allocations":[],"quantity_rule":{"min":1,"max":null,"increment":1}},{"id":42818981363872,"title":"Opal + Gold Foil","option1":"Opal + Gold Foil","option2":null,"option3":null,"sku":"CP38065-X29682","requires_shipping":true,"taxable":false,"featured_image":{"id":33481353494688,"product_id":7623766835360,"position":13,"created_at":"2022-12-02T06:30:17-10:00","updated_at":"2022-12-02T06:30:17-10:00","alt":null,"width":800,"height":800,"src":"\/\/www.flownwing.com\/cdn\/shop\/products\/5a31ee9c59af98e57fe131c3eeca9171.jpg?v=1669998617","variant_ids":[42818981363872]},"available":true,"name":"Natural Crystal Gravel Epoxy Owl Ornament - Opal + Gold Foil","public_title":"Opal + Gold Foil","options":["Opal + Gold Foil"],"price":1399,"weight":0,"compare_at_price":2799,"inventory_management":null,"barcode":null,"featured_media":{"alt":null,"id":25925928845472,"position":13,"preview_image":{"aspect_ratio":1.0,"height":800,"width":800,"src":"\/\/www.flownwing.com\/cdn\/shop\/products\/5a31ee9c59af98e57fe131c3eeca9171.jpg?v=1669998617"}},"requires_selling_plan":false,"selling_plan_allocations":[],"quantity_rule":{"min":1,"max":null,"increment":1}}],"images":["\/\/www.flownwing.com\/cdn\/shop\/products\/01_426111e2-185f-4d0c-9c88-cae961f546b7.jpg?v=1669998608","\/\/www.flownwing.com\/cdn\/shop\/products\/02_343af40b-5c6d-4462-8722-031b483dfbc1.jpg?v=1669998608","\/\/www.flownwing.com\/cdn\/shop\/products\/03_9c5815ce-b60e-4ffe-a145-1e8c07779ec8.jpg?v=1669998608","\/\/www.flownwing.com\/cdn\/shop\/products\/04_02c888e9-714d-49b4-a5e0-156b8ef692ff.jpg?v=1669998608","\/\/www.flownwing.com\/cdn\/shop\/products\/05_bdd44a00-36c3-40af-8cdd-3fff348a48a4.jpg?v=1669998608","\/\/www.flownwing.com\/cdn\/shop\/products\/06_a1555040-6b79-43fa-a9ca-8b46c9a302cd.jpg?v=1669998608","\/\/www.flownwing.com\/cdn\/shop\/products\/07_05b487d9-34c2-4d98-8973-a9bc7ce2cac2.jpg?v=1669998608","\/\/www.flownwing.com\/cdn\/shop\/products\/08_3ed411c4-581e-4481-a1a2-e9505dcd2c49.jpg?v=1669998608","\/\/www.flownwing.com\/cdn\/shop\/products\/e299e76b90b80a544d3257b62d234663.jpg?v=1669998608","\/\/www.flownwing.com\/cdn\/shop\/products\/1_2513682c-061d-4a34-a407-1ba6dd8cd43d.jpg?v=1669998608","\/\/www.flownwing.com\/cdn\/shop\/products\/0d87579c798eaaf5eb24d8427d98c057.jpg?v=1669998613","\/\/www.flownwing.com\/cdn\/shop\/products\/f5df7b7058edcbfce0aea46a3ba30324.jpg?v=1669998615","\/\/www.flownwing.com\/cdn\/shop\/products\/5a31ee9c59af98e57fe131c3eeca9171.jpg?v=1669998617","\/\/www.flownwing.com\/cdn\/shop\/products\/0d1d5280068ffe5bc4e83d2e0f1df719.jpg?v=1669998619","\/\/www.flownwing.com\/cdn\/shop\/products\/ee1011fdcd757daf3f4b8f9d133ae00f.jpg?v=1669998622","\/\/www.flownwing.com\/cdn\/shop\/products\/0f97080d02179c3862f54a1953c3122d.jpg?v=1669998624","\/\/www.flownwing.com\/cdn\/shop\/products\/2a9ad7adfb8cee91c6546b49bd1e24de.jpg?v=1669998627","\/\/www.flownwing.com\/cdn\/shop\/products\/b8421501ceee8ed8defa49d79fc692df_ce83503b-01a9-481a-a4c3-b6f694b5af0b.jpg?v=1669998628","\/\/www.flownwing.com\/cdn\/shop\/products\/3c6fa4bfcffbec2d8b09b006496e1f88.jpg?v=1669998630","\/\/www.flownwing.com\/cdn\/shop\/products\/62b705911e912a32e4bc8ceb1b2b3d42.jpg?v=1669998632"],"featured_image":"\/\/www.flownwing.com\/cdn\/shop\/products\/01_426111e2-185f-4d0c-9c88-cae961f546b7.jpg?v=1669998608","options":["Style"],"media":[{"alt":null,"id":25925927960736,"position":1,"preview_image":{"aspect_ratio":1.0,"height":800,"width":800,"src":"\/\/www.flownwing.com\/cdn\/shop\/products\/01_426111e2-185f-4d0c-9c88-cae961f546b7.jpg?v=1669998608"},"aspect_ratio":1.0,"height":800,"media_type":"image","src":"\/\/www.flownwing.com\/cdn\/shop\/products\/01_426111e2-185f-4d0c-9c88-cae961f546b7.jpg?v=1669998608","width":800},{"alt":null,"id":25925927993504,"position":2,"preview_image":{"aspect_ratio":1.0,"height":800,"width":800,"src":"\/\/www.flownwing.com\/cdn\/shop\/products\/02_343af40b-5c6d-4462-8722-031b483dfbc1.jpg?v=1669998608"},"aspect_ratio":1.0,"height":800,"media_type":"image","src":"\/\/www.flownwing.com\/cdn\/shop\/products\/02_343af40b-5c6d-4462-8722-031b483dfbc1.jpg?v=1669998608","width":800},{"alt":null,"id":25925928026272,"position":3,"preview_image":{"aspect_ratio":1.0,"height":800,"width":800,"src":"\/\/www.flownwing.com\/cdn\/shop\/products\/03_9c5815ce-b60e-4ffe-a145-1e8c07779ec8.jpg?v=1669998608"},"aspect_ratio":1.0,"height":800,"media_type":"image","src":"\/\/www.flownwing.com\/cdn\/shop\/products\/03_9c5815ce-b60e-4ffe-a145-1e8c07779ec8.jpg?v=1669998608","width":800},{"alt":null,"id":25925928059040,"position":4,"preview_image":{"aspect_ratio":1.0,"height":800,"width":800,"src":"\/\/www.flownwing.com\/cdn\/shop\/products\/04_02c888e9-714d-49b4-a5e0-156b8ef692ff.jpg?v=1669998608"},"aspect_ratio":1.0,"height":800,"media_type":"image","src":"\/\/www.flownwing.com\/cdn\/shop\/products\/04_02c888e9-714d-49b4-a5e0-156b8ef692ff.jpg?v=1669998608","width":800},{"alt":null,"id":25925928091808,"position":5,"preview_image":{"aspect_ratio":1.0,"height":800,"width":800,"src":"\/\/www.flownwing.com\/cdn\/shop\/products\/05_bdd44a00-36c3-40af-8cdd-3fff348a48a4.jpg?v=1669998608"},"aspect_ratio":1.0,"height":800,"media_type":"image","src":"\/\/www.flownwing.com\/cdn\/shop\/products\/05_bdd44a00-36c3-40af-8cdd-3fff348a48a4.jpg?v=1669998608","width":800},{"alt":null,"id":25925928124576,"position":6,"preview_image":{"aspect_ratio":1.0,"height":800,"width":800,"src":"\/\/www.flownwing.com\/cdn\/shop\/products\/06_a1555040-6b79-43fa-a9ca-8b46c9a302cd.jpg?v=1669998608"},"aspect_ratio":1.0,"height":800,"media_type":"image","src":"\/\/www.flownwing.com\/cdn\/shop\/products\/06_a1555040-6b79-43fa-a9ca-8b46c9a302cd.jpg?v=1669998608","width":800},{"alt":null,"id":25925928157344,"position":7,"preview_image":{"aspect_ratio":1.0,"height":800,"width":800,"src":"\/\/www.flownwing.com\/cdn\/shop\/products\/07_05b487d9-34c2-4d98-8973-a9bc7ce2cac2.jpg?v=1669998608"},"aspect_ratio":1.0,"height":800,"media_type":"image","src":"\/\/www.flownwing.com\/cdn\/shop\/products\/07_05b487d9-34c2-4d98-8973-a9bc7ce2cac2.jpg?v=1669998608","width":800},{"alt":null,"id":25925928190112,"position":8,"preview_image":{"aspect_ratio":1.0,"height":800,"width":800,"src":"\/\/www.flownwing.com\/cdn\/shop\/products\/08_3ed411c4-581e-4481-a1a2-e9505dcd2c49.jpg?v=1669998608"},"aspect_ratio":1.0,"height":800,"media_type":"image","src":"\/\/www.flownwing.com\/cdn\/shop\/products\/08_3ed411c4-581e-4481-a1a2-e9505dcd2c49.jpg?v=1669998608","width":800},{"alt":null,"id":25925928222880,"position":9,"preview_image":{"aspect_ratio":1.0,"height":800,"width":800,"src":"\/\/www.flownwing.com\/cdn\/shop\/products\/e299e76b90b80a544d3257b62d234663.jpg?v=1669998608"},"aspect_ratio":1.0,"height":800,"media_type":"image","src":"\/\/www.flownwing.com\/cdn\/shop\/products\/e299e76b90b80a544d3257b62d234663.jpg?v=1669998608","width":800},{"alt":null,"id":25925928255648,"position":10,"preview_image":{"aspect_ratio":1.0,"height":800,"width":800,"src":"\/\/www.flownwing.com\/cdn\/shop\/products\/1_2513682c-061d-4a34-a407-1ba6dd8cd43d.jpg?v=1669998608"},"aspect_ratio":1.0,"height":800,"media_type":"image","src":"\/\/www.flownwing.com\/cdn\/shop\/products\/1_2513682c-061d-4a34-a407-1ba6dd8cd43d.jpg?v=1669998608","width":800},{"alt":null,"id":25925928550560,"position":11,"preview_image":{"aspect_ratio":1.0,"height":800,"width":800,"src":"\/\/www.flownwing.com\/cdn\/shop\/products\/0d87579c798eaaf5eb24d8427d98c057.jpg?v=1669998613"},"aspect_ratio":1.0,"height":800,"media_type":"image","src":"\/\/www.flownwing.com\/cdn\/shop\/products\/0d87579c798eaaf5eb24d8427d98c057.jpg?v=1669998613","width":800},{"alt":null,"id":25925928714400,"position":12,"preview_image":{"aspect_ratio":1.0,"height":800,"width":800,"src":"\/\/www.flownwing.com\/cdn\/shop\/products\/f5df7b7058edcbfce0aea46a3ba30324.jpg?v=1669998615"},"aspect_ratio":1.0,"height":800,"media_type":"image","src":"\/\/www.flownwing.com\/cdn\/shop\/products\/f5df7b7058edcbfce0aea46a3ba30324.jpg?v=1669998615","width":800},{"alt":null,"id":25925928845472,"position":13,"preview_image":{"aspect_ratio":1.0,"height":800,"width":800,"src":"\/\/www.flownwing.com\/cdn\/shop\/products\/5a31ee9c59af98e57fe131c3eeca9171.jpg?v=1669998617"},"aspect_ratio":1.0,"height":800,"media_type":"image","src":"\/\/www.flownwing.com\/cdn\/shop\/products\/5a31ee9c59af98e57fe131c3eeca9171.jpg?v=1669998617","width":800},{"alt":null,"id":25925929009312,"position":14,"preview_image":{"aspect_ratio":1.0,"height":800,"width":800,"src":"\/\/www.flownwing.com\/cdn\/shop\/products\/0d1d5280068ffe5bc4e83d2e0f1df719.jpg?v=1669998619"},"aspect_ratio":1.0,"height":800,"media_type":"image","src":"\/\/www.flownwing.com\/cdn\/shop\/products\/0d1d5280068ffe5bc4e83d2e0f1df719.jpg?v=1669998619","width":800},{"alt":null,"id":25925929140384,"position":15,"preview_image":{"aspect_ratio":1.0,"height":800,"width":800,"src":"\/\/www.flownwing.com\/cdn\/shop\/products\/ee1011fdcd757daf3f4b8f9d133ae00f.jpg?v=1669998622"},"aspect_ratio":1.0,"height":800,"media_type":"image","src":"\/\/www.flownwing.com\/cdn\/shop\/products\/ee1011fdcd757daf3f4b8f9d133ae00f.jpg?v=1669998622","width":800},{"alt":null,"id":25925929336992,"position":16,"preview_image":{"aspect_ratio":1.0,"height":800,"width":800,"src":"\/\/www.flownwing.com\/cdn\/shop\/products\/0f97080d02179c3862f54a1953c3122d.jpg?v=1669998624"},"aspect_ratio":1.0,"height":800,"media_type":"image","src":"\/\/www.flownwing.com\/cdn\/shop\/products\/0f97080d02179c3862f54a1953c3122d.jpg?v=1669998624","width":800},{"alt":null,"id":25925929468064,"position":17,"preview_image":{"aspect_ratio":1.0,"height":800,"width":800,"src":"\/\/www.flownwing.com\/cdn\/shop\/products\/2a9ad7adfb8cee91c6546b49bd1e24de.jpg?v=1669998627"},"aspect_ratio":1.0,"height":800,"media_type":"image","src":"\/\/www.flownwing.com\/cdn\/shop\/products\/2a9ad7adfb8cee91c6546b49bd1e24de.jpg?v=1669998627","width":800},{"alt":null,"id":25925930090656,"position":18,"preview_image":{"aspect_ratio":1.0,"height":800,"width":800,"src":"\/\/www.flownwing.com\/cdn\/shop\/products\/b8421501ceee8ed8defa49d79fc692df_ce83503b-01a9-481a-a4c3-b6f694b5af0b.jpg?v=1669998628"},"aspect_ratio":1.0,"height":800,"media_type":"image","src":"\/\/www.flownwing.com\/cdn\/shop\/products\/b8421501ceee8ed8defa49d79fc692df_ce83503b-01a9-481a-a4c3-b6f694b5af0b.jpg?v=1669998628","width":800},{"alt":null,"id":25925930254496,"position":19,"preview_image":{"aspect_ratio":1.0,"height":800,"width":800,"src":"\/\/www.flownwing.com\/cdn\/shop\/products\/3c6fa4bfcffbec2d8b09b006496e1f88.jpg?v=1669998630"},"aspect_ratio":1.0,"height":800,"media_type":"image","src":"\/\/www.flownwing.com\/cdn\/shop\/products\/3c6fa4bfcffbec2d8b09b006496e1f88.jpg?v=1669998630","width":800},{"alt":null,"id":25925930320032,"position":20,"preview_image":{"aspect_ratio":1.0,"height":800,"width":800,"src":"\/\/www.flownwing.com\/cdn\/shop\/products\/62b705911e912a32e4bc8ceb1b2b3d42.jpg?v=1669998632"},"aspect_ratio":1.0,"height":800,"media_type":"image","src":"\/\/www.flownwing.com\/cdn\/shop\/products\/62b705911e912a32e4bc8ceb1b2b3d42.jpg?v=1669998632","width":800}],"requires_selling_plan":false,"selling_plan_groups":[],"content":"\u003ch3 style=\"text-align: center;\" data-mce-fragment=\"1\"\u003e\u003cspan style=\"color: #ff8000;\" data-mce-fragment=\"1\"\u003e\u003cstrong data-mce-fragment=\"1\"\u003e🦉These beautiful crystal owls have fresh lines, fine workmanship, and crystal clear.💝It is a surprise gift for owl lovers,also a perfect addition to lucky crystal home decor.🎁\u003c\/strong\u003e\u003c\/span\u003e\u003c\/h3\u003e\n\u003cp\u003e\u003cspan style=\"color: #ff8000;\" data-mce-fragment=\"1\"\u003e\u003cstrong data-mce-fragment=\"1\"\u003e\u003cimg style=\"display: block; margin-left: auto; margin-right: auto;\" src=\"https:\/\/img-va.myshopline.com\/image\/store\/2000367186\/1655450836957\/8e7bcc4e98c3449e9aaeeb4e6bfdf02d.gif?w=320\u0026amp;h=320\u0026amp;_f=1\"\u003e\u003c\/strong\u003e\u003c\/span\u003e\u003c\/p\u003e\n\u003cp data-mce-fragment=\"1\"\u003e\u003cspan style=\"color: #637e9c;\" data-mce-fragment=\"1\"\u003e\u003cstrong data-mce-fragment=\"1\"\u003eFEATURES\u003c\/strong\u003e\u003c\/span\u003e\u003c\/p\u003e\n\u003cul\u003e\n\u003cli\u003e\n\u003cp\u003e\u003cspan data-mce-fragment=\"1\"\u003e\u003cspan style=\"color: #b9b46e;\"\u003e\u003cstrong\u003eExquisite Crystal Decoration—\u003c\/strong\u003e\u003c\/span\u003eDifferent from heavy resin, the unique luster of high grade crystal will shine sparkly in the sun, and the hand-painted gold is gorgeous with exquisite workmanship, widely popular in all of ages. \u003c\/span\u003e\u003c\/p\u003e\n\u003c\/li\u003e\n\u003c\/ul\u003e\n\u003cdiv\u003e\u003cimg style=\"display: block; margin-left: auto; margin-right: auto;\" height=\"389\" width=\"480\" src=\"https:\/\/img-va.myshopline.com\/image\/store\/2000367186\/1639969818162\/e62aa192f87d4732a5db80aa021711ee.jpeg?w=794\u0026amp;h=644\"\u003e\u003c\/div\u003e\n\u003cul\u003e\n\u003cli\u003e\n\u003cp\u003e\u003cspan style=\"color: #bab670;\"\u003e\u003cstrong\u003eCute Owl Statue—\u003c\/strong\u003e\u003c\/span\u003eOwl is generally a symbol of paranormal wisdom, regal silence and fierce intelligence. You can mix and match with other animal decorative paperweight to create a menagerie in your own collection, add fairy tale fun and art to your home.\u003c\/p\u003e\n\u003c\/li\u003e\n\u003c\/ul\u003e\n\u003cdiv\u003e\u003cimg style=\"display: block; margin-left: auto; margin-right: auto;\" alt=\"\" src=\"https:\/\/cdn.shopify.com\/s\/files\/1\/0356\/3048\/1544\/files\/2_bb8f9a27-e6a4-414e-b9c7-713c0ea57fc1_480x480.jpg?v=1663910148\" data-mce-src=\"https:\/\/cdn.shopify.com\/s\/files\/1\/0356\/3048\/1544\/files\/2_bb8f9a27-e6a4-414e-b9c7-713c0ea57fc1_480x480.jpg?v=1663910148\" data-mce-fragment=\"1\"\u003e\u003c\/div\u003e\n\u003cul\u003e\n\u003cli\u003e\n\u003cp\u003e\u003cspan style=\"color: #b9b46e;\"\u003e\u003cstrong\u003eScope of Application—\u003c\/strong\u003e\u003c\/span\u003ePerfect for indoor decoration such as office, bookshelves, garden, patio, bedside tables, fireplaces, mantel table and more. Great accent for your living room, wedding, party, celebration, anniversary and banquet.\u003c\/p\u003e\n\u003c\/li\u003e\n\u003c\/ul\u003e\n\u003cdiv\u003e\u003cimg style=\"display: block; margin-left: auto; margin-right: auto;\" alt=\"\" src=\"https:\/\/cdn.shopify.com\/s\/files\/1\/0356\/3048\/1544\/files\/05_62e9d77f-ddaf-49d3-a82d-9ba6d14a6f13_480x480.jpg?v=1663910168\" data-mce-src=\"https:\/\/cdn.shopify.com\/s\/files\/1\/0356\/3048\/1544\/files\/05_62e9d77f-ddaf-49d3-a82d-9ba6d14a6f13_480x480.jpg?v=1663910168\" data-mce-fragment=\"1\"\u003e\u003c\/div\u003e\n\u003cul\u003e\n\u003cli\u003e\n\u003cp\u003e\u003cspan style=\"color: #b9b46e;\"\u003e\u003cstrong\u003eIdeal Gift for Owl Lover—\u003c\/strong\u003e\u003c\/span\u003eIf you're a owl lover, our crystal owl collectible figurine home decor is for you! Also popular for holiday festivals, like Christmas, Thanksgiving, Mother's Day, Valentine's Day, birthday, housewarming gift to surprise your friends.\u003c\/p\u003e\n\u003c\/li\u003e\n\u003c\/ul\u003e\n\u003cp\u003e\u003cimg style=\"display: block; margin-left: auto; margin-right: auto;\" height=\"480\" width=\"480\" src=\"https:\/\/img-va.myshopline.com\/image\/store\/2000367186\/1639969818162\/05b3a542300546a6b02ab5c9af8147f9.jpeg?w=794\u0026amp;h=794\"\u003e\u003c\/p\u003e\n\u003cp data-mce-fragment=\"1\"\u003e\u003cspan style=\"color: #637e9c;\" data-mce-fragment=\"1\"\u003e\u003cstrong data-mce-fragment=\"1\"\u003eSPECIFICATIONS\u003c\/strong\u003e\u003c\/span\u003e\u003c\/p\u003e\n\u003cul data-mce-fragment=\"1\"\u003e\n\u003cli data-mce-fragment=\"1\"\u003e\n\u003cp data-mce-fragment=\"1\"\u003e\u003cstrong data-mce-fragment=\"1\"\u003eMaterial:\u003c\/strong\u003e\u003cspan data-mce-fragment=\"1\"\u003e \u003c\/span\u003eCrystal, \u003cspan data-mce-fragment=\"1\"\u003eResin\u003c\/span\u003e\u003c\/p\u003e\n\u003c\/li\u003e\n\u003cli data-mce-fragment=\"1\"\u003e\n\u003cp data-mce-fragment=\"1\"\u003e\u003cspan data-mce-fragment=\"1\"\u003e\u003cstrong data-mce-fragment=\"1\"\u003eWeight:\u003c\/strong\u003e 90g\u003c\/span\u003e\u003c\/p\u003e\n\u003c\/li\u003e\n\u003cli data-mce-fragment=\"1\"\u003e\n\u003cdiv class=\"TPWcv\" data-mce-fragment=\"1\"\u003e\n\u003cdiv class=\"TPWcv\" data-mce-fragment=\"1\"\u003e\n\u003cp class=\"S7cEd\" data-mce-fragment=\"1\"\u003e\u003cstrong data-mce-fragment=\"1\"\u003e\u003cspan class=\"Polaris-TextStyle--variationStrong_rpyvj\" data-mce-fragment=\"1\"\u003eColor:\u003cspan data-mce-fragment=\"1\"\u003e \u003c\/span\u003e\u003c\/span\u003e\u003c\/strong\u003e\u003cspan class=\"Polaris-TextStyle--variationStrong_rpyvj\" data-mce-fragment=\"1\" mce-data-marked=\"1\"\u003e\u003cspan class=\"Polaris-Badge_2qgie\" data-mce-fragment=\"1\" mce-data-marked=\"1\"\u003eAs shown\u003c\/span\u003e\u003c\/span\u003e\u003c\/p\u003e\n\u003c\/div\u003e\n\u003c\/div\u003e\n\u003c\/li\u003e\n\u003cli data-mce-fragment=\"1\"\u003e\n\u003cp data-mce-fragment=\"1\"\u003e\u003cb data-mce-fragment=\"1\"\u003eSize: \u003c\/b\u003e5.3*4.3*3.7cm\/2.09*1.69*1.47in\u003c\/p\u003e\n\u003c\/li\u003e\n\u003c\/ul\u003e\n\u003cp\u003e\u003cimg height=\"370\" width=\"370\" src=\"https:\/\/cdn.shopify.com\/s\/files\/1\/0549\/5010\/1178\/files\/468ef44610c31b5b50b747b4f9f5ee49_bbc81dac-421f-4304-8bc4-ddffdfda55d9_480x480.jpg?v=1663909856\" alt=\"\" style=\"display: block; margin-left: auto; margin-right: auto;\" data-mce-selected=\"1\"\u003e\u003c\/p\u003e\n\u003cul data-mce-fragment=\"1\"\u003e\u003c\/ul\u003e\n\u003cul data-mce-fragment=\"1\"\u003e\u003c\/ul\u003e\n\u003cul data-mce-fragment=\"1\"\u003e\u003c\/ul\u003e\n\u003cul data-mce-fragment=\"1\"\u003e\u003c\/ul\u003e\n\u003cul data-mce-fragment=\"1\"\u003e\u003c\/ul\u003e\n\u003cp data-mce-fragment=\"1\"\u003e\u003cspan style=\"color: #637e9c;\" data-mce-fragment=\"1\"\u003e\u003cstrong data-mce-fragment=\"1\"\u003ePACKAGE\u003c\/strong\u003e\u003c\/span\u003e\u003c\/p\u003e\n\u003cul data-mce-fragment=\"1\"\u003e\n\u003cli data-mce-fragment=\"1\"\u003e1 * Natural Crystal Gravel Epoxy Owl Ornament\u003c\/li\u003e\n\u003c\/ul\u003e\n\u003cp data-mce-fragment=\"1\"\u003e\u003cspan style=\"color: #637e9c;\" data-mce-fragment=\"1\"\u003e\u003cstrong data-mce-fragment=\"1\"\u003eNOTE\u003c\/strong\u003e\u003c\/span\u003e\u003c\/p\u003e\n\u003cul data-mce-fragment=\"1\"\u003e\n\u003cli data-mce-fragment=\"1\"\u003e\n\u003cp data-mce-fragment=\"1\"\u003ePlease allow slight measurement deviations due to manual measurement.\u003c\/p\u003e\n\u003c\/li\u003e\n\u003cli data-mce-fragment=\"1\"\u003e\n\u003cp data-mce-fragment=\"1\"\u003eDue to the different monitor and light effect, the actual color of the item might be slightly different from the color showed in the pictures.\u003c\/p\u003e\n\u003c\/li\u003e\n\u003c\/ul\u003e"}
Natural Crystal Gravel Epoxy Owl Ornament
Adding product to your cart
🦉These beautiful crystal owls have fresh lines, fine workmanship, and crystal clear.💝It is a surprise gift for owl lovers,also a perfect addition to lucky crystal home decor.🎁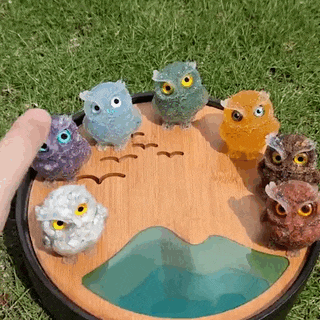 FEATURES
Exquisite Crystal Decoration—Different from heavy resin, the unique luster of high grade crystal will shine sparkly in the sun, and the hand-painted gold is gorgeous with exquisite workmanship, widely popular in all of ages.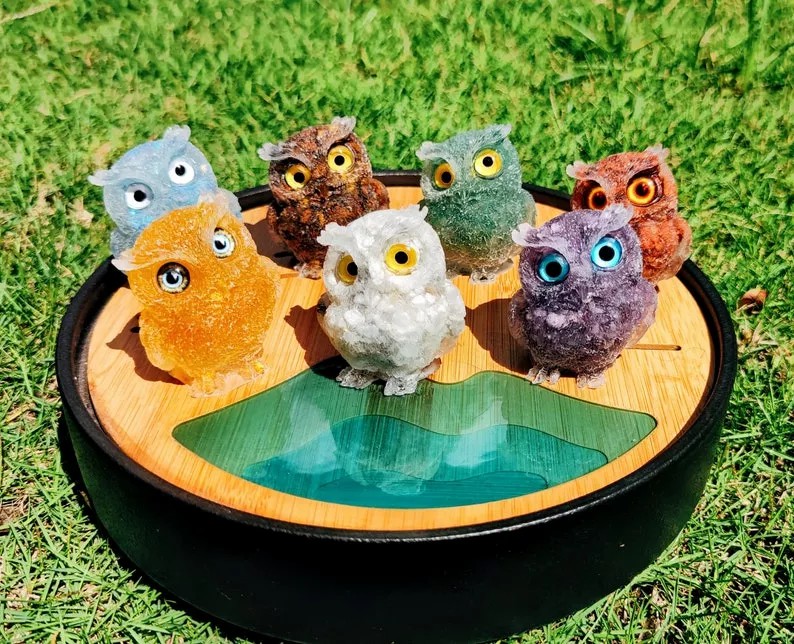 Cute Owl Statue—Owl is generally a symbol of paranormal wisdom, regal silence and fierce intelligence. You can mix and match with other animal decorative paperweight to create a menagerie in your own collection, add fairy tale fun and art to your home.
Scope of Application—Perfect for indoor decoration such as office, bookshelves, garden, patio, bedside tables, fireplaces, mantel table and more. Great accent for your living room, wedding, party, celebration, anniversary and banquet.
Ideal Gift for Owl Lover—If you're a owl lover, our crystal owl collectible figurine home decor is for you! Also popular for holiday festivals, like Christmas, Thanksgiving, Mother's Day, Valentine's Day, birthday, housewarming gift to surprise your friends.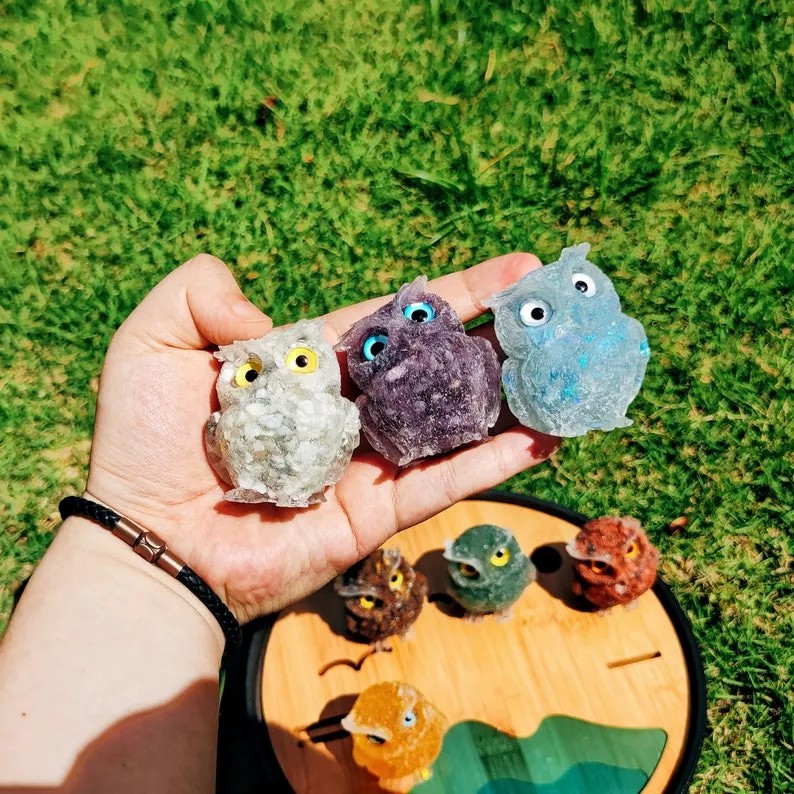 SPECIFICATIONS
Material: Crystal, Resin

Weight: 90g

Size: 5.3*4.3*3.7cm/2.09*1.69*1.47in
PACKAGE
1 * Natural Crystal Gravel Epoxy Owl Ornament
NOTE
Please allow slight measurement deviations due to manual measurement.

Due to the different monitor and light effect, the actual color of the item might be slightly different from the color showed in the pictures.