Hilarious and practical, this Shitty Housewife desktop monthly calendar features vintage, mid century modern housewives doing housewife things behind the sassy messages! This is the perfect gift for you (treat yo'self!) or any working mama, stay-at-home mom or co worker!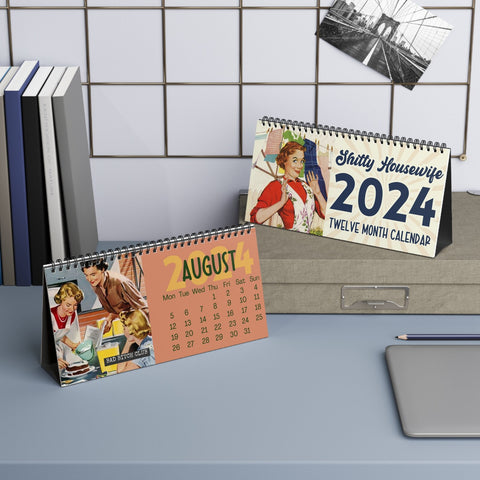 Here are the deets:
Perfect desktop size 10" x "5
Printed on high-quality, 250gsm paper with satin finish
Spiral bound at top
Discover the 2024 Vintage Snarky Housewife Desktop Calendar - Embrace the Retro Sass!
Step into a world of mid-century charm and sassy humor with our one-of-a-kind 2024 Vintage Snarky Housewife Desktop Calendar. This calendar is a delightful blend of vintage aesthetics and modern wit, guaranteed to tickle your funny bone and add a touch of retro sass to your space.
Product Highlights:
12 months of hilariously snarky and tongue-in-cheek quotes that pay homage to the vintage housewife era.
Gorgeous mid-century modern inspired illustrations that capture the essence of yesteryears while delivering a contemporary punch.
Premium quality paper that reflects the nostalgic charm of the 1950s, enhancing your workspace's unique style.
Compact and stylish design, fitting perfectly on your desk without overwhelming your space.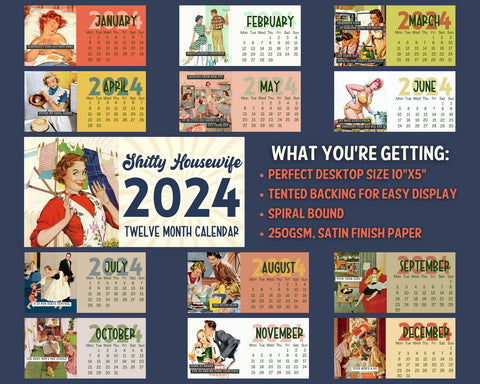 Why You'll Adore It:
Enjoy a daily dose of laughter as you flip through each month's cheeky quote and artwork.
Bring a touch of vintage chic to your home or office, sparking conversations and smiles.
Make a statement about embracing modern feminism while appreciating the humor of the past.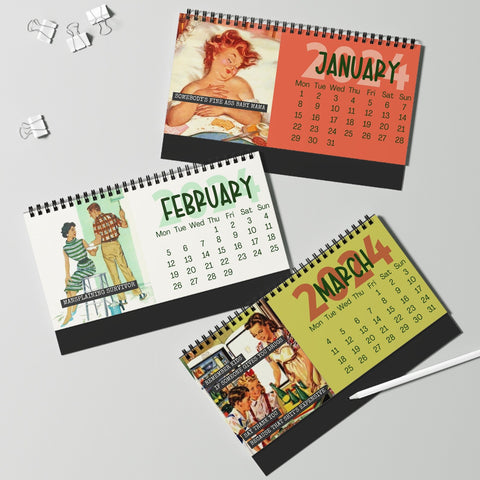 Ideal for anyone who loves a blend of nostalgia, humor, and a hint of rebellion.
Transform your space into a hub of vintage snark and laughter. Purchase the 2024 Vintage Snarky Housewife Desktop Calendar today and relive the nostalgia while keeping your spirits high!